28 Jan
Nearly all of these are English-edition daily newspapers. These sites have interesting editorials and essays, and many have links to other good news sources. We try to limit this list to those sites which are regularly updated, reliable, with a high percentage of "up" time.

Gregg Phillips, who spurred Trump's calls to investigate election results, was accused of lying in government job applications and has faced ethics allegations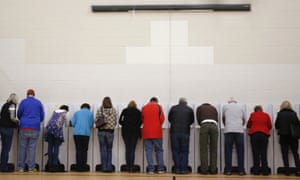 Conservative activist Gregg Phillips claims three million votes in the 2016 election were 'illegal', according to one of Donald Trump's latest tweets. Photograph: Otto Kitsinger/AP
The conservative activist cited by Donald Trump as an authority on voter fraud owes the US government more than $100,000 in unpaid taxes, was once accused of lying about his qualifications, and has faced several allegations of ethical impropriety.
Gregg Phillips's unfounded claim that three million people vote illegally in the US was championed in a tweet by Trump on Friday morning, as the new administration prepares to launch what he says will be a major inquiry into the integrity of American elections. The president tweeted:
Look forward to seeing final results of VoteStand. Gregg Phillips and crew say at least 3,000,000 votes were illegal. We must do better!
Carolyn Bryant disappeared from public view after alleging Till harassed her in a grocery store. Sixty-two years later, it has emerged her story was not true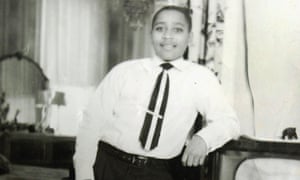 An all-white jury cleared Carolyn Bryant's husband of 14-year-old Emmett Till's murder, which he later admitted to. Author Timothy Tyson spoke with her in 2007 but her admission was not made public until now. Photograph: AP
It was the lynching that outraged African Americans, spurred the civil rights movement and etched the victim's name in history: Emmett Till.
The 14-year-old Chicagoan was visiting relatives in the cotton country of the Mississippi delta on 24 August 1955 when he allegedly wolf-whistled at a white woman.
Three days later his body was found in the Tallahatchie river. Till had a bullet hole in the head, an eye gouged out and other wounds. The murderers had wrapped barbed wire around his neck and weighted him down with a cotton gin fan.
It was a ghastly crime that changed the United States but the woman at the center of it, Carolyn Bryant, long remained an enigma.
A few weeks after the murder, the then 21-year-old testified in court that Till had grabbed and verbally harassed her in a grocery store. "I was just scared to death," she said.
The all-white jury cleared her husband Roy Bryant and his half-brother JW Milam of the crime. They later publicly admitted their guilt, saying they wanted to warn other blacks. Carolyn Bryant disappeared from public view.
Now, 62 years later, it has emerged that she fabricated her testimony about Till making physical and verbal advances.
"That part's not true," Bryant told Timothy Tyson, the author of a new book, The Blood of Emmet Till.
That four-word confession, of sorts, has provided an unexpected coda to a story whose victim is commemorated annually.
Bryant spoke to Tyson, a Duke University senior research scholar, in 2007, when she was 72. The admission was not made public until now.
Bryant, who is still alive at an undisclosed location, told the author she could not remember other details about the fleeting encounter with Till, who went into the store to buy gum.
She did, however, express regret. "Nothing that boy did could ever justify what happened to him." She said she "felt tender sorrow" for Till's mother, Mamie Till-Mobley.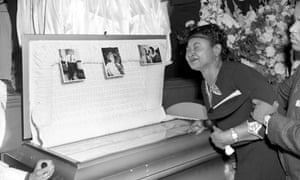 Mamie Till Mobley weeps at her son's funeral in Chicago in 1955. Photograph: AP
Bryant's comments still leave questions over what precisely transpired in the grocery store but they do suggest its bloody and controversial aftermath marked her.
"That case went a long way toward ruining her life," Tyson told Vanity Fair. The author did not immediately respond to a request for comment on Friday.
Till's mother insisted on an open-casket funeral in Chicago and Jet magazine published photos of his corpse, sparking revulsion and galvanising the civil rights movement.
Rosa Parks said Till was on her mind in December 1955 when she refused give up her bus seat in Montgomery, Alabama, kickstarting nationwide protests.
The killing has been the subject of a play by the Nobel laureate Toni Morrison, a poem by the Harlem Renaissance writer Langston Hughes, and a song by Bob Dylan.
Once acquitted of murder (the jury deliberated for barely an hour), Bryant's husband and Milam were protected against further prosecution by the double jeopardy rule and so admitted the crime to Look magazine.
Prague to host shrine recognising agonising choice of those who put their youngsters on 'kindertransport' trains organised by Nicholas Winton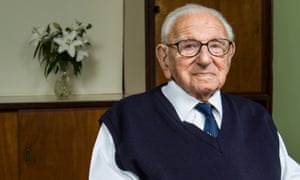 Sir Nicholas Winton organised eight evacuations of Jewish children from Prague in 1939. He died in 2015. Photograph: David Levene for the Guardian
Their 11th-hour escape on the eve of the second world war became the stuff of legend, earning international recognition for the man who organised it, Sir Nicholas Winton.
Now people spirited out of German-occupied Czechoslovakia when they were children are to pay homage to previously unsung heroes in the affair – the parents who boarded them on to Winton's "kindertransport" trains bound for Britain in a desperate attempt to save them from the Nazis.
A memorial recognising the agonising moral choice made by parents of the 669 mostly Jewish children sent away is to be constructed in Prague's main railway station, from where eight evacuation trains departed in the spring and summer of 1939, after Nazi Germany invaded Czechoslovakia.
It will stand near a statue of Winton, the British aid worker and former stockbroker who organised the transports and has been labelled "the British Schindler" for his role in rescuing Jews, a comparison to Oskar Schindler, the Nazi industrialist credited with saving 1,200 Jewish prisoners from Hitler's death camps.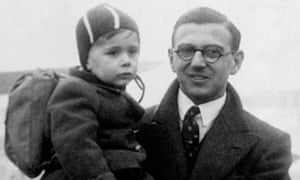 Nicholas Winton with one of the children he rescued. Photograph: PA
To be known as the Valediction memorial, the shrine will comprise a replica of the door of one of the original train wagons in a design meant to evoke the traumatic parting between parents and children on the station platform.
The door will be filled with glass engraved on each side with patterns of adult and child hands to represent heartrending scenes that were repeated many times at the point of departure.
Zuzana Marešová , 85, who left Prague at seven with her two older sisters in July 1939, said the survivors of the child transports had conceived the memorial as a final act of gratitude to their parents, having already paid generous tribute to Winton – who died aged 106 in 2015, a year after receiving the Czech Republic's highest honour for his rescue missions.
"Can you imagine putting your children on a train, saying goodbye to them, knowing you might never see them again? We had the opportunity to thank Nicky [Winton] personally, but never to thank our parents," she said.
"One of my most vivid memories of the parting was standing inside the train and looking out of window at the parents on the platform," recalled Marešová , 85, now living in Prague and one of the few evacuees to later be reunited with her parents.
"All of the parents were crying and waving. I can still see them today. I can remember the parents' hands up and our noses pressed to the glass and that gave me the idea of the parting. The most frequently uttered sentence along the platform was, 'See you soon'."
Most of the parents died in the Holocaust, without seeing their children again.
The history of the Palestinian revolution has long been overlooked, argues Karma Nabulsi, which is why she has gathered scholars together to design a new course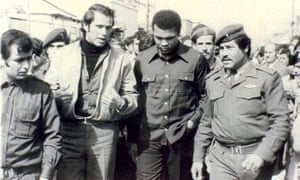 Part of the spirit of the age … Muhammad Ali visits Palestinian refugee camps in Lebanon, 1974
T

his is a year of fateful anniversaries for the Palestinian people: the centenary of the Balfour declaration, when imperial Britain promised to protect Palestinian rights, but abandoned them instead; 70 years since the Nakba ("disaster" in Arabic) began in December 1947, when the majority of Palestinians were dispossessed from their land, remaining refugees to this day; 50 years since the military occupation of the remainder of Palestine in 1967. Yet last year gave us the 50th anniversary of a radically different landmark: the Tricontinental conference of 1966, the "solidarity conference between the peoples of Africa, Asia and Latin America", a moment that became a beacon for anti-colonial resistance across the world, and one that had the Palestinian revolution at its heart.
The largely unknown story of this revolution can now be studied at universities across the world, through a new online teaching resource available in Arabic and English. Covering the 1950s, 60s and 70s, the 12-week syllabus introduces intellectual debates of the time, revolutionary culture, organisational methods and key events, from the battle of Karameh in 1968 to Land Day in 1978. Filmed interviews take us into Palestinian revolutionaries' first meeting with Che Guevara in 1960s Algeria, showing the links forged in that room.
Why has this history vanished from view? One reason is that most courses teaching the story of the Palestinian struggle today do so within the framework of the "Arab-Israeli conflict": a story of two sides, endless wars, leaders' decisions and negotiations (particularly their failures). Viewed in this way, the Palestinian liberation struggle – on Palestinians' own terms – disappears. Noam Chomsky, professor emeritus of linguistics at MIT, has his own perspective on this story:
Not long after the 1948 war and the Nakba, I spent some time working on a Mapam kibbutz … One day I was working with an older kibbutz member in the fields, and noticed a pile of stones. He said it was the remains of a friendly Arab village, which kibbutz members had destroyed during the war. I visited some of the victims – in towns and refugee camps in the West Bank, in camps in Lebanon, and in Gaza … One family was living – surviving – in a small room in the camp, where my companions and I were regaled with stories of their idyllic existence not far from the kibbutz where I had stayed, and shown their greatest treasure, the key to the home that had been destroyed and to which they yearned to return … The trauma of the expulsions and massacres was still deep, but there were already signs of the resistance to follow.

A solidarity poster for the Palestine Liberation Organisation in 1972
This teaching resource begins with that key missing period, the Palestinian resistance of the 50s, forged by the "Nakba generation" of revolutionaries. The aim here is not to find a balance between two opposing sides or narratives, but to examine the issue on its own terms, and its connection to a tricontinental resistance.
Raúl Roa Kouri, a former Cuban representative at the UN, discusses the movement's ideological foundations: "Having fought for our definitive independence and sovereignty since the US military occupation of the island in 1898, Cubans have a profound understanding of the quest of the Palestinian people for freedom," he says. "Cuba took this position early on, establishing relations with the Palestine Liberation Organisation, granting scholarships to young Palestinians to study in our universities free of charge, attending to wounded revolutionaries in our hospitals, and lending all help possible to those fighting."
For the Egyptian writer Ahdaf Soueif, to understand this international spirit is to understand the Palestinian struggle itself: "The Palestinian revolution was the last, it seemed, of the great anti-colonial struggles, rooted in a tiny strip of land and spreading to embrace everyone who loved freedom … The spirit of the Palestinian revolution was part of the spirit of the age – it shared features, characters, stars, art and music with the great civil rights and anti-Vietnam war movements in the States, the anti-apartheid struggle in South Africa. It was to do with freedom and dignity, and it was global."
The course explores the complex common endeavours of anti-colonial revolutions in Africa, Asia and Latin America. Richard Falk, Princeton professor emeritus and former UN human rights rapporteur, recalls how his attachment to the Palestinian cause grew directly from his commitment to anti-colonial liberation: "I came to Palestine by way of Vietnam," he says. "It was particularly challenging to me as a Jew and American, as it seemed evident that despite the struggle being mounted by the Palestinians … the global balance of forces was aligned in a manner increasingly blocking Palestinian efforts to achieve liberation."
What drives the solidarity is a recognition of suffering and the common experiences of oppression
Scholars of the global south's anti-colonial struggles have discovered that a collective and popular history is best transmitted through the experiences of the ordinary people who created it. The way that hundreds of thousands of disfranchised Palestinian refugees were mobilised can best be appreciated through the oral testimonies of young Palestinians recounting when and why they first joined the revolution. Writer and film-maker Tariq Ali describes how these stories drew him in, too: "My first encounter with Palestine was in the aftermath of the six-day war in 1967. I visited Palestinian refugee camps in Jordan, Syria, spoke with survivors and activists in Beirut and Cairo, photographed children. Shaken by the experience, I read everything I could about Palestine. There wasn't much."


Nearly all of these are English-edition daily newspapers. These sites have interesting editorials and essays, and many have links to other good news sources. We try to limit this list to those sites which are regularly updated, reliable, with a high percentage of "up" time.
Some of the available newspapers:
| | | |
| --- | --- | --- |
| Asia & CIS | | |
| | | |
| --- | --- | --- |
| China | | |
| | | |
| --- | --- | --- |
| China & Hong Kong | | |
| | | |
| --- | --- | --- |
| France | | |
| | | |
| --- | --- | --- |
| Israel | | |
| | | |
| --- | --- | --- |
| Norway | | |
| | | |
| --- | --- | --- |
| Palestine | | |
| | | |
| --- | --- | --- |
| Russia | | |
| | | |
| --- | --- | --- |
| Ukraine | | |
.