30 Jan
Nearly all of these are English-edition daily newspapers. These sites have interesting editorials and essays, and many have links to other good news sources. We try to limit this list to those sites which are regularly updated, reliable, with a high percentage of "up" time.
Demonstrators participate in a protest against U.S. President Donald Trump's executive order barring U.S. entry to all regugees and seven Mideast and North African countries' citizens near the White House, in Washington D.C., the Unite States, Jan. 29, 2017. (Xinhua/Yin Bogu)
Thousands of protesters rallied in front of the White House on Sunday while demonstrations continued across more than 30 American airports after U.S. President Donald Trump signed an executive order temporarily barring all refugees and seven Mideast and North African countries' citizens from entry into the U.S..
The Lafayette Square before the White House was packed by protesters against Trump's ban from noontime as more demonstrators were still arriving, witnesses said.
They wielded poster boards bearing messages such as "Ban Trump" "Refugees Welcome" and chanted "No hate! No fear! Refugees are welcome here!"
Protests are also scheduled throughout the day in Philadelphia, Atlanta, Los Angeles, Seattle and Chicago, said a CNN report.
In Boston's Copley Square, thousands of people also gathered to protest the immigration ban, according to a report from the USA Today.
Earlier on Sunday, White House counselor Kellyanne Conway said the international travel disruptions in the wake of the ban was "a small price to pay" for greater security of the United States.
On contrary, Senate Minority Leader Chuck Schumer on Sunday said Democrats are considering legal actions to overturn the order.
A federal judge in New York on Saturday night granted an emergency stay temporarily halting the removal of people who, though with previously approved refugee applications or with valid visas, had ben detained following Trump's refugee and immigration order.
Similar rulings were later issued in Virginia, Massachusetts and Washington state, said a TheHill news daily report.

Officers 'just following orders', confused children, fearful parents: with Trump's vile ban, Islamophobia has finally burst its banks
W

ithin minutes of Donald Trump signing his executive order banning the entry of nationals from seven Muslim-majority countries, the horror stories started coming through. Sudanese friends and relatives, some of whom had lived their entire lives in the United States, some who were in the air as the order was signed, found themselves prevented from entering the country.
Some were turned back from boarding their flights, others were handcuffed in airports, patted down and interrogated on their political beliefs. Mothers, fathers, children, students, employees suddenly found that the unthinkable had happened. They had been banned from returning to their jobs and studies, to their families and homes because they were Muslims.
The thought was almost too evil, too grotesque, to countenance. The hours after the ban felt like living through a chapter of history that we'd left behind. Events unfolded the likes of which we had only ever seen in documentaries, in fragments of newsreels from the archives. Travellers in tears, stern officers "just following orders", refugees on the cusp of safe harbour wild with despair at the uncertain fate to which they must return, confused children huddled behind their parents as they plead with authorities, their faces speaking of fear, confusion and the sense that something is about to change for ever.
This did not start with Trump, this is something that's only reaching its climax
And something has. The Islamophobia that we have witnessed rise over the past decade has finally burst its banks. The first thought was that surely common sense would prevail, surely there would be some grace period, surely there would eventually be a challenge from some sensible authority that would stop the madness. None of these things came to pass.
And then there was the personal body blow. I now cannot travel to the US, a country I visit frequently and in which I have work interests, close family and dear friends. It is a curious feeling, a new feeling. One that collapses space-time and connects you to all those before you who have found themselves on the ugly end of a collective insanity. It is a feeling that rocks the very ground on which you thought we all stood.
Suddenly, all certainties look shaky. Residencies, passports, green cards, jobs, mortgages, friends, marriages – all the things you thought fortified you against the mobilisation of state machinery – dissolve. You are only a Muslim. And what does that mean? It is a tag that defies definition, becoming more elusive the more you try to pin it down. I was reminded of a scene from a dramatisation of Roots author Alex Haley's life, when he, dressed proudly in his US Coast Guard uniform and sporting his medals, confidently asks for a hotel room for the night for him and his wife. When he is refused one for being black, he returns to his car enraged – not at those who denied him but at himself for thinking he was exempt. "All they saw was a monkey."
he arbitrariness of the ban is brazen. No Sudanese citizen has ever perpetrated an attack in the US. But Sudan is poor and has no strategic importance to Trump. It also has a majority-Muslim population – one that has suffered for years under a dictatorial regime that recklessly landed the country on a terror watch list some 20 years ago. Incidentally, Sudan is also a country that Barack Obama lifted sanctions from before he left office. This wasn't even a proper Muslims ban. It was a Muslims-we-can-afford-to-cross ban. A ban that throws Muslims to the baying crowds that voted for Trump – but only the most vulnerable ones.
The entire premise of the executive order – that it would facilitate more thorough checks on those entering the US – is a lie. Applying for a US visa from any of the seven countries is already an exercise in extreme vetting. Following a mandatory interview, applications sometimes languish for months in "administrative processing", a euphemism for an exhaustive investigation of information that extends to your entire academic and professional history. This is often followed up by "secondary processing" at US ports where an unfortunate match on a name or a typo on an application can condemn one to hours in a room that, it seemed to me, is overwhelmingly populated by Muslims.
Somalis who had expected to travel to the US this week say they are shocked by the abrupt change in their prospects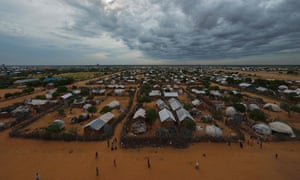 Part of the Dadaab refugee camp in Kenya, where an estimated 300,000 Somalis live. Photograph: Tony Karumba/AFP/Getty Images
Dozens of Somali refugees in Kenya who were hours from travelling to the United States to start new lives under a longstanding resettlement programme now face repatriation, after Donald Trump's executive order banned migrants from seven Muslim-majority countries for three months.
About 100 refugees who had expected to travel to the US before the end of the week are currently staying in a transit camp in Nairobi.
They are among approximately 3,000 refugees scheduled to be resettled in the US from camps in northern Kenya, the majority from Dadaab, a sprawling tent city where an estimated 300,000 Somalis live.
There are now fears that even those cleared for a new life in the US may face a return to Somalia, a war-torn country where Islamist militants have launched attacks on a multinational military force trying to bring stability and international agencies have warned of famine.
Kenyan authorities have pledged to shut the Dadaab camp and send its inhabitants back to Somalia as soon as May, only weeks after the temporary ban imposed by Trump's executive order expires.
Aden Abdi Ganey, 58, who had been told he would be flying to the US on Wednesday, said: "I was completely shocked when I heard the news that refugees were barred from entering US from the radio on Friday. I see that decision as disaster to our lives.
"We are refugees, we cannot return back to our country, this host country of Kenya is pushing us to move out and the US president does not want us in his country. What can we do? Nothing. If he does not want Muslims, then we hope God will help us."
Ganey has lived in Dadaab since civil war broke out in Somalia in 1991, and applied for a place in the US refugee resettlement programme seven years ago. After a process of rigorous screening by UN and US officials, his clearance for immigration came through last October.
He had not heard from the resettlement officers who dealt with his case since Trump's executive order.
Representatives from UN agencies in the Kenyan capital are scheduled to meet local government officials on Tuesday in an attempt to resolve the problem, and aid agencies are organising counselling for distraught families.
"These are people who have packed their bags, emptied their bank accounts, sold all their goods and said their goodbyes. Then they hear they are not going to the US after all. There were people checking into flights," said one aid worker in Nairobi.
Two arrests made after fatal shooting on Sunday night condemned as senseless violence by Canadian PM
Emergency services seal off the site of a shooting in which five people are feared dead in Canada. Witnesses said three attackers opened fire on Sunday, during evening prayers at the Québec City Islamic cultural center. Two arrests have been made, said police.
Six people have been killed and eight injured at a mosque in Québec City in a shooting denounced as a "terrorist attack" by Canada's prime minister.
Witnesses said three people carried out the attack at the Québec City Islamic cultural center during evening prayers on Sunday. Police received the first calls just before 8pm (1am GMT).
Two arrests have been made, a police spokesman said. Local newspaper Le Soleil said police accepted a third suspect could still be on the run, though spokeswoman Chistine Coulombe later said: "Nothing right now makes us believe that there would be other suspects related to this event."
One of the suspects was carrying an AK-47 assault rifle and one was aged 27, Le Soleil reported.
The Canadian prime minister, Justin Trudeau, spoke of his anger after hearing the news, "We condemn this terrorist attack on Muslims in a centre of worship and refuge," he said.
"While authorities are still investigating and details continue to be confirmed, it is heart-wrenching to see such senseless violence. Diversity is our strength, and religious tolerance is a value that we, as Canadians, hold dear."
Police said the victims were aged between 35 and 70.
At the time of the attack, more than 50 people were thought to be in the two-storey building, also called the Grande Mosquée de Québec, which is equipped with several CCTV cameras.
The mosque's president, Mohamed Yangui – who was not inside the mosque when the shooting occurred – said he got frantic calls from people at evening prayers. He said the injured were taken to different hospitals across Québec City. "Why is this happening here? This is barbaric," he said.
Unpublished research from the UN Population Fund suggests the country's maternal mortality figures may be higher than reported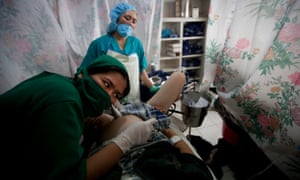 A midwife student listens to the heartbeat of a baby in the delivery room as a woman prepares to give birth at Bamyan provincial hospital in Afghanistan, 2009. Photograph: Paula Bronstein/Getty Images
For years, declining death rates among pregnant women have been hailed as one of the great gains of foreign aid in Afghanistan.
In reality, however, Afghan women dying in pregnancy or childbirth may be more than twice as high as numbers provided by donors would suggest.
Since 2010, published figures have shown maternal mortality rates at 327 for every 100,000 live births, a significant drop from 1,600 in 2002. Yet recent surveys give a different picture.
In one unpublished study, the Afghan government found an average level of maternal deaths between 800 and 1,200 for every 100,000 live births, according to aid workers in Kabul who have seen the research.
If accurate, this would mean that women in Afghanistan – despite more than 15 years of international aid aimed at improving maternal mortality figures – may be dying from maternal complications at rates similar to those found in Somalia and Chad, and only surpassed by South Sudan.
In another review, the UN Population Fund (UNFPA) found as many as 1,800 maternal deaths a year in the remote Afghan province of Ghor. Nine out of 11 provinces had higher death rates than the number normally used by donors.
Both the UNFPA mortality numbers and the government's own survey have yet to be released. A spokesman for the ministry of public health said the survey was not ready to be publicised yet, and declined to discuss findings.
The country's emphasis on training midwives in recent years is slowly building numbers. Yet, despite this improved capacity, driving up numbers of health personnel is only half the solution, according to Bannet Ndyanabang, UNFPA's Afghanistan representative: "Training is not the only thing. They have to be deployed in the areas where they are needed. It doesn't matter that you have health centres if they're not staffed with skilled personnel. [Midwives and nurses] have to be given incentives to work in rural areas."
One reason for the discrepancy in the figures is a lack of reliable data. Collecting such information in Afghanistan is notoriously difficult. Worsening security prevents even officials from the ministry of public health, let alone foreigners, from travelling to rural areas.
In a recent audit of $1.5bn (£1.2bn) donated by the US to Afghan healthcare, the Special Inspector General for Afghanistan Reconstruction – the US congressional watchdog – criticised the use of unreliable data to prop up claims of progress in Afghanistan.
According to Sigar, "missions are required to be transparent and communicate 'any limitations in data quality so that achievements can be honestly assessed'. In all cases Sigar reviewed, USAid did not disclose data limitations."


Nearly all of these are English-edition daily newspapers. These sites have interesting editorials and essays, and many have links to other good news sources. We try to limit this list to those sites which are regularly updated, reliable, with a high percentage of "up" time.
Some of the available newspapers:
| | | |
| --- | --- | --- |
| Asia & CIS | | |
| | | |
| --- | --- | --- |
| China | | |
| | | |
| --- | --- | --- |
| China & Hong Kong | | |
| | | |
| --- | --- | --- |
| France | | |
| | | |
| --- | --- | --- |
| Israel | | |
| | | |
| --- | --- | --- |
| Norway | | |
| | | |
| --- | --- | --- |
| Palestine | | |
| | | |
| --- | --- | --- |
| Russia | | |
| | | |
| --- | --- | --- |
| Ukraine | | |
.