01 Feb
Nearly all of these are English-edition daily newspapers. These sites have interesting editorials and essays, and many have links to other good news sources. We try to limit this list to those sites which are regularly updated, reliable, with a high percentage of "up" time.

Executive order mandates federal government withhold grants from localities that limit cooperation with immigration enforcement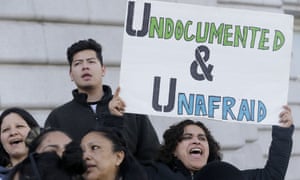 A woman yells at a rally outside San Francisco city hall during a protest against Donald Trump's executive actions to build a border wall and cut federal grants for 'sanctuary cities'. Photograph: Jeff Chiu/AP
San Francisco filed suit against Donald Trump on Tuesday, becoming the first city to bring a legal challenge against the president's executive order targeting sanctuary cities.
"The president's executive order is not only unconstitutional, it's un-American," said Dennis Herrera, the city attorney.
On 25 January, Trump signed an executive order mandating that the federal government withhold grants from localities that limit cooperation with federal immigration enforcement – a practice known as "sanctuary". The order also directs the attorney general to explore "appropriate enforcement action" against local government agencies following sanctuary policies.
Thirty-nine cities, 364 counties and four states have some kind of sanctuary policies in place, according to an analysis by the Immigrant Legal Resource Center.
Citing the 10th amendment of the US constitution, which delegates powers not granted to the federal government to states and the people, the lawsuit alleges that the order is "a severe invasion of San Francisco's sovereignty". The suit also accuses the president of acting "in blatant disregard of the law".
"You're not an emperor who rules by fiat," Herrera said at a news conference, describing the message he wants to send to Trump. "Obey the rule of law."
The suit seeks to prevent the federal government from blocking funds to San Francisco. Herrera estimated that the city had about $1.2bn in federal funding at stake.
The White House and the US attorney general did not immediately respond to a request for comment.
Proponents of sanctuary policies, including Herrera and San Francisco's mayor, Ed Lee, who also attended the press conference, argue that they make cities safer by enabling undocumented immigrants to seek help from law enforcement or local agencies without fear of deportation.
A study by the Center for American Progress found that there were on average 35.5 fewer crimes committed per 10,000 people in sanctuary counties than in non-sanctuary counties.
Sanctuary policies became a major flashpoint in the presidential campaign when a 32-year-old woman, Kathryn Steinle, was randomly shot and killed by an undocumented immigrant in San Francisco. The shooter, Juan Francisco Sanchez-Lopez, had recently been released from a San Francisco jail despite a request from federal immigration authorities, who sought to deport him.
Steinle became a key talking point for Trump, who said that her death was "yet another example of why we must secure our border immediately".
António Guterres: ban based on religion or ethnicity violates basic values
Secretary general says such a ban risks fueling terrorist propaganda
António Guterres, the new UN secretary general said on Wednesday, in a clear response to the Trump administration's refugee ban, that border policies based on religion, ethnicity or race were "against the fundamental principles and values on which our societies are based".
Guterres does not mention the US or Donald Trump in his written statement but he directly addresses the political, legal and moral debate triggered by the president's executive order suspending entry for refugees and other visitors from a list of seven predominantly Muslim countries.
Guterres, who was formerly the UN high commissioner for refugees, also had implicit criticism for other western countries that have increasingly closed their doors to the vast numbers of refugees seeking safe haven around the world, and compared them unfavourably to poorer countries who host the overwhelming bulk of them.
The statement said Guterres was on his "way back from Ethiopia, the largest refugee-hosting country in Africa that for decades has been keeping its borders open to hundreds of thousands of refugees from its neighbours, many times in dramatic security situations".
"Countries have the right, even the obligation, to responsibly manage their borders to avoid infiltration by members of terrorist organizations," the secretary general said, but he added: "This cannot be based on any form of discrimination related to religion, ethnicity or nationality because … that is against the fundamental principles and values on which our societies are based."
He added two other practical objections that have been at the core of much criticism of Trump's executive order, on the grounds that it is poor national security policy. Guterres said such a ban "triggers widespread anxiety and anger that may facilitate the propaganda of the very terrorist organisations we all want to fight against" and that, furthermore, "blind measures, not based on solid intelligence, tend to be ineffective as they risk being bypassed by what are today sophisticated global terrorist movements".
The acting secretary of the army has directed the army corps of engineers to grant the easement necessary to finish the billion-dollar project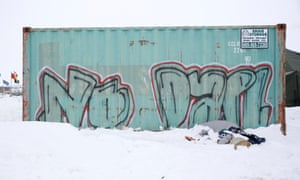 North Dakota government spokesperson says the easement 'isn't quite issued yet, but they plan to approve it'. Photograph: Terray Sylvester/Reuters
The Dakota Access pipeline is in the final process of getting approvals to complete construction across the Missouri river, according to North Dakota senator John Hoeven.
The acting secretary of the army has directed the army corps of engineers to proceed with an easement necessary to finish the pipeline, Don Canton, spokesman for Hoeven, told the Associated Press. The easement "isn't quite issued yet, but they plan to approve it" within days, he added.
A spokesman for the US army did not immediately respond to requests for comment.
Jan Hasselman, lawyer representing the Standing Rock Sioux tribe, cautioned in an email that the battle wasn't over. "People are jumping the gun, no easement has been issued," he said, adding that he had confirmed that with the justice department.
But Hasselman added: "I'd say it's a near certainty that they go ahead. It will be illegal of them to do so, of course, so [we] will have to litigate that."
The Standing Rock tribe, supported by indigenous activists and environmental groups across the globe, has long argued that the $3.8bn project threatens sacred lands and the regional water supply.
In his first week in office, Trump issued an executive order demanding the revival of the Dakota Access pipeline and the controversial Keystone XL pipeline, both of which Barack Obama had halted. The tribe vowed to fight the order, which it said is illegal and not backed by proper consultation with Standing Rock.
Though many activists left Standing Rock after the Obama administration denied the company's permits in December, some have remained camped out by the construction site through the harsh North Dakota winter.
Obama's decision directed the government to conduct a full environmental review of the project, known as an environmental impact statement (EIS), which is a process that the tribe has long demanded.
In a statement released Tuesday night, the tribe said it would "vigorously pursue legal action to ensure the environmental impact statement order issued late last year is followed so the pipeline process is legal, fair and accurate".
On 18 January, the army filed a notice of intent to complete the EIS for the Missouri river crossing. That process can take years, and was expected to significantly delay a final decision on the permit.
"The army corps lacks statutory authority to simply stop the EIS and issue the easement," the tribe said Tuesday. "To abandon the EIS would amount to a wholly unexplained and arbitrary change based on the president's personal views and, potentially, personal investments."
Hoeven's statement comes just one day after a government attorney told a federal judge that he could not provide an estimate
Security forces start evicting several hundred settlers from illegal West Bank outpost hours after announcement of new homes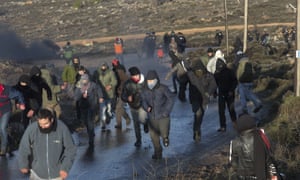 Settlers run from Israeli police outside the Amona outpost in the West Bank on Wednesday morning. Photograph: Sebastian Scheiner/AP
After years of foot-dragging and political controversy, Israeli security forces have begun to evict several hundred Jewish settlers from an illegal outpost built on private Palestinian land, even as ministers announced the approval of thousands more settlement homes in the occupied Palestinian territories.
Hours before the operation to seal the outpost of Amona, Israel announced 3,000 new homes in the West Bank settlements, pressing forward with the massive surge in settlement triggered by the inauguration of Donald Trump as US president.In total, 6,000 new settlement homes have been announced since Trump's inauguration. Next week, Israel's parliament is expected to vote on a bill to allow the "legalisation" of a tranche of other illegal outposts built on private Palestinian land.
The fate of Amona has long threatened to destabilise Benjamin Netanyahu's narrow coalition, which includes the far-right pro-settler party Jewish Home and other hardliners who are opposed to its demolition.
Hundreds of settler youths had gathered to oppose the demolition at Amona on Wednesday morning.As dawn broke, dozens of security personnel were seen approaching the hilltop outpost to move out residents. A bulldozer and water cannon were brought up as residents were told to pack up their belongings.
About 250 people in 50 families live in Amona, but in recent weeks dozens more people have arrived to face off against Israeli forces. Residents had said they planned to resist their evacuation peacefully.
"This is a dark day for us, for Zionism, for the state and for the great vision of the Jewish people returning to its homeland," Avichay Buaron, a spokesman for Amona, told Channel 2 TV.
Bezalel Smotrich, a lawmaker from the Jewish Home party, who went to Amona to show support, added. "There is a great pain, a huge disappointment. They are uprooting a community in Israel. It is a terrible thing."
Israel's supreme court ruled in 2014 that Amona was built on private Palestinian land and must be demolished. It has set 8 February as the final date for it to be destroyed.
Amona is the largest of about 100 unauthorised outposts erected in the West Bank without permission but generally tolerated by the Israeli government. The outpost, built in the 1990s, stretches out over a rugged, grassy hilltop and looks out across the valley on to Palestinian villages.
Netanyahu has struggled to find a balance between appeasing his settler constituents and respecting Israel's supreme court, which has drawn the ire of hardliners by ruling against the settlers.
In 2006, Israeli police demolished nine homes at Amona, setting off clashes pitting settlers and their supporters against police and soldiers. Several dozen trailers have remained and the outpost has become a symbol for the settlement movement.
The international community – reinforced by a UN security council resolution in December – considers settlements a "flagrant violation" of international law and an obstacle to peace and a two-state solution.
But Trump has signalled that he will abandon the policies of his predecessors and be far friendlier toward settlements. He has appointed a prominent US supporter of the settlements to be his ambassador to Israel, and a delegation of settler leaders was invited to his inauguration.
Police accused of planting evidence, taking cash from funeral homes and fabricating reports in Rodrigo Duterte's war on drugs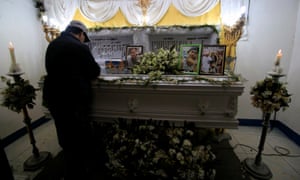 A mourner stands by the coffin of a man killed in an anti-drug operation last week in Manila, Philippines. Photograph: Romeo Ranoco/Reuters
Oliver Holmes Southeast Asia correspondent
Amnesty International has accused police in the Philippines of paying officers and other people to kill alleged drug offenders, planting evidence and even setting up a racket with funeral homes in a "murderous war on the poor".
A wave of extrajudicial killings by police and the vigilantes they work with may amount to crimes against humanity, Amnesty said. More than 7,000 people have been killed since President Rodrigo Duterte, nicknamed "the punisher", unleashed a bloody crackdown seven months ago.
Amnesty investigated 33 incidents of drug-related killings in 20 cities and towns across the country in which 59 people were killed.
"The vast majority of these killings appear to have been extrajudicial executions – that is, unlawful and deliberate killings carried out by government order or with its complicity or acquiescence," the report said.
It accused police of planting evidence and fabricating official incident reports to suggest they acted in self-defence.
When killings were carried out during formal law enforcement operations, police incident reports appeared to be "startlingly similar", alleging the suspect tried to pull a gun, Amnesty said. In several cases, police said the suspect's gun malfunctioned when trying to shoot at officers.
But Amnesty cited what it said was direct witness testimony suggesting "police officers routinely bust down doors in the middle of the night and then kill in cold blood unarmed people suspected of using or selling drugs". Witnesses described alleged drug offenders yelling that they would surrender, sometimes on their knees.
Since Duterte came to office seven months ago, thousands of suspected low-level pedlars but also alleged drug users have been gunned down in his war on drugs.
The Guardian has been unable to corroborate all the allegations in the report, released on Wednesday, and Duterte has repeatedly denied wrongdoing.
However, the report adds to a growing body of evidence collected by rights groups and journalists illustrating how the police have used extrajudicial killings and worked with armed gangs.
The Guardian last year cited a senior police officer who claimed he led one of 10 special operations teams tasked with killing suspected drug users and dealers while making their deaths appear to have been caused by vigilantes. The report was later denied by the chief of police.
The Amnesty report goes further, suggesting the war on drugs has created an "informal economy of death" in which police profit from the bloodshed.
In one case in Cebu City, a witness told Amnesty that a drug user called Gener Rondina had his home surrounded by a large contingent of police officers. "The police kept pounding [and] when they go in he was shouting, 'I will surrender, I will surrender, sir'," an unnamed witness told Amnesty.


Nearly all of these are English-edition daily newspapers. These sites have interesting editorials and essays, and many have links to other good news sources. We try to limit this list to those sites which are regularly updated, reliable, with a high percentage of "up" time.
Some of the available newspapers:
| | | |
| --- | --- | --- |
| Asia & CIS | | |
| | | |
| --- | --- | --- |
| China | | |
| | | |
| --- | --- | --- |
| China & Hong Kong | | |
| | | |
| --- | --- | --- |
| France | | |
| | | |
| --- | --- | --- |
| Israel | | |
| | | |
| --- | --- | --- |
| Norway | | |
| | | |
| --- | --- | --- |
| Palestine | | |
| | | |
| --- | --- | --- |
| Russia | | |
| | | |
| --- | --- | --- |
| Ukraine | | |
.