Donald Trump's reported threat to sort out 'bad hombres' revives a venerable tradition of gringo intimidation and humiliation that dates back generations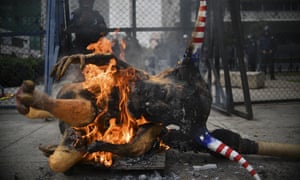 An 'Alebrije', a traditional Mexican figure, with the face of Donald Trump burns in front of the US embassy in Mexico City during a protest. Photograph: Yuri Cortez/AFP/Getty Images
Donald Trump's reported threat to use US troops to sort out "bad hombres" in Mexico revives a venerable tradition of gringo intimidation and humiliation which Mexico thought had passed into history.
The president used the language of a cowboy movie – arguably more Blazing Saddles than The Magnificent Seven – but to Mexicans the implication was all too real: the superpower bully was back.
How else to interpret a conversation between Trump and President Enrique Peña Nieto which, if confirmed, will go down in diplomatic annals.
"You have a bunch of bad hombres down there," said the US leader, according to a transcript leaked to the Associated Press on Wednesday. "You aren't doing enough to stop them. I think your military is scared. Our military isn't, so I just might send them down to take care of it."
The menace and disrespect shocked Mexico. It was like entering a time machine and reading headlines about US raids to capture Pancho Villa.
"Poor Mexico, so far from God, so close to the US." All Mexicans know the quote. A rueful reflection on proximity to a powerful, expansionist neighbour attributed to the wily dictator Porfirio Diaz.
The troubled history began soon after Mexico wrested independence from Spain in 1821. The young, rickety republic lacked resources and people to cultivate and protect its northern lands from comanches and US expansionism.
So in a blunder regretted to this day it invited US settlers to farm the land on condition they drop slavery, become Catholics and swear fealty to Mexico. The settlers rebelled and despite losing the Alamo-won independence, creating the Republic of Texas in 1836.
A decade later President Polk sensed a chance to extend the US south and to the Pacific. The 1846-48 invasion and occupation ravaged Mexico and forced it to cede modern-day California, Nevada, Utah as well as a lot of Arizona, New Mexico and Colorado, plus a bit of Wyoming.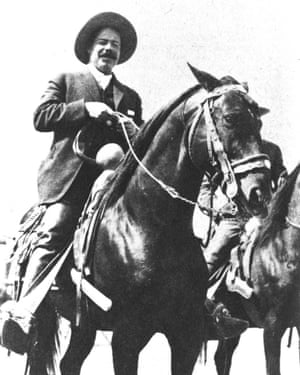 Mexican general Francisco 'Pancho' Villa on horseback, circa 1911. Photograph: Hulton Archive/Getty Images
Mexico still reveres "los niños héroes" – the child heroes – who supposedly fought the invaders and then leaped from a fortress to martyrdom, clutching a flag, rather than surrender. The occupying marines' green uniform reputedly prompted cries of "green go", and the term gringo.
US forces returned in 1914, during revolutionary tumult, to occupy Veracruz. And again in 1916 to hunt Pancho Villa, a renegade warlord who had killed US citizens on both sides of the border. Despite a force of 5,000 soldiers with aircraft and trucks the Americans failed to catch him.
The US's entry into the second world war warmed relations with Mexico. It needed Mexican metals and labour. The bracero programme allowed in millions to work in fields and factories. The tide turned in 1954 when President Eisenhower ordered Operation Wetback, a controversial policy which rounded up and deported an estimated 3.8m Mexicans.
North Dakota police arrested 76 people one day after federal officials suggested that the government could soon approve the final stage of pipeline construction
North Dakota police have arrested 76 people at Standing Rock one day after federal officials suggested that the government could soon approve the final stage of construction of the Dakota Access pipeline.
The arrests occurred after a group of activists, who call themselves water protectors, established a new camp near the pipeline construction.
Rob Keller, spokesman for the Morton County sheriff's office, told the Guardian on Wednesday night that it was too soon to say what charges were being filed. In a statement, he claimed that a "rogue group of protesters" had trespassed on private property.
"A lot of water protectors really felt that we needed to make some sort of stand as far as treaty rights," said Linda Black Elk, a member of the Catawba Nation. "We basically started to see police mobilizing from all directions. Someone came along and told us we had about 15 minutes before the camp would get raided."
Black Elk, who works with the Standing Rock Medic & Healer Council, said there were initially hundreds of activists at the new camp but that those who did not want to be taken into custody ultimately decided to retreat.
"There were a lot of people who felt like the prospect of treaty rights was something worth getting arrested over," she said.
The tense confrontation comes one week after Donald Trump issued an order demanding the revival of the Dakota Access pipeline and the controversial Keystone XL pipeline, reversing Barack Obama's actions.
The Standing Rock Sioux tribe, which has long argued that the $3.8bn pipeline threatens its water supply and sacred lands, has vowed to fight the order. Activists are seeking to assert indigenous treaty rights, which they say the government and the oil company have violated.
On Tuesday night, Senator John Hoeven of North Dakota announced that the acting secretary of the army has directed the army corps of engineers to proceed with an easement necessary to finish the pipeline. His spokesman said the easement, which Obama had denied in December, "isn't quite issued yet, but they plan to approve it" within days.
MG Malcolm Frost, US army chief of public affairs, said in a statement on Wednesday that the government was acting on Trump's order "to expeditiously review requests for approvals to construct and operate the Dakota Access pipeline in compliance with the law".
Some indigenous and environmental activists have been camped out by the pipeline project for months, remaining in place through the cold North Dakota winter. A group mobilized on Wednesday to form the new camp, which quickly attracted attention of local law enforcement.
The Morton County sheriff's office said it took action to "enforce the law and evict" the "illegal camp" after people refused to leave. At around 3.30pm, police began making arrests.
"Our law enforcement officers conducted themselves in a safe and responsible manner," Morton County's sheriff, Kyle Kirchmeier, said in a statement.
The sheriff's office – which has now made nearly 700 arrests since the Standing Rock demonstrations escalated last summer – said the camp was cleared by 4pm. The activists were taken to five different jails across North Dakota.
Two medics were arrested, according to Noah Morris, a medic who has been at Standing Rock for months.