04 Feb
Nearly all of these are English-edition daily newspapers. These sites have interesting editorials and essays, and many have links to other good news sources. We try to limit this list to those sites which are regularly updated, reliable, with a high percentage of "up" time.

Trump's team doesn't just fictionalise reactions to events – it fabricates the events themselves. While on the real terror attack on Quebec Muslims, there is silence
Kellyanne Conway, a senior adviser to Donald Trump, blames two Iraqi refugees as the 'masterminds' for the 'Bowling Green massacre' – an attack that never happened. Interviewed by Chris Matthews on MSNBC's Hardball programme on Thursday evening, Conway criticises the media for failing to cover the massacre, even though it never took place
Dead-eyed and compelled to swim forward, Kellyanne Conway has propelled swiftly from alternative facts to alternative what-the-facts. Way back in the mid-cretaceous period of the Donald Trump presidency – around 12 days ago – it was presidential counsellor Kellyanne who chose to debut "alternative facts", the phrase that would come to serve as shorthand for the new White House's modus operandi. Or perhaps as mediumhand, given that "lie" would have been even shorter.
If they'd lie about crowd sizes at President Trump's inauguration, wondered some people, what else would they lie about? Literally anything, seemed a reasonable guess – from shootings in Chicago to massive voter fraud to the Holocaust. Lies were pretty much the only area in which the new administration was non-discriminatory, equal opportunity, and so determinedly inclusive that you felt every single untruth could catch a break and reach its full potential. Lies were experiencing an extraordinary moment of upward social mobility. Lies were living the American dream.
Where once the president manufactured reactions to terrorist events, now his team manufacture the events themselves
Even so, full credit to Kellyanne, who doesn't pussy around pulling rabbits out of hats. On Thursday, she pulled out an entire rabbit hole. So let's tumble down it, then, as madam introduces us to an event she referred to as "the Bowling Green massacre". Defending the immigration ban Trump has imposed by executive order on seven Muslim-majority nations, Conway compared it – inaccurately/untruthfully/mendaciously – to temporary immigration restrictions effected by the state department under Barack Obama. These were a direct response to the arrest of two Iraqi nationals over a failed attempt to run guns and money to al-Qaida in Iraq.
Or, as Kellyanne had it, these were a direct response to the "massacre". "Most people don't know that," Kellyanne said of this causal chain, "because it didn't get covered." On the one hand, I suppose it's possible that there are terrorist massacres on American soil that are not covered by the country's famously phlegmatic news media. On the other, this feels like the least-credible deep info since the bit in Under Siege 2 where Steven Seagal's niece claims he has "medals at home that are so secret he can never show them to anybody".
Still, surely the White House wouldn't actually lie about this (as the last civilian will no doubt one day opine, as they distil drinking water from their own urine and swig it from their liberal tears mug)? Over to Kellyanne, who had more info on the whole horror show.
It might not shock you to know that Iraqi refugees apparently "came here to this country, were radicalised and they were the masterminds behind the Bowling Green massacre". Finally, a correct use of the word "mastermind" in a homeland security context – these guys were so superhumanly potent that they somehow erased all memories of their despicable act. Is it possible they were rogue timelords?
If not, it seems reasonable to conclude that the Trump administration has crossed another Rubicon/passed through another looking glass/lied yet again. Where once the president manufactured reactions to terrorist events, now his team manufacture the events themselves. We have moved from Trump's inventing a claim that he saw "thousands" of New Jersey Muslims celebrating the fall of the World Trade Centre on 9/11, to his team inventing a terror attack itself (you'll note the deafening failure of Muslim leaders to condemn the Bowling Green massacre).
Emergency government decree to decriminalise official misconduct 'not constitutional', say key government allies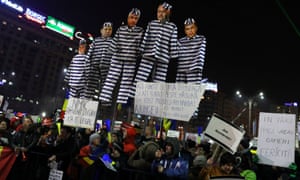 Protesters hold effigies depicting members of Romania's leftist Social Democrat party (PSD) dressed as prisoners during the fourth night of demonstrations. Photograph: Stoyan Nenov/Reuters
Associated Press in Bucharest
Tens of thousands of protesters took to the streets of Bucharest and other Romanian cities on Friday, blowing whistles, waving giant national flags and booing at giant puppets of politicians they hold responsible for a decree to dilute the country's anti-corruption fight.
People of all ages, some carrying children, took part in protests around the country for the fourth consecutive evening. The atmosphere was one of anger against the government, but also of solidarity and hope for change. Some carried banners saying: "I came for my future."
The demonstration came amid a deepening political crisis after two key government allies said on Friday that the emergency government decree passed early on Wednesday without input from parliament was not constitutional. The influential Romanian Orthodox church criticised the measure, which some say will allow corrupt politicians to escape punishment.
Late on Friday, the general prosecutor Augustin Lazar asked the Bucharest court of appeal to suspend and cancel the government decree "in an emergency regime" before it formally becomes law on 9 February.
Ombudsman Victor Ciorbea, who previously backed the government's ordinance, reversed his position on Friday, saying he would tell the constitutional court that the decree to decriminalise official misconduct under a certain dollar amount was "not justified." He said the measure risked "taking out of the reach of criminal law almost all the public administration".
A parliamentary party that formally supports the government, the Union of Democratic Hungarians in Romania, also criticised the government on Friday, saying that criminal law should not be modified through emergency decrees, but through parliamentary debate.
In another setback for the government, the Orthodox church, to which more than 85% of Romanians belong, said that the anti-corruption fight should continue and that those found guilty should be sanctioned.
"Robbery and theft degrade society morally and materially," the church said.
The justice minister, Florin Iordache, said he stood by the law, defying strong criticism from home and abroad and days of protests.
The ruling centre-left Social Democratic party has defended the decree, which has sparked some of the biggest protests since the 1989 fall of communism. Its leader, Liviu Dragnea, who has been blocked from becoming prime minister because of a vote-rigging conviction, is among those expected to benefit from the decree.
Romania's constitutional court will on Tuesday rule on the legality of the law, the last legal resort to stop it.
Gunman shot dead six worshippers at Quebec mosque last week
Non-Muslims act as 'human shields' in Toronto, Edmonton and St John's
Hundreds across Canada gathered around mosques to form protective barriers – described by organisers as "human shields" and "rings of peace" – as Muslims in the country marked their first Friday prayers since a gunman shot dead six men who were praying at a Quebec mosque.
"No Canadian should be afraid to go to their house of worship to pray," Yael Splansky, the rabbi behind the effort to set up "rings of peace" around Toronto mosques told the Canadian Press. "It's a terrifying scene. Imagine people of faith going to pray in peace, to pray for peace, and to be at risk. Houses of worship are sacred and must be protected."
Hundreds of people in Toronto – many of them belonging to local synagogues, churches and temples – stood shoulder-to-shoulder outside seven of the city's mosques on Friday during midday prayers. In Ottawa and Edmonton, similar "rings of peace" were set up around local mosques.
The idea was inspired by a group of Muslims in Oslo, said Splansky. In 2015, as Jewish communities across Europe were reeling from antisemitic attacks in France and Denmark, Muslims organised to stand guard around the synagogue in Oslo while those inside offered Sabbath prayers.
In Newfoundland on Friday, hundreds gathered to form a "human shield" to protect Muslims at the province's only mosque in St John's. Speaking to the crowd, Syed Pirzada of the Muslim Association of Newfoundland and Labrador said the Muslim community had been overwhelmed by the outpouring of support they had received in recent days.
"Although this tragedy has taken irreparable toll on Muslims across the country, the kindness and generosity of fellow Canadians has been a great source of comfort," said Pirzada. "Canada has spoken: no to hate, no to bigotry, no to religious violence, no to intolerance."
Migrants aboard 13 vessels saved by Italian coastguard, Italian and British navies and others, making total of 2,600 rescued in three days
More than 1,300 migrants were rescued in 13 separate missions in the Mediterranean on Friday, bringing the total helped over the last three days to more than 2,600, according to the Italian coastguard.
The migrants, aboard 13 different vessels, were picked up in the central Mediterranean by ships from the Italian coastguard, the Italian and British navies, merchant ships, and vessels operated by non-government organisations, a statement said. Another 1,300 migrants were rescued on Wednesday.
The voyage from Libya across the Mediterranean to Italy is currently the main route to Europe for migrants. A record 181,000 made the journey last year, most on flimsy boats run by people smugglers.
More than 5,000 people are believed to have died attempting the crossing in 2016.
In the latest in a series of measures pushed by the European Union to stop migrants reaching Europe, Italy launched a new fund on Wednesday to help African countries control their own borders.


Nearly all of these are English-edition daily newspapers. These sites have interesting editorials and essays, and many have links to other good news sources. We try to limit this list to those sites which are regularly updated, reliable, with a high percentage of "up" time.
Some of the available newspapers:
| | | |
| --- | --- | --- |
| Asia & CIS | | |
| | | |
| --- | --- | --- |
| China | | |
| | | |
| --- | --- | --- |
| China & Hong Kong | | |
| | | |
| --- | --- | --- |
| France | | |
| | | |
| --- | --- | --- |
| Israel | | |
| | | |
| --- | --- | --- |
| Norway | | |
| | | |
| --- | --- | --- |
| Palestine | | |
| | | |
| --- | --- | --- |
| Russia | | |
| | | |
| --- | --- | --- |
| Ukraine | | |
.