09 Feb
Nearly all of these are English-edition daily newspapers. These sites have interesting editorials and essays, and many have links to other good news sources. We try to limit this list to those sites which are regularly updated, reliable, with a high percentage of "up" time.

Politics
Dr Bernice King issued a blistering critique of Republicans after Elizabeth Warren was silenced while reading a letter by Coretta Scott opposing Jeff Sessions
King wrote in the letter that Sessions was unsuitable for elevation to the courts because he had "used the awesome powers of his office in a shabby attempt to intimidate and frighten elderly black voters".
Jackson said that by halting Warren's reading, McConnell had exposed the kinship between Trump and the Republican party. "Just as Sessions sought to silence Dr King's movement for the protected right to vote, McConnell last night sought to silence Coretta Scott King's letter – it's a consistent pattern."
Rev Dr Barbara Reynolds, a close friend of Coretta Scott King who co-authored her memoir, My Life, My Love, My Legacy, said she was "appalled and upset" by what had happened. It was all the more disturbing, Reynolds said, given King's specific and personal criticism of Sessions in the letter.
"At the time she wrote the letter, Sessions was working as a prosecutor and the people he was fighting were people she had grown up with outside Marion, in Alabama. He was prosecuting black people trying to help other blacks register to vote – and that's what the civil rights movement was all about."
Reynolds said that King had been so opposed to the idea of Sessions sitting in judgment in a federal court because "she didn't want to go back to the life they led before they won the right to vote. Her family's lumber mill was burnt down by white terrorists and there was nothing they could do about it precisely because they didn't have the right to vote."
She added: "Even now, in 2017, they are silencing Coretta Scott King. They won't let her speak now, but her words still matter."
Tribal leaders may have urged activists to let the fight play out in the courts, but many on the ground are calling for a final push as the pipeline moves ahead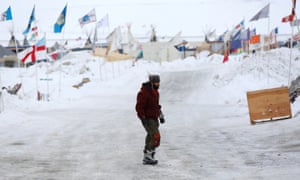 The Standing Rock camp, where temperatures are sub-zero. Activists say they will not give up their battle despite aggressive efforts to complete construction. Photograph: Terray Sylvester/Reuters
Sam Levin in Cannon Ball, North Dakota
Clarence Rowland returned to Standing Rock in the dark of night.
The 26-year-old Oglala Sioux tribe member arrived to his solar-powered hut at 1.30am on Wednesday, knowing that within several hours, Dakota Access pipeline workers could start drilling.
"I came back to stand for our people," Rowland said, as he prepared a large stew inside his family's wooden hut. Around him, young children took shelter from sub-zero temperatures outside.
Rowland – who arrived at Standing Rock last August, but went home in January – is one of a number of Native Americans who rushed back this week to the camps in Cannon Ball, North Dakota, to fight the $3.7bn pipeline. The activists, who call themselves "water protectors", are now planning demonstrations, prayer walks and other resistance effortsa day after the US army corps of engineers announced it was approving the final phase of construction of the pipeline.
On Wednesday, the army corps formally granted Dakota Access the final permit it requires to drill under the Missouri river. "We plan to begin drilling immediately," a spokeswoman for the company said.
Huddled inside tents, tipis and other shelters scattered throughout camps near the construction site, indigenous and environmental activists on Wednesday said they would not give up their battle despite the government's aggressive efforts to greenlight construction.
"This is the most important time to be here," said Laura Hinman, a 24-year-old member of the Kumeyaay tribe, who has been at Standing Rock for months.
Federal authorities have worked quickly to follow through with the executive memorandum Donald Trump signed during his first week in office, which called for expedited approvals of the Dakota Access and Keystone XL oil pipelines.
The memo reversed Barack Obama's decision in December to deny a key permit for Energy Transfer Partners to complete the buildout of Dakota Access across the Missouri river. The rejection, a major victory for the Standing Rock Sioux tribe, directed the government to complete a full environmental impact study on the pipeline, which could have delayed the project for years.
But Trump, who has invested in Energy Transfer Partners and received donations from the corporation's CEO, ordered the army corps to cancel the lengthy environmental review and fast-track the permit. This week's announcement means the corporation may immediately start drilling, though the tribe has argued that the decision is illegal and is fighting in court to halt construction.
I feel very disturbed. I feel cheated. I feel lied to. I feel betrayed. I feel alone

Frank Archambault, Standing Rock Sioux
Native American activists from across the country first flocked to Cannon Ball in the spring of 2016, arguing that the pipeline threatened the regional water supply, sacred sites and indigenous treaty rights. Though Obama's decision led many to leave the camps, a core group remained through the frigid winter, preparing for the expected battle with Trump.
While tribal council leaders have urged activists to leave the camps and let the fight play out in the courts, many on the ground have put out pleas for people to return in large numbers.
Frank Archambault, a member of the Standing Rock Sioux tribe from Little Eagle, South Dakota, sat on a small cot inside a packed tent on Wednesday afternoon where a group was cooking pancakes. The 45-year-old father of five noted that the construction site is heavily guarded and that he was fearful it would be impossible to thwart without a massive crowd.
Yazidi religious minority were subjected to what the United Nations classified as genocide when Isis militants overran their homes in northern Iraq in 2014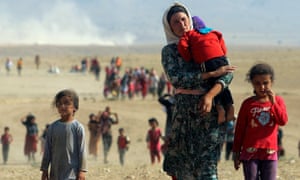 Displaced people from the minority Yazidi sect flee violence from forces loyal to the Islamic State and walk toward the Syrian border in 2014. Photograph: Rodi Said/Reuters
The travel ban imposed by Donald Trump on seven Muslim-majority nations has had the effect of excluding some of those who suffered most at the hands of Islamic State extremists.
The Yazidi religious minority, whose beliefs are derived from Zoroastrianism, Christianity and Islam, were subjected to what the United Nations classified as genocide when Isis militants overran their homes in northern Iraq in the summer of 2014, killing and enslaving thousands of women and girls.
Since then, many Yazidis have worked alongside US forces in the fight against Isis. But neither their military service nor the genocide committed against them have spared them from the Trump travel ban.
"What is particularly painful is that there is no distinction between victims of terrorism and the perpetrators of terrorism in this order," says Vian Dakhil, a Yazidi MP in Iraqi parliament whose pleas for her people in August 2014 helped convince the US government to intervene on their behalf.
She was able to get an exemption to the ban to collect a humanitarian award in Washington on Wednesday from the Lantos Foundation after the state department and US consulate in Erbil intervened on her behalf, but in her acceptance speech she noted that most of her fellow Yazidis were still excluded and treated as potential terrorists because Iraq is one of the seven listed nations on Trump's executive order.
There is no distinction between victims of terrorism and the perpetrators of terrorism in this order

Vian Dakhil
"Iraqis are not terrorists," Dakhil said. "We are friends and allies."
"Lets say a Daesh foreign fighter who has repeatedly raped Yazidi girls manages to go back to his country without being noticed by the authorities, if his country is not part of these seven countries, he can easily apply to go to the US," Dakhil said. "But the Yazidi girl who was raped repeatedly by the same fighter will be blocked by the Trump order to travel to America."
Haifa Mirza and her husband are among close to 500,000 Yazidis scattered across IDP camps in the Kurdish region of northern Iraq hoping that the Trump administration will make an exception in their case and allow them to enter the US.
Around 5,000 Yazidi girls and women like Haifa were enslaved by Isis in Sinjar area, and close to 2,700 have been rescued. "I would have either been killed or taken by Daesh like many other women and girls, had we stayed in Sinjar," said Haifa, who fled hours before Isis militants arrived in her village near Sinjar and climbed Mount Sinjar to reach safety.
"I see no future for myself and my family in this country," said Haifa's husband Ismail Alkhalty, who worked with the US army from 2003 to 2011 as an interpreter. Yazidis like Alkhaty who worked with US forces are not only considered infidels by insurgents such as Isis, but also traitors.
But the US military personnel they served with see them in a very different light. Col William J Finley (now retired), who Alkhaty translated for near Mosul from 2007 to 2008, said that he had served "honorably".
Judge declares repatriation of 200,000 Somali refugees from Dadaab camp unconstitutional and discriminatory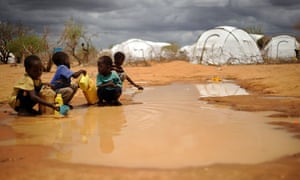 Somali boys collect water from a puddle at the sprawling Dadaab refugee complex in Kenya. Photograph: Tony Karumba/AFP/Getty
Associated Press in Nairobi
A Kenyan court has declared illegal a government order to close the world's largest refugee camp and send more than 200,000 people back to war-stricken Somalia.
The judge, John Mativo, said on Thursday that Kenya's internal security minister had abused his power by ordering the closure in May of Dadaab refugee camp, near the border with Somalia.
He said the decision was discriminatory and went against the Kenyan constitution as well as international treaties that protect refugees against being returned to a conflict zone.
The Kenyan government had not proved Somalia was safe for the refugees to return, Mativo added.
The government said in November it was postponing the closure of Dadaab after criticism from human rights groups.
More details soon …
Aung San Suu Kyi criticised for failure to condemn army despite mounting evidence of atrocities on a huge scale
More than 1,000 Rohingya Muslims might have been killed in a Myanmar army crackdown, according to two senior United Nations officials dealing with refugees fleeing the violence, suggesting the death toll is far greater than previously reported.
The officials, from two separate UN agencies working in Bangladesh, where nearly 70,000 Rohingya have fled in recent months, said they were concerned the outside world had not fully grasped the severity of the crisis unfolding in Myanmar's Rakhine state.
"The talk until now has been of hundreds of deaths. This is probably an underestimation – we could be looking at thousands," said one of the officials, speaking on condition of anonymity. Both officials, in separate interviews, cited the weight of testimony gathered by their agencies from refugees over the past four months in concluding the death toll was likely to have exceeded 1,000.
Myanmar's presidential spokesman, Zaw Htay, said the latest reports from military commanders were that fewer than 100 people had been killed in a counterinsurgency operation against Rohingya militants who attacked police border posts in October.
Asked about the UN officials' comments that the dead could number more than 1,000, he said: "Their number is much greater than our figure. We have to check on the ground."
About 1.1 million Rohingya Muslims live in apartheid-like conditions in north-western Myanmar, where they are denied citizenship. Many in Buddhist-majority Myanmar regard them as illegal immigrants from Bangladesh.
In addition to the information the two UN officials gave Reuters, a report released by the UN Office of the High Commissioner for Human Rights (OHCHR) on Friday gave accounts of mass killings and gang rapes by troops in north-western Myanmar in recent months, which it said probably constituted crimes against humanity.
The government led by Aung San Suu Kyi said last week it would investigate the allegations in the report. It has previously denied almost all accusations of killings, rapes and arson.
But mounting evidence of atrocities by the army puts Suu Kyi, who has no control over the armed forces under a constitution written by the previous military government, in a difficult position, Myanmar-based diplomats say.
The Nobel peace prize winner has been criticised in the west for her silence on the issue, undermining the goodwill she built up as a democracy champion under years of junta rule and threatening international support.


Nearly all of these are English-edition daily newspapers. These sites have interesting editorials and essays, and many have links to other good news sources. We try to limit this list to those sites which are regularly updated, reliable, with a high percentage of "up" time.
Some of the available newspapers:
| | | |
| --- | --- | --- |
| Asia & CIS | | |
| | | |
| --- | --- | --- |
| China | | |
| | | |
| --- | --- | --- |
| China & Hong Kong | | |
| | | |
| --- | --- | --- |
| France | | |
| | | |
| --- | --- | --- |
| Israel | | |
| | | |
| --- | --- | --- |
| Norway | | |
| | | |
| --- | --- | --- |
| Palestine | | |
| | | |
| --- | --- | --- |
| Russia | | |
| | | |
| --- | --- | --- |
| Ukraine | | |
.