12 Feb
Nearly all of these are English-edition daily newspapers. These sites have interesting editorials and essays, and many have links to other good news sources. We try to limit this list to those sites which are regularly updated, reliable, with a high percentage of "up" time.

US president plans to increase taxes on those importing to sell into the American market
It is one thing for Trump to call on US companies to invest at home, but it is much more significant if he gives them a real financial incentives to do so.'

Politics
Mexican national Rosa María Ortega, 37, sentenced to eight years in jail
Attorney wanted to steer jury away from president's unfounded claims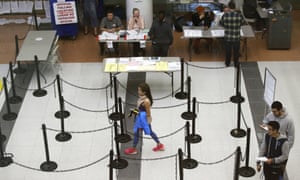 Voters walk through a polling station in Dallas, Texas, on 8 November 2016. In-person voter fraud at the polls is extremely rare, research has shown. Photograph: LM Otero/AP
Associated Press in Austin, Texas
A lawyer has said Donald Trump's debunked claims of election rigging influenced the outcome of his client's voter fraud trial, calling the US president's comments "the 800lb gorilla" in the jury box.
Rosa María Ortega, 37, a Mexican national, was jailed for eight years in Fort Worth, Texas, after being convicted of two felony counts of illegal voting over allegations that she improperly cast a ballot five times between 2005 and 2014.
Her attorney, Clark Birdsall, said on Friday that Ortega was a permanent resident who was brought to the US as a baby and mistakenly thought she was eligible to vote. He said she voted Republican, including for the Texas attorney general, Ken Paxton, whose office helped prosecute her.
Her sentence was tough: voter fraud convictions, which are rare, often result in probation. As a convicted felon, Ortega is likely to be deported after serving her sentence.
Tarrant County prosecutors said jurors made clear they valued voting rights, but Birdsall said he believed Ortega would have fared better in a county with fewer "pro-Trump" attitudes.
Trump carried north Texas's Tarrant County with 52% of the vote in November. Birdsall said he wanted to steer the jury of 10 women and two men from any lingering thoughts about Trump's unproven claims that 3 million people illegally voted in 2016 – but the judge wouldn't allow him.
"It was the 800lb gorilla sitting in the jury box," Birdsall said. "I would have said, 'You cannot hold this woman accountable for Donald Trump's fictitious 3 million votes.'"
Birdsall said the Texas attorney general's office had agreed to leniency in exchange for Ortega testifying to lawmakers about illegal voting, but said the Tarrant County district attorney, Sharon Wilson, quashed those talks.
A spokeswoman for Wilson acknowledged plea negotiations but would not divulge details. A spokesman for the attorney general did not respond to an email seeking comment.
Birdsall said Ortega has lived in the US since she was a baby and has four teenage children. He said Ortega had learning disabilities and only a sixth-grade education.
Sam Jordan, a spokeswoman for Wilson, said the decision to prosecute had "absolutely nothing" to do with immigration.
"This is a voter rights case," she said. "Does [Wilson] consider voter rights important? Yes she does. And she thought it was important enough to go forward to a jury and let the jury of citizens decide, and they decided pretty clearly how important they think voting rights are."
More than 125,000 people have been sacked on suspicion of links to a dissident cleric. Two teachers and a law student describe how this has affected them
On 1 September, the life of Ahmet and Fatma Özer*, married teachers from Istanbul, changed dramatically. Accused of being sympathisers of Fethullah Gülen, both were fired. On the same day Ayse Yilmaz*, a law student, received a text informing her that her father, a civil servant, had been detained for alleged involvement in terrorism and coup plotting. "It was the day we were blacklisted," Fatma recalls. "The day we were erased as citizens."
The Justice and Development party (AKP) government accuses Gülen, an Islamic cleric who lives in the US, of organising the bloody coup attempt on 15 July. However, the extent of Gülen's involvement remains unclear. Nevertheless, those who have expressed even the slightest sympathy with the cleric's views, or who have made use of his businesses – which include a bank, schools and media organisations – have found themselves accused of coup plotting, like the Özer and Yilmaz families.
On 20 July last year the president, Recep Tayyip Erdo?an, declared a state of emergency, enabling him and the AKP cabinet to bypass parliament and rule by decree. The crackdown on possible coup plotters has since been turned into an all-out witch-hunt not only against alleged Gülen sympathisers but also leftists, Kurds and anyone critical of the government.
Since the coup attempt, more than 125,000 people have been dismissed from state jobs, and more than 45,000 are in jail on terrorism charges, including military personnel and police officers, but also large numbers of journalists, academics and civil servants. Erdo?an has repeatedly vowed to "root out" the entire Gülen network and threatened to reinstate the death penalty and "let the people take revenge". The president, who wants to turn Turkey's parliamentary system into a presidential one via popular referendum, is using the coup attempt as an excuse to rid himself of all unwanted critics.
"Many people have been dismissed not because they misused their positions, but because of their opposition to the AKP and Erdo?an," says Andrew Gardner, Turkey researcher for Amnesty International. "If the state wants to bring proceedings against people, they need to do so based on individualised proof. But what we are seeing are blanket accusations against which people are unable to appeal."
Ahmet Özer agrees. "I am not sure what we are accused of exactly," he says. He has been teaching for over a decade. Neither he nor his wife received an official notice, a justification or a court order. Instead, they learned of their dismissal via the internet. "Our names were published in the official gazette. That was all," Özer said. Both had been suspended earlier in August. "We have no means to defend ourselves, but since our names are now associated with terrorism and coup plotting we are blacklisted." His wife underlines that they opposed the coup and had never been politically active. The sudden lack of income has landed the Özer family in dire straits. Ahmet used to be a popular tutor, but parents are no longer willing to have their children taught by a "terrorist". Others are too scared to employ him, lest they will be seen as sympathisers. No school will hire him. He has been looking for day work in factories and textile workshops to earn at least a little money, so far unsuccessfully.
The fate of those stranded by the UK's decision to limit taking child refugees from France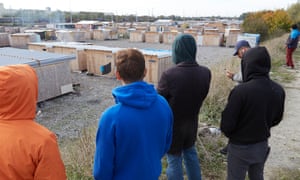 The Dunkirk camp holds up to 2,000 of whom an estimated 100 are unaccompanied minors. Photograph: Andy Hall for the Observer
Children and women are being raped by traffickers inside a refugee camp in northern France, according to detailed testimony gathered ahead of fresh legal action against the UK government's approach to the welfare of unaccompanied minors.
Corroborating accounts from volunteers, medics, refugees and security officials reveal that sexual abuse is common within the large camp at Dunkirk and that children and women are forced to have sex by traffickers in return for blankets or food or the offer of passage to the UK.
Legal proceedings will be issued by London-based Bindmans against the Home Office, which is accused of acting unfairly and irrationally by electing to settle only minors from the vast Calais camp that closed last October, ignoring the child refugees gathered in Dunkirk, 40 miles away along the coast.
The legal action, brought on behalf of the Dunkirk Legal Support Team and funded by a crowd justice scheme, says the Home Office's approach was arbitrary and mean-spirited. On Wednesday the government's approach to child refugees provoked widespread indignation when the home secretary, Amber Rudd, announced the decision to end the "Dubs scheme", having allowed just 350 children to enter the UK, 10% of the number most MPs and aid organisations had been led to believe could enter.
What is the Dubs amendment? – video explainer
Home secretary Amber Rudd has announced that the government is to end the Dubs amendment, which sought to provide refuge for unaccompanied children arriving in the UK. The amendment was added to an anti-illegal immigration bill introduced by David Cameron's government by Lord Alf Dubs, who entered the UK as a six-year-old refugee on Sir Nicholas Winton's Kindertransport trains after fleeing Nazi-occupied Czechoslovakia
Stopping the Dubs scheme for child refugees is shameful and heartless
A petition of 50,000 signatures was handed in to Theresa May on Saturday by Labour peer Alf Dubs amid growing cross-party anger at the decision.
Caroline Robinson of Bindmans said: "Our clients call upon the home secretary to reconsider her position."
On Friday the archbishop of Canterbury said the government's decision meant that child refugees would be at risk of being trafficked and even killed. Justin Welby's warnings of what could happen if child refugees were denied the opportunity of safe passage are graphically articulated in the testimonies gathered over several months by the Observer. Accounts from those at the camp, which currently holds up to 2,000 refugees, of whom an estimated 100 are unaccompanied minors, portray a squalid site with inadequate security and atrocious living conditions. The Dunkirk Legal Support Team says the failure of the authorities to guard the site has allowed the smugglers to take control. One volunteer coordinator, who has worked at the camp's women's centre since October 2016, said: "Sexual assault, violence and rape are all far too common. Minors are assaulted and women are raped and forced to pay for smuggling with their bodies." Testifying on condition of anonymity, she added: "Although the showers are meant to be locked at night, particularly dangerous individuals in the camp have keys and are able to take the women to the showers in the night to force themselves on them. This has happened to women I know very well."
She said that one of the most in-demand products distributed to women in Camp de la Linière – the Dunkirk Camp – are adult nappies. "Women are too scared to go to the toilets in the night. None of the locks in the women's toilets in the camp work," she said.
The volunteer also recounted several incidents where minors had been attacked: "A 12-year-old girl was groomed in the camp by a man well over twice her age. When she no longer wanted to speak with him because his behaviour towards her had become so obscene, he threatened her. A 13-year-old boy ended up returning to his home country having been raped in the camp."
Jürgen Mossack and Ramón Fonseca, who founded firm at centre of data leak, held as part of investigation into Lava Jato scandal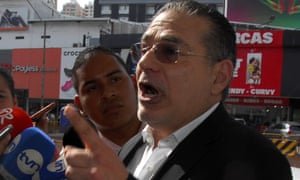 Ramón Fonseca, founding partner of law firm Mossack Fonseca, arrives at the public ministry office in Panama City on Thursday. Photograph: Reuters
The heads of the law firm at the centre of the Panama Papers scandal have been refused bail following their arrest by police in Panama.
Their defence lawyers have confirmed that they will remain in custody. Elías Solano, for Fonseca, dismissed evidence against his client as "weak" and said: "It does not seem too difficult to show the lack of foundation to these allegations."
Mossack's lawyer Marlene Guerra told reporters he had been refused bail because "there is a risk of flight from the country, due to the financial means of our clients".
She said the indictment process was ongoing. The Panamanian newspaper La Prensa reported that they were being charged with alleged economic crime, in the form of money laundering.
Guerra confirmed that their homes in the exclusive Altos del Golf neighbourhood had been searched along with their firm's headquarters.
It was reported that a third Mossack Fonseca lawyer, Edison Teano, had also been taken into custody.
The government is reported to have confirmed that another search was made at the offices of a fourth employee, Sara Montenegro, who is legal director at Mossack Fonseca.
Panamanian authorities have questioned four individuals in connection with the case, which is understood to be part of an international investigation into hundreds of millions of dollars in political bribes allegedly paid by the Brazilian engineering corporation Odebrecht.
Brazilian investigators, with help from the Swiss authorities and journalists including reporters from La Prensa, have unearthed a network of offshore companies which they allege were used to funnel payments by Odebrecht.
In what appears to have been a coordinated action by law enforcement agencies across Latin America, Peru issued an international arrest warrant for former president Alejandro Toledo on Thursday. He is charged with accepting $20m (£16m) in bribes from Odebrecht.
Among the web of screen companies used to transfer tens of millions of Odebrecht funds are a number of entities represented by Mossack Fonseca. Among them, a Panama-registered Balmer Holding Assets SA. The identity of its owner was hidden by anonymous bearer shares, but investigators have found $7m was transferred from Odebrecht and connected companies to Balmer.
The Panama Papers revealed that a Mossack Fonseca representative agreed to a request by an agent acting for Balmer's hidden owner to destroy correspondence regarding the company.
Gabriel Fonseca, Ramón's son, told reporters outside the justice ministry: "They are wasting time putting pressure on my father … They already have all the electronic information, it's in the ministry."



Nearly all of these are English-edition daily newspapers. These sites have interesting editorials and essays, and many have links to other good news sources. We try to limit this list to those sites which are regularly updated, reliable, with a high percentage of "up" time.