13 Feb
Nearly all of these are English-edition daily newspapers. These sites have interesting editorials and essays, and many have links to other good news sources. We try to limit this list to those sites which are regularly updated, reliable, with a high percentage of "up" time.
Trump genuinely can't understand what it is everybody is getting upset about

Politics
'There is a dreadful sense of fear. It's radiating. People are terrified'
Donald Trump hails 'crackdown on illegal criminals' as hundreds arrested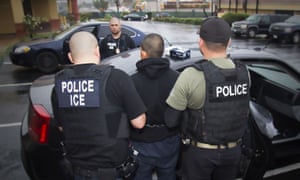 US Immigration and Customs Enforcement officers detain a suspect during an enforcement operation on 7 February in Los Angeles, California. Photograph: Charles Reed/AFP/Getty Images
Associated Press
Pastor Fred Morris looked out over his congregation on Sunday as news ricocheted around the world that American authorities were rounding up immigrants in an enforcement surge that President Donald Trump promised on the campaign trail.
Parishioners did not smile as on any other Sunday morning. They stared down at their feet. Others didn't attend at all.
"There is a dreadful sense of fear. It's more than palpable. It's radiating. People are terrified," said Morris, whose United Methodist mission is in a predominantly Hispanic neighborhood of Los Angeles. "They were just sitting there in stunned silence."
For days, fear and confusion have gripped immigrant communities after word spread that federal agents were rounding up hundreds of immigrants in cities across the country. The scope of the operation remained unclear on Sunday.
Advocates and immigration lawyers scrambled to contain the panic and to organize seminars and social media campaigns to teach people their rights.
The Immigration and Customs Enforcement agency said the efforts were "routine" and no different than the arrests carried out under former President Barack Obama that targeted those with criminal histories or multiple immigration violations.
But Trump claimed credit on Twitter.
"The crackdown on illegal criminals is merely the keeping of my campaign promise," the president wrote. "Gang members, drug dealers & others are being removed!"
The raids included nearly 200 people in the Carolinas and Georgia, more than 150 in and around Los Angeles, and about 40 in New York, Ice confirmed. Among those arrested were a Salvadorian gang member and a Brazilian drug trafficker, officials said.
A decade ago, immigration officers searching for specific individuals would often arrest others encountered along the way, a practice that drew criticism from advocates. Under the Obama administration, agents focused more narrowly on specific individuals who posed a security or public safety threat.
Trump signed an executive order days after taking office that made clear that almost any immigrant living illegally in America could be targeted.
Immigrant-rights groups cite the case of Manuel Mosqueda, a 50-year-old house painter, as an example of how they believe Ice agents in the new administration are again going too far.
During last week's enforcement operation, Ice agents showed up at Mosqueda's home in the LA suburbs looking for someone else. While there, they inquired about Mosqueda, learned he was here illegally and put him on a bus to Mexico.
Karla Navarrete, a lawyer for the advocacy group Chirla, said she sought to stop Mosqueda from being placed on the bus and was told by Ice that things had changed. She said another lawyer filed federal court papers and got a judge to stop the deportation. The bus turned around, and Mosqueda is now jailed in southern California, waiting to learn his fate.
In Virginia, agents who went to an apartment on Thursday looking for a wanted man picked up everyone else in the apartment too, except for one woman with a baby in her arms, said Simon Sandoval-Moshenberg, legal director for Legal Aid Justice Center's immigrant advocacy program in northern Virginia.
Campaigners say tens of millions in urgent need in Yemen, South Sudan, Nigeria and Somalia are in hands of an overwhelmed, outdated humanitarian network
Famine is looming in four different countries, threatening unprecedented levels of hunger and a global crisis that is already stretching the aid and humanitarian system like never before, experts and insiders warn.
Tens of millions of people in need of food aid in Yemen, South Sudan, Nigeria and Somalia are at the mercy not only of an overwhelmed aid system but also the protracted, mainly conflict-driven crises in their own countries, the humanitarian leaders say.
While the generosity of donors has risen sixfold over the past 20 years, unprecedented levels of humanitarian suffering have overtaken financial support. Donor funding reached a record high last year but only half of the requirements were met, according to the UN's humanitarian chief, Stephen O'Brien.
Gareth Owen, humanitarian director of Save the Children, said: "The potential this year is we may have four famines looming, which is a truly scary thought and will stretch our resources. We are at a critical moment."
Owen, who has 25 years' experience working in the Horn of Africa, said the situation there bears comparison with Somalia before the famine that killed 260,000 people between 2010 and 2012.
"Right now, in Ethiopia, Kenya and Somalia, there are 12 million people affected [by food insecurity]. These three countries together look as bad as Somalia in 2011. If you add South Sudan on top of that, with that conflict, and Nigeria, you have millions more. And Yemen has 18 million people. That's creating this real concern that we are facing a major crisis that we have not seen before."
The UN has launched a $2.1bn (£1.6bn) appeal for Yemen this year, its largest ever for the country. It is requesting a record $22.2bn overall in 2017, an increase on the $22.1bn asked for in 2016.
Mark Goldring, the CEO of Oxfam, said that while he believes the increased donations mean more vulnerable people than ever are being reached, it is no longer enough.
"If we look back over the last 20 years, funds have increased sixfold, so within that there is a positive story that we are reaching many of the people in need," said Goldring. "But neither the funding nor the capacity is enough."
Oxfam's policy adviser, Debbie Hillier, described the humanitarian system as "medieval", likening the appeal procedure to someone whose house was burning down having to raise money to pay the fire brigade to extinguish it.
Goldring shares Hillier's belief that reform is crucial. "We can't carry on relying on individual appeal after appeal, because they are time-bound and partial – they play to what's in the news."
The complexity of the current humanitarian crises also play a part, Goldring said. The potential famine areas flagged up in January by the Famine Early Warning Systems Network, a US-based agency, are conflict-related.
Vocal Donald Trump critic says he wants Germany to be an 'anchor of hope' after he was voted in by parliamentary assembly
A parliamentary assembly met at the Reichstag in Berlin to elect centre-left politician Frank-Walter Steinmeier the new president of Germany. Steinmeier, who once characterised Donlad Trump as a "hate preacher", references the first president of the country, Theodor Heuss, and urges his fellow parliamentarians to ensure Germany stands firm "on this foundation of democracy"
A centre-left politician who once characterised Donald Trump as a "hate preacher" has been elected president of Germany. The former foreign minister Frank-Walter Steinmeier was voted in on Sunday by a parliamentary assembly made up of 1,260 MPs and representatives of Germany's 16 states.
Steinmeier, a member of the Social Democratic party, had guaranteed the support both of his own centre-left bloc and Angela Merkel's centre-right Christian Democratic party, who between them hold a majority of 923 seats in the assembly.
In his acceptance speech, Steinmeier, 61, said Germany should be an "anchor of hope" while democratic institutions were under threat across the globe. "As the foundations are shaking elsewhere, we have to prop up those foundations even more strongly," he said
Gaining 75% of votes in the first round, he beat four outsider candidates fielded by the smaller parties, including Christoph Butterwegge, a political scientist and poverty researcher; Albrecht Glaser, a former Christian Democrat running for the rightwing populist Alternative for Germany party (AfD); and Engelbert Sonneborn, the father of the leader of the satirical organisation the Party.
Despite the role being largely ceremonial, past German presidents have aspired to act as a moral authority in debates of national and international importance. Steinmeier succeeds Joachim Gauck, 77, a former Protestant pastor and East German civil rights activist who told the Guardian this month that Germany would "staunchly stand by the European project".
In contrast to Gauck, Steinmeier will enter the presidential residency at Bellevue Palace in Berlin's Tiergarten district as a career politician. A former chief of staff to Gerhard Schröder, Steinmeier was one of the architects behind the "Agenda 2010" labour market reforms of the early 2000s.
After serving as foreign minister in Merkel's first coalition government between 2005 and 2009, Steinmeier presided over his party's worst performance at a general election. In 2010, when he was the country's main opposition leader, Steinmeier took a break from politics to donate a kidney to his wife, Elke Büdenbender, a judge at Berlin's administrative court.
However, in a second stint in the foreign ministry as part of Germany's "grand coalition" between the SPD and CDU, he enjoyed consistently high popularity ratings.
In the run-up to the US election, he said Trump had much in common with "fearmongers" in the AfD and with advocates of Britain's exit from the EU.
After Trump's shock victory in November, he predicted that "American foreign policy will be less predictable for us in the future" and that "America will be more inclined to make unilateral decisions".
Some in Germany have criticised Steinmeier for adhering to his party's Ostpolitik philosophy – a more diplomatic and conciliatory approach to Russian power than that pursued by Merkel. Last June the foreign minister raised eyebrows when he appeared to criticise a large-scale Nato manoeuvre in Poland as "sabre rattling". But his commitment to trying to solve the long-running crisis in Ukraine has also gained Steinmeier respect in the international community.
Spineless world leaders have failed to implement international law, stopping the expansion of Israeli settlements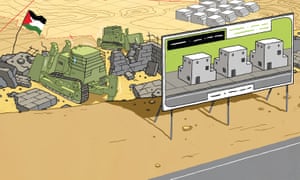 Illustration by Jasper Rietman
B

uttoned up against a biting wind, Khalil Tufakji, a 65-year-old Palestinian cartographer, points down from the Mount of Olives in the east of Jerusalem towards a huge wasteland – the last remaining space in the ring of Jewish settlements that surround the city.
This 35 sq km plot of West Bank land was confiscated several years ago and the settlement of Maale Adumim, now home to 40,000 people, was built on the south-eastern corner. But most of the plot still remains empty.
With Donald Trump now in the White House, Tufakji fears that Israel's prime minister, Benjamin Netanyahu, will seize his chance to announce another expansion of settlements; bulldozers are ready, pink-roofed homes will be up in no time, and busloads of new immigrants – many arriving nowadays from war-torn Ukraine – will be whisked through settler roads and tunnels so fast they won't see the Arab villages that lay claim to the land. They won't even know they're in a settlement. By the time they close their front doors, the whole area will have been annexed to Jerusalem, thereby not only cutting the city off from a hoped-for Palestinian state, but slicing the West Bank in two.
Some say the expansion can still be halted. United Nations resolution 2334, passed in December after Barack Obama's change of heart, condemned settlements. But Tufakji lists countless UN resolutions passed only to be followed by settlement expansion. Today there are 630,000 settlers in Arab East Jerusalem and the West Bank, both illegally occupied since 1967. In East Jerusalem, 87% of the land is now under Israeli control "which leaves 13% for the Palestinians in East Jerusalem, down from 100% in 1967. Soon there'll be none," says Tufakji.
I've been listening to Tufakji since the mid-1990s and everything he foresaw has so far come true. He pointed out where a tunnel would be drilled through the Mount of Olives to connect settlements – it seemed impossible but we are now driving through it. He can read the future of this conflict because he reads the land and everything about this conflict concerns the land.
Poring over maps, he identifies the next land seizure by locating an aquifer; he can see where a settler road will divide an Arab village from its olive groves. He also deciphers Israel's complex legal code that is used to authorise seizures under Ottoman or mandate law, or under the law of "absentee property", and, following a vote earlier this month, now "legalising" the theft of Palestinian private land. Yet all settlement on occupied land is illegal under international law.
Tufakji has tried and failed to get the international community to see that the conflict is all about the land. Now, he says, it's too late. Looking further into the future, he describes Israel's master plan for 2050 and his tone switches from despair to fear. The 2050 plan envisages a huge new airport beyond Maale Adumim on land occupied by Nebi Musa, an ancient Muslim holy site dedicated to Moses. The airport will bring hundreds of thousands of tourists and pilgrims to Jerusalem, who will stay in huge new hotel complexes connected by rail to Amman and Iraq to the east and Tel Aviv to the west. The sheer scale of the scheme is breathtaking.
I first met Tufakji in 1993 in Orient House, which after the signing of the Oslo accords became the Palestinian political centre in East Jerusalem. For a while Orient House buzzed, as did the Arab streets nearby, as foreign delegations rolled up, often looking at Tufakji's maps before mulling over the shape of the new Palestinian state.
Tufakji knew the Oslo deal was flawed, mostly because it did not stipulate a block on new building while the talks were under way but also because the rights of millions of Palestinian refugees, first made homeless in 1948 when Israel was created, were barely addressed. A man of compromise – his father was a policeman under the British mandate – he advised the foreign peace brokers that Oslo could work if all ongoing settlement on lands seized in 1967 was stopped forthwith, so at least a state within 67 borders might be contiguous, with East Jerusalem as its capital, and safe passages joining it to the Gaza Strip.
Yet the building was never stopped. Too ready to buy into Israel's claim that some settlements were still needed for its own security, the international peace brokers, led by America and backed up by Europe, showed fatal weakness and squandered the chance to bring about peace.
A refusal to understand the Palestinians' own deep attachment to the land and the lasting pain of their first 1948 dispossession was viewed as betrayal, a charge most viscerally levelled at the British, who, as authors of the 1917 Balfour declaration, had promised Palestine as a Jewish homeland.
As the deal collapsed, extremists on both sides gained ground with Hamas sending its suicide bombers into Jerusalem, causing a bloodbath. Hawkish Ariel Sharon responded by taking more Palestinian land while killing off the chance for Palestinian politicians to organise, as Jerusalemites became severed by checkpoints from the outside leadership based in the West Bank town of Ramallah.
A huge barrier wall, looping round Jewish areas, was built ostensibly to keep out suicide bombers, but was in fact another land grab, and holds 50,000 Palestinians on the Israeli side. The wall has extinguished social and commercial life in East Jerusalem, stunting freedom of movement, and dividing families who find themselves on different sides.
As we drive on around the city, passing through the impoverished Palestinian suburb of Silwan, Tufakji points out the numerous Star of David flags draped on walls of Arab houses. We reach the site of Trump's proposed US embassy, which he has promised to move to Jerusalem, thereby endorsing Israel's claim to the city as its united capital. Perhaps this is the move that could ignite the religious war so eagerly sought by fanatics down below.
Standing in Maale Adumim and looking back over the wasteland towards the Mount of Olives, Tufakji has no doubt that the land war is over – at least for now. The 2050 master plan – airport and all – will go ahead, he says. When I ask what next, he is no longer the voice of compromise. "Armed resistance," he says. "A military uprising of some sort. There is now no other way."
Sybrina Fulton and Tracy Martin's 17-year-old son was killed by a neighbourhood watchman who was acquitted of his murder. They talk about becoming activists – and how they lost 'hope and faith' in justice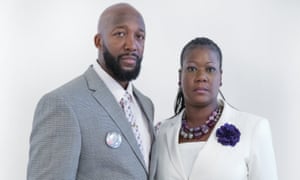 'We don't portray Trayvon as an angel … but he was our angel.' Tracy Martin and Sybrina Fulton Photograph: Miami Herald/MCT via Getty Images
 
W

hen Sybrina Fulton found out that her 17-year-old son, Trayvon Martin, had been shot dead by a self-appointed neighbourhood watchman in a gated community in Sanford, Florida, she made a decision: never to go there. She could not bear to see the place where Trayvon had been killed. Gripped by the "strange paralysis" of grief and unable to eat or sleep, Fulton lay in bed crying, waiting for her son's body to be returned home. "Losing my child ripped my heart in half," she writes, with typically unflinching honesty, in Rest in Power: the Enduring Life of Trayvon Martin. "It is indescribable pain. I could not get out of my bedroom."
Days later, however, Fulton was packing a bag and heading from Miami-Dade, where she brought up her two sons and had worked for the county for 24 years, to Sanford. In that instant she went from grieving mother to civil rights activist. How did she summon the strength to do it? "I did it out of anger," Fulton tells me. "When Tracy [Trayvon's father, Tracy Martin] called me and said the police were not going to arrest the person who shot and killed Trayvon – although they had [him], they had the gun, and they were clear what had happened – I was in disbelief. That evening, I headed to Sanford. I could not believe they were going to let this person get away with murder."
"It was shocking to know that someone can shoot and kill a 17-year-old unarmed child and the child goes to the morgue in a body bag and the adult goes home to his bed," Martin adds. "It is also disturbing."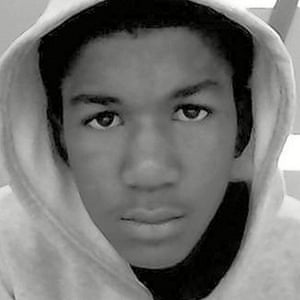 Trayvon Martin: 'a very fun-loving, understanding young man with a beautiful smile'. Photograph: Mark St George/Rex Features
On the evening of 26 February 2012, Trayvon Martin was on his way home from a 7/11 convenience store with a can of iced tea and a bag of Skittles. It was raining, he had his hoodie on, and he was listening to music and talking on the phone as he returned to the house where he was staying with his father and his father's girlfriend. (Fulton and Martin divorced when their children were young but continued to bring up their boys together.) He was followed, shot and killed by 28-year-old George Zimmerman. The details of the case, now infamous five years on, remain deeply shocking. The fact that Zimmerman followed Trayvon against the advice of the police. That he was recorded on tape saying, "Fucking punks. These assholes always get away", yet claimed he acted in self-defence, invoking the stand-your-ground law that is currently enacted in 22 states. The fact that Trayvon's body was immediately subjected to a drug and alcohol test, but Zimmerman was not. The fact that it took 44 days for an arrest to take place and then only as a result of a national media campaign. The fact that during the trial the prosecution was ordered to refrain from using the term "racial profiling". And the fact that, in July 2013, Zimmerman was found (by a jury of six women, five of whom were white) not guilty of second-degree murder or manslaughter.
Rest in Power is a devastating and agonisingly detailed account of Trayvon's life and death, and of the Black Lives Matter movement that followed. With Fulton and Martin taking consecutive chapters to tell the story, it unfolds like a true-crime serial: labyrinthine, episodic and appallingly real. Yet it is also the story of two ordinary parents, part of "the mass of Americans living an anonymous life of infinite complexities in the struggling suburb of an American city", grieving for the loss of their child. They never intended to take five years to write it, but their anguish made it impossible until now. As Fulton quietly puts it: "We never imagined we would get there."
"We were asked by our attorneys to keep notes from the beginning," Martin explains. "And when we sat down and looked at everything that went on through the trial, we realised Trayvon wasn't humanised through the court system. We don't portray Trayvon as being an angel … but he was our angel. We don't say we were the perfect parents, but we were his parents."
"It was very difficult to write," Fulton adds. "It was like reliving the story."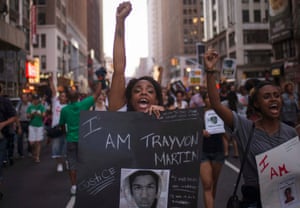 Demonstrators demand justice for Trayvon Martin, New York, July 2013. Photograph: Adrees Latif/Reuters
Since Trayvon's death, and those of other black people including Michael Brown, Tamir Rice and Eric Garner, their collective legacy has been to reignite the race conversation in the US. Six days after the trial verdict, President Barack Obama delivered what many consider to be his most eloquent address about race. "When Trayvon Martin was first shot," he began, "I said that this could have been my son. Another way of saying that is, Trayvon Martin could have been me 35 years ago." Killings of young black men now make front-page news. The American Dialect Society declared #blacklivesmatter its word of the year in 2015. Racism, racial profiling (and gun control) were critical issues during the 2016 presidential campaign.
Yet since Fulton and Martin wrote the book, the US has changed again. How do they feel under the current administration? "That there is a lot of work to be done," says Fulton, diplomatically. "I just think we have to do better here in the United States." Along with other African American mothers who lost their sons to gun violence, she campaigned for Hillary Clinton during the 2016 presidential race. Is she more scared for black people now? "I can't say I'm more scared," she says, carefully. "We're in a bad situation. I don't know what Donald Trump's plans are on gun violence. So I really can't speak on that this minute." Is Martin less hopeful now? "What I can say is there was hope with President Obama's administration, and this administration has yet to prove that there is hope for the black man in America," he says.


Nearly all of these are English-edition daily newspapers. These sites have interesting editorials and essays, and many have links to other good news sources. We try to limit this list to those sites which are regularly updated, reliable, with a high percentage of "up" time.