14 Feb
Nearly all of these are English-edition daily newspapers. These sites have interesting editorials and essays, and many have links to other good news sources. We try to limit this list to those sites which are regularly updated, reliable, with a high percentage of "up" time.

Politics
The departure of Trump's national security adviser is the most dramatic development yet to hit the president's chaotic administration
The US national security adviser, Michael Flynn, resigned late Monday amid a flow of intelligence leaks that he had secretly discussed sanctions with the Russian ambassador to Washington and then tried to cover up the conversations.
The resignation, with the Trump era less than four weeks old, is the latest and most dramatic convulsion in the most chaotic start to an administration in modern US history.
It was far from clear whether Flynn's departure would steady an inexperienced and feuding White House, or resolve the lingering suspicions about the Trump team's pre-election contacts with the Kremlin.
The White House issued a statement just after 11pm in Washington announcing the resignation, shortly after reports broke that the Trump administration had been warned weeks ago that Flynn might be vulnerable to Russian blackmail.
The statement also named retired army general Joseph Kellogg, who goes by his middle name Keith, as acting national security adviser, pending the appointment of a permanent successor. It was reported that a third general, former CIA director David Petraeus, was due to meet Trump on Tuesday.
But Petraeus has legal issues of his own. He is currently nearing the end of two years of probation for sharing classified information with his biographer and lover, Paula Broadwell.
In his resignation letter, Flynn claimed he had mistakenly misled the vice-president, Mike Pence, and other Trump officials about the nature of phone calls in December to the Russian ambassador, Sergei Kisilyak. When intelligence leaks about the communications began appearing last month, Pence and other White House officials insisted that the contact had only involved an exchange of Christmas greetings and arrangements for a future phone conversation between Trump and Vladimir Putin.
However, subsequent leaks suggested that they had been more substantial, and concerned sanctions the Obama administration was about to impose on Moscow for interference in the presidential elections. Intelligence officials claimed that Flynn had given the impression the sanctions might be lifted once the Trump administration came to office on 20 January.
"In the course of my duties as the incoming national security advisor, I held numerous phone calls with foreign counterparts, ministers, and ambassadors," Flynn said in his resignation letter. "These calls were to facilitate a smooth transition and begin to build the necessary relationships between the president, his advisors and foreign leaders. Such calls are standard practice in any transition of this magnitude.
"Unfortunately, because of the fast pace of events, I inadvertently briefed the vice president elect and others with incomplete information regarding my phone calls with the Russian ambassador. I have sincerely apologized to the president and the vice president, and they have accepted my apology."
Russian politicians offered a fierce defence of Flynn. Konstantin Kosachev, chairman of the foreign affairs committee at the upper chamber of the parliament, said in a Facebook post that firing a national security adviser for his contacts with Russia is "not just paranoia but something even worse".
Kosachev's counterpart at the lower chamber of the Russian parliament, Alexei Pushkov, tweeted shortly after the announcement that "it was not Flynn who was targeted but relations with Russia".
Charges against military veterans on their way to Standing Rock have raised concerns that they're being targeted for aiding Native American activists
Police have filed charges against two US veterans supporting Standing Rock, holding one in jail for several days, raising concerns that law enforcement is trying to prevent them from aiding activists at the Dakota Access pipeline.
Officers in North Dakota and South Dakota have pulled over and searched at least four veterans on their way to the camps at Standing Rock in recent days, charging two of them for medical cannabis. Police confiscated one veteran's car and also seized what officials called "protester gear", which included camping supplies.
The charges against two veterans, who said they use medical cannabis to treat post-traumatic stress disorder, come days after a veterans service organization announced it would be returning to Standing Rock to provide support. Indigenous activists, known as water protectors, have been fighting the $3.7bn pipeline since last spring and have continued to live at camps near the construction site as drilling has resumed.
"I'm honestly disgusted. It makes no sense to us," said Mark Sanderson, executive director of VeteransRespond, the group coordinating the return to Standing Rock. "Why are you trying to attack a group of veterans doing nothing more than a humanitarian aid mission in North Dakota?"
News of the charges adds to growing concerns that law enforcement is aggressively monitoring, arresting and prosecuting people affiliated with the anti-pipeline movement. The Guardian recently reported that an FBI terrorism task force has attempted to contact at least three people tied to the demonstrations.
The Morton County sheriff's office announced the news of the arrests late Monday with a press release titled "Leader of VeteransRespond Cited for Drug Possession", which summarized charges against a number of vets.
Matthew Crane, one of five founding members of VeteransRespond, was pulled over last Friday night when he was arriving to Standing Rock with two other vets and a fourth passenger. The group got lost on a closed road, he said, and they were trying to find officers to get directions.
When they encountered police, officers eventually searched the vehicle and their luggage and found Crane's bag of marijuana. He was charged with possession of marijuana and paraphernalia, since cannabis remains illegal in North Dakota..
"Everyone is trying to slander a service organization," Crane said in an interview on Monday night at the Sacred Stone camp, hours after police blasted his name and charge to the media. "It gives me a sick feeling in my stomach that veterans are being attacked."
The 33-year-old navy veteran said he has a disability stemming from his service and that the roughly one gram of medical marijuana he had on him came from Washington DC, where cannabis is legal. He lives in New York, where medical cannabis is also legal. "Cannabis is a really, really safe and beneficial tool to deal with the PTSD I have."
On Thursday, police in Mobridge, South Dakota, arrested two individuals that officials claimed were VeteransRespond members. Sanderson, however, said they were not members, although one of them, Travis Biolette, is now loosely affiliated with the group, which is assisting him in his charges.
According to the Morton County news alert, South Dakota police performed a traffic stop "for a Michigan-plated vehicle" and that during the stop, an officer "recognized signs of criminal activity". Having an out of state license is not a violation, and it's unclear what activity the officer observed.
Exclusive: Bill and Melinda Gates warn of dire impact of order that blocks US funding for family planning and health services
Bill and Melinda Gates have warned that their foundation would not be able to bridge the potential funding gap by Donald Trump's order. Photograph: AP
The "global gag rule" imposed by Donald Trump, blocking US funds to any organisation involved in abortion advice and care overseas, could impact millions of women and girls, endangering their lives and those of their babies, Bill and Melinda Gates have warned.
The changes are expected to result in funding from the world's biggest donor to family planning and women's health programmes in the developing world being slashed. It could, Bill Gates told the Guardian, "create a void that even a foundation like ours can't fill".
Gates and his wife spoke out as they published a progress letter to Warren Buffett, the businessman who 10 years ago invested a large part of his fortune in the couple's foundation which has at its centre the mission to save children's lives. Empowering women and girls, the couple said, was central to that aim.
Trump signed an executive order reimposing the Mexico City policy, also known as the global gag rule, on his first full day in office. Republican presidents since Ronald Reagan in 1984 have imposed the policy, while their Democrat counterparts have lifted it. The rule strips funds from any organisation that "performs or actively promotes abortion as a method of family planning" overseas.
But Trump's order goes further, applied to any organisation that receives funding from US Aid , not just those involved in family planning. That expansion, said Melinda Gates, was a surprise.
"We're concerned that this shift could impact millions of women and girls around the world," she said. "It's likely to have a negative effect on a broad range of health programs that provide lifesaving treatment and prevention options to those most in need.
"This includes programmes that prevent and treat HIV, TB and malaria, and provide healthcare to women and children around the world. Enabling women to time and space their pregnancies and providing access to treatment and prevention of infectious diseases is lifesaving work. It saves moms' lives and it saves babies' lives, and that has long had wide support in the United States."
Bill Gates said their foundation would not be able to bridge the potential funding gap. "The US is the No 1 donor in the work that we do. Government aid can't be replaced by philanthropy. When government leaves an area like that, it can't be offset, there isn't a real alternative. This expansion of this policy, depending on how it's implemented, could create a void that even a foundation like ours can't fill."
He had an early phone call with Trump in November and then a meeting in December with the president-elect in New York, he told the Guardian. They talked about the eradication of polio, which Gates hopes could come as early as this year, and the research his foundation is supporting towards an Aids vaccine and ways to protect people from pandemics such as Ebola in west Africa.
"So that was a good discussion – the fact that he was interested in having me talk about the Foundation's work – I was pleased," said Gates.
But the philanthropist did not anticipate the scope of the executive order affecting family planning, an issue at the centre of the foundation's work, that Trump was to sign.
The letter to Buffett is an assessment of the progress the Gates Foundation has made since 2006, when he pledged 10m shares in his company Berkshire Hathaway in annual instalments worth a total of $31bn at the time. The couple write of the progress that has been made in saving children's lives, particularly through immunisation and vaccine development, and the work that lies ahead in making childbirth safer and tackling malnutrition.
Their letter makes clear what is at stake with Trump's move to reimpose the global gag rule, arguing that women and maternal health are key to so many global health issues.
Empowering women is a key theme of the letter in which the couple argue that enabling women to access contraceptives control over the number of pregnancies they have is crucial. When women have a gap of at least three years between births, their children are more likely to survive and be healthy and well educated, the couple say. "Like vaccines, contraceptives are one of the greatest lifesaving innovations in history," writes Bill Gates in the letter.
This US aid policy, rescinded by Obama, has now been brought back by Trump. Campaigners say it will endanger the lives and health of the world's poorest and most vulnerable women by denying access to life-saving family planning, sexual and reproductive health and HIV services and putting them at risk of unsafe abortion
This video was amended on 24 January after Trump's reinstatement of the global gag rule
My family was enriched by welcoming a young refugee fleeing the Nazis. It's time to revive Lord Dubs's scheme to save children with a public appeal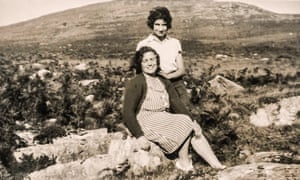 I

think often about the refugees that we in the UK aren't helping, especially the unaccompanied children wandering about Europe. I probably feel so strongly because at the age of eight (I am now 86), I acquired a big sister who was a refugee.
My mother had had a nightmare, in which Hitler and his stormtroopers were marching along our local high street. She was also moved by a poster showing a girl and boy, with the words "Get them out while there is time". She happened to have a meeting with the headmistress of the school I went to at the time and as she was leaving, she said: "We have decided to offer a home to a Jewish child." She was asked to stay and talk it over. The school staff had volunteered support for a couple of girls of 13 or 14. In the end, it was just one: my sister. Two staff members put up the money for her school fees, an arrangement was made to provide her with school uniform and it was settled that she would come and live with us. These arrangements were necessary as, although we lived in a big house, there wasn't a lot of money to spare.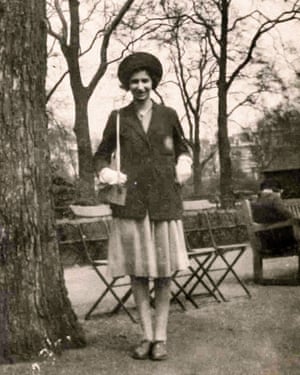 Ursula in 1940. Photograph: Jenny Plunkett
My mother prepared my brother and me, explaining that treats would now have to be shared between three. Richard Attenborough, who also grew up with two Kindertransport girls told a similar story in the preface to the documentary Into the Arms of Strangers, where his father told him and his brothers that what they could do as a family of five, they couldn't afford as a family of seven. The three boys nevertheless welcomed their two new sisters and he goes on to say: "We came to love each other very much." I can say the same.
My parents and two members of the school staff went to the holiday camp near Harwich where the children were temporarily housed in unheated chalets and they found Ursula. That night, they returned home late and I was reading in bed. My mother brought Ursula in to see me. I remember she said "Good morning". And she was wearing a glamorous halo hat. My mother took her to see her bedroom and invited her to go downstairs to have supper. It was January 1939 and she was one of the 10,000 Kindertransport children brought to Britain to escape Nazi Germany. I had just turned eight and Ursula must have been 13. My three-year-old brother was fast asleep in the nursery.
I remember, although Ursula does not, that I used to wake up very early in the morning, creep past the staircase and get into Ursula's bed. She taught me a lot of German songs. Of course it is sheer chance that we formed an affectionate relationship, but perhaps she herself had an ability to love that enabled her to fit into our family. She was well aware that she had been snatched out of a very dangerous situation. I remember her talking about Kristallnacht. I remember the last Red Cross letter that came from her father, telling her that he and her mother were going to be taken to "a work camp" the next day and that he wouldn't be able to write to her again. I remember the day in 1944 when she was given the news that her parents had been killed in Auschwitz.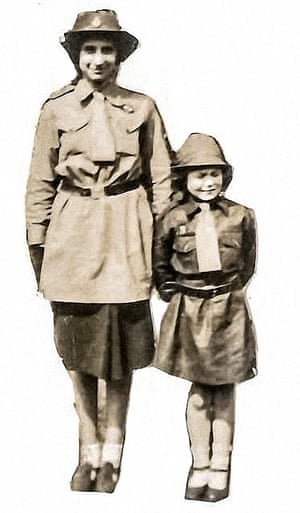 Ursula with Patricia. Photograph: Jenny Plunkett
Of course I can only guess what she suffered, first from being separated from her parents and then, later, when she was told of their death. What I do know is that Ursula had one driving aim in life: she wanted to become a nurse. She survived a two-year probationary period at a local hospital, a subsidiary of Guy's in London. She hoped after that to be accepted at Guy's, but she was turned down. My mother went to see the matron, told her Ursula's story and she was accepted as a probationer, starting her training all over again. War was still raging and London was still being bombed, and then there were the V1s and the V2s. She told me a few days ago on the telephone that she remembers one night being woken by my father shouting to her to come downstairs. As she got up she saw through the window a V1 going by. By then she was old enough to be allowed to go fire-watching with my father. She had her own tin hat. So did my mother, who drove an ambulance. I was looking forward to being old enough to join in. My brother borrowed anybody's tin hat to collect shrapnel.


Nearly all of these are English-edition daily newspapers. These sites have interesting editorials and essays, and many have links to other good news sources. We try to limit this list to those sites which are regularly updated, reliable, with a high percentage of "up" time.