15 Feb
Nearly all of these are English-edition daily newspapers. These sites have interesting editorials and essays, and many have links to other good news sources. We try to limit this list to those sites which are regularly updated, reliable, with a high percentage of "up" time.

Politics
Campaign aides said to have been in regular contact, despite repeated insistence there had been no pre-election talks between Trump team and Russia
The Russian influence scandal engulfing the White House deepened dramatically on Tuesday night with reports that some of Donald Trump's campaign aides had frequent contact with Russian intelligence officials over the course of last year.
A report in the New York Times came nearly 24 hours after the national security adviser, Michael Flynn, was forced to resign over conversations with the Russian ambassador to Washington and misleading statements about them to the press and vice-president Mike Pence.
The New York Times report cites four current and former US intelligence officials who are unnamed and who conceded they had "so far" seen no evidence in the intercepted phone communications that Trump campaign officials had cooperated with Russian intelligence in Moscow's efforts to skew the election in Trump's favour. The officials do not explain what, in that case, the contacts were about.
A CNN report said "high-level advisers close to then-presidential nominee Donald Trump were in constant communication during the campaign with Russians known to US intelligence".
Despite the uncertainties, the reports are threatening to the Trump administration on a number of levels.
They flatly contradict White House spokesman, Sean Spicer, who on Tuesday repeated his earlier assertions that there had been no pre-election contacts between the Trump team and Russian officials. Last month, Trump himself also denied any such contacts.
They pile further pressure on the Republican congressional leadership to launch committee hearings on Russian election interference that were promised, but have so far failed to materialise.

They are a further sign that intelligence officials are willing to leak extensively against the Trump administration, making it extremely risky for the White House to try to shut down investigations into collusion with Moscow that are reportedly being carried out by several intelligence agencies.

They add circumstantial weight to the reports on the Trump campaign's Kremlin links compiled last year and passed to the FBI by a former MI6 officer, Christopher Steele. His reports alleged active, sustained and covert collusion to subvert the election which, if confirmed, could constitute treason.
The only Trump associate named in the New York Times report as having participated in the contacts was Paul Manafort, who was the Trump campaign manager for several months last summer. He had previously worked as an adviser to the former Ukrainian president, Viktor Yanukovych, who was backed by Moscow, and pro-Russian Ukrainian oligarchs.
Manafort has repeatedly denied any contacts with Russian officials. He told the New York Times on Tuesday: "I have never knowingly spoken to Russian intelligence officers, and I have never been involved with anything to do with the Russian government or the Putin administration or any other issues under investigation today."
"It's not like these people wear badges that say, 'I'm a Russian intelligence officer,'" he added.
Manafort did not immediately respond to a Guardian request for comment.
Manafort left the Trump campaign in August, after allegations about his activities in Ukraine first surfaced. At about the same time the campaign also distanced itself from a US businessman, Carter Page, who Trump had previously described as an adviser, after Page was reported to have had contacts with Vladimir Putin's top lieutenants. Page called the reports "complete garbage".
Data contradicts climate change sceptics, who have pointed to earlier increases in areas of sea ice to support their views
Satellite data showing shrinkage in Antarctica is yet to be confirmed. Photograph: Sarah Dawalibi/AFP/Getty Images
Reuters in Oslo
Sea ice around Antarctica has shrunk to the smallest annual extent on record after years of resisting a trend of manmade global warming, preliminary US satellite data has shown.
Ice floating around the frozen continent usually melts to its smallest for the year towards the end of February, the southern hemisphere summer, before expanding again as the autumn chill sets in.
This year, sea ice extent contracted to 883,015 sq miles (2.28m sq km) on 13 February, according to daily data from the US National Snow and Ice Data Center (NSIDC).
That extent is a fraction smaller than a previous low of 884,173 sq miles recorded on 27 February 1997 in satellite records dating back to 1979. Mark Serreze, director of the NSIDC, said he would wait for a few days' more measurements to confirm the record low.
"But, unless something funny happens, we're looking at a record minimum in Antarctica," he told Reuters. "Some people say it's already happened. We tend to be conservative by looking at five-day running averages."
In many recent years, the average extent of sea ice around Antarctica has tended to expand despite the overall trend of global warming, blamed on a build-up of greenhouse gases in the atmosphere, mainly from burning fossil fuels.
People sceptical of mainstream findings by climate scientists have often pointed to Antarctic sea ice as evidence against global warming. Some climate scientists have linked the paradoxical expansion to shifts in winds and ocean currents.
"We've always thought of the Antarctic as the sleeping elephant starting to stir," Serreze said. "Well, maybe it's starting to stir now."
Trump's defence secretary tells allies 'no longer can US carry disproportionate share of defence of western values'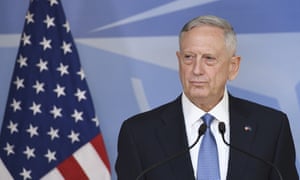 James Mattis at the Nato defence ministers meeting in Brussels on Wednesday. Photograph: Isopix/Rex/Shutterstock
The US defence secretary has told America's Nato allies that they must honour military spending pledges to ensure the US does not "moderate" its support for the alliance.
"I owe it to you to give you clarity on the political reality in the United States, and to state the fair demand from my country's people in concrete terms," said General James Mattis during closed door talks in Brussels, where he was speaking on his first visit to Europe since taking up his job.
"America will meet its responsibilities, but if your nations do not want to see America moderate its commitment to this alliance, each of your capitals needs to show support for our common defence."
Mattis had earlier expressed strong support for Nato, describing the transatlantic alliance as a "fundamental bedrock" of his country's defence policy, in an apparent attempt to try to reassure European allies unnerved by Donald Trump's description of Nato as "obsolete".
But Mattis also told a meeting of defence ministers: "No longer can the American taxpayer carry a disproportionate share of the defence of western values. Americans cannot care more for your children's future security than you do."
Trump has long argued that the US bears too large a share of the Nato financial burden and that the other member countries should at least meet the target of spending at least 2% of their national GDP on defence. Nato says only the US, UK, Poland, Estonia and Greece have met the target
Mattis tried to make his case by citing the threat from Moscow, noting Russia's 2014 annexation of Ukraine's Crimea region and Islamic State's hold over parts of Iraq and Syria, and saying that "some in this alliance have looked away in denial of what is happening".
"Despite the threats from the east and south, we have failed to fill gaps in our Nato response force or to adapt," he added.
Mattis will attend the Munich security conference at the weekend on a visit that will offer another opportunity for European defence and security ministers to try to gauge the Trump administration's plans.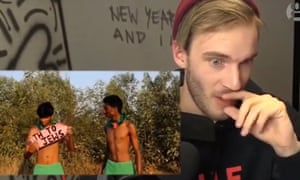 'PewDiePie's work has been gleefully praised by prominent white supremacists.' Photograph: Adithya Sambamurthy/The Guardian for the Guardian
"I

t was just a joke!" How many times have you heard that before? A racist comment wasn't actually racist – it was just a joke, duh. The just-a-joke justification is a favourite fallback for those looking to dodge responsibility for actions with unforeseen fallouts. The most recent example of "I'm just joking, guys" is brought to you by PewDiePie, the world's biggest YouTube superstar.
On Tuesday, YouTube and Maker Studios, Disney's digital entertainment company, confirmed that that they have ended their relationship with 27-year-old Swede Felix "PewDiePie" Kjellberg over antisemitism in his videos. To be clear: that doesn't mean that PewDiePie is being taken off YouTube or losing any of his 53 million followers. It means that he will no longer have such easy access to the sort of advertising opportunities that netted him $15m in 2016 alone.
PewDiePie has always courted controversy – his unfiltered nature is what has helped gather such a large "bro army", as he calls his fans. But now he has gone too far. An investigation by the Wall Street Journal found antisemitism and Nazi imagery in nine of his videos. A video from 11 January, for example, featured two semi-naked Indian men dancing while holding a banner reading "Death to all Jews".
In a 12 February Tumblr post, PewDiePie explained that the video wasn't actually inciting people to kill Jews. It was a joke! He was "trying to show how crazy the modern world is, specifically some of the services available online". The video was supposed to highlight the absurdity that "people on Fiverr [a website where freelancers offer their services for $5] would say anything for 5 dollars". Including "Death to all Jews".
PewDiePie actually did succeed in demonstrating how crazy the modern world is – just not in the way he quite set out to. The PewDiePie furore is an important lesson in the way in which antisemitism can creep into society and slowly become normalized. More specifically, it shines a light on the way in which prejudice is packaged up and spread online. The way in which racism and hatred are incubated in online communities and spill over into the offline world.
Oh come on! Surely that's going too far? PewDiePie may be a moron, but surely he didn't mean his jokes to actually stoke antisemitism, right?
The thing is, whatever PewDiePie meant doesn't really matter. A joke is never just a joke, you see: it always has consequences. Jokes help identify and solidify social divisions. You either get the joke and you're one of us, or you don't get it and you're one of them.
Jokes also help normalize unpalatable ideas. And, unconscious though it may have been, PewDiePie has already helped do just that: helped antisemitism become just a little bit more mainstream. After all, if a hugely popular YouTube star is saying that sort of thing then it must be OK, right?
Indeed, PewDiePie's work has been gleefully praised by prominent white supremacists such as Andrew Anglin, editor of the Daily Stormer, an American neo-Nazi news blog. On 22 January, the Daily Stormer changed its motto to "The world's #1 PewDiePie fansite", and Anglin wrote a blogpost congratulating Kjellberg for "making the masses comfortable with our ideas".
As Anglin pointed out, PewDiePie is "arguably the most watched person on the planet" and is "also the kind of guy that hundreds of millions of people could easily swear eternal allegiance to". PewDiePie doesn't look like a monster, you see. He is boyish and cute; he's a joker, not a polemicist. You don't think you're being influenced, you think you're being entertained.


Nearly all of these are English-edition daily newspapers. These sites have interesting editorials and essays, and many have links to other good news sources. We try to limit this list to those sites which are regularly updated, reliable, with a high percentage of "up" time.