19 Feb
Nearly all of these are English-edition daily newspapers. These sites have interesting editorials and essays, and many have links to other good news sources. We try to limit this list to those sites which are regularly updated, reliable, with a high percentage of "up" time.

Politics
Group has hired a staff member to coordinate plans for demonstrations during president's state visit
Activists, MPs and trade unions have vowed to hold the biggest demonstrations in UK history, outstripping the Iraq war protests, when Donald Trump makes his state visit later this year, and will kick off a programme of opposition to the US president with a migrant solidarity rally on Monday.
The Stop Trump coalition has hired a permanent staff member to coordinate protest efforts, with £16,000 raised via crowdfunding and £10,000 donated by the trade union Unison.
The demonstration on Monday is expected to draw more than 10,000 people. It will coincide with a parliamentary debate on a petition signed by 1.8 million people calling for the state visit to be cancelled in order to avoid embarrassment for the Queen.
In an official response rejecting the petition, the government said Trump should still be extended the "full courtesy" of a state visit.
Organisers said the protests, which they hope will last several days and follow Trump throughout his UK visit, would also "hold up a mirror to our own society" over the post-Brexit rise in hate crime and anti-immigrant rhetoric.
"Our hope is that this mass movement can swing public opinion on a range of issues in a way that progressives have never managed before, and on issues on which we have been losing for decades," the group's spokesman said.
Several of the UK's largest unions have given their backing to the march, including Unison, GMB and the National Union of Students. Labour, Liberal Democrat and Green party politicians will attend the protest on Monday and have leant their support to future demonstrations, organisers said.
Caroline Lucas, the Green MP for Brighton Pavilion, said: "The planned state visit should clearly be cancelled and the invitation binned. It's no wonder that almost 2 million people have signed a petition against the visit, and I'm proud that so many of my constituents have joined that call.
"On Monday evening I will be joining thousands of others in calling out Trump's Islamophobia and racism and making clear that we expect our government to stand up to bigotry, not meekly back away from confronting it."
Several organisers involved in the leftwing Labour movement Momentum are key organisers of the demonstration, as is the Guardian columnist and activist Owen Jones.
Charities who have given official backing include Friends of the Earth and Global Justice Now, as well as smaller UK groups such as Sisters Uncut and Bridges Not Walls, which organised anti-Trump banner drops on dozens of UK bridges including Westminster bridge on the day of the US president's inauguration.

The leader of the populist Freedom party went on to tell supporters to 'make the Netherlands ours again'
The Dutch populist leader Geert Wilders sparked outrage on Saturday when he launched his election campaign with a stinging attack on the country's Moroccan population. The anti-immigration MP called them "scum" and said he wanted to make the Netherlands "ours again".
Wilders, 53, was surrounded by police and security guards when he made his remarks during a walkabout in his party's stronghold of Spijkenisse, part of an ethnically diverse industrial area just south of Rotterdam.
"The Moroccan scum in Holland … once again not all are scum … but there is a lot of Moroccan scum in Holland who make the streets unsafe, mostly young people … and that should change," he told journalists as he attempted to take a stroll in a market.
Wilders, who has lived in hiding since the 2004 murder by an Islamist of Dutch filmmaker Theo van Gogh, is hoping a global upsurge in populism will propel him to power in the parliamentary election. His campaign pledges include a ban on Muslim immigration, shuttering all mosques and leaving the European Union.
He has been leading opinion polls for several weeks and his progress is being monitored carefully by politicians who fear European politics is lurching heavily to the right.
"If you want to regain your country, if you want to make the Netherlands for the people of the Netherlands, your own home again, than you can only vote [for the Freedom party]," Wilders said. "Please, make the Netherlands ours again."
The MP, who has also vowed to ban the Qur'an should he be voted into power, was convicted of discrimination in December over previous comments he made about Moroccans living in the Netherlands.
Tens of thousands of demonstrators march following mayor's call to challenge the government over its failure to accept country's quota of migrants
Tens of thousands of people marched through Barcelona on Saturday urging the Spanish government to immediately meet its pledge to take in thousands of refugees.
Ada Colau, the mayor of Spain's second city, had called on Barcelona residents to "fill the streets" and march under the slogan volem acollir ("We want to welcome them" in Catalan). Local police said approximately 160,000 people had heeded her call.
Many of those flooding the major Via Laietana thoroughfare carried signs reading "Enough excuses, welcome them now".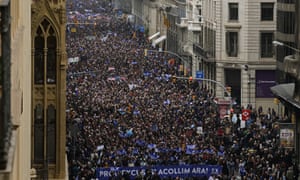 Spain has only taken in 1,100 refugees, despite a pledge in 2015 to take more than 10 times that. Photograph: Manu Fernandez/AP
The protest comes after Spain pledged to take in about 16,000 asylum seekers from other EU countries under a quota system agreed in 2015, as the continent struggled with its biggest migration crisis since the second world war.
Like other EU members, Spain has fallen far short of this target, with only 1,100 resettled in the country so far.
Jacint Comelles, a 62-year-old potter who joined the protest with friends and family, said not enough was being done to help people who have fled conflict hoping to start a new life in Europe. "We demand this minimum amount of dignity – that at least this number of refugees (16,000) can come," he said. "In Catalonia, everything is ready to welcome them."
The protest, organised by a group calling itself Casa Nostra Casa Vostra (Our home is your home), finished at the Mediterranean coast – a symbolic location given the more than 5,000 migrants who lost their lives trying to cross the sea last year.
Senior Barcelona lawmaker Mercè Conesa said on Wednesday that it was "shameful" that Spain had not taken in more refugees, and urged the European commission to begin "severely sanctioning" countries that did not meet their pledges on the issue.
With Trump's travel ban going through the courts, one aid worker reflects on how badly resettlement places are needed.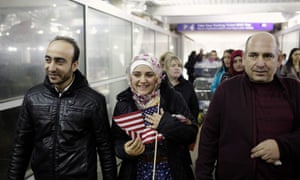 Syrian refugee Baraa Haj Khalaf leaves O'Hare airport after Trump's executive order is temporarily halted. Photograph: Joshua Lott/AFP/Getty Images
Annabel Mwangi
I

was 22 years old the first time I set foot in a refugee camp. I had managed to get an internship of sorts with an international NGO. They would pay for my accommodation and flight in and out of Kenya's Kakuma refugee camp and let me do my PhD fieldwork on the side. In exchange, I would work with their team on the ground.
I had no idea what I was getting into but I fell in love. With the young South Sudanese refugees who, without fail, at every single community meeting, asked us to build a secondary school and help them go to university because they needed a better education for when they went back home to an independent South Sudan. With the Somali women who were the antithesis of the stereotyped, subjugated Muslim female – strong, proud, fighters to the end. With the Ethiopian university students and journalists, engaged in intense debates, over endless rounds of coffee, who knew much more about realpolitik than I ever would with my fancy Oxford education.
Fast forward a couple of years and I was off to Ethiopia to work on a resettlement project for the UN. Once again, I had no idea what I was getting into. I just knew that I wanted to work with refugees and this was my way in. And also, that I was going to subvert what I saw as a broken humanitarian system from the inside.
One of my first resettlement cases was an Eritrean man. He was already sitting in the interview room when I walked in. We talked for about an hour. He told me about all the difficulties he'd faced. He was ex-military. Many people are. Military service is compulsory. I'm ashamed to admit I don't remember his story in detail. What I do remember is that halfway through the interview he turned his head to the left. And half his skull was missing. He hadn't thought to mention it. Apparently, in his mind, this wasn't the worst thing that had happened to him. I can never unsee that image.
I have witnessed and heard terrible things. I have also, I think, seen the best that humanity has to offer
Fast forward again. I have been a humanitarian worker for a decade now. I didn't bring down the system. Somewhere along the way, I realised we need it. I am by no means a naive, optimistic hippy. I am one of the most cynical people you will ever meet. My work has scarred me. I have witnessed and heard terrible things. I have also, I think, seen the best that humanity has to offer. I know that there are many things that don't work in the UN but I also know that the world is a better place for it.
My life's work with refugees is a series of snapshots. The Somali single father, whose wife died in Mogadishu, who made his way, along with their five-year-old daughter, to Kebribeyah camp in Ethiopia. The mute Congolese woman who stopped speaking after being subjected to multiple rapes by militia. And her husband who helped her tell me her story. The 11-year-old Syrian girl who was really, really sick and died because it took too long for her security checks to be completed. Disjointed memories. I forget a lot. Mostly, I suppose, because there are many things I don't want to remember.
So here we are. I am trying really hard to remember because I want to tell you a story. I want you to understand that this is life. And life sucks sometimes. I want you to understand that people run away because they have to. That they are good people. People like you and me. That they want to go home more than anything else. But they can't, they just can't. Because home doesn't exist any more. They aren't here to take away your home. Or your dreams. Or your jobs. They are here because they have no choice. Or rather because they've made the only choice they could under very, very difficult circumstances.
What would you do? What would I do? Who knows? I don't. If you're honest, you don't know either. I like to think I would be strong. I would fight. I would do whatever it takes to stay alive. I would walk for a really long time. I would get on a boat in the middle of the night and set off for an unknown destination so my children could finally get to go to school. I would give away my life's savings for the promise of a better future. But would I? Would I really? Would you? Are you brave enough?
Only 1% of the world's refugees are resettled. It's a terrible job, trying to decide which 1% is the most in need. I wouldn't wish it on anybody. But it is also incredibly rewarding. Resettlement is hope. It is dignity. It is safety. It is a better future. There are so many facts I could throw at you right now. I could tell you about the positive economic impact refugees have on their countries of resettlement. I could tell you that everyone has the right to seek asylum and wax lyrical about the international obligation to protect. But I can already feel you slipping away.
So instead, I leave you with this. I was born in Kenya. I come from a middle-class family. My mother is European. My father is African. I speak the Queen's English, albeit sometimes in a Kenyan or American accent. I'm a little bit like you. I love Nirvana and Sauti Sol. One of those might mean something to you. But whether you like it or not, we're not that different. And that's my point. You don't know me. But somewhere, somehow, someway, our lives intersect. And those refugees? Their lives intersect with yours too. As much against their will as yours. So forget about the facts. Just do the right thing, the human thing. Be brave. Speak up. And welcome refugees.
Annabel Mwangi is a policy advisor at the Organisation for Economic Co-operation and Development, writing here in a personal capacity.
Sea turtles laying eggs, buffalo and a swan lake are among this week's pick of images from the natural world