20 Feb
Nearly all of these are English-edition daily newspapers. These sites have interesting editorials and essays, and many have links to other good news sources. We try to limit this list to those sites which are regularly updated, reliable, with a high percentage of "up" time.

Activists to take to city's George Square as they plan a day of action against Donald Trump's 'future of hatred, racism and division'
ANGRY campaigners are planning a Glasgow Against Trump day of action in the city as MPs debate the US President's state visit to the UK.
Online activists plan to take to George Square to protest while the discussion goes on at Westminster.
The group claims it wants to "say no to the future of hatred, racism and division that Donald Trump is trying to create."
The protest is due to coincide with a nationwide campaign set up by The One Day Without Us campaign – which seeks to celebrate the contribution of migrants to the UK.
The facebook group calls on the public to "take to the streets and reclaim the future."
A statement said: "On Monday 20th February, parliament will be debating whether or not to allow Donald Trump a state visit.
"We are calling for a nationwide day of action to stand up and say no to the future of hatred, racism and division that Donald Trump is trying to create – and to say no to the disgraceful complicity of Theresa May and the British government in supporting him.
Angry Scots took to the streets last month
"Protests this week saw tens of thousands take to the streets at just a day's notice. With a bit of work we can make this national day of action massive!
"We've linked up with One Day Without Us, who are already running protests on the same day, to fight for migrants' rights. Make sure to link up with them where you can. (www.1daywithoutus.org)
"So on February 20th, organise! If you're in London, join the march on parliament. And everywhere – take to the streets and reclaim the future.
"We have a duty to stand up and be counted."

Politics
Chris Riddell on the US president's infamous press conference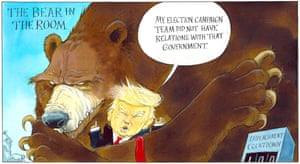 Chris Riddell

Trump's immigration policies threaten to scatter farm labourers and could disrupt America's supply of fruit and vegetables – but not everyone is concerned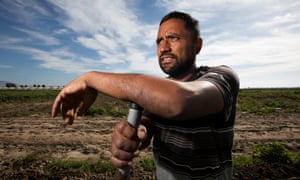 Javier Carranza: 'It's unjust. If one orange in a bag is bad it does not mean all the oranges are bad.' Photograph: Dan Tuffs for the Guardian
You can see strawberry fields seemingly forever, details big and small – a rutted path, an orange tractor, a labourer's checkered blue shirt – discernible on the plain.
Yet depending who you ask, there are two completely contrasting ways to view what is happening in Ventura County, in a corner of California.
Donald Trump's immigration policies are spreading fear and threaten to scatter farm labourers, potentially disrupting America's supply of fruit and vegetables.
Or it is business as usual: no change, no drama – a busy, productive economy humming as normal.
Both versions, for now, are accurate – a dissonance stemming from ambiguity over current government policies and the fact that no one has any clue what will happen next.
"Today I heard they're picking people up in Malibu," said Javier Carranza, 38, pausing from hacking at weeds in a row of strawberry bushes. "I don't know if it's true but I can tell you we're afraid. People don't want to go out to stores or restaurants."
The previous week, Immigration and Customs Enforcement (Ice) detained several undocumented people a few miles from where he spoke, part of a nationwide sweep that netted 680 people.
The crackdown was sweeping up honest, hardworking immigrants alongside criminals, said Carranza, an undocumented immigrant from Mexico. "It's unjust. If one orange in a bag is bad it does not mean all the oranges are bad."
The policy was also dumb, he said, because Mexican and Salvadoran labourers may flee the fields, worsening a labour shortage that already hobbled some farms. "The (government) doesn't know this work, doesn't know that we're out here every season, in the cold, the heat, the rain. You don't see gringos out here."
The (government) doesn't know we're out here every season in the cold, heat, rain. You don't see gringos out here

Javier Carranza, undocumented immigrant
Carranza's employer, Phil McGrath, is politically liberal, a rarity among California farmers who tend to be Trump-supporting conservatives. Trump, he said, could damage agriculture. "He's scaring people and there's already a labour shortage."
George Samora, another farmer, agreed. "Nobody has enough workers."
The fear gripping Latino communities is pervasive.
"El Ice estuvo en la Costa Central" – Ice was in the central coast – blared the front page of El Latino.
"Stress levels are reaching levels never seen before," said an editorial, which warned that law enforcement agencies that routinely shot and killed black people would not hesitate to round up brown ones.
Advertisements for legal firms offering immigration services sat alongside a column giving tips: do not open the door to Ice agents unless they show a judicial warrant; do not speak to agents without an attorney; say nothing about where you were born; memorise relatives' phone numbers.
Activists have distributed cards, printed in English, to be given to Ice agents: "Please be informed that I am choosing to exercise my right to remain silent," one says. "I do not give you permission to search any of my belongings based on my fourth amendment rights," another says.
Some businesses in Oxnard, Ventura's biggest city, feel the impact.
"People are cancelling trips and holding off on booking," said Alma Ibarra, of Tropicana Travel. Even those with green cards were reluctant to visit relatives in Mexico, she said.
In contrast, Cesar Nava, head of the Nava law firm, has seen business double as clients flock for advice about permanent residency and naturalisation. "It's fear. If people believe there are Ice raids, they won't go out of their houses."
Cases of children with direct family links to UK will be reconsidered, as refugees return to Calais to try to cross Channel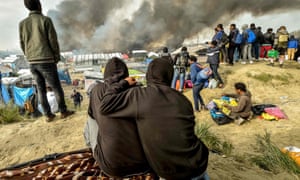 The Calais camp was dismantled in October. Photograph: Philippe Huguen/AFP/Getty Images
The Home Office has agreed to review asylum applications from child refugees in France after it emerged that several had returned to the site of the former Calais camp in a renewed effort to make the crossing to the UK.
One teenager who arrived in London this weekend after hiding beneath a coach at the port told the Guardian that increasing numbers of children in French reception centres had lost hope of travelling to the UK by official means and were returning to the notorious site.
Responding to questions about his case, and after calls from Theresa May to assess the number of children returning to the site of the camp, the Home Office said it had agreed with French authorities to "review any new information from children formerly resident in Calais".
Abdal, 17, from Sudan, spent time at the Calais camp before it was dismantled in October. He was then taken to a reception centre in the country while his application to travel to the UK was considered by the Home Office.
"I was in a reception centre and the Home Office rejected many of the children's cases," he said. "We lost hope and decided to try by ourselves to get to the UK. A group of eight of us came to Calais to try to reach the UK.
"It was very difficult to get to the UK from Calais, but I managed it hiding under a coach. I've got injuries to my back and my hands, but I'm OK because I reached the UK. I'm so, so happy I made it here. Now it is much harder to travel to the UK from Calais but it is not impossible."
Abdal approached a police station in central London on Saturday and claimed asylum there. An officer from City of London police said the teenager had been well looked after and had been able to have a shower and some food while he was in "protective custody".
He was deemed to be a child following an age assessment by caseworkers and was taken into the care of social services. "I'm so happy to be in the UK at last," he said. "But I am very tired from my journey, which was very dangerous. I had a very long sleep last night."
Campaigners had hoped that as many as 3,000 children would benefit under the so-called Dubs scheme conceded by David Cameron in May after a public outcry over the European refugee crisis and the prospect of Tory rebellion.
This month Robert Goodwill, the immigration minister, told MPs in a written statement that just one further group of 150 child refugees would be brought to Britain. The Home Office confirmed that they would be the last to be transferred under the scheme.
Both left and right are promoting the idea of a basic wage for everyone, currently on trial, as a solution to the new world of work
When he got the letter after Christmas saying he was entitled to an unconditional income of €560 (£478) a month, Mika Ruusunen couldn't believe his luck. "At first I thought it was a joke. I had to read it many times. I looked for any evidence it might be false."
But the father of two was not the victim of a scam. He has been selected to take part in an experiment being run by the Finnish government, in which 2,000 unemployed people between the ages of 25 and 58 will receive a guaranteed sum – a "basic income" – of €560 a month for two years. It replaces their unemployment benefit, but they will continue to receive it whether or not they find work. The government hopes it will encourage the unemployed to take on part-time work without worrying about losing their benefits.
Ruusunen lives in Kangasala, a half-hour bus ride from where we meet in Tampere, the country's second city, known as the "Manchester of Finland". Like its namesake, the signs of the 19th-century wealth generated by the industrial revolution are strikingly visible.
Today, the Finnish economy continues to struggle in the wake of the financial crisis, which hit just as communications giant Nokia's star was starting to wane. This left Ruusunen, who lost his job as a baker two years ago, struggling to find work. He was unemployed when participants for the basic income pilot were randomly selected, but had started a paid IT apprenticeship by the time he got the letter.
"For me, it's like free money on top of my earnings – it's a bonus," he tells me. But he thinks the basic income will make a big difference to others who are unemployed, especially those who are entrepreneurially minded. "If someone wants to start their own business, you don't get unemployment benefits even if you don't have any income for six months. You have to have savings, otherwise it's not possible."
Juha Järvinen, another participant in the pilot scheme who lives in western Finland, agrees the benefits system holds the unemployed back. He has been unemployed for five years since his business collapsed. "I have done a lot for free – wedding videos, making web pages – because I've liked it. But before a basic income I would get into trouble if I got any money for that work."
Finland's experiment is a variation on the idea of a universal basic income: an unconditional income paid by the government to all citizens, whether or not they're in work. The Finns have long been perceived to be at the cutting edge of social innovation, so this is a fitting setting for the first national experiment of its But the idea of the basic income has captured a zeitgeist extending far beyond the borders of Scandinavia. Enthusiasts include Silicon Valley's Elon Musk, former Clinton labour secretary Robert Reich, Benoît Hamon, the French socialist presidential candidate, and South Korean presidential candidate Lee Jae-myung. On Friday, Glasgow city council commissioned a feasibility study for its own basic income pilot.
The basic income is a big idea with a pedigree. It owes its roots to Thomas Paine, the 18th-century radical, who in 1797 proposed paying all 21-year-olds a £15 grant funded through a tax on landowners. Since then it has captured the imagination of many a philosopher, but until the past couple of years never gained much political traction beyond the fringes.
So what explains the sudden jump this centuries-old idea has made from political fringes to the mainstream?
An idea whose time has come?