25 Feb
Nearly all of these are English-edition daily newspapers. These sites have interesting editorials and essays, and many have links to other good news sources. We try to limit this list to those sites which are regularly updated, reliable, with a high percentage of "up" time.

Politics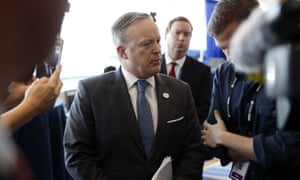 The Q&A session took place off camera before only an 'expanded pool' of journalists in Sean Spicer's West Wing office. Photograph: Alex Brandon/Associated Press
The White House barred several news organizations from an off-camera press briefing on Friday, handpicking a select group of reporters that included a number of conservative outlets friendly toward Donald Trump.
The "gaggle" with Sean Spicer, the White House press secretary, took place in lieu of his daily briefing and was originally scheduled as an on-camera event.
But the White House press office announced later in the day that the Q&A session would take place off camera before only an "expanded pool" of journalists, and in Spicer's West Wing office as opposed to the James S Brady press briefing room where it is typically held.
Outlets seeking to gain entry whose requests were denied included the Guardian, the New York Times, Politico, CNN, BuzzFeed, the BBC, the Daily Mail and others. Conservative publications such as Breitbart News, the One America News Network and the Washington Times were allowed into the meeting, as well as TV networks CBS, NBC, Fox and ABC. The Associated Press and Time were invited but boycotted the briefing.
The decision to limit access to Spicer, hours after Trump once again declared that much of the media was "the enemy of the American people" while speaking at the annual Conservative Political Action Conference, marked a dramatic shift.
While prior administrations have occasionally held background briefings with smaller groups of reporters, it is highly unusual for the White House to cherry-pick which media outlets can participate in what would have otherwise been the press secretary's televised daily briefing. The briefing has become indispensable viewing for journalists trying to interpret the often contradictory statements coming out of the Trump administration, and Spicer's aggressive handling of the press and delivery of false or misleading statements have already been memorably mocked on NBC's Saturday Night Live.
"Gaggles" – more informal briefings – with the press secretary are traditionally only limited to the pool when they conflict with the president's travel, in which case they often take place aboard Air Force One. At times, impromptu gaggles form with reporters who spend their days in the White House, but denying outlets wishing to participate is extremely uncommon.
The White House Correspondents Association president, Jeff Mason, said the organization's board was "protesting strongly" against the Trump administration's action.
"We encourage the organizations that were allowed in to share the material with others in the press corps who were not," Mason said. "The board will be discussing this further with White House staff."
The executive editor of the New York Times, Dean Baquet, said "nothing like this has ever happened at the White House in our long history of covering multiple administrations of different parties".
The BBC has sought clarification from the White House on why its representative was denied access. Its Americas bureaux editor, Paul Danahar, added: "Our reporting will remain fair and impartial regardless."
Stephanie Grisham, a spokeswoman for the White House, said: "Claims that outlets were excluded are not factual."
In a statement, she added: "The pool was there, so various media mediums were represented." The pool is a system by which a small group of reporters take turns covering the president and share their reports of his activities with a larger group.
Contrary to Grisham's statement, outlets who made requests to attend were told this would not be permitted.
When the Guardian asked to participate, pointing to its possession of a "hard pass" that grants daily entry to the White House, an official declined.
"No, unfortunately a hard pass does not necessarily guarantee entry into the gaggle," Catherine Hicks, a junior White House press aide, emailed in response.
"The gaggle today is just today's pool with the addition of a few others here at the White House."
Some outlets lingered in the West Wing hallway out of frustration but were asked by a Secret Service agent, upon instructions from the White House press office, to leave the area.
Family of Sara Beltrán Hernández say her health is deteriorating as she appeals against deportation after her asylum request was denied
A Salvadoran woman fighting deportation has been removed by immigration officials from a Texas hospital where she was being treated for a brain tumour and returned to a detention centre.
Sara Beltrán Hernández's family say that her health is deteriorating and she fears dying in the facility. The 26-year-old's legal team is asking for her release on humanitarian grounds ahead of an appointment with a neurosurgeon on Monday.
A motion asking for bond is set to be filed with a Dallas immigration court on Friday, said Fatma Marouf, director of the Texas A&M University immigrant rights clinic, who is working on the case. Marouf said she is also considering filing a writ of habeas corpus with a federal district court.
"The immigration authorities are planning to take her to an appointment on Monday but we're worried that her condition is degenerating every day so we're trying to get her released sooner than Monday," Marouf said.
Thousands of refugees from El Salvador, Honduras and Guatemala are fleeing deadly gang violence, and the region still suffers from some of the highest rates of violence in the world. As the US continues to face a growing migration crisis along its border with Mexico, some refugees tell their stories
She said medical records show Beltrán Hernández has a pituitary macroadenoma, a form of tumour that is typically benign but can cause painful symptoms and usually requires surgery.
According to her lawyers, the mother of two from El Salvador has been held in detention since November 2015, when she requested asylum at the US-Mexico border, saying that she received death threats from gang members in her home town because her partner is a police officer.
She was not released to join up with family in New York, her asylum request was denied, and she is fighting deportation in the appeals process.
Beltrán Hernández was repeatedly denied bond in the past. "I don't think she's a flight risk now given her medical condition, at all," Marouf said. "She'll probably be in a hospital if she's released and she's barely able to move around. She's being moved in a wheelchair within the facility so I don't really see why the judge would decide at this point that she's a flight risk."
Beltrán Hernández is being held in the privately run Prairieland facility, 40 miles from downtown Dallas, which opened in January.
She is said to have collapsed in a Texas detention facility on 10 February and was taken to a hospital near Fort Worth, where she was admitted and given an MRI. She was taken from the hospital to Prairieland on Wednesday.
"I feel dizzy, with pain. Heavy eyes. Nausea. If I walk fast, I feel dizzy. Noise really bothers me. I have not eaten since yesterday (when I ate a salad) because I have no appetite. Sometimes, I forget things. The tongue is not always responsive," she told a lawyer on Thursday, adding that she was being given Tylenol for her headache.
Her sister, Raquel, visited the detention centre on Thursday and said in a statement: "My sister Sara's health is very deteriorated, she is feeling very weak, she is experiencing difficulties to walk and talk. She told me that, from time to time, she feels numbness in her feet and part of her face. She also told me that she is alone in a room, where supposedly her health is being checked.
"However, she told me that nothing has been [medically] checked at all, and that she is only being provided with a pill which is not helping in any way, since it is not for the frequent and strong headache she is experiencing."
An Immigration and Customs Enforcement spokeswoman told the Associated Press: "After she was determined by her physician to be stable, she was discharged from the hospital and returned to Ice custody. Ms Beltran Hernandez has an appointment with a specialist on Monday who will determine the course for future treatment. Until that time, Ice medical staff is keeping her under observation."
Advocates for Beltrán Hernández claimed that access to her was restricted. "In the detention centre as an attorney I have not had any issues accessing her. It was in the hospital that she was being kept secret and I was not able to access her," Marouf said. "Two guards from the facility were in her room and ordered me to leave when I came, saying she's not allowed any contact with anybody and that I shouldn't even know she's there."
A jaguar killing an anteater, a green tree python and the winner of the underwater photographer of the year are among this week's images from the natural world