26 Feb
Nearly all of these are English-edition daily newspapers. These sites have interesting editorials and essays, and many have links to other good news sources. We try to limit this list to those sites which are regularly updated, reliable, with a high percentage of "up" time.

Politics
Across America, a growing number of people are using this small-scale forum to make their voices heard, drawing comparisons to the Tea Party movement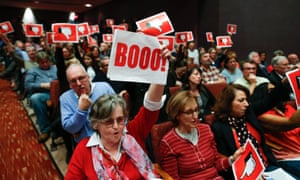 Constituents during a town hall event in Branchburg, New Jersey. People have been showing up in large numbers to congressional town hall meetings across the nation. Photograph: Eduardo Munoz Alvarez/Getty

I

n more than 300 cities and towns in 49 US states this week, citizens unhappy with the Trump administration flooded to congressional town halls and activist meetups billed as "resistance recess". In all, advocacy groups estimated more than 40,000 Americans participated in these meetings, taking place during a break in the schedules of lawmakers that many use to return home and interact with constituents.
"People are not just clicking on online petitions, they are changing their habits forging relationships," said Ben Wikler, the Washington director for MoveOn. "It's not something where once people go home from a march they go back to civilian life. This is people making anti-Trump activism a part of their daily lives."
Already the efforts are having concrete political impacts. On a Friday morning radio appearance Republican representative Mo Brooks said: "I don't know if we're going to be able to repeal Obamacare now because these folks who support Obamacare are very active, they're putting pressure on congressmen and there's not a counter-effort to steel the spine of some of these congressmen in toss-up districts around the country."
Jeremy Haile, one of the authors of Indivisible, a Practical Guide for Resisting Trump said this was strong proof the tactics of town hall engagement could be effective. "That's straight from a member of Congress saying how this organizing and hearing from constituents is really changing what Congress is doing," Haile said.
Indivisible was written and launched after Trump's election by a collection of former progressive congressional staffers who watched President Obama's presidential agenda largely stalemated by Tea Party protests in 2009. "We saw these [Tea Party] activists take on a popular president with a mandate for change and a supermajority in Congress. We saw them organize locally and convince their own MoCs to reject President Obama's agenda," the group explains on their website. Indivisible recommends using similar tactics to oppose Trump's agenda, like overwhelming engagement at congressional town halls.
"Every member of Congress wakes up in the morning thinking about how to get re-elected. We think that gives constituents a lot of power," Haile said.
Comparisons to the 2009 rise of the Tea Party, similarly spawned after a transition of presidential power, have been unavoidable, and commentators have rushed to explain why the phenomena are or are not comparable.
"This makes the Tea Party look like pre-school." said film-maker and liberal activist Michael Moore in an MSNBC appearance on Wednesday night.
At this week's meetings, representatives and senators, especially Republicans, who elected to hold town hall meetings during their time in their home district were bombarded with contentious questions, boos and protests throughout the week. In places where legislators did not hold events, people gathered anyways, sometimes holding events billed as "people's town halls" or even addressing questions to propped-up empty suits, like constituents of Pennsylvania senator Pat Toomey did on Tuesday.
Many of the most tense and emotional moments around the country this week came when citizens shared their concerns about healthcare in light of Trump's efforts to repeal the Affordable Care Act without any clear plan in the works to replace the coverage it affords to previously uninsurable patients.
"Without the coverage for pre-existing conditions, I will die. That's not hyperbole," said Kati McFarland at a town hall hosted by Senator Tom Cotton of Arkansas, according to reporting from the Democrat Gazette.
Refugees crossing in waist-deep snow since Trump's immigration crackdown
Government faces calls to rip up US-Canada asylum agreement
Justin Trudeau, Canada's prime minister, is facing growing political pressure to address the steady stream of asylum seekers who have been braving freezing temperatures, fields of waist-deep snow and icy ditches to cross into Canada from the US by foot.
Advocates in Manitoba say they know of some 139 refugees – including children – who have made the perilous crossing since the start of the year, while groups in Quebec, British Columbia and Ontario also report a rise in irregular crossings.
Some haul suitcases for hours across frozen fields that straddle the border, while others are dropped by taxis metres away from the Quebec border. The asylum seekers – many of whom are from Somalia, Ghana and Djibouti – say their actions are driven by fears of what a Donald Trump presidency could mean for refugees in the US.
As photos of Canadian police smiling as they greeted migrants made the rounds on social media, Trudeau said this week that the government would not seek to stem irregular migration along the US border.
"One of the reasons why Canada remains an open country is Canadians trust our immigration system and the integrity of our borders and the help we provide people who are looking for safety," Trudeau told parliament. "We will continue to strike that balance between a rigorous system and accepting people who need help."
Amid concerns that the number of people attempting the crossing could spike as the weather warms, the opposition Conservatives have called on Trudeau and his government to do more to halt the flow of irregular migrants.
Conservative MP Steven Blaney urged Canadian officials to hand over irregular migrants to US authorities while his colleague Candice Bergen highlighted concerns about safety. "People running across farmers' fields illegally cannot continue," Bergen said recently. "It is not safe for the people who are running across the fields. It is not safe for the community."
In the small border town of Emerson, Manitoba – where dozens of refugee claimants have arrived in recent months – Conservative MP Ted Falk pointed to the town's stretched resources. Emerson's emergency response team and volunteer firefighting crew have been regularly woken in the middle of the night to help the asylum seekers, Falk said in a video posted to social media.
"We all know that Canada is generous and accepting," he added. "But we also need to ensure that the integrity of our borders is protected and that we look after our national security. We need to know who is coming into our country, where they're coming in and why."
The progressive New Democratic party has repeatedly called on Trudeau's government to immediately suspend the agreement that prohibits most migrants in the US from making a refugee claim at Canada's official border crossings.
Under the 2004 Safe Third Country Agreement between Canada and the US, migrants must apply for asylum in the first country in which they arrive. The agreement is applied at official land, train and airport border crossings.
Billionaire releases annual letter to Berkshire Hathaway shareholders
Praise of 'talented and ambitious immigrants' sits at odds with Trump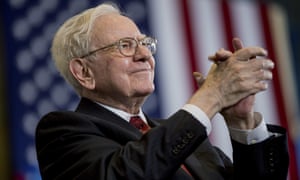 Warren Buffett applauds at a rally for Democratic presidential candidate Hillary Clinton in Omaha, Nebraska. Photograph: Andrew Harnik/AP
Reuters in New York
The billionaire Warren Buffett, whose stock picks have turned Berkshire Hathaway into one of the most successful conglomerates in the world, criticised Wall Street on Saturday, saying investors should "stick with low-cost index funds".
The much-scrutinised annual letter to shareholders from the man many investors call "the Oracle of Omaha" also revealed that Berkshire Hathaway's gain on its investment in Apple stands at more than $1.6bn, after shares of the iPhone maker surged.
Unlike last year, Buffett, a vocal supporter of Hillary Clinton, did not mention President Donald Trump by name. He did, however, talk up the vibrancy of American society and its inclusion of immigrants, one of the most polarizing issues under the Trump administration.
"One word sums up our country's achievements: miraculous," Buffett said. "From a standing start 240 years ago – a span of time less than triple my days on earth – Americans have combined human ingenuity, a market system, a tide of talented and ambitious immigrants, and the rule of law to deliver abundance beyond any dreams of our forefathers."
In 2016, Buffett wrote that Trump was "dead wrong" to talk down America's economic future and also emphasised the threat of climate change, which Trump has questioned.
This year, regarding Wall Street, Buffett wrote: "When trillions of dollars are managed by Wall Streeters charging high fees, it will usually be the managers who reap outsized profits, not the clients. Both large and small investors should stick with low-cost index funds."
Buffett estimated that the search for outperformance has caused investors to "waste" more than $100bn over the past decade.
He called Vanguard Group founder Jack Bogle "a hero" for his early efforts to popularize index funds.
Berkshire Hathaway gained 20.8% per year from 1965 to 2016, compared to the S&P 500's 9.7% gain, the company said. In 2014, Buffett said he planned to put 90% of the money he leaves his wife when he dies into an S&P 500 index fund and 10% in government bonds.
During the financial crisis, Buffett bet a founder of the asset management company Protege Partners $1m that a Vanguard S&P 500 stock index fund would outperform several groups of hedge funds of over the 10 years through 2017.
The index fund is up 85.4%, Buffett said in his 2016 annual letter, while the hedge fund groups are up between 2.9% and 62.8%.
Buffett said the figures left "no doubt" that he would win the bet. He plans to donate the money to Girls Incorporated of Omaha, a charity.
Buffett's Apple stake of 61.2 million shares was acquired last year for $6.75bn, an average of about $110.17 apiece, according to the annual letter. The holding was valued at more than $8.3bn as of Friday's $136.66 closing price.
Berkshire became one of the top 10 Apple investors, taking a stake of more than 9 million shares in the first quarter of 2016 and then accelerating purchases in the last three months of the year.
Strongmen are back in vogue, but these six people are determined to defy the despots
T

hese are trying times. We live in an age of autocracy when strongmen (they are almost always men) abuse their power to silence their critics, use brute force to stop people championing the vulnerable and rob people of their agency in the pursuit of power.
In a world flooded with triumphant nationalist statements and declarations of war, who speaks for the other side? Who is willing to risk solitary confinement and be torn from loved ones to speak for the voiceless?
We caught up with six dissidents, who have been been imprisoned for a total of 26 years and three months, to understand what it is like to speak out in the age of despots.
Biram Dah Abeid, Mauritania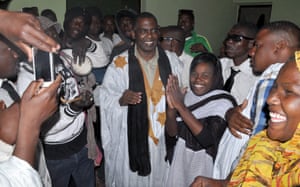 Biram Dah Abeid walks out of jail last year after Mauritania's supreme court downgraded his convictions. Photograph: AFP/Getty Images
"This is the worst it has ever been," says Biram Dah Abeid, a tireless campaigner for victims of modern-day slavery, "because those who were supposed to defend and advocate for human rights were the free world, the western world, but now they are too weak … [as] the extreme right continues to rise."
To make things worse, he believes, in the Muslim world governments are behaving like the militant groups Boko Haram or Islamic State. "They aren't accountable to anyone. Freedom, democracy, equality, these values are not important to them. They say they are against [militant groups], but really they act like them."
A descendent of a slave, Dah Abeid has dedicated himself to freeing and reintegrating the hundreds of thousands of people estimated to be trapped in slavery in Mauritania.
The founder of the Initiative for the Resurgence of the Abolitionist Movement (IRA), which has picked up thousands of supporters, has pitted himself directly against the authorities. The campaigner has served three stretches in prison, his house and supporters have been attacked and, while he plans to return home this April, he knows his safety is not guaranteed.
Dalal Khario, Iraq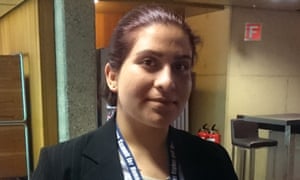 Dalal Khario, a young Yazidi woman from northern Iraq, can shed light on what it is like to live under one of the world's most dangerous terrorist groups.
When she was 17, her village was razed to the ground by Isis and she was kidnapped and sold into sexual slavery for nine brutal months, during which she was married off to nine terrorists.
Khario was presented with the international women's rights award at the Geneva Summit for Human Rights and Democracy
on Tuesday, but described the moment as bittersweet because her mother and sister were not
there to congratulate her. They have yet to escape Isis.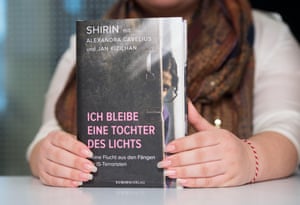 Khario holds her memoir, written under her pseudonym Shirin, last year. Photograph: Alamy Stock Photo
Khario's experiences were published in a memoir under the pseudonym Shirin last year. She starts to cry when she talks about failed attempts by the international community to rescue the estimated thousands being held by the militants.
"To the women and children being enslaved and raped: don't be afraid because society will welcome you with open arms on your return, [even] the young and indoctrinated … I will fight for your rights, and myself," she says.
The White House boxes clever, insisting there is no Muslim ban, but reports of obstruction and harassment go on. Citizens of any creed must know their rights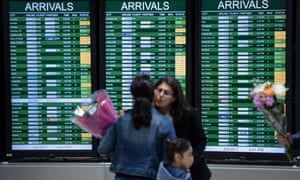 People arrive at Washington Dulles international airport on 6 February. Photograph: Brendan Smialowski/AFP/Getty Images
They stopped Muhammad Ali Jr.
On 7 February, border agents at the Fort Lauderdale-Hollywood international airport held the son of boxing legend Muhammad Ali for two hours. According to his lawyer, they repeatedly asked him about his religion.
Just last June, the world mourned the passing of his father, perhaps the most famous Muslim on the planet, as an American hero. Eight months and a presidential election later, Muslim Americans, including those with notable fathers, can't even return to their own country without problems.
But, they keep telling us, it's not a Muslim ban.
Muhammad Ali Jr is not a visa-holder from Yemen, Iraq, Iran or Libya. He is not a refugee from Syria or Somalia or Sudan. He was born in Philadelphia. If they won't let him into the USA, where is he supposed to go?
He is not the only citizen to report problems re-entering his country of birth. Last week Faruk Abdullah, a consultant based in Union City, California, was flying home from Berlin, where he had been meeting clients. Abdullah – who was born in Columbus, Nebraska, has no other citizenship and describes himself as "annoyingly patriotic" – told me he suddently found himself in front of three KLM ticket agents who were flummoxed as to why the system would allow him to fly from Berlin to Amsterdam but not from Amsterdam to San Francisco.
One of the agents told Abdullah she suspected US immigration had put a block on his travel, "probably because of your name". Abdullah, who has flown overseas many times without incident, contacted his wife in California. She quickly assembled a team of lawyers. By the time Abdullah reached Amsterdam, he was able to board his flight to America. He still doesn't know why he was flagged or then permitted to board.
The experience has left him nervous about future travels, which are necessary for his work.
"I just have this bad feeling that there is a deliberate attempt to undermine US citizens and US Muslims," he said. "If I am a US citizen, I should totally be treated the exact same way as anyone else that is a US citizen."
Immigration lawyers are also reporting that a number of Muslim US citizens and green card holders have had their Global Entry cards mysteriously revoked or applications suddenly denied, even after having been told they had been approved.
But it's not a Muslim ban.
Trump's executive order of 27 January barred entry of visa-holders from seven Muslim-majority countries and all refugees for at least 90 days. That order was horrible, unconscionable and quite probably illegal, according to a decision by the ninth circuit court of appeals. But the situation may now be even worse.
It's one terrible thing to bar non-citizen Muslims entry. It's another to treat Muslim citizens differently from other citizens by law and policy. Judging by my social media accounts, American Muslims, who are constitutionally guaranteed the right to equal protection under the law, are in constant communication regarding plans for overseas travel.
Earlier this month, Asifa Quraishi-Landes, a law professor at the University of Wisconsin, wrote a widely shared Facebook post that sought to alert US Muslims to their rights when traveling.
"Dear US Muslim citizens traveling overseas," it began. "There are numerous reports that US Muslim citizens (and many non-Muslim persons of color) are being detained at secondary checkpoints through customs [and being asked] suspicious questions such as religious scholars they follow, social media groups, and political affiliations.
"As a citizen, you have an ABSOLUTE right to come back into the US. They cannot send you to another country."
Emphasizing that one should "maintain etiquette, politeness, and composure" while engaging any border agent, Quraishi-Landes offered 10 necessary tips for US Muslim travelers:
1. Tell them you are an American citizen.
2. Tell them you've identified yourself.
3. Ask to speak to their supervisor.
4. Tell them you want a lawyer (have ACLU, CAIR, or your lawyer's number with you)
5. Tell them you believe you are being religiously profiled. You MUST be allowed entry as an American citizen and you do not need to answer questions about how you pray or what you believe in.
6. Do not sign anything – NOTHING.
7. If they try to make you reboard an airplane, sit down on the ground and go limp if they try to lift you. Never hit or push.
8. Keep asking for a lawyer.
9. Make sure someone knows your complete itinerary. Make sure someone is waiting for you at your destination or knows to expect you.
10. If you wish, email your name and itinerary to: airport@refugeerights.org. Attorney groups at your destination airport will be notified, just in case. Even if you aren't a refugee, it will allow them to route you to an immigration attorney if you need one.