27 Feb
Nearly all of these are English-edition daily newspapers. These sites have interesting editorials and essays, and many have links to other good news sources. We try to limit this list to those sites which are regularly updated, reliable, with a high percentage of "up" time.

Germany's foreign intelligence agency, the BND, apparently spied on large numbers of foreign journalists overseas over the course of several years, including employees of the BBC, Reuters and the New York Times. Critics see a massive violation of press freedoms.

Politics
Jimmy Kimmel mocks Donald Trump in Oscars opening – video
The Oscars host took a shot at the president as he opened the 2017 Oscars on Sunday, saying: 'I want to thank President Trump. Remember last year when it seemed like the Oscars were racist? That's gone! Thanks to him.' He also mocked Trump for describing triple Oscar-winner Meryl Streep as 'overrated'
Despite President Donald Trump's rhetoric about Mexicans crossing the border to the US, American soccer players such as Omar Gonzalez are heading south for new opportunities, more money and a better standard of football. The Guardian travels to Pachuca, Torreón and Guadalajara to speak to top clubs, US immigrant players and Mexico legend Jared Borgetti – who find the prospect of a border wall at odds with the reality of the two nations' interdependent relationship
Henry Rousso was due to take part in a symposium at Texas A&M University
Ten-hour ordeal highlights 'total arbitrariness and incompetence'
A prominent French historian has said he was detained for more than 10 hours in Houston and threatened with deportation, in the latest of several examples of high-profile individuals being questioned extensively at US airports before being allowed entry.
Henry Rousso flew from Paris to Houston last Wednesday to take part in a symposium at Texas A&M University but was wrongly detained and almost sent back to France after a border guard failed to understand Rousso's entitlements under visa rules, university officials said.
Rousso said on Twitter that he was "detained 10 hours at [Houston's George Bush intercontinental airport] about to be deported. The officer who arrested me was 'inexperienced'."
While he was held, Rousso contacted university officials who attempted to secure his release. "He was waiting for customs officials to send him back to Paris as an illegal alien on the first flight out," Richard Golsan, a professor at Texas A&M, told the Eagle.
Following scorn poured on Donald Trump by the French president and the mayor of Paris after the US president suggested in a speech last week that Paris is unsafe for American tourists, the incident has sparked fresh outrage in France. Emmanuel Macron, a presidential candidate, tweeted on Sunday to declare that "there is no excuse for what happened to Henry Rousso. Our country is open to scientists and intellectuals."
Fatma Marouf, director of the A&M Immigrant Rights Clinic, told the Guardian on Sunday that she found out about Rousso's situation at about 10pm on Wednesday night and worked to get him freed, which happened three or four hours later. She said that Rousso came to the US on a visitor's visa which normally does not allow recipients to work or receive compensation, but there are exceptions for some academic activities, such as giving lectures or speeches.
"My best guess is that it was his honorarium, I don't think the officer who decided to detain him really understood the visa requirement and the technicalities on getting an honorarium which are permitted under his visa," Marouf said. A Customs and Border Protection spokesperson did not immediately respond to a request for comment.
Raised in France after his family were exiled from Egypt, the country of his birth, the 62-year-old Rousso is an expert on antisemitism and the Vichy government in France during the second world war and writes and lectures on the importance of remembering and learning from that period in modern history. He works at the French National Centre for Scientific Research. He has also had links with several distinguished American institutions, including Columbia University, Harvard University, Yale University and the US Holocaust Memorial Museum.
After landing in Houston he was taken to an interview room where an officer suspected him of travelling on another, expired, visa, he wrote in the Huffington Post's French edition.
He credited the intervention of the university officials with securing his release and said he did not know why he was singled out for special scrutiny, but doubted it was by chance. "I'm always wary of making any hasty conclusions. This incident has caused me a certain discomfort, it's impossible to deny. I cannot, however stop myself from thinking of all those who have to suffer these humiliations and this legal attack without the protections which I was able to benefit from," he wrote.
"It is now necessary to face up to the total arbitrariness and incompetence on the other side of the Atlantic," he wrote. "I don't know which is worse. What I do know, loving this country as I always have, is that the United States is no longer quite the United States."
Last week it was reported that border agents in Florida detained the US citizen son of the boxer Muhammad Ali and asked if he was a Muslim, while the celebrated Australian children's author Mem Fox said she "collapsed and sobbed like a baby" after being held at Los Angeles international airport for two hours, insulted and questioned about her visa status.
Police say 75-100 headstones desecrated at Mount Carmel Cemetery
Israeli foreign ministry calls attack 'shocking and a source of worry'
Police said on Sunday that more than 100 headstones had been vandalized at a Jewish cemetery in Philadelphia.
A man visiting Mount Carmel Cemetery in the Wissinoming section of the city called police at 9.40am on Sunday to report that three of his relatives' headstones had been knocked over and damaged.
"The cemetery was inspected and approximately 100 additional headstones were found to be knocked over" apparently sometime after dark Saturday, a police spokeswoman said in a statement.
A criminal mischief-institutional vandalism investigation will be conducted by the police north-east detectives division, she said.
The Jewish Federation of Greater Philadelphia lists Mount Carmel as a Jewish cemetery in the north-eastern part of the city.
The damage came less than a week after a Jewish cemetery in suburban St Louis reported more than 150 headstones vandalized, many of them tipped over.
After the vandalism in Missouri, Governor Eric Greitens wrote in a Facebook post: "Anyone who would seek to divide us through an act of desecration will find instead that they unite us in shared determination. From their pitiful act of ugliness, we can emerge even more powerful in our faith."
The Missouri incident prompted a response from Donald Trump, who had been criticised by Jewish groups and political opponents for a lack of comment on an increase in threats against Jewish community centers around the US and a White House statement to mark International Holocaust Remembrance Day which did not mention Jews or Judaism.
Speaking at the National Museum of African American History and Culture on Tuesday, Trump said: "Antisemitism is horrible and it's going to stop and it has to stop.
"The antisemitic threats targeting our Jewish community and community centers are horrible and are a painful and a very sad reminder of the work that still must be done to root out hate and prejudice and evil."
Trump said he would speak out against antisemitism "whenever I get a chance".
Vice-President Mike Pence also condemned "this vile act of vandalism and those who perpetrate it in the strongest possible terms" after the Missouri incident.
Questions regarding Trump's attitude to antisemitism and possible antisemitic views among his aides and supporters have persisted since he announced his run for the White House.
During the campaign, Trump attracted criticism for tweeting an alleged antisemitic image – he denied any intent to do so but deleted and replaced the image in question – and running ads that critics said employed timeworn antisemitic tropes.
Some observers pointed to the influence of advisers including campaign chairman and now senior White House counsel Steve Bannon, the former head of the "alt-right" Brietbart website who was accused by his ex-wife of making antisemitic remarks, an accusation he denied.
Trump's son-in-law and senior adviser Jared Kushner is Jewish. The president's daughter, Ivanka, converted when she married.
Supreme court president says plans to change how judges are appointed could turn courts into 'plaything' for politicians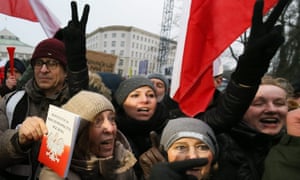 A man holds a copy of the Polish constitution at an anti-government protest in December. Photograph: Pawe? Supernak/EPA
The president of Poland's supreme court has urged the country's judges to "fight for every inch of justice" as the rightwing government pushes for
changes that critics say would make judicial independence a "pure fiction".
"For over a year I have been repeating that the courts are easily turned into a plaything in the hands of politicians," Ma?gorzata Gersdorf told her colleagues in an open letter read out at a recent gathering of judges in Warsaw. "What was until now a threat is becoming a reality."
In its latest battle with Poland's legal system, the ruling Law and Justice party (PiS) says it wants to "democratise" the way Polish judges are appointed, which at the moment is a job for the National Council of the Judiciary (KRS), an autonomous body whose judicial members are chosen by their peers.
Under the government's proposals, however, the terms of all the judicial members of the council would be terminated within 90 days of the draft law's enactment. Their replacements would be selected by the Polish parliament, with the speaker of the parliament given discretion as to which candidates should be put forward for consideration.
Whereas the council's judicial members presently enjoy a majority, under the government's proposals the body would be split into two chambers, one for judicial members and the other for political representatives. Both chambers would have to agree to an appointment or a resolution, giving the political representatives a veto over decisions made by the judicial members.
"The government's proposals will be an instrument for ensuring the appointment of the 'right' kind of judges who will not be too critical of the authorities and their political programme," said Ewa ??towska, a professor at Poland's Institute of Legal Sciences and a former judge who served on the country's constitutional tribunal and the supreme administrative court.
The council was given less than three working days to respond to the draft act, receiving it from the Ministry of Justice on a Thursday and expected to provide its official response by the following Tuesday. In a strongly worded statement, it described the proposals as "in obvious and gross contradiction with the Polish constitution".
"The council is an independent constitutional organ that was instituted in 1989 in order to safeguard the independence of the judiciary, because in the communist era everything was dependent on the ruling party," Dariusz Zawistowski, chairman of the KRS and a serving supreme court judge, told the Guardian.
"When members of the council are elected by the parliament, this function of safeguarding the constitution will be pure fiction. Formally speaking, there would be no independent judiciary."
Gersdorf has urged her fellow judges to risk their own positions in the fight against the proposals.
"There is no fight without victims, and among them may be counted some of us present here," said Gersdorf's letter to her fellow judges. "To win, you must be prepared even for disciplinary tribunals, to be removed from office, for anything. You must show that we are in opposition to the pushing of a democratic state into oblivion."
The government describes the proposals as "enhancing democracy and independence" by freeing the appointments process from "the corporate interests of the judicial environment", citing the judicial appointments process in countries such as Spain and Germany.