02 Mar
Nearly all of these are English-edition daily newspapers. These sites have interesting editorials and essays, and many have links to other good news sources. We try to limit this list to those sites which are regularly updated, reliable, with a high percentage of "up" time.

Politics
What do we know about Donald Trump and Russia? – video explainer
Luke Harding considers the many links between Donald Trump's administration and Russia. As well as praising President Vladimir Putin, Trump has surrounded himself with men with close ties with Russia. He has failed to quash allegations that his staff had improper contact with Russian officials, or that he has business interests in Russia
Source: C-SPAN
During his January confirmation hearing to become attorney general, Sessions was quizzed by Democrat Senator Al Franken about alleged contact between members of the Trump campaign and Russia. "I have been called a surrogate at a time or two in that campaign and I did not have communications with the Russians," Sessions – who was under oath – told him. Now evidence has emerged that Sessions in fact met twice with the Russian ambassador to the US, Sergey Kislyak. A spokeswoman for Sessions said the meetings were in his capacity as a member of the armed forces committee and denied he had misled the Senate.
Attorney general told Senate he had no contact with Russian officials

Top Democrats call for his 'immediate' resignation

Sessions met twice with Sergey Kislyak, Moscow's ambassador to the US
Donald Trump's attorney general Jeff Sessions twice spoke with the Russian ambassador to the United States during the presidential campaign.
The Washington Post, citing justice department officials, first reported that Sessions met with Russian ambassador Sergey Kislyak once in September 2016, when US intelligence officials were investigating Russian interference in the presidential election, and once in the summer of that year.
It was communications with Kislyak that led to the firing of Trump's first national security adviser, Michael Flynn, in February.
A spokeswoman for Sessions confirmed that the meetings took place, but provided a statement from the attorney general saying they were not related to the election campaign.
"I never met with any Russian officials to discuss issues of the campaign," Sessions' statement said. "I have no idea what this allegation is about. It is false."
Sessions reiterated on Thursday morning that he had "not met with any Russians at any time to discuss any political campaign", in an interview with MSNBC's Morning Joe.
Sessions, a former senator from Alabama who was among Trump's early and most vocal surrogates on the campaign trail, did not disclose the conversations when asked under oath during his Senate confirmation hearing in early 2017 about possible contacts between Trump's campaign and Moscow.
Nancy Pelosi, the House Democratic leader, called for Sessions' resignation. "After lying under oath to Congress about his own communications with the Russians, the attorney general must resign," she said.
"Sessions is not fit to serve as the top law enforcement officer of our country and must resign. There must be an independent, bipartisan, outside commission to investigate the Trump political, personal and financial connections to the Russians."
The White House swiftly rejected the reports as an effort to undermine Trump's speech before Congress on Tuesday night, which was reviewed favourably by the US media despite signalling no substantive shift in policy.
"This is the latest attack against the Trump administration by partisan Democrats," a senior administration official said, according to CNN.
"Sessions met with the ambassador in an official capacity as a member of the Senate armed services committee, which is entirely consistent with his testimony."
When Sessions was asked during his 10 January testimony to the Senate judiciary committee how he would respond if he learned of communications between the Trump campaign and Russian officials leading up to the election, he said he was "not aware of any of those activities".
He added: "I have been called a surrogate at a time or two in that campaign and I did not have communications with the Russians."
Immigration officials arrested Daniela Vargas, whose father and brother are also in custody, after she delivered a speech for undocumented migrants' rights
A young woman applying for the renewal of her Daca status was arrested and detained by immigration agents in Jackson, Mississippi, on Wednesday, shortly after she addressed a press conference in support of undocumented migrants' rights.
Daniela Vargas, a 22-year-old who came to the US as a seven-year-old child from Cordoba, Argentina, had told the rally how she dreamed of returning to college and becoming a math teacher, according to her attorneys.
Shortly after the event, as she was driven along an interstate highway by a friend, she was pulled over by Immigration and Customs Agents (Ice) and arrested, said immigration attorney Nathan Elmore. Vargas had been a recipient of Barack Obama's Deferred Action for Childhood Arrivals (Daca) program, which allows undocumented migrants relief from deportation and education and work rights.
But her Daca status had recently expired, with her attorneys lodging an unresolved renewal application in recent weeks, Elmore said.
"She is not a danger to society. She is a good person who can contribute and she's the sort of person that the Daca legislation envisaged. It was correct for her to be under there, and we hope she can get under that statute again," said Elmore. "But first we have to get her out of jail."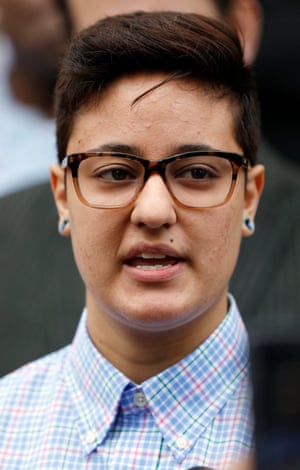 Daniela Vargas. Photograph: Rogelio V Solis/Associated Press
The Trump administration has empowered immigration agents to effectively target most, if not all, of America's 11 million undocumented migrants for deportation under sweeping reforms that vastly expand the agency's powers. Nonetheless, the president has been cautious to comment on the Daca program, which still remain in place. Homeland security officials have suggested that Daca recipients will not be a priority for deportation.
Ice spokesman Thomas Byrd did not respond to a set of questions from the Guardian but confirmed that Vargas has been arrested by agents during a so-called "targeted immigration enforcement action". The spokesman described Vargas as an "unlawfully present Argentinian citizen".
Vargas's brother and father were arrested and detained in February after Ice agents arrived at their family home. Vargas told local media at the time she had hid in her bedroom closet out of fear, and was eventually handcuffed by officers who broke down her door after a five-hour standoff. On that occasion, however, Vargas was released.
"During that time, I couldn't even breathe, honestly," Vargas told the Clarion Ledger in February. "I just watched them handcuff my dad and take them. I was scared for my life. I didn't know. I didn't know anything. I called my mom and I just let out a cry. I didn't even get to see my brother leave; I think that was the harshest thing for me."
Ice said they moved to verify Vargas's immigration status after the incident on 15 February and her case will now be referred to an immigration judge.
Elmore said his firm had not heard from Vargas since her arrest earlier on Wednesday, but he believed she had been transferred to Ice detention in Louisiana. He would not comment on whether the arrest was retaliation for Vargas's conversations with the media.
Storebrand, a sustainable investment manager in Norway, hopes pulling shares from three groups will 'make some sort of impact' amid Defund DAPL movement
Norway's largest private investor is divesting from three companies tied to the Dakota Access pipeline, a small victory for the Standing Rock movement one week after the eviction of the main protest encampment.
Storebrand, a sustainable investment manager with $68bn in assets, sold off $34.8m worth of shares in Phillips 66, Marathon Petroleum Corporation, and Enbridge, the company announced Wednesday. The three companies are partial owners of the pipeline.
"We hope that our actions and the actions of other likeminded investors in either divesting or calling for an alternative [pipeline] route will make some sort of an impact," said Matthew Smith, the head of Storebrand's sustainability team.
The Standing Rock Sioux tribe's attempt to halt or reroute the Dakota Access pipeline away from their water source became an international rallying cry for indigenous and environmental activists last year.
Thousands of people traveled to encampments established near the site of the proposed river crossing in North Dakota. The camps saw frequent clashes between activists, law enforcement, and private security guards as the "water protecters" engaged in civil disobedience to attempt to halt construction.
In addition to the protest encampments, opponents of the pipeline have waged divestment campaigns against the pipeline company, Energy Transfer Partners. Using the slogan Defund DAPL, activists have also urged individuals and institutions to move money out of banks that are financing pipeline construction, including Wells Fargo and Bank of America.
Victories thus far include the decisions by a Norwegian bank, DNB, and the Norwegian mutual fund Odin Fund Management to sell their shares in companies connected to the pipeline last November.
The Seattle City Council voted this month not to renew the city's contract with Wells Fargo over the bank's involvement with the pipeline project, removing $3bn from the bank's coffers. Other cities are considering similar moves.
On Tuesday, the indigenous activist Jackie Fielder helped lead a protest at the San Francisco board of supervisors, which she is hoping to persuade to divest from DAPL-connected banks.
"The thing about the No DAPL movement is that it's everywhere," Fielder said. "We have the economic power to show companies that when they finance an environmentally racist project and hire private security and collude with law enforcement, their bottom line will suffer."
Smith said Storeband had worked for months to attempt to influence the pipeline route, with no success. Storebrand reached out to the companies directly, joined a group of international investors in trying to influence the companies, and organized a letter to the pipeline's creditors, with 100 other investors expressing concern.
"Divestment is a last resort. When you divest from companies, you give up your possibility to influence companies to come to a better solution," Smith said.
It was only after all these efforts failed to produce Storebrand's goals – prior informed consent of indigenous tribes before crossing treaty land and a full environmental impact study – that the investor decided to sell its shares.
The divestment campaign is gaining steam as the hope of stopping the pipeline dwindles.
Activists say Bezalel Smotrich of Jewish Home party lives in one of houses recently 'legalised' by country's parliament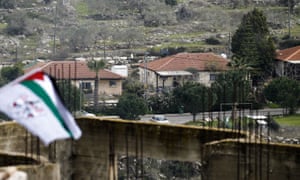 Israeli homes in areas like Kedumim, where Smotrich lives, are not internationally recognised. Photograph: Jaafar Ashtiyeh/AFP/Getty Images
A far-right Israeli MP who backed a controversial law retroactively "legalising" illegal Jewish outposts built on privately-owned Palestinian land will personally benefit from the legislation, because his home is one of several thousand covered by the provision, activists have revealed.
Bezalel Smotrich, who represents the Jewish Home party, praised the passage of the law in early February as a "historic day for the settlement movement and for Israel".
He did not mention at the time that it would potentially also benefit him, by changing the status of his own home in the settlement of Kedumim. He is reportedly one of the least wealthy members of parliament, with a 15 year-old car, around £30,000 in savings and a house worth just over £200,000.
"There are around 150 homes built illegally on private land (in Kedumin), as well as public facilities including road infrastructure," said Dror Etkes, director of the Kerem Navot NGO which focuses on land issues. "Smotrich's house is one of them."
The so-called "regulation bill" passed at the start of February, retroactively legalises the construction of thousands of Jewish settler homes on privately owned Palestinian land. The original landowners are to be compensated either with money or alternative land, even if they do not agree to give up their property.
The international community deems all settlements illegal, but Israeli law distinguishes between the construction of homes on areas that the government deems "state land", which are legal, and building projects on land owned privately by Palestinians.
A string of court cases in recent years has forced the government to demolish some homes built on private Palestinian land, including nine in a settlement called Ofra this week. The bill effectively removes the threat hanging over other similar homes.
The new law has been dubbed a "theft" and "land grab" by opponents, and condemned by the international community including the new UN secretary general, Antonio Guterres. It was even slammed by Israeli right wingers like former Likud Minister Dan Meridor, who called it "evil and dangerous".
Palestinian councils and human rights organisations have launched a legal challenge that is expected to have a strong chance of success.
Kedumim was mapped by Israel's Civil Administration several years ago, and data provided by Etkes shows Smotrich's home is part of an enclave clearly outside the settlement's boundaries.
Aerial photographs show land there was being cultivated from the 1970s to the 1990s, one measure the Israeli government uses to assess Palestinian ownership. Construction on homes began in the early 2000s.
As with all such lists, the 300 'scientists' badly lack climate expertise
If you read my articles regularly, you may have noticed multiple times I have stated that the scientific argument is over; there are no longer any reputable scientists that deny the overwhelming human influence in our climate. An open letter published last week by the anti-environmentalists proves my point.
If you read the headlines, it might have seemed impressive: "300 Scientists Tell Trump to Leave UN Climate Agreement." Wow, 300 scientists. That's a lot right? Actually, it's a pitiful list.
First of all, hardly anyone on the list was a climate scientist; many were not even natural scientists. It is almost as though anyone with a college degree (and there are about 21 million enrolled in higher education programs just in the USA) was qualified to sign that letter.
Okay but what about the signers of the letter? Surely they are experts in the field? Not so much. It was very difficult to find the list of signers online however I was able to acquire it with some help. See for yourself – Google "300 scientists letter climate change" in the past week. You will see many stories in the press, but try finding the actual letter or the list of names. The version I obtained was dated February 23, 2017 which helps narrow your searching. In an era of Dr. Google, it is unbelievable that the letter itself was not made more available.
Okay but let's get to the central issue. These 300 scientists must be pretty good at climate science, right? Well let's just go through the list, alphabetically. Here is a sampling (text copied verbatim from the version of the letter I obtained).
Example 1:
ADAM, A.I.: (Ph. D.); Retired Geologist/Palynologist/Academic/Public Servant/Industry Professional; publications include papers on palaeoenvironmental studies and a book, New Emperors' Novel Clothes: Climate Change Analysed.
A retired geologist and a public servant? I performed a google scholar search on "AI Adam" to find out what is picked up as any studies written by someone named "AI Adam." Nothing. If you can find his book on Amazon, you will see his biography states he's a retired geologist, got a degree from a university in the UK (discipline not specified), he worked in fossil fuel and mineral industries in Australia and other countries. Oh, and currently he has "wide interests".
Example 2:
ALEXANDER, Ralph B.: (Ph.D., Physics, University of Oxford); Former Associate Professor, Wayne State University, Detroit, author "Global Warming False Alarm" (2012)
Surely it gets better right? I mean this signer was an Associate Professor? Again, not much there. I was able to find this part of a biography on DeSmogBlog:
Ralph B. Alexander is a former Associate Professor of Physics at Wayne State University and former President and co-founder of Ion Surface Technology, a small high-tech materials company. He is currently the owner and president of R.B. Alexander & Associates Inc., an independent consulting firm specializing in advanced materials and surface engineering.
No evidence of any expertise in climate science that I could find. Let's move to Example 3:
ALLEN, D. Weston: (MB. BS.); FRACGP Australia
Whoa, what does FRACGP stand for? A quick online search revealed that FRACGP is likely Fellow of the Royal Australian College of General Practitioners. What is the Royal Australian College of General Practitioners you ask? Well if you have more patience than I do, let me know. This may be their website. Once again, no evidence whatsoever of any expertise in climate science.
Example 4:
ALLISON, Jock: (Ph.D., Animal science, Sydney University, 1970); Previously Research Director, Ministry of Agriculture & Fisheries, New Zealand.
Well, someone in animal science may have studied climate change. Perhaps the effect (or lack of effect) of climate change on animals, right? Not likely. I performed an academic search using the name "J. Allison" and I found many papers in high-energy physics, certainly not the same person. So I added the word "Climate" to the search and found – you guessed it – nothing.
A jaguar killing an anteater, a green tree python and the winner of the underwater photographer of the year are among this week's images from the natural world