Navy veteran under suspicion for arson says claim is unfounded and an attempt at bullying by North Dakota police: 'I am here for peaceful reasons'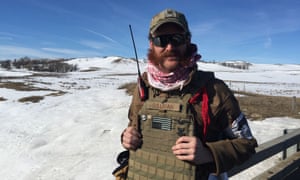 Sean Sullivan, a 35-year-old navy veteran from San Diego. Photograph: Courtesy of Sean Sullivan
North Dakota police have accused a US veteran of arson at Standing Rock, renewing concerns that law enforcement is targeting former service members for prosecution.
Police on Thursday said that Sean Sullivan was a "possible arson suspect" and sent out a photo taken from his Facebook page of him standing near a burning structure at the main encampment at Standing Rock, which officers evicted last week.
Sullivan, a 35-year-old navy veteran from San Diego, who returned home from Standing Rock on Monday, had not heard he was a suspect until a Guardian reporter called him on Thursday afternoon.
"It's just completely unfounded," said Sullivan, who was part of a group called VeteransRespond that recently traveled to North Dakota to assist the remaining Native American activists demonstrating against the Dakota Access pipeline. "It's intimidating. They're just trying to bully me around. Everyone knows I didn't start that."
The arson accusation, which police said could lead to prosecution, is the latest in a series of arrests and charges filed against veterans aiding indigenous groups fighting the pipeline, which could soon be in operation. Last month, police filed charges against two veterans supporting Standing Rock, holding one in jail for several days. The prosecutions raised concerns that police were trying to prevent them from going to the camps.
The Guardian interviewed Sullivan last week on the day a highly militarized police operation began raiding the camps and making arrests. Throughout the day, some activists were setting fire to remaining structures at Oceti Sakowin, the main Standing Rock camp that is now completely evacuated.
Sullivan told the Guardian at the time that he witnessed an explosion in a tipi and helped two people to safety. On Thursday, he said the photo that police took from his Facebook shows him near a different burning structure. He said he was on the other end of camp when people first lit it on fire and that he briefly came over later and took a photo of it.
Sullivan said many journalists saw him take a photo and that the image he put on Facebook is from Vice News.
"I'm not a violent person. I'm just here for peaceful reasons," said Sullivan, adding that he did not set any fires. "I was there to observe and assist as needed."
The police screenshot of his Facebook page includes his comment saying, "I didn't start that!"
The veterans charged last month were accused of drug offenses after they were searched and found to have small amounts of cannabis, which they said they were prescribed to treat post-traumatic stress disorder.
Some Native American activists are already facing serious arson charges and potentially hefty prison sentences. Many similar charges, however, were also dropped or rejected by a judge last year due to lack of evidence.
Asked if police had additional evidence linking Sullivan to the fire, Rob Keller, spokesman for the Morton County sheriff's office, said "there may be, but I don't have that information." Keller said he suspects Sullivan could face charges, but did not provide further details.
Police also released photos of a woman who allegedly "was seen running away from a building just before it started on fire".
"It seems like they are targeting the veterans," said Matt Crane, one of the vets charged with a marijuana offense, who left Standing Rock before the evictions. "Why would they be going out of their way to do that?"
Crane said he suspected Sullivan became a target since he was a visible member of VeteransRespond who had talked to multiple reporters. "I know Sean. I've worked with Sean. I couldn't picture him doing that in a million years."
He added: "It feels like somehow they are trying to continue this narrative that the veterans … are a nuisance and criminals and dangerous. It's total bullshit."
I

t's not easy being a black cop in Cleveland. During his 23 years in uniform, and now as a detective, Lynn Hampton has weaved a tricky path between the city's African American majority and its overwhelmingly white, sometimes trigger-happy police department. Some in the black community called him a sellout. A few white colleagues regard him as an infiltrator. But Hampton did not give up working to bridge the divide.
"We're trying to keep a lid on this thing here. You've got people in this city saying the police department is racist, that we are neo-Nazis," said Hampton. "Now with Trump coming on the scene, spewing out these bigotries, my community is quite frankly saying this dude is a racist. Then he's talking about bringing back law and order again, and we know what that meant in the past. What's that saying to the black community? We're opening back up open season on African Americans. That's what people are thinking."
Hampton, wearing a brown trilby and a gold detective's badge on a chain around his neck, added that it was bad enough that Trump used the election campaign to push for a return of discredited "stop and frisk" policies, and to accuse Black Lives Matter of being responsible for the killings of police officers.
Those "reckless" pronouncements did not go unnoticed in a city marred by two of the most notorious police shootings of recent times, including the killing of 12 year-old Tamar Rice. But then, Cleveland's overwhelmingly white police union piled in by taking the unprecedented step of endorsing Trump for president.
"Bad move. Horrible move," said Hampton, who is a member of the union. "A slap in the face to the community which you serve. What message does that send to black people about the attitude of the police?"
Now the 57-year-old detective finds himself caught between an increasingly alarmed African American community, and a department he fears will retreat to a mindset more akin to military occupation than policing.
"What kind of society does he want to create? Where we headed? You can't continue to back people into a corner without anybody eventually getting tired and striking out. Are we going to have more violence against police officers? Is that what he wants? That's the very thing that I'm trying to avoid," he said.
Some of Hampton's black colleagues have had enough and are talking about quitting. That's not for him: he says he will stay and fight.
On the other side of Cleveland, Brian King, a retired sales engineer for a steel company, knows what kind of society he wants and what he expects of Trump.
"We need him to clean up the inner cities. The crime and the drugs. Clean up some of the people in this country that are causing troubles. The illegal immigrants. The terrorists," he said.
King said he has plenty of doubts about Trump but they are not the same as Hampton's. "I don't think Trump's a racist at all. I believe that if everyone hates him he must be doing something right," he said. "Trump was my first choice because I've read his stuff and I thought he was an asshole. He's a shyster. He's a crook. But I want him to be a crook for us. For the ordinary guy."
Cleveland voted solidly for Hillary Clinton, although her numbers were down on Barack Obama's victories. It has among the highest poverty rates in the country, with one in three of the population living below the poverty line, rising to 43% among African Americans.
Trump is a shyster. He's a crook. But I want him to be a crook for us. For the ordinary guy

Brian King
Cleveland is also among the most racially segregated cities in the country, a divide reflected in its police department, where just one in four officers is black in a city where more than half the population is African American and little more than one third is white.

The force is under federal court oversight after a group of 13 police officers fired 137 shots into a car with two unarmed African Americans in 2012. Officer Michael Brelo was filmed leaping on to the front of the car and firing at Timothy Russell and Malissa Williams through the windscreen after fellow officers stopped shooting. He was acquitted of manslaughter on the grounds that the pair was probably already dead by then. To his critics, it looked a lot like Brelo thought he was back fighting insurgents with the US army in Iraq.
"A lot of white officers believe that once you run all bets are off. I can do anything to you," said Hampton. "What criminal do you know just gets in the car? It's their job to run. Your job is to chase 'em. A lot of officers are too quick to use their weapons."
In 2014, a Cleveland police officer shot dead Tamar Rice, a 12-year-old child carrying an airsoft gun. The city council paid $6m to the boy's family but the officer was not charged. Justice department intervention forced the department to increase training on bias and use of force, and to place a greater emphasis on community policing.