04 Mar
Nearly all of these are English-edition daily newspapers. These sites have interesting editorials and essays, and many have links to other good news sources. We try to limit this list to those sites which are regularly updated, reliable, with a high percentage of "up" time.

Politics
The US president's links to Russia reflect the depth of the political crisis. This is a scandal of the entire American right
******************************
Another major reason why Donald Trump is in the White House is because of a total inert effort by the Democrats, who insisted that Hillary Clinton, not Bernie Sanders be their nominee.
The Clintons  contributed in a major way to destroying the Democratic Party. They left the whole democratic system in the West floundering. If they had been a real party of the people Trump would still be selling crap to the Russians……ops! He still is.

The McGlynn
******************************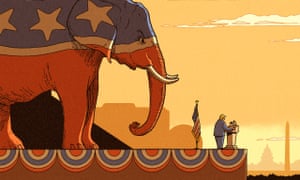 Illustration by Robert G Fresson
W

ho's the villain here? Naturally our rage focuses on Donald Trump, a pantomime baddie drawn, as he would put it, from central casting. But behind him stand many others, and it's about time they shared in the opprobrium.
Start with the unfolding scandal over Trumpworld's links with Vladimir Putin's Russia, and the increasingly close parallel with the Watergate affair that toppled Richard Nixon. Both episodes, then and now, began with an election-year break-in at Democratic party headquarters. In 1972, that involved burglars with torches. In 2016, it was hackers and passwords. But in each case, real and virtual, the apparent objective was the same: the acquisition of damaging political intelligence. In 1972, the culprits were taking their orders from the American president. In 2016, at least according to 17 US intelligence agencies, the orders came from the president of Russia.
Watergate spawned the now-cliched maxim that "it's never the crime, it's always the cover-up". In the current case, it's correct that had Trump's associates told the truth immediately about their contacts with Moscow, they would now be confronting controversy rather than scandal. If attorney general Jeff Sessions had admitted that he had met Russia's ambassador to the United States, Sergey Kislyak, twice last year, he'd have prompted raised eyebrows rather than calls for his head.
And by lying under oath, insisting he'd had no such meetings, Sessions has made his position as head of the US criminal justice system morally untenable. But even if he survives, Sessions has raised suspicions about what, exactly, he was so keen to cover up.
The same goes for the meeting Trump's son-in-law, Jared Kushner, and disgraced former national security adviser Michael Flynn are now known to have had with Kislyak after the election and before the inauguration. That encounter, too, was never disclosed and would have remained secret had journalists not discovered it. Indeed, with a camera permanently stationed in the lobby at Trump Tower, Kislyak must have been spirited in via a back entrance. If it was a perfectly legitimate diplomatic meeting, why the secrecy?
It's becoming a pattern. Senior Trump officials from the president downwards deny all contact with the Russians – only to be contradicted by the facts. They then have to explain why they lied, behaviour unacceptable even to those who might otherwise be relaxed about dialogue with Moscow. As Watergate showed, a first lie can spawn hundreds of others – and it's those that get you.
Watergate spawned the now-cliched maxim that 'It's never the crime, it's always the cover-up'
But there is one big, dispiriting difference between the scandal unfolding now and the one that unseated Nixon. Four decades ago, Nixon was forced to resign because Republicans in Congress deserted him. They put their partisan allegiance aside in order to act against a president who they saw as endangering the republic. This time, the picture is very different.
Sure, Republican senators John McCain and Lindsey Graham vow to hold Trump to account. But the rest of them are profiles in moral weakness, prepared to turn two blind eyes to the actions of the president simply because he wears the right party colours. So Devin Nunes, chair of the House intelligence committee, which should be investigating all this, says "there's nothing there". His colleague Jason Chaffetz, who chairs the House oversight committee, declined to look into the Flynn affair because "it's taking care of itself". Oversight, it seems, is precisely the right word. But please don't get the impression that Chaffetz is lethargic in his supervisory duties. On the contrary, there's one scandal he's very keen to investigate even now: Hillary Clinton's use of a private email server.
Remember that? "Lock her up," the Republicans chanted throughout 2016, believing that Clinton had put sensitive information at risk. The email affair dominated coverage and fatally damaged her campaign. Well, it turns out that as governor of Indiana, vice-president Mike Pence also used a private email account to conduct state business, including sensitive security matters and counter-terrorism, and that account was promptly hacked. Pence kept strangely quiet about that.
You see, it's not just Trump. This week Republicans waved through yet more of the president's absurd cabinet appointments. In comes Ben Carson, who had earlier declared himself unfit to head any department because he had "no experience": he will be in charge of housing and urban development. Republicans also ratified Rick Perry as energy secretary: Perry famously forgot, in a 2011 presidential debate, that energy was one of the departments he wanted to abolish.
It's Republicans who are making a mockery of Trump's claim to speak for the forgotten millions by planning a tax cut that will send billions of dollars into the pockets of the very richest. It's Republicans who devoted years to denouncing Obamacare, promising to replace it with a system that would miraculously provide better healthcare to more people for less money. Now that they're in charge, that's been exposed as the magical thinking it always was. Trump is the face of that idiocy – saying this week that, "Nobody knew that healthcare could be so complicated", when in fact everybody but him and the blowhards on Fox News knew precisely that many, many years ago.
But we can't just point the finger at, and pray for the downfall of, Donald Trump. He is merely the face of a deeper Republican malaise. The hypocrisies he embodies extend far beyond him. For decades, Republicans cast themselves as the party of family values, wagging their finger at anyone who had fallen short of the moral standards they set. But when Trump came along, promising them the tax cuts and seats on the supreme court they craved, all that went out of the window. Suddenly they were prepared to embrace a thrice-married worshipper of mammon who brags about sexually assaulting women and was happy to assess his own daughter as "a piece of ass". Note the polling on white evangelical Christians. In 2011 they were the group least likely to accept that a candidate guilty of immoral behaviour in their personal life might nevertheless be able to act ethically as a leader. Now they are the by 2017 to become the most forgiving on that score.
New policy would allow the government to keep parents and children in custody separately, to deter mothers from migrating to the US with their children
Women and children crossing together illegally into the United States could be separated by US authorities under a proposal being considered by the Department of Homeland Security, according to three government officials.
Part of the reason for the proposal is to deter mothers from migrating to the United States with their children, said the officials, who have been briefed on the proposal.
The policy shift would allow the government to keep parents in custody while they contest deportation or wait for asylum hearings. Children would be put into protective custody with the Department of Health and Human Services, in the "least restrictive setting" until they can be taken into the care of a US relative or state-sponsored guardian.
Currently, families contesting deportation or applying for asylum are generally released from detention quickly and allowed to remain in the United States until their cases are resolved. A federal appeals court ruling bars prolonged child detention.
Donald Trump has called for ending so-called "catch and release", in which people who cross illegally are freed to live in the United States while awaiting legal proceedings.
Two of the officials were briefed on the proposal at a 2 February town hall for asylum officers by US Citizenship and Immigration Services asylum chief John Lafferty.
A third DHS official said the department was actively considering separating women from their children but has not made a decision.
DHS, HHS and the White House did not respond to requests for comment.
About 54,000 children and their guardians were apprehended between 1 October 2016, and 31 January 2017, more than double the number caught over the same time period a year earlier.
Republicans in Congress have argued women are willing to risk the dangerous journey with their children because they are assured they will be quickly released from detention and given court dates set years into the future.
The policy would allow DHS to detain parents while complying with a ninth US circuit court of appeals order from July 2016 that immigrant children should be released from detention as quickly as possible. That order said their parents were not required to be freed.
To comply with that order, the Obama administration implemented a policy of holding women and children at family detention centers for no more than 21 days before releasing them.
Implementing the new policy proposal "could create lifelong psychological trauma", said Marielena Hincapie, executive director at the National Immigration Law Center. "Especially for children that have just completed a perilous journey from Central America."
Hincapie said the US government was likely to face legal challenges based on immigration and family law if they decide to implement the policy. The Department of Homeland Security Secretary John Kelly last week ordered immigration agents to deport or criminally prosecute parents who facilitate the illegal smuggling of their children.
Undocumented immigrants with any type of criminal charges, such as Juan Carlos Fomperosa García, are now a priority for deportation under Trump's order
Juan Carlos Fomperosa García planned to celebrate his son's 17th birthday on Thursday. But first, he had to go in for a meeting around 9am with immigration officials in Phoenix for what he believed was to discuss his request for asylum.
"He walked in. An hour later, they brought me a bag with his stuff and that was it," said Yennifer Sanchez, Fomperosa García's 23-year-old daughter.
The single father of three US citizens, who entered the country 20 years ago, was detained after meeting with Immigration and Customs Enforcement officials, but never came out, his daughter said, adding that she thought he was safe because he had a work permit.
By Friday morning, Fomperosa García had called his children to let them know he had been deported to Mexico.
Now, Sanchez has become the sole guardian of her 17-year-old son and 14-year-old daughter. She said she plans to continue working as a caregiver and, with the "moral support" of her father, care for her siblings.
"They are going to keep going to school," Sanchez said of her siblings. "I'm going to work. We're going to try to get through this."
To help the family financially, a local organization started fundraising money online. They raised more than $1,300 in less than three hours.
Ayensa Millan, a Phoenix-based immigration attorney who was contacted by Fomperosa García's family on Thursday, said she wasn't sure why Fomperosa García had the check-in with Ice officials. She said his asylum request had already been denied "so there was no reason for them to interview him for an asylum claim".
"It sounds to me like they literally just called him to remove him because of his prior removal order," Millan said.
In a statement, Ice confirmed Fomperosa García had been deported and that he had been "previously repatriated to Mexico three times, including a formal deportation in 2014". Last year, he was again ordered removed by an immigration judge and in 2015 was convicted of a federal misdemeanor charge, according to Ice.
"Ice will continue to focus on identifying and removing individuals with criminal convictions who have final orders of removal issued by the nation's immigration courts," the statement said.
Fomperosa García's deportation comes a few weeks after the deportation of Guadalupe García de Rayos, a mother of two US citizens who lived in Arizona for more than two decades. She was also deported after she went in for a check-in with Ice.
But under a new executive order that Donald Trump signed on 25 January, García de Rayos became a priority for deportation. The order states that undocumented immigrants should be deported if they have been charged with any criminal offense. The president said the order was needed "to ensure the public safety of the American people".
Millan said her advice to undocumented immigrants, especially those with no serious criminal records, is "to not be fearful and to pay close attention to what's going on". She noted that most undocumented immigrants who've been deported recently had prior orders of removal or had already been found by an immigration judge to not have strong enough merits to be granted a stay in the US.
For undocumented immigrants who've become a priority for deportation under Trump's new executive order and have pending check-ins with Ice, Millan said she advises them to be prepared and get an immigration attorney. Another option is to seek sanctuary at a church.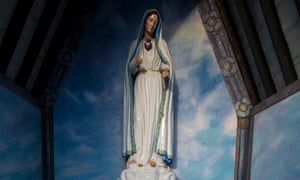 The home, run by the Bon Secours Sisters, a Catholic religious order of nuns
Excavations at site of home for unmarried mothers and their children, where it is alleged up to 800 children died, uncover human remains
A mass grave containing the remains of babies and children has been discovered at a former Catholic care home in Ireland where it has been alleged up to 800 died, government-appointed investigators said on Friday.
Excavations at the site of the former Bon Secours Mother and Baby Home in Tuam, County Galway, have uncovered an underground structure divided into 20 chambers containing "significant quantities of human remains", the judge-led mother and baby homes commission said.
The commission said analysis of selected remains revealed ages of the deceased ranged from 35 weeks to three years old. It found that the dead had been mostly buried in the 1950s, when the facility was one of more than a dozen in Ireland offering shelter to orphans, unmarried mothers and their children. The Tuam home closed in 1961.
The home, run by the Bon Secours Sisters, a Catholic religious order of nuns, received unmarried pregnant women to give birth. The women were separated from their children, who remained elsewhere in the home, raised by nuns, until they could be adopted.
The shrine erected in memory of the up to 800 children allegedly buried at the site of the former home. Photograph: Paul Faith/AFP/Getty Images
The discovery confirms decades of suspicions that the vast majority of children who died at the home were interred on the site in unmarked graves, a common practice at such Catholic-run facilities amid high child mortality rates in early 20th-century Ireland.
The Irish government in 2014 formed the commission following the work of a local Tuam historian, Catherine Corless, who found death certificates for nearly 800 children who were residents at the facility but burial records for only two.
"Everything pointed to this area being a mass grave," Corless previously told the Guardian. She recalled how boys playing in the field had reported seeing a pile of bones in a hidden underground chamber there in the mid-1970s.
The government's commissioner for children, Katherine Zappone, said the findings were "sad and disturbing" and promised that the children's families would be consulted on providing proper burials and other memorials.
"We will honour their memory and make sure that we take the right actions now to treat their remains appropriately," Zappone said.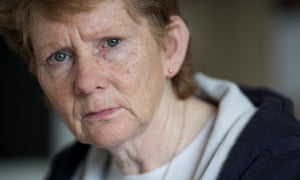 Catherine Corless. Photograph: Patrick Bolger/Patrick Bolger Photogrraphy
Under the Freedom of Information Act, Corless requested Galway county council's records on the home from 1925 to 1961. She was refused.
But she was given documents from the 1970s, including an official map of the present-day estate the council built on the site.
"They obviously didn't see the importance," said Corless. "There is an area across the map marked 'burial ground'," she says. "First, the houses were built, around that area. Finally a playground was built on part of the burial ground itself."
Minutes from a Tuam council meeting call for "due care and sensitivity" when building the playground because of the "children's burial ground and adjoining burial ground", Corless said. "The playground is unnaturally big, it's as big as the town playground."
From algae to fish and polar bears, the loss of habitat caused by global warming is affecting the food chain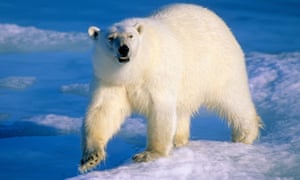 An adult polar bear hunting for seals on the melting pack ice in the Arctic. Photograph: Alamy
In a few days the Arctic's beleaguered sea ice cover is likely to set another grim record. Its coverage is on course to be the lowest winter maximum extent ever observed since satellite records began. These show that more than 2 million square kilometres of midwinter sea ice have disappeared from the Arctic in less than 40 years.
The ice's disappearance – triggered by global warming caused by rising carbon emissions from cars and factories – is likely to have profound implications for the planet. A loss of sea ice means a loss of reflectivity of solar rays and further rises in global temperatures, warn researchers.
But there are other pressing concerns, they add. Sea ice loss is now posing serious threats to the Arctic's indigenous species – its seals, fish, wolves, foxes and polar bears. "The Arctic food chain relies on a stable sea ice platform and that is now disappearing, putting the region's wildlife at risk," said marine ecologist Tom Brown, of the Scottish Association for Marine Science (Sams), in Oban.
Sea ice provides a platform from which polar bears can hunt, and it links communities of land animals such as foxes and wolves. "The sea ice cap has been retreating for decades, and as it does the animals who live on its edge have had to move north," said Andrew Shepherd, professor of Earth observation at Leeds University.
"But that process takes them further and further away from land – and there is likely to be a limit about the distance they can tolerate."
In fact, the erosion of sea ice strikes at the very root of the Arctic ecosystem, for it provides a surface on which algae – the basic material on which the entire food chain in the region depends – can grow. "Algae lingers on the underside of sea ice and as spring begins there is a major increase in its growth," said Brown. "It is then eaten by tiny creatures called zooplankton, and they in turn are eaten by fish that are in turn eaten by seals, which are in turn consumed by polar bears. But if algae levels drop the whole food chain is disrupted."
This point was backed by Professor Geraint Tarling, of the British Antarctic Survey. "The most important of the consumers of algae is a species of zooplankton called Calanus glacialis. It is rich in fats like omega-3 and is consumed by Arctic cod and baleen whales," he said. "Crucially, in recent years levels of Calanus glacialis have been found to be declining and are retreating in their range. In its place a temperate species called Calanus finmarchicus has appeared, but it contains much less fat and that is of poorer quality. As a foodstuff it is simply inferior."
The base of the Arctic food chain is being depleted, in other words. However, it is not the only threat to wildlife in the region. In 2015 the journal Science published a paper – by Professor Eric Post, of Penn State University and colleagues – that shows that populations of wolves and foxes are currently isolated only in summer. For most of the year these groups are connected by sea ice.
But as its sea ice coverage declines over the years, this is extending the length of time that packs are kept away from each other, which threatens to lead to diminished cross-breeding and genetic wellbeing.
Then there are the narwhals. These tusked whales – sometimes called the unicorns of the sea – are prized by Inuits who use their blubber and skin to make a traditional, chewy meal called muktuk. Narwhals can hide safely in sea ice and so avoid their natural predator, the killer whale. Robbed of that protection, narwhal numbers could dwindle dangerously, marine biologists warn.
To uncover greater details of these issues, the UK Natural Environment Research Council (Nerc) has launched a programme called PRIZE, productivity in the seasonal ice zone, which will use underwater robot craft to study how nutrient flow and other factors are changing as the Arctic sea ice retreats. It will probe variations that are occurring in zooplankton behaviour, the composition of the seabed and other factors that could influence wildlife disruption.
Other dangers facing the Arctic were highlighted by Professor Julienne Stroeve, of University College London. "Consider the example of harp seals," she said. "They often give birth on snow mounds on sea ice. But if that sea ice is thin or formed late it breaks and the seal pups are dumped into the ocean and they drown." In addition, Stroeve pointed to the problem of increasing numbers of warm spells during which rain falls instead of snow. "That rain then freezes on the ground and forms a hard coating that prevents reindeer and caribou from finding food under the snow," she added.
Caribou face another danger posed by climate change. Normally they try to take advantage of a range of nutritious plants that bloom in the Arctic spring in order to help them recover from the fierce Arctic winter and to strengthen females before giving birth. But the plant species on which they rely are now blooming earlier and earlier as spring in the far north arrives sooner each year – while the caribou's internal clock remains unchanged and locked into the wrong biological cycle. As a result, the plants on which they rely are past their best when caribou arrive and so there is less nutrition available when they give birth. As a result, fewer calves are born.
It is a problem of synchronicity. The alignment of different lifecycles is being disrupted by sea ice loss and it is affecting animals on both land and in the ocean. "It is a bit like having your breakfast time changed," said Finlo Cottier, senior lecturer in polar oceanography , who is also based at Sams. "You are used to sleeping in to 8am, but one day breakfast is served at 6am but no one tells you. The result: you go hungry. That is what is beginning to happen all over the Arctic."
Poison arrow frogs, a Steller sea lion and a chameleon are among this week's pick of images from the natural world