06 Mar
Nearly all of these are English-edition daily newspapers. These sites have interesting editorials and essays, and many have links to other good news sources. We try to limit this list to those sites which are regularly updated, reliable, with a high percentage of "up" time.

Italy's news in English
File photo of migrants at the port of Lampedusa: Alberto Pizzoli/AFP
Five people remained missing on Sunday after scores of migrants in an inflatable boat were rescued in turbulent waters off the coast of Libya overnight.
About 122 of the migrants were saved after being spotted by the Golfo Azzuro, run by the Spanish Proactiva Open Arms group.
"We saw the lights, the rescue boat, but we were very far," Farses, a migrant from Ghana, told AFP aboard the Golfo Azzuro.
He had earlier been playing draughts, also called checkers, with another Ghanaian; both had won a game, so they agreed to play the tiebreaker once they were in Italy.
But the friend fell asleep, and was among seven who fell into the sea when a strong wind buffeted the boat. Only two people were recovered.
"He was swimming very fast. But we couldn't wait for him, because the wind was very strong," Farses said.
"The one who was driving the boat wouldn't stop, (saying) 'We have to move on, move on'."
The Spanish boat brought the migrants to the Italian island of Lampedusa, the latest in a wave of some 1,200 migrants that have been rescued on the Mediterranean and brought to Italy in recent days.
Aid groups say the exodus is being driven by worsening living conditions for migrants in Libya and by fears the sea route to Europe could soon be closed to traffickers.
The United Nations refugee agency estimates that 440 people have lost their lives trying to make the crossing from Libya to Italy since the start of 2017.

Politics
Source: Reuters/AP
Donald Trump tweeted unsubstantiated claims that Barack Obama had ordered the FBI to tap the phones at Trump Tower. He offered no evidence to support his claims, which were defended at the weekend by deputy White House press secretary Sarah Huckabee Sanders. But former director of national intelligence James Clapper says Trump's claims are untrue. Republican senator Marco Rubio says the White House must account for Trump's allegations. And House Democratic leader Nancy Pelosi says Trump's 'smear' is an authoritarian tactic
The comic takes aim at the president's baseless claims against Obama and questions his unreliable media diet
Guardian staff
John Oliver has criticized Donald Trump over his latest baseless claims that Obama secretly recorded him, referring to the situation as "Stupid Watergate".
On Last Week Tonight, the comic expanded upon this idea, calling it "a potential scandal with all the intrigue of Watergate except everyone involved is really bad at everything".
He went on to say: "The relevant question isn't so much 'what did the president know and when did he know it?' as it is 'is the president physically capable of knowing things at all?'"
Turkish president campaigning for more powers says Germany is not respecting opinion and thought after stopping events
The Turkish president, Recep Tayyip Erdogan, has lashed out at Germany for blocking several rallies on its soil in the run-up to a referendum in Turkey, likening its stance to Nazi practices.
"Your practices are not different from the Nazi practices of the past," he said of Germany at a women's rally in Istanbul before the referendum on changes to the constitution that would bolster his powers as president.
"I thought it's been a long time since Germany left [Nazi practices]. We are mistaken," he added.
Last week federal authorities in two German states withdrew permission for political rallies targeted at Turkish residents in Germany amid growing public outrage over Ankara's arrest of a Turkish-German journalist.
Authorities in Cologne, in North-Rhine Westphalia, and Gaggenau, in Baden-Württemberg, cited security concerns for the cancellations. An appearance at a Cologne hotel by Turkey's minister for the economy, Nihat Zeybekci, was scheduled to go ahead with increased police security.
Last week Angela Merkel rejected calls for a general ban on Erdo?an or his ministers campaigning in Germany, with her spokesperson arguing that it was important to respect freedom of speech.
"The German government deplores the fact that freedom of speech and freedom of the press are currently limited in Turkey to an unacceptable degree," Steffen Seibert said. "If we deplore this in another country, then we should be even more alert to make sure that freedom of speech is respected, within the framework of the law, in our own country. We should demonstrate what we demand from others."
The cancellations have infuriated the Turkish government, which accused Berlin of working against the yes campaign in next month's referendum and summoned the German ambassador to the foreign ministry in protest.
"You will lecture us about democracy and then you will not let this country's ministers speak there," said Erdo?an, adding that Germany was not "respecting opinion and thought".
The Nazi comparison represents a major escalation of diplomatic relations between the two countries. Last summer a number of Turkish newspapers allied to the ruling AK party likened Merkel to Hitler after a German court banned Erdo?an from addressing a crowd in Cologne via a live videolink.
"Germany, which has never escaped its Nazi past, has let slip its mask," the Takvim newspaper wrote at the time. "It has shown once again that it is no friend and ally." Another newspaper, Ak?am, ran a photomontage on its front page showing the German chancellor with a toothbrush moustache, along with the words "Heil Hitler".
French presidential candidate tries to paint himself as victim in 'fake jobs' scandal as he accuses those abandoning him of treason
There was rain, there was sun. There was defiance followed by contrition, talk of support and betrayal, and from the crowd cheers and tears as there has been for weeks. In the end, the beleaguered French presidential candidate François Fillon was still standing.
At a hastily convened rally in central Paris, supporters waved tricolore flags and chanted as the man who embodies the hopes of the French centre right took the stage under a volatile sky that perfectly summed up the political mood in France.
Beside Fillon stood his British-born wife, Penelope, the central figure in the "fake jobs" scandal that has created the storm around a man who only months ago appeared a sure bet for the Elysée Palace.
On Sunday, in a desperate attempt to remain in the race, and with just 50 days to go before the first round, Fillon, 63, took to the stage at Place du Trocadéro to deliver a 30-minute address that contained a bit of everything. "They thought I was alone. They want me to be alone. Are we alone?" he asked the crowd.
"They attack me everywhere and I must, in conscience, listen to you, this immense crowd pushing me on. But I must also ask myself about those who doubt and are abandoning the ship. They bear an immense responsibility, as do I."
Fillon spoke of the "treason" of those who had abandoned him, but also delivered a mea culpa for the scandal that has shaken his campaign. Last Wednesday, Fillon admitted that he had been summoned by judges to be formally investigated over allegations that he had paid his wife and two children hundreds of thousands of euros of taxpayer's money for jobs that, allegedly, did not exist.
The couple have always denied any wrongdoing: in her first interview since the scandal broke in January, Penelope Fillon told the Journal du Dimanche newspaper that she had indeed worked for her husband.
At the rally, her husband, however, admitted it was an error to employ her: "I asked my wife to work for me because she knew the ground, because it was convenient … I shouldn't have done so." His second mistake, he said, was to have "hesitated about how to speak to you, the French, about it".
Toxic air, unsafe water and and lack of sanitation causing the deaths of 1.7 million children under five every year
Pollution is responsible for one in four deaths among all children under five, according to new World Health Organisation reports, with toxic air, unsafe water and and lack of sanitation the leading causes.
The reports found polluted environments cause the deaths of 1.7 million children every year, but that many of the deaths could be prevented by interventions already known to work, such as providing cleaner cooking fuels to prevent indoor air pollution.
"A polluted environment is a deadly one – particularly for young children," says Dr Margaret Chan, director-general of the WHO. "Their developing organs and immune systems – and smaller bodies and airways – make them especially vulnerable to dirty air and water."
The harm from air pollution can begin in the womb and increase the risk of premature birth. After birth, air pollution raises the risk of pneumonia, a major cause of death for under fives, and of lifelong lung conditions such as asthma. It may also increase the risk of heart disease, stroke and cancer in later life.
The reports present a comprehensive review of the effect of unhealthy environments and found 570,000 children under five-years-old die each year from respiratory infections such as pneumonia, while another 361,000 die due to diarrhoea, as a result of polluted water and poor access to sanitation.
The WHO estimates that 11–14% of children aged five years and older currently report asthma symptoms, with almost half of these cases related to air pollution. It also suggests that the warmer temperatures and carbon dioxide levels linked to climate change may increase pollen levels, making asthma worse.
"Investing in the removal of environmental risks to health will result in massive health benefits," said Dr Maria Neira, WHO director of environmental and social determinants of health. For example, tackling the backyard recycling of electrical waste would cut children's exposure to toxins which can cause reduced intelligence and cancer.
In October, the UN's children's agency Unicef made the first global estimate of children's exposure to air pollution and found that almost 90% – 2 billion children – live in places where outdoor air pollution exceeds WHO limits. It found that 300 million of these children live in areas with extreme air pollution, where toxic fumes are more than six times above the health guidelines.
The WHO announced in May that air pollution around the world is rising at an alarming rate, with virtually all cities in poorer nations blighted by unhealthy air and more than half of those in richer countries also suffering.
Did US billionaire Robert Mercer – Donald Trump's biggest donor – play a crucial role in the Leave campaign in Britain?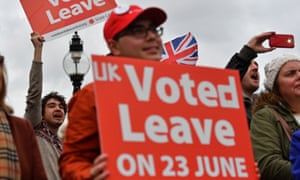 An anti-EU demonstration outside the Houses of Parliament in November 2016. Photograph: Ben Stansall/AFP/Getty Images
T

he law is clear. It's everything else in this dark and murky business that is not. Three months on from the first appearance by Cambridge Analytica in the Observer, the questions show no sign of going away. Instead, they have become more urgent, more serious, with ever more far-reaching consequences.
Cambridge Analytica, its parent company SCL, and its relationship to the Leave campaign raise questions that cannot be ignored – questions that are vital to the integrity of our democracy and what it means to be a citizen in the digital age. Was the referendum free, fair and legally fought? Were voters covertly manipulated without their consent? And, crucially, what role exactly does Robert Mercer – Donald Trump's biggest donor and close associate of Steve Bannon – have in all this?
Did a US billionaire play a covert but vital role in the biggest political decision Britain has made in its postwar history?
In December, Cambridge Analytica wrote to the Observer to deny it had worked for the Leave campaign. It said: "It is a US company based in the US. It hasn't worked in British politics." This is the starting point for everything that followed. Because evidence upon evidence has mounted suggesting this is simply not true. We know this from words spoken by Cambridge Analytica's chief executive, filings to the Electoral Commission, statements on Leave.EU's website, appearances by Cambridge Analytica employees at Leave.EU events. Even as Cambridge Analytica continues to deny it, Arron Banks – the co-founder of Leave.EU – tweeted last week: "We made no secret of working with Cambridge."
He's right. It is no secret. But to not report a donation of a service that is made at any point in the campaign and relied upon later is against the law. To accept a donation from a non-UK citizen or company is against the law – though a donation from a UK subsidiary would be legal. If illegal, the issue would go beyond the Electoral Commission. If proven, this is a criminal offence that carries a fine or up to six months in prison, Gavin Millar QC, an expert in electoral law, told the Observer.
Will the police investigate?
The law is also clear on how political parties can use your data, Millar says. It's just like somebody knocking on your door and canvassing you the old-fashioned way, he says. They have to explain who are they are, and if you don't want to speak to them, you can shut the door. This is how it works online too. The Information Commissioner's Office has launched a major investigation, but questions remain about what data Cambridge Analytica and Leave.EU have, as well as the bigger question of whether Facebook should be selling your data to political parties without your explicit consent.
Last week, the plot thickened still further. Until now, the attention has been on Leave.EU, but in November, it was reported that Vote Leave – the official campaign group for Leave, led by Michael Gove and Boris Johnson – had made payments to two groups of campaigners totalling £725,000. By law, campaigns can do this if there is no collaboration between them. However, both groups spent the money on social media advertising. Both used AggregateIQ, a small Canadian data analytics company.
AggregateIQ had already done £3.6m of work for Vote Leave. On Thursday last week, Cambridge Analytica's parent company, SCL, removed a listing for SCL Canada from its site. The phone number belongs to Zack Massingham, the director of AggregateIQ. A spokesman for SCL said it was an outdated listing of a former contractor who had done no work for Vote Leave.
What is Robert Mercer's interest in all this?