Lives of many Americans have been improved by those who crossed southern border
Whenever the candidate who later became United States President Donald Trump spoke of undocumented immigrants those words were usually followed by talk of building a wall, deportation squads and bad hombres.
In his first speech to the nation, President Trump spoke of the possibility of a path to citizenship. We'll see if that happens and what requirements come with it.
Yet, if the president changes his mind and makes good on his campaign promise to deport 11 million undocumented workers, I wonder who's going to take their jobs.
Do the wine producers in Napa Valley have a B-team ready to harvest their grapes? Do Silicon Valley millionaires have green-card carrying Romanian nannies ready to oversee their children's playdates? Are white teenagers going to start bussing tables in Mexican restaurants? Who's going to clean the McMansions in Brentwood and Scarsdale, office buildings on Fifth Avenue and on the Magnificent Mile?
Will we bring in Canadians? Who's going to do the cash-under-the table, below-minimum wage jobs on which employers sometime forget to pay taxes?
My father and my uncle owned a factory in Houston. During good times, the 1950s to the early 1980s, they employed 20-30 workers, mostly women, who cleaned and sewed bags in an unairconditioned warehouse. Most of their workers were Mexican immigrants.
Growing up, every meal I ate, every stitch of clothing I wore, every book or movie ticket I purchased was due in part to those Mexican men and women's hard work.
Those immigrants' toil helped send four children to college. Their labor helped pay for ski trips to Aspen and family get-togethers in New York and New Orleans. Mink coats, diamond rings, Chevy Impalas, remodeled kitchens and color TVs were affordable because these women who crossed the border heard there were factory jobs on the industrial side of downtown if they could work a sewing machine eight hours a day.
Our family's story is not unique. Millions of Americans have profited off the backbreaking work of documented as well as undocumented foreign nationals.
Every day when I stand at the head of my high school classroom and call roll – de la Mora, Hernandez, Martinez, Ocampo — I am looking at kids who could be the grandchildren or great-grandchildren of those factory workers who provided me with a privileged life.
I don't know how to repay those men and women who have long since passed. Or how to repay their progeny.
For the moment, I'm trying to help a few of my American-born students of Mexican and Central American descent graduate and get some money for college.
Hardly compensation for what I owe those Mexican immigrants who provided me with a comfortable life.
In his speech, President Trump shined a spotlight on families who lost loved ones at the hands of undocumented criminals.
Not highlighted were those Americans whose lives have been made better, more comfortable by the millions who crossed our southern border, worked hard and did no harm.
Dennis Danziger teaches English in the Los Angeles, California, Unified School District. He is co-founder of POPStheclub (Pain of the Prison System), a series of high school clubs that serve as support groups for students whose lives have been impacted my incarceration or deportation.

U.S. Politics
Exclusive: the former presidential candidate suggested that Donald Trump's false claims serve a purpose – to push the United States toward authoritarianism
Bernie Sanders talks exclusively with the Guardian about the resistance movement under a Donald Trump presidency. Sanders discusses historical movements from the past century and lessons that young progressives can take from them
Bernie Sanders has launched a withering attack on Donald Trump, accusing him of being a pathological liar who is driving America towards authoritarianism.
In an interview with the Guardian, the independent senator from Vermont, who waged a spirited campaign for the Democratic presidential nomination in 2016, gave a bleak appraisal of the new White House and its intentions.
He warned that Trump's most contentious outbursts against the media, judiciary and other pillars of American public life amounted to a conscious assault on democracy.
"Trump lies all of the time and I think that is not an accident, there is a reason for that. He lies in order to undermine the foundations of American democracy."
Sanders' warning comes 50 days into the Trump presidency at a time when the country is still reeling from the shock elevation of a real estate businessman and reality TV star to the world's most powerful office. In that brief period, the new incumbent of the White House has launched attacks on former president Barack Obama's signature healthcare policy; on visitors from majority-Muslim countries, refugees and undocumented immigrants; and on trade agreements and environmental protection programs.
Speaking to the Guardian in his Senate office in Washington DC, Sanders said that he was concerned about what he called Trump's "reactionary economic program of tax breaks to billionaires and devastating cuts to programs that impact the middle class". But he reserved his most excoriating language for what he believes are the president's authoritarian tendencies.
He charged Trump with devising a conscious strategy of lies denigrating key public institutions, from the mainstream media to judges and even the electoral process itself, so that he could present himself as the sole savior of the nation. The aim was to put out the message that "the only person in America who stands for the American people, the only person in America who is telling the truth, the only person in America who gets it right is the president of the United States, Donald Trump".
Trump's fragile relationship with the truth has been one of the distinguishing features of his fledgling administration. He astonished observers by calling a judge who issued a legal ruling blocking his travel ban a "so-called judge", accused Obama without producing any evidence of wiretapping Trump Tower, and claimed falsely that up to 5 million votes had been cast illegally in the November election.
Sanders, however, suggested the lies all serve a purpose. To underline his point, Sanders compared the 45th president with the 43rd. "George Bush was a very conservative president, I opposed him every single day. But George Bush did not operate outside of mainstream American political values."
While the media spotlight remains firmly on Trump and the daily bombardment of his Twitter feed, quietly and largely unmarked, Sanders, the self-styled democratic socialist senator, is spearheading a nationwide resistance to the new administration. The Brooklyn-born politician is working in tandem with, though at arm's length from, former senior advisers in his presidential campaign to rouse for a second time the vast army of young people who flocked to his cause in 2016.
He said that despite what he sees as the virulent threat of Trump, he finds comfort in the evidence that the resistance is already in full swing. "You are seeing a very active progressive movement. Our Revolution – a group which came out of my campaign – other groups, the spontaneous Women's March, that's all an indication of the willingness of the American people to fight back for democracy."
Trump's end goal was to "end up as the leader of a nation which has moved in a significant degree toward authoritarianism", he said. "The only way to defeat that trend is for massive grassroots resistance, and clearly we are seeing that right now."
As examples of what he meant, Sanders pointed to the 150 rallies in 130 congressional districts that were held in one recent weekend alone. The events mobilized "tens of thousands of people demanding meetings with their members of Congress to protest against the repeal of the Affordable Care Act".
Sanders made a specific appeal to his Republican colleagues in Congress to join him in this resistance. He addressed himself directly to those Republicans who "believe in democracy, who do not believe in authoritarianism. It is incumbent upon them, in this moment in history, to stand up and say that what Trump is doing is not what the United States is about, it's not what our constitution is about. They have got to join us in resistance."
Trump administration's zeal for deregulation seen by environmentalists as a recipe for fossil fuel cronyism, runaway climate change and toxic water crises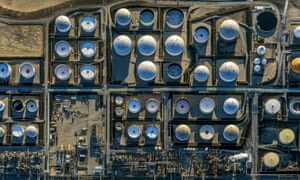 Oil refineries in California. Rules around climate change, water pollution and vehicle fuel standards are all in the process of being redrawn by the EPA. Photograph: REX/Shutterstock
Scott Pruitt, administrator of the Environmental Protection Agency, caused conniptions among scientists this week by claiming that carbon dioxide isn't the primary catalyst of global warming. Conservative groups and industry, on the other hand, heard hints that a cherished goal may be within reach.
In 2009 the EPA determined that greenhouse gas emissions "endanger both the public health and the public welfare of current and future generations", opening the door to regulation. Donald Trump's crusade against government strictures could target this finding, effectively making it official US policy that burning fossil fuels poses no threat to Americans, despite a mountain of scientific literature to the contrary.
"I suspect the president and his team are doing due diligence in this area and I'm hopeful they will request that the administrator reviews the endangerment finding," said Tom Pyle, who served on Trump's EPA transition team.
The conservative American Energy Alliance questioned Trump on the finding before the election and elicited a promise that he would revisit the CO2 finding once in office. Pyle, who is president of the group, expects the administration to follow through. The EPA declined to comment.
"The president has worked diligently to fulfill his promises and I am confident he will do so," Pyle said. "The Clean Air Act was abused by the previous administration to fit their agenda. It's up to Congress to make a decision on CO2."
But even if the Trump administration shies away from a lengthy and bitterly opposed bid to repeal the finding, it's clear that America's environmental laws are undergoing the most radical shakeup since the 1970s. Rules around climate change, water pollution and vehicle fuel standards are all in the process of being redrawn. Coal, oil and gas companies are being ushered onto public land and waters. Areas of scientific research are set to be sidelined.
"I think Scott Pruitt would have a hard time getting EPA staff to work on reversing the endangerment finding, he understands it would be a huge lift," said Jeff Holmstead, a former EPA assistant administrator. "But you don't need to do that to do away with the Clean Power Plan or revisit the car and truck standards.
Holmstead, who served under George W Bush, said that the Obama administration went "beyond what Congress intended".
"We will see a return to the EPA's core mission, we'll see reforms of the approvals process so that it is faster and more predictable," he said.
Trump has already signed measures that allow miners to dump waste into streams, and that facilitate the controversial Keystone XL and Dakota Access oil pipelines. The Clean Water Act, which Obama used to expand protections for the drinking water of 117 million Americans, is also being reviewed to "evaluate whether it is stifling economic growth or job creation".
The administration is now expected to turn its attention to unravelling the Clean Power Plan, reportedly without a replacement. The plan, a centerpiece Obama-era climate policy, sets emissions limits on coal-fired power plants and is currently being challenged in court by over a dozen Republican-controlled states. The Trump administration may drop the legal defense of the plan.
New fuel standards, which require cars built from 2017 are able to run 54.5 miles per gallon, are also set to be reviewed. Pruitt, who has previously railed against the EPA's "activist agenda" meddling in state's rights, could even move to prevent states such as California exceeding minimum federal standards for fuel efficiency.
The White House, following Trump's lead that the EPA should be reduced to "tidbits", wants to slash the regulator's budget by 25%, laying off one in five staff. While the final budget is likely to be less severe, critics have noted that the proposed cuts land heaviest on minority and low-income communities. The cuts would effectively dismantle the office of environmental justice, help for Alaskan villages, and programs for support for minority-owned small businesses and climate adaptation.
"These cuts would have a devastating impact upon the health of tens of millions of people across the country," said Bill Becker, executive director of the National Association of Clean Air Agencies.
"The brunt of these cuts will be borne by people's hearts and lungs and disproportionately effect those in the major metropolitan areas and those who are poor and can't fend for themselves. I hope I'm wrong but I don't see this budget changing that much."
Mustafa Ali, who worked on environmental justice issues for the EPA since 1992, resigned from the regulator last week.
"Doing this work for almost 25 years, I've seen a lot of people get sick and die," Ali said. "I hope the new administration will step up and prioritize environmental justice concerns but to date I've not seen that commitment."
"They are sending the signal that they don't value the lives of communities of color, low income communities and tribal people," he added. "There are astronomical rates of asthma among people of color, in some places it's devastating communities."
Other environmental agencies face similar futures. The National Oceanic and Atmospheric Administration (Noaa) has been lined up for a 17% budget cut, mostly in climate data and the elimination of several smaller programs, such as Sea Grant, which prepares coastal communities for storms, sea level rise and altered fishing conditions.
Jane Lubchenco, a former Noaa administrator for Obama, said the cuts would be "devastating to the economy, jobs and to the safety and livelihoods of Americans in every state".
Source: CNBC
Scott Pruitt, the new head of the US Environmental Protection Agency, gave an interview on CNBC on Thursday during which he denied carbon dioxide was a primary contributor to global warming. Pruitt also said that there is 'tremendous disagreement' over the extent to which human activity such as CO2 emissions are affecting the earth, despite widespread agreement in the scientific community
The Native Nations Rise march – the culmination of a four-day protest – brought thousands on to the streets in support of the Standing Rock Sioux tribe
Thousands of Native Americans marched through Washington DC on Friday to protest against the construction of an oil pipeline in North Dakota that opponents say threatens the local water supply and crosses scared Native American lands. Demonstrators erected a tipi outside Trump International Hotel in the city before the march culminated in a rally in Lafayette Square, close to the White House
After more than a year of protests at the Standing Rock Sioux reservation in North Dakota, thousands of Native Americans and activists brought the fight to the nation's capital to demand indigenous rights and raise awareness about issues affecting the communities.
The event, the culmination of a four-day protest in the capital, was led by the Standing Rock Sioux tribe, which has been involved in a longstanding dispute with authorities over the construction of an oil pipeline in North Dakota, culminating in a two-mile march through Washington and rally in front of the White House.
With snow falling, the Native Nations Rise march took off from the headquarters of the army corps of engineers, the federal agency that authorized construction of the 1,172-mile Dakota Access oil pipeline. The march wound through the capital and along the way demonstrators paused in front of the Trump International Hotel on Pennsylvania Avenue to erect a tipi.
At the White House, protesters demonstrated, danced and prayed in what organizers say is a show of solidarity against the federal government that has a long history of discounting tribal concerns on a range of environmental, economic and social issues.
The protesters, some dressed in traditional Native American clothing, snaked through the crowd carrying a black inflatable tube representing an oil pipeline. It was painted with the words: "No pipeline".
Nearby, a woman helping carry a large sign that read "This is Stolen Land!" led a chant: "Occupation is a crime, from Standing Rock to Palestine."
LeeAnn Eastman, of the Sisseton-Wahpeton Oyate tribe on the Lake Traverse Indian reservation in South Dakota, doubted Trump was standing at the window watching their protest – but she said their message was breaking through.
"They woke up a giant when they told us they were just going to put this pipeline through our land, our sacred land," she said. "We do everything peacefully, prayerfully, but we're not going to let him just walk all over us like that and contaminate our water."
Eastman, who spent the last seven months camping on the Standing Rock reservation protesting against the pipeline with activists there, doesn't expect to change Trump's mind about the project.
"We know he has closed his heart and his mind to us as he did the rest of the nation," she said. "We're still praying for him – but it seems like we'll have to go about this another way."
The Standing Rock protest against the Dakota Access pipeline became an international rallying cry for indigenous rights and climate change activism, drawing thousands of Native Americans to the rural area of Cannon Ball, North Dakota.
Twenty million people face starvation without an immediate injection of funds in Yemen, South Sudan, Somalia and Nigeria, warns Stephen O'Brien
Stephen O'Brien, the UN under secretary-general for humanitarian affairs, speaks to the UN security council in New York on Friday, and urges member states to make urgent funding available to avert famine in four countries. Calling the situations in Yemen, Somalia, South Sudan and Nigeria "the largest humanitarian crisis" since the creation of the UN in 1945, O'Brien says immediate action needs to be taken to tackle the "looming human catastrophes"
Associated Press
The world faces the largest humanitarian crisis since the end of the second world war with more than 20 million people in four countries facing starvation and famine, a senior United Nations official has warned.
Without collective and coordinated global efforts, "people will simply starve to death" and "many more will suffer and die from disease", Stephen O'Brien, the UN under secretary-general for humanitarian affairs, told the security council in New York on Friday.
He urged an immediate injection of funds for Yemen, South Sudan, Somalia and northeast Nigeria plus safe and unimpeded access for humanitarian aid "to avert a catastrophe."
"To be precise," O'Brien said, "we need $4.4bn by July".
Unless there was a major infusion of money, he said, children would be stunted by severe malnutrition and would not be able to go to school, gains in economic development would be reversed and "livelihoods, futures and hope lost".
UN and food organisations define famine as when more than 30% of children under age 5 suffer from acute malnutrition and mortality rates are two or more deaths per 10,000 people every day, among other criteria.
"Already at the beginning of the year we are facing the largest humanitarian crisis since the creation of the United Nations [in 1945]," O'Brien said. "Now, more than 20 million people across four countries face starvation and famine."
O'Brien said the largest humanitarian crisis was in Yemen where two-thirds of the population — 18.8 million people — need aid and more than seven million people are hungry and did not know where their next meal would come from. "That is three million people more than in January," he said.
Yemen is engulfed in conflict as Saudi Arabia and Iran wage a proxy war in the Arab world's poorest nation. O'Brien said more than 48,000 people fled fighting just in the past two months.
During his recent visit to Yemen, O'Brien said he met senior leaders of the Saudi-backed government and the Tehran-backed Shiite Houthi rebels who control the capital Sanaa, and all promised access for aid.
"Yet all parties to the conflict are arbitrarily denying sustained humanitarian access and politicise aid," he said, warning if that behaviour did not change "they must be held accountable for the inevitable famine, unnecessary deaths and associated amplification in suffering that will follow".
For 2017, O'Brien said $2.1bn was needed to reach 12 million Yemenis "with life-saving assistance and protection" but only 6% has been received so far. He announced that secretary-general Antonio Guterres will chair a pledging conference for Yemen on 25 April in Geneva.
The UN humanitarian chief also visited South Sudan, the world's newest nation which has been ravaged by a three-year civil war, and said "the situation is worse than it has ever been."
"The famine in South Sudan is man-made," he said. "Parties to the conflict are parties to the famine — as are those not intervening to make the violence stop."
O'Brien said more than 7.5 million people need aid, up by 1.4 million from last year, and about 3.4 million South Sudanese are displaced by fighting including almost 200,000 who have fled the country since January.
"More than one million children are estimated to be acutely malnourished across the country, including 270,000 children who face the imminent risk of death should they not be reached in time with assistance," he said. "Meanwhile, the cholera outbreak that began in June 2016 has spread to more locations."
In Somalia, which O'Brien also visited, more than half the population — 6.2 million people — need humanitarian assistance and protection, including 2.9 million who are at risk of famine and require immediate help "to save or sustain their lives."
A rare jaguar sighting in the US, a green toad and spring flowers are among this week's pick of images from the natural world
Nearly all of these are English-edition daily newspapers. These sites have interesting editorials and essays, and many have links to other good news sources. We try to limit this list to those sites which are regularly updated, reliable, with a high percentage of "up" time.