12 Mar
Nearly all of these are English-edition daily newspapers. These sites have interesting editorials and essays, and many have links to other good news sources. We try to limit this list to those sites which are regularly updated, reliable, with a high percentage of "up" time.

U.S. Politics
Manhattan prosecutor's announcement came a day after attorney general told US attorneys, nearly all appointed by Obama, they should resign from their posts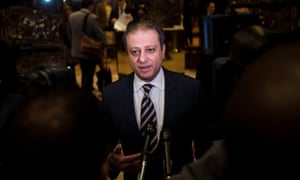 Preet Bharara met with Donald Trump late last year and told reporters afterward that he had 'agreed to stay on'. Photograph: Drew Angerer/Getty Images
Preet Bharara, the powerful Manhattan prosecutor who was among 46 US attorneys asked to step down late Friday, was fired on Saturday after he refused to resign, an order from attorney general Jeff Sessions.
"I did not resign," Bharara tweeted on Saturday afternoon. "Moments ago I was fired."
The prosecutor later said that his time as the US attorney for the southern district of New York "will forever be the greatest honor of my professional life, no matter what else I do or how long I live."
"One hallmark of justice is absolute independence, and that was my touchstone every day that I served," he said in a statement. He added the current deputy US attorney, Joon H Kim, will assume the role of acting US attorney.
On Friday afternoon, attorney general Jeff Sessions told the prosecutors, nearly all appointed by Barack Obama, that they should resign from their posts. The overhaul of US attorneys is standard practice for a new administration, though some presidents do so in phases. Bharara, 48, met with Trump late last year, however, and told reporters afterward that he had "agreed to stay on".
"The president-elect asked," Bharara said at the time, "presumably because he's a New Yorker and is aware of the great work that our office has done over the past seven years, asked to met with me to discuss whether or not I'd be prepared to stay on as the United States attorney to do the work we have done, independently, without fear or favor for the last seven years.
"We had a good meeting," he added. "I said I would absolutely consider staying on. I agreed to stay on. I have already spoken to Senator Sessions, who as you know is the nominee for attorney general. He also asked that I stay on, and so I expect that I will be continuing to work at the southern district."
The White House referred questions about the firing to the justice department, which did not immediately respond to a call or email. A press officer for the southern district of New York did not answer several questions from the Guardian. "We'll decline to comment," the officer said.
On Saturday morning, the Associated Press, Reuters, and other outlets cited anonymous sources to report that Bharara did not plan to submit a resignation letter, at least not yet. the prosecutor's refusal set up a clash between one of the country's most powerful attorneys and the president, whose administration fired Bharara directly, as it did the acting attorney general, Sally Yates.
Over seven years as the top prosecutor in the southern district of New York, Bharara has pursued aggressive cases and investigations into corruption in politics and Wall Street. At the time he was asked to resign, Bharara was overseeing investigations into aides and associates of the Democratic governor, Andrew Cuomo, and the Democratic mayor, Bill de Blasio. His office also reportedly opened an investigation into Fox News, into whether the network failed to tell shareholders that it had settled sexual harassment claims made against former CEO Roger Ailes. Since taking office, Bharara has prosecuted the former Republican state senator Dean Skelos, high-profile insider trader cases and a 120-person Bronx case believed to be the largest gang prosecution in city history.
Before being appointed by Obama in 2009, Bharara rose to prominence working for New York senator Chuck Schumer, now the minority leader in the Senate. Bharara served as chief counsel to Schumer during the latter years of George W Bush's presidency, and led the investigation into the abrupt dismissals of US attorneys in 2006.
In a statement, Schumer praised Bharara for a "relentless drive to root out public corruption, lock up terrorists, take on Wall Street, and stand up for what is right".
The prosecutor's example, Schumer said, "should serve as a model for all US attorneys across the country. He will be sorely missed."
Carl Tobias, a law professor at the University of Richmond, said the most notable precedent for the mass removal of US attorneys was in 1993, when Bill Clinton's attorney general, Janet Reno, asked for the resignations of prosecutors appointed by George HW Bush. Tobias said a problem with such abrupt requests was that they leave prosecutors' offices without permanent leadership.
"This is fairly disruptive," Tobias said. "No one's been nominated for any of these 46 positions."
Riot police clash with Turkish ex-pats after members of the Erdo?an government are prevented from campaigning among supporters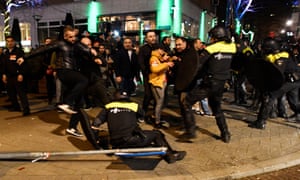 Riot police clash with demonstrators in the streets near the Turkish consulate in Rotterdam in the early hours of Sunday. Photograph: Dylan Martinez/Reuters
Reuters
The Netherlands has barred Turkish ministers from speaking in Rotterdam in a row over Ankara's political campaigning among emigres, leading President Recep Tayyip Erdo?an to brand its fellow Nato member a "Nazi remnant".
The dispute escalated into a major diplomatic incident on Saturday night when Turkey's family minister was prevented by police from entering her country's consulate in Rotterdam. Hundreds of protesters waving Turkish flags gathered outside, demanding to see the minister.
Dutch police used dogs and water cannon early on Sunday to disperse the crowd, which threw bottles and stones. Several demonstrators were beaten by police with batons, a witness said. They carried out charges on horseback, while officers advanced on foot with shields and armoured vans.
Less than a day after Dutch authorities prevented foreign minister Mevlut Cavusoglu from flying to Rotterdam, Turkey's family minister, Fatma Betul Sayan Kaya, said on Twitter she was being escorted back to Germany.
"The world must take a stance in the name of democracy against this fascist act! This behaviour against a female minister can never be accepted," she said. The Rotterdam mayor confirmed she had been escorted by police to the German border.
The Dutch government, which stands to lose heavily to the anti-Islam party of Geert Wilders in elections next week, said it considered the visits undesirable and "could not cooperate in the public political campaigning of Turkish ministers in the Netherlands".
The government said it saw the potential to import divisions into its own Turkish minority, which has both pro- and anti-Erdo?an camps. Dutch politicians across the spectrum said they supported prime minister Mark Rutte's decision to ban the visits.
Turkey's foreign ministry said it did not want the Dutch ambassador to Ankara to return from leave "for some time". Turkish authorities sealed off the Dutch embassy in Ankara and consulate in Istanbul in apparent retaliation and hundreds gathered there for protests at the Dutch action.
Erdo?an is looking to the large number of emigre Turks living in Europe, especially in Germany and the Netherlands, to help clinch victory next month in a referendum that would give the presidency sweeping new powers.
German chancellor Angela Merkel has said she will do everything possible to prevent Turkish political tensions spilling onto German soil. Four rallies in Austria and one in Switzerland have been cancelled due to the growing dispute.
On Sunday a venue in Stockholm reportedly cancelled an appearance by the deputy chairman of Erdo?an's party, according to the Dogan news agency.
Erdo?an has cited domestic threats from Kurdish and Islamist militants and a July coup bid as cause to vote "yes" to his new powers. But he has also drawn on the emotionally charged row with Europe to portray Turkey as betrayed by allies while facing wars on its southern borders.
The Dutch government had banned foreign minister Cavusoglu from attending a rally on Saturday in Rotterdam but he said he would fly there anyway, saying Europe must be rid of its "boss-like attitude".
Australia's Truth Justice and Healing Council head says Vatican establishment determined to maintain status quo
Australian Associated Press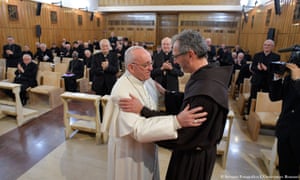 Pope Francis on the last day of a spiritual retreat in Ariccia. The chief executive of the church's Australian Truth Justice and Healing Council, Francis Sullivan, says there needs to be real change on child protection. Photograph: Vatican press office/AFP/Getty Images
The Pope may be retreating from his crackdown on paedophile priests as Vatican bureaucrats do all they can to undermine reform efforts, a senior Australian Catholic official has warned.
The Catholic Church in Australia could end up as a "marginalised rump" unless there is real change to an institutional culture hell-bent on self-protection and self-preservation, the chief executive of the church's Truth Justice and Healing Council, Francis Sullivan, has said.
Sullivan, who has led the Australian church's response to the four-year child sex abuse royal commission, points to recent developments in Rome.
Pope Francis has told bishops around the world to adhere to a zero-tolerance policy for clergy who sexually abuse children but has reportedly reduced sanctions against some offending priests.
"You have to seriously wonder whether this isn't the Pope backsliding on what has been a strong and determined crackdown on offending priests and the circumstances that allowed abuse to take place," he said.
"Together these two developments paint a picture of the Vatican establishment, its bureaucrats and courtiers, doing all they can to either undermine the Pope or driving an agenda that is about maintaining the status quo and protecting the institution."
It was a very dangerous time for the Catholic church in Australia, Sullivan said in a speech in Sydney on Friday night that was released to media on Sunday.
"If the church in Australia doesn't see continuous, concerted change from our leaders driven and backed by an active and demanding Catholic community, then our church as a religion will become a marginalised rump, stripped of credibility and relevance, left to preach to an ever ageing congregation with eyes on an ever dimming hereafter."
A total of 1,880 priests, religious brothers and sisters, and lay people have been identified as alleged perpetrators in abuse claims made to the Australian Catholic church by 4,444 victims.

The royal commission into institutional responses to child sexual abuse hears that 4,444 people made allegations of child sexual abuse to Catholic authorities over 35 years. Gail Furness SC tells the inquiry the claims made related to more than 1,000 separate institutions and 1,880 alleged perpetrators were identified
Moon Jae-in strikes conciliatory tone on northern neighbour ahead of election sparked by president Park Geun-hye's dismissal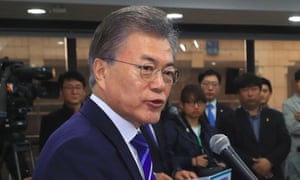 South Korea's presidential candidate Moon Jae-In has called for talks with North Korea leading first to "economic unification" and ultimately "political and military unification". Photograph: STR/AFP/Getty Images
Reuters
The liberal politician expected to succeed disgraced Park Geun-hye as South Korea's next president could make significant policy changes on North Korea, a US missile-defence system that has enraged China and powerful big business.
A constitutional court on Friday dismissed Park from office after upholding her impeachment over a corruption scandal involving "chaebol" – the family-run conglomerates that dominate Asia's fourth-biggest economy.
Thousands of Park's opponents rallied in Seoul on Saturday, where they have been gathering every weekend for months, to celebrate her departure and demand that she be arrested. The former president's conservative supporters also took to the streets not far away, though fewer in number. Police were out in force with riot shields but there were no reports of trouble.
A presidential election will be held by 9 May and opinion polls suggest South Koreans will opt for change by electing a liberal into the presidential Blue House, ending nine years of conservative rule.
The frontrunner is Moon Jae-in, a human rights lawyer who was an aide to former president Roh Moo-hyun, an advocate of a "sunshine policy" of engagement with North Korea.
Moon has criticised the two former conservative presidents – Park and her predecessor, Lee Myung-bak – for derailing the progress made in inter-Korean relations during the previous liberal administrations.
He calls for a "two-step" approach on North Korea, with talks leading first to "economic unification" and ultimately "political and military unification".
Moon on Sunday stressed the need to "embrace and be united with" the North Korean people, while adding that he could never accept its "dictatorial regime", or its trampling of rights.
He denounced the North's "cruel and ruthless behaviour" in the wake of the murder in Malaysia last month of Kim Jong-nam, the estranged half-brother of North Korean leader Kim Jong-un. But he told a news conference there was no choice but to recognise Kim Jong-un as leader.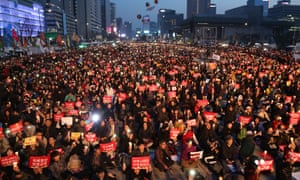 Demonstrators gather in Seoul on Saturday night for a candlelight rally to celebrate former president Park Geun-hye's ouster. Photograph: Xinhua / Barcroft Images
"We can't deny that the ruler of the North Korean people is Kim Jong-un," Moon said. "We have no choice but to recognise Kim Jong-un as a counterpart, whether we put pressure and impose sanctions on North Korea or hold dialogue."
A conciliatory line might face opposition from main ally, the United States, where aides of the president, Donald Trump, are pressing to complete a strategy review on how to counter North Korea's missile and nuclear threats.
North Korea conducted two nuclear tests last year, as well as numerous missile launches, the latest on 6 March, when it fired four ballistic missiles into the sea off Japan.
Speaking to reporters recently, Moon invoked his old boss, Roh, and Roh's predecessor, Nobel peace prize winner Kim Dae-jung, the architect of the "sunshine policy", as inspirations behind his bid for the presidency.
The two former liberal presidents both held summits with the North's then-leader, Kim Jong-il – the only such meetings ever – promising reconciliation and initiating joint projects, including the Kaesong Industrial Complex and tours to Mount Kumgang in the North. Both were suspended under conservative administrations.
Moon said South Korea should resume operations at Kaesong – where South Korean companies operate factories with North Korean workers on the North Korean side of the border – regardless of North's nuclear ambitions. Some conservatives have denounced Moon as "pro-North".
He would also face conservative ire if he were to delay deployment of a US missile defence system. Alarmed by North Korean weapons tests, South Korea and the United States have agreed to deploy a Terminal High Altitude Area Defence (THAAD) missile system in South Korea, angering China, which sees the system's sophisticated radar as a threat to its own security. The first elements of the system arrived in South Korea last week.
Our new study improves estimates of the rate of ocean warming – a critical component of climate change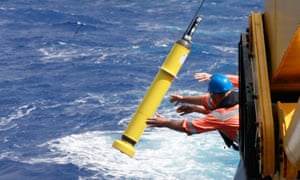 An Argo float is deployed into the ocean Photograph: CSIRO
New research has convincingly quantified how much the Earth has warmed over the past 56 years. Human activities utilize fossil fuels for many beneficial purposes but have an undesirable side effect of adding carbon dioxide to the atmosphere at ever-increasing rates. That increase – of over 40%, with most since 1980 – traps heat in the Earth's system, warming the entire planet.
But how fast is the Earth warming and how much will it warm in the future? Those are the critical questions we need to answer if we are going to make smart decisions on how to handle this issue.
At any time the direct effect of this blanket is small, but the accumulated effects are huge and have consequences for our weather and climate. Over 90% of the extra heat ends up in the ocean and hence perhaps the most important measurements of global warming are made in the oceans.
But measuring the ocean temperature is not straightforward. Since about 2005 a new type of sensing device has been deployed (the Argo float system). These floats (approximately 3500 in total at any time) are spread out across oceans where they autonomously rise and fall in the ocean waters, collecting temperature data to depths of 2000 meters.
When they rise to the ocean surface, they send their data wirelessly to satellites for later analysis. Hence we can now map the ocean heat content quite well. But what about the past, when we mainly had measurements from expendable bathythermographs deployed mainly along major shipping routes and largely confined to the northern hemisphere? Putting data from these various sensors together has been a struggle and has been a major impediment to an accurate quantification of the ocean's temperature history.
Fortunately, a paper just published today in Science Advances uses a new strategy to improve upon our understanding of ocean heating to estimate the total global warming from 1960 to 2015. I was fortunate to co-author the study, which uses several innovative steps to make improvements.
First, we corrected past data for known biases in measurements. Second, we related the temperature measurements to results calculated from advanced climate computer models. Third, we applied temperature knowledge to larger areas so that a single measurement was representative of a large space around the measurement site. Finally, we used their knowledge of recent and well-observed temperatures to show that the method produced excellent results.
We were able to extend our techniques back to the late1950s and show that the rate of global warming has changed significantly in the past 60 years. One main outcome of the study is that it shows we are warming about 13% faster than we previously thought. Not only that but the warming has accelerated. The warming rate from 1992 is almost twice as great as the warming rate from 1960. Moreover, it is only since about 1990 that the warming has penetrated to depths below about 700 meters.
Prior work by the same team compared climate models to measurements, and there was excellent agreement on average. There are a few other more subtle issues that the new paper addresses. For example, the study shows that a large amount of warming occurred in the southern oceans. Only recently have the Atlantic and Indian Oceans began to heat up.
Lead author, Lijing Cheng says:
We know that ocean observations were very sparse until the Argo era. There were major gaps in data, particularly in the Southern Hemisphere. Our challenge was to assess the changes to global ocean heat and fill data gaps. A major issue is to ensure gap-filling is reliable. It is this issue that motivated the study. We proposed an advance gap-filling strategy and used it to attain near global coverage. We rigorously evaluated the reliability of our approach and as a result, we have much higher confidence that the ocean and the Earth are warming at a faster rate than previously thought.
One of the co-authors, John Fasullo added:
Nearly all of these are English-edition daily newspapers. These sites have interesting editorials and essays, and many have links to other good news sources. We try to limit this list to those sites which are regularly updated, reliable, with a high percentage of "up" time.