13 Mar
Nearly all of these are English-edition daily newspapers. These sites have interesting editorials and essays, and many have links to other good news sources. We try to limit this list to those sites which are regularly updated, reliable, with a high percentage of "up" time.
Key figures from both sides of the peace line have their say on the notion of Irish unity

U.S. Politics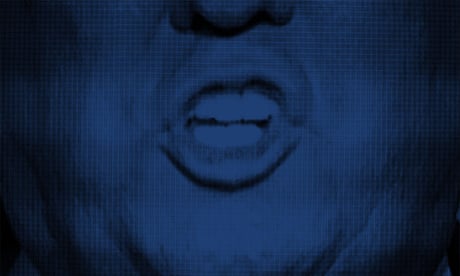 As Ice's chokehold on undocumented immigrants tightens, many have resolved to lay low in hopes that they don't get a visit that could upend their lives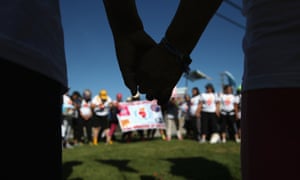 Immigration reform activists pray in front of the York County detention center. Photograph: John Moore/Getty Images
J

ust after 8am on the first of March, Lucia Gomez sat snarled in traffic on her way to her office when she received a call from an undocumented worker – an elderly member of the labor union where she works as an organizer. Two officers from Immigration and Customs Enforcement (Ice) were knocking at the door of the man's apartment building in Union City, New Jersey. Should he let them in? Was it unlawful to not let them in? If he didn't open the door, would they find a way to arrest and deport him anyway?
The man, who makes a living hauling asbestos waste, had been walking home with groceries for breakfast when the Ice officials had intercepted him. They asked for his name, which he gave, and his identity papers, which he said he needed to gather from his apartment. He'd be right back, he told them.
Instead, dashing inside, he locked the door and waited, frozen in fear. Twenty-two years since he left his home for the US, he was careful to renew his drivers' license each year and had long since received certification to handle hazardous waste that he was still carting in his late 60s. But he lacked legal residence papers.
Through his window, he could see the officers lurking.
Calculating a half-hour drive at least to the man's home, Gomez phoned an immigration attorney, then another, and a third. No one picked up. She sent them texts. Nothing. It was early. People were probably commuting to work. Perhaps they were out of range. Her heart racing, she burst into tears. "My level of anxiety was through the roof," Gomez said.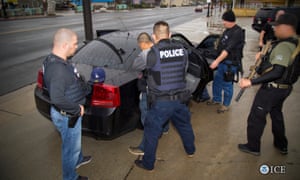 Ice officers detain a suspect as they conduct a targeted enforcement operation in Los Angeles. Photograph: Reuters
Tough-minded and raspy-voiced, Gomez had worked for years as an immigration advocate before joining Local 78, a union that represents asbestos, lead and hazardous waste handlers in New York and New Jersey. Still, she said, she was at a loss about how best to counsel her union member – unclear on his rights, his obligations, and the rapidly vanishing options for undocumented or ambiguously documented people in Trump's America.
Among the expanded powers that Trump's executive orders and accompanying memos have given law enforcement since his inauguration, undocumented immigrants can be arrested and deported on mere suspicion of a broad array of offenses. According to immigrant advocates, that might include selling DVDs on the street, lingering in a park by nightfall or walking through an open gate in the subway.
Under the Obama administration, immigration authorities were restricted to targeting those convicted of committing serious crimes, such as murder or sexual assault. Trump's new policies have begun to implement his campaign pledge to deport millions of undocumented immigrants and come atop a months-long barrage of statements in which the president and key members of his administration had demonized immigrants as drug dealers and rapists, pouring over the border unchecked and by the thousands to steal jobs from Americans.
Last Thursday, advocates gathered in front of the ICE offices in Manhattan in support of a man who was inside for a mandatory check in with immigration officials, concerned that he would only re-emerge on a bus bound for a deportation center then shortly be deported to Trinidad. In a similar incident in Phoenix last month, a woman who would have been considered low priority under the Obama administration went in her for annual check in with immigration authorities and was instead placed in detention and deported back to Mexico.
If keeping heads down and working hard has long been part and parcel of a life in the shadows, the uncertainty and anxiety across New York and the country has surged, rippling from undocumented immigrants to relatives, friends, coworkers and whole neighborhoods.
Unfortunately, racism is part of the DNA of American history. But so are incredibly victorious civil rights

Angela Fernandez
In anticipation of crackdowns, people say they have stopped driving, stopped shopping, stopped sending remittances to countries of origin. Small businesses fret about closures from fewer customers. Families are forgoing medical care, afraid to have their identities examined in hospital emergency rooms. Children wonder aloud if they'll come home from school to find their parents gone.
Some of the fears have been amplified by rumors of Ice checkpoints thrown up at street crossings that spread virally in text messages or on social media. To dampen the potential hysteria, immigrants advocates are counseling that any reports of sightings be immediately verified and photographed. But other fears are justified by mounting evidence of raids and deportations across the country.
Unprecedented number of children maimed, killed and recruited for combat roles in 2016, says Unicef report on violations suffered by children
The number of children maimed, killed or recruited to fight in the Syria conflict has increased dramatically over the past year, with children as young as seven forced to act as frontline fighters, prison guards, suicide bombers and executioners.
Grave violations against Syrian children are at the highest level since the war began in 2011, according to a Unicef report, with at least 652 children killed in 2016 – a 20% increase on the year before – and 850 children recruited to fight in the conflict, nearly three times the 331 enlisted in 2015.
Since Unicef has only included verified reports of injury, death and recruitment, the actual figures are likely to be far higher.
"The situation for Syrian children has hit rock bottom," said Juliette Touma, Unicef's regional spokesperson. "The past year has been the worst since the crisis began, with children pushed right to the brink – being recruited at an ever younger age, being used to man checkpoints, being trained to use weapons, serving as prison guards. We also have reports of sexual abuse of girls by underage children, so it's very grim."
Coping mechanisms for Syrian children and their families are also deteriorating rapidly, warned the report, whether they are in Syria or beyond its borders. Families are increasingly taking extreme measures just to survive, often pushing children into early marriage and child labour in order to attain financial security.
Children in more than two-thirds of households are working to support their families, some in extremely harsh conditions unfit even for adults, said Unicef.
"I don't know how to read or write – I only know how to draw the sky, the sea and the sun," said four-year-old Fares, a Syrian refugee living in Lebanon, who is quoted in the report.
"I've waited tables, I've served beans, corn, hummus, hookah pipe, potatoes and seeds. I've cleaned the shop and and served ice cream to children. I don't know how to fill the cone but I help [the others] do it. I want to leave my house. It's like a prison."
The conflict has taken a devastating toll on the mental health of Syria's children. More than 70% of Syrian children interviewed by Save the Children showed symptoms of "toxic stress" or post-traumatic stress disorder, with symptoms including bedwetting, loss of speech, aggression and substance abuse. The same report said that 59% of adults knew children and adolescents who had been recruited into the conflict. Nearly half knew children working at checkpoints or barracks.
Nearly 6 million Syrian children are now dependent on humanitarian assistance – a twelvefold increase on 2012, said the report – with the most vulnerable the 2.8 million children in hard-to-reach areas. Almost 300,000 children are living under siege and are largely cut off from humanitarian aid, according to Unicef. More than 2.3 million child refugees are in Turkey, Lebanon, Jordan, Egypt and Iraq.
The children are very aware and all they wish is for the war to end so they can go back home and ?be children again

Juliette Touma, Unicef
With their parents largely unable to work, Syrian children at home and abroad are forced to become the breadwinners, said the report. Children are working in more than 75% of Syrian households, nearly half of them as joint or sole breadwinners, serving as cleaners, garbage collectors, mechanics, carpenters, hairdressers and hotel bell boys. Meanwhile, refugee children in Lebanon can work up to 10-hour days selling gum and flowers, or simply begging, a report last year found.
Nearly 2 million children in Syria are out of school, with roughly one-third of all schools unusable due to destruction, damage, or use for shelter or military purposes, according to Unicef.
From the ordination of married men to female deacons, the pope is proposing reforms that even diehard conservatives should admit the church needs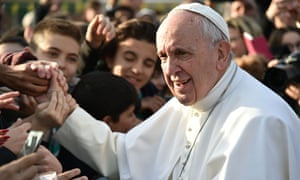 'Pope Francis set out first to be a living and credible witness to the values that are at the heart of Christianity.' Photograph: Alberto Pizzoli/AFP/Getty Images
T

here aren't many jobs that can pluck a man in his late 70s out of obscurity and make him a global figure. That's what happened four years ago, when a smiley Argentinian man appeared on a balcony in Rome and bade the world good evening. I was there in the crowd in St Peter's Square, sandwiched between an Australian nun and a Canadian prelate. The nun and I had no idea who the man on the balcony was (there is very little in the way of explanation on blockbuster Vatican occasions – the thrill is in the show, and mystery is part of the sell) but after a few minutes, the Canadian tumbled it. "That's Bergoglio from Buenos Aires," he said. "What will he be like?" the nun and I asked him. "No idea," said the bishop.
Well, the whole world knows now. Pope Francis set out first to be a living and credible witness to the values that are at the heart of Christianity, and second, to reform an institution that the whole world knows is in dire need of change (he took the name Francis as pope in honour of the saint whose opus magnum was to do the same).
Four years on, how is he doing? On the first ambition, he's been a runaway success: even hardened atheists have become fond of him. Unlike his bookish predecessor, Francis oozes charisma. He doesn't seem to be hiding behind anything. One of my favourite moments of his pontificate is when he completely lost his rag with a crowd of Mexicans who pulled him on to a child in a wheelchair and shouted angrily at them. I also loved his recommendation that we ought to give our money to beggars in the street, and who cares if they're buying alcohol, because that glass of wine might be the only good thing that happens in their day? Francis gets to the heart of things – and isn't afraid of saying that he's a sinner himself.
All this, it seems to me, speaks to the world about the values of Christianity, and makes you think that at its heart, it's not about a belief in dogma or tradition or priests or church services, thank God – it's about a story that unites humankind with something outside of ourselves, a story that gives us the chance of being healed and renewed, and a story that puts kindness and care for others at the centre of everything we do.
More than 2,000 years ago, the machine that became the Catholic church offered itself as the protector of those values; with every week that passes its credentials seem to be getting thinner. Francis is trying to rebuild his church, but to say this is a mammoth task is an understatement, and all the indications are that, to use his own analogy, he seems to be rowing his boat in one direction while others on board are pulling the oars the other way.
So four years on, what is the Argentinian pope going to do next?
That's certainly how it seems on issues such as the treatment of paedophile priests – Marie Collins, who resigned recently from the Vatican's child protection commission, said Vatican bureaucrats were stalling reforms, a view echoed by a senior Australian Catholic official.
Then there are the reforms he seems to be pushing for, such as the ordination of married men (this in a church where there is no requirement for celibacy, but where celibacy has long been the norm, and which is now faced with a growing shortage of recruits to the priesthood), and the ordination of women to the diaconate (this is a rung below the priesthood, and it seems fairly clear that in the distant past, women fulfilled this role – so why not again?).
On married priests, Francis has opened the door for further debate; on women deacons he has established a commission. So far precisely nothing has come of either– but there is a lot of noise inside the church against these sorts of changes, and it seems pretty clear that plenty of those same bureaucrats who are busily trying to undermine the child protection commission would roll up their sleeves to prevent the ordination of either married men to the priesthood, or women to the diaconate.
Activists will challenge permission granted to Cuadrilla for test fracking sites near Blackpool as pressure mounts over the cost of policing the protests
The government will go to court this week to defend test drilling at a fracking site in Lancashire as it comes under pressure to pay hundreds of thousands of pounds to cover the cost of policing anti-fracking protests.
The high court in Manchester will hear two cases on Wednesday that pit Sajid Javid, the communities secretary, against protesters who oppose the permission granted to fracking companies for test sites near Blackpool.
In October, Javid overturned Lancashire county council's rejection of plans for a fracking site at Preston New Road near Little Plumpton, giving the green light to the energy firm Cuadrilla. He decided the council was wrong to refuse planning consent on the basis of visual impact on the landscape and noise concerns at the site, which is on a busy 50mph road connecting Fylde villages with Blackpool.
The legal challenges have been issued by a group of residents called the Preston New Road Action Group and Gayzer Frackman, a professional clown from Lytham St Annes who changed his name by deed poll from Geza Tarjanyi. They argue that the government's decision to overrule the council was unlawful because it failed to properly apply relevant planning laws and policy.
Javid also faces a legal challenge to his decision to reopen the public inquiry on Cuadrilla's other proposed site at nearby Roseacre Wood.
Cuadrilla began preparing the Preston New Road site in early January and has faced round-the-clock protests ever since. About 60 officers from Lancashire police are stationed at the site most days trying to strike the balance between facilitating peaceful protest and allowing Cuadrilla to continue its legal business activities – currently a regular flow of lorry deliveries, which are regularly stopped by demonstrators lying in the road.
The number of police officers needed will no doubt increase as Cuadrilla begins drilling in the next quarter, according to the local police and crime commissioner, Clive Grunshaw.
He said the government should foot the bill as it was Javid who approved the site, not Lancashire county council or the police. "It is hard to say how much it has cost, but the bill already goes into the hundreds of thousands of pounds and will go into the millions," he said on Sunday, noting that Lancashire constabulary had received a 25% cut in government funding since 2010.
"It is not fair or just that these costs should be borne by the people of Lancashire. This was a decision taken by Javid's department, not Lancashire county council, and so I really believe that the government should fund the policing."
Grunshaw said he was "agnostic" about fracking, but that he was concerned about the pressure and cost of policing the site. "The strain on officers is already immense. These officers are going on shift to be abused and being portrayed as the enemy when they really are not. These are Lancashire officers who live and work in the local community and who are at the site instead of dealing with domestic violence or antisocial behaviour and keeping people safe," he said.
Protesters have made complaints about "police brutality" but Grunshaw said he had yet to see evidence of any. He said local activists had built up a good relationship with the police over recent years and blamed protesters from outside the area coming in and "degrading that trust".
Nearly all of these are English-edition daily newspapers. These sites have interesting editorials and essays, and many have links to other good news sources. We try to limit this list to those sites which are regularly updated, reliable, with a high percentage of "up" time.