14 Mar
Nearly all of these are English-edition daily newspapers. These sites have interesting editorials and essays, and many have links to other good news sources. We try to limit this list to those sites which are regularly updated, reliable, with a high percentage of "up" time.

U.S. Politics
Non-partisan budget office says replacement for Affordable Care Act would leave millions uninsured but reduce federal deficit by $337bn in first 10 years
As many as 24 million Americans risk losing health coverage over the next decade under the Republican plan to replace the Affordable Care Act, popularly known as Obamacare, the non-partisan Congressional Budget Office said on Monday.
The report predicts a dramatic loss of healthcare coverage over the next decade if Congress enacts the Republican healthcare proposal, which has faced criticism from across the political spectrum and from nearly every sector of the healthcare industry.
An estimated 52 million people would be uninsured in 2026, compared with the 28 million who would lack insurance that year under the current law, according to the report. President Donald Trump, who supports the Republican plan, has promised that his plan would provide "insurance for everybody".
The congressional analysts estimate that the Republican healthcare proposal could reduce the federal budget by $337bn over 10 years, with the largest savings coming from cuts to the federal Medicaid program and "Obamacare" tax credits for people who buy insurance individually.
Republicans were bracing for an unfavorable accounting from the budget office on Monday, as the bill, called the American Health Care Act, faces intensifying opposition from conservatives, Democrats, consumer interest groups and nearly every sector of the US healthcare industry.
Reacting to the report, health and human services secretary, Tom Price, said the CBO score is "just not believable" and the White House "strenuously" disagrees with its conclusion. He said the analysis only accounted for one phase of the three-pronged plan, which the White House believes would cover more Americans than the report estimated.
The House speaker, Paul Ryan, said the report confirms that his plan will "lower premiums and improve access to quality", indicating that Republicans intend to press ahead with the legislation despite the sizable loss of coverage.
"Our plan is not about forcing people to buy expensive, one-size-fits-all coverage," Ryan said in a statement. "It is about giving people more choices and better access to a plan they want and can afford. When people have more choices, costs go down."
But Senator Susan Collins called the report a "cause for alarm" and urged her colleagues to slow down and revisit the replacement plan.
"This is an extremely important debate with significant implications for millions of Americans," the Republican said. "We need to spend the time necessary to get this right."
In the run-up to the publication of the CBO report, many Republicans began casting the expected drop in coverage as a consequence of having more choice.
"The one thing I'm certain will happen is CBO will say,
White House press secretary Sean Spicer was confronted by a member of the public in a Washington DC Apple store on Saturday. The woman, identified as Shree Chauhan, angrily questioned Spicer over his support for Donald Trump and his policies. Chauhan streamed the encounter over Periscope
Saglana Salchak's crossing of area filled with wolves wins praise from locals but lands mother in legal trouble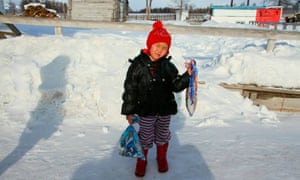 Local hero: Saglana Salchak just celebrated her fifth birthday. Photograph: Yury Darbaa/Siberian Times
A four-year-old girl who walked miles through the freezing Siberian wilderness to get help for her sick grandmother has been hailed as a hero in Russia's Tuva republic, while a criminal case has been opened against her mother.
Saglana Salchak had been living with her grandparents at their remote farm deep in the taiga forest near the Mongolian border, more than 12 miles from the nearest village and five miles from their closest neighbour.
Last month the child awoke to find that her 60-year-old grandmother was not moving. After talking with her blind grandfather, she decided to walk to the next homestead for help, according to local news.
Taking only a box of matches in case she had to light a fire, the four-year-old set out into the early-morning darkness, where temperatures hit -34C (-29F). It took her several hours to walk the five miles along a river bank through snowdrifts. Fortunately, she did not get stuck in the snow, often chest high, or encounter any of the wolves that had at times attacked her grandparents' livestock.
"Tuva has simply filled up with wolves," Semyon Rubtsov, head of the regional search and rescue group, told the Komsomolskaya Pravda newspaper. "They eat the livestock – the herders moan about them. She could have easily stumbled on a pack in the darkness."
After five gruelling miles Saglana nearly missed her neighbours' house amid the undergrowth, and would have passed it if one of them had not spotted her. They called in medical personnel from the village, who, after checking on the girl, made the trek back to her grandparents' place. There they discovered that the grandmother had died of a heart attack.
Saglana told Komsomolskaya Pravda she was not scared making the trip through the forest alone. "I just walked, walked and got there," she said. She admitted, however, that she had been cold and had "really wanted to eat".
Although she caught a cold, Saglana quickly recovered at the local hospital and is now living at a social centre, where she just celebrated her fifth birthday. Local media have declared her a hero. "You can't [easily] impress residents of the remote Tere-Kholsky district with extreme stories about taiga life. Nonetheless, the incident several days ago amazed even the old-timers in Kungurtug, the district centre," Tuva Online also wrote about Saglana's feat.
Saglana's mother and stepfather look after their own herd of horses in another part of the region. The social policy ministry offered the youngster a free trip to a sanatorium with her mother, Eleonora, when she returns from herding in May.
But on Sunday, the Tuva investigative committee opened a criminal case against Eleonora Salchak for leaving a minor in danger. "She knew that the elderly [grandparents] lacked the ability to take measures to guarantee the child's safety," it said in a press release. If charged, the mother could face up to a year in prison. The committee said it was also investigating the actions of social policy officials in the girl's district.
Sayana Mongush, an activist and journalist in the regional capital of Kyzyl, told the Guardian that it was shocking Salchak's grandparents didn't have any phone or internet connection, especially since defence minister and Tuva native Sergei Shoigu previously promoted archeological digs at an ancient fortress located in their district.
"Even in Soviet times, herders in Tuva had [material] privileges and radio communications," she said. "But now in the 21st century a four-year-old child has to go by foot only because there's no connectivity. This is nonsense, and the crime is not by the girl's mother, but by the authorities."
A sparsely populated republic of rugged forests, mountains and plains, Tuva is renowned for its traditional throat-singing and for ancient shamanistic religious practices, which coexist alongside Buddhism.
Spokeswoman says organization has diverse membership and wants 'to make sure that no girl gets left behind', with schools also considering cancelling trips
Associated Press in Toronto
The Girl Guides of Canada are cancelling all travel to the United States because of fears that their members might have trouble at the border due to travel restrictions enacted by Donald Trump.
A spokeswoman, Sarah Kiriliuks, said on Monday the organization's membership was diverse and inclusive and leaders worried some girls could get left behind when a group tried to enter the US.
The decision comes after a string of reports that Canadians have been turned away at the border. In January – on the eve of Trump's inauguration –several would-be demonstrators said they were denied entry to the US after telling border officials of their plans to attend the Women's March on Washington.
Last month Canadian citizen Fadwa Alaoui said she had been barred from entering the US after border officials asked probing questions about her Muslim faith and her views on Trump. Weeks later Manpreet Kooner, a Canadian citizen of Indian descent, said she was told she would now need an immigrant visa to enter the US, despite being born in Canada.
The temporary travel ban by Trump on citizens from six Muslim-majority countries has also prompted concern among Canadian schools over the potential treatment of foreign-born students at the border.
Kiriliuks said the Girl Guides didn't want to take the risk with all the uncertainty. She was not aware of any girls being turned away by US officials.
The Girl Guides of Canada said in a letter to members it would not be approving any new trips to the United States until further notice.
"This just speaks to the Girl Guides of Canada and our commitment to inclusivity," Kiriliuks said. "We just want to make sure that no girl gets left behind."
A nationally sponsored trip to a California camp that was scheduled for this summer is being relocated. The group is encouraging local leaders to consider domestic trips instead.
Canadian schools are also considering cancelling trips to the US.
Nearly all of these are English-edition daily newspapers. These sites have interesting editorials and essays, and many have links to other good news sources. We try to limit this list to those sites which are regularly updated, reliable, with a high percentage of "up" time.