15 Mar
Nearly all of these are English-edition daily newspapers. These sites have interesting editorials and essays, and many have links to other good news sources. We try to limit this list to those sites which are regularly updated, reliable, with a high percentage of "up" time.

U.S. Politics
The 2005 tax return of US president Donald Trump was leaked to MSNBC's The Rachel Maddow Show on Tuesday night. Maddow had two pages from the document. Her guest, American investigative journalist David Cay Johnston, said it was 'entirely possible' that it was sent by Trump himself in an attempt to distract attention from more unfavourable news stories. The president has rejected repeated calls to release his tax returns
New ban, same problems: activists and lawyers will challenge the revised travel ban they say is motivated by 'the same religious animus' as the first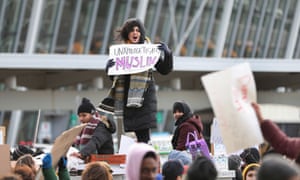 A protest at New York's JFK international airport against the original executive order banning entry of citizens from seven Muslim-majority countries. Photograph: Xinhua / Barcroft Images
Lawyers and anti-Trump protesters are preparing for renewed confrontation at US airports over the president's revised travel ban on visitors from six majority-Muslim countries that is scheduled to come into effect at midnight.
Trump's travel ban has been revised in the wake of judicial opposition to remove some its most glaringly anti-constitutional provisions. But it remains highly contentious, and in the eyes of many civil rights experts openly discriminatory against Muslims.
Volunteers will be out in force at many of the major international airports across the country to mark its arrival at 12.01am Thursday. "This second ban is just as unconstitutional as the first as it is motivated by the same religious animus," said Simon Sandoval-Moshenberg, legal director of the Immigrant Advocacy Program which has been involved in litigation against the new rules.
He added that the call had gone out to volunteers to provide extra legal advice at Dulles international airport at midnight and through Thursday as part of Dulles Justice Coalition, a spontaneous network of activists that has been holding a daily vigil at the arrivals area since the first ban struck in January.
The hours leading up to the scheduled start of the revised ban promise to be fraught and dramatic, with no fewer than three federal courts set to hear emergency arguments over the legality of the prohibition. The first is set to open at 9.30am EST when a group of civil rights and refugee groups led by the American Civil Liberties Union go before US district court judge Theodore Chuang in Maryland.
Later in the day the most important legal challenge is also likely to come before a federal court in Seattle. Several Democratic-led states have joined Washington, including California, Maryland, Massachusetts, Minnesota, New York and Oregon, in calling for the revised rules to be put on hold.
The states are arguing that the amended executive order, signed by Trump on 6 March with a 10-day delay for implementation, is equally driven by anti-Muslim prejudice and that the restraining order that was imposed by the Seattle court in February should therefore be extended. A third legal challenge is set to be heard in a federal court in Hawaii just hours before the ban is due to take hold.
In the revised travel ban, Trump removed Iraq from the list of countries singled out for restrictions and allowed people with permanent resident status in the US and valid visitor papers to enter. But it still imposes a 90-day stop on all new visa approvals for the remaining six Muslim-majority countries – Iran, Somalia, Sudan, Yemen, Syria and Libya – as well as a 120-day ban on refugees attempting to be resettled in the US from anywhere in the world.
Should the federal courts decline to extend the current restraining order, and in turn allow the new ban to kick in at midnight, all eyes will swing to the main US arrivals ports, notably Dulles, JFK in New York, LAX in Los Angeles and O'Hare in Chicago. When the first ban came into effect on 27 January those airports saw scenes of extraordinary chaos and confusion, and become focal points of mass protests.
Key changes made to the executive order mean that similar scenes of pandemonium are much less likely to be witnessed at midnight tonight. Under the new rules, anyone with a valid visa should be allowed into the country, reducing the likelihood of scores of people being denied entry having stepped off planes from around the world.
"We don't anticipate the scenes we saw at the airports first time around of people being rejected for entry even with valid visas causing enormous confusion and anger," said Lee Gelernt of the ACLU, who successfully argued for a restraining order against Trump's initial executive order in federal court in Brooklyn.
As the Netherlands goes to the polls for its most controversial elections in decades, few would have expected this multicultural city to be hitting the headlines because of protest and unrest – yet that is exactly what is happening
"Police were beating men and women with bats," Jessy De Abreu says. "They hit people in the face. Hair was pulled out, dreadlocks were pulled out."
De Abreu, 27, the co-founder of StopBlackFace.com, was describing a protest in Rotterdam last November, in which she was among roughly 200 activists arrested while protesting the controversial Black Pete (Zwarte Piet) character – St Nicolas' Moorish "helper", who is portrayed with a painted black face and curly wig.
The violence was mirrored last weekend, when members of the city's large Turkish population took to the streets to protest after two ministers from Turkey were blocked from entering the country. Again, police clashed with demonstrators. Water cannon were fired and dogs released on protesters.
As the Netherlands prepares to vote in an election characterised by inflammatory rhetoric by both the prime minister, Mark Rutte, and hard-right challenger Geert Wilders, the country's most diverse city is having a moment of soul-searching.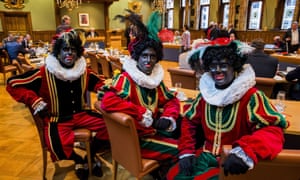 Dutch rightwing PVV state members Ton van Kesteren, Matthijs Jansen and Dennis Ram dressed as Zwarte Piet. Photograph: Vincent Jannink/EPA
With 47.7% of its population of non-Dutch origin, Rotterdam is proud of its multiethnic makeup, and in 2009 it further cemented its multicultral status after Ahmed Aboutaleb became the first Muslim mayor of a major Dutch city.
Yet despite this diversity, the city struggles to make everyone feel included. Ahmet Erdogan, a 31-year-old activist, is a proud Rotterdammer. "Rotterdam is a beautiful city to live in," he says. But as a community leader of Turkish origin, he says he is concerned about what appears to be an unstoppable rise in xenophobia. "In the last five or 10 years, Rotterdam has become a more racist city. There's a lot of Islamophobia."
Though he witnessed Aboutaleb's landmark appointment, Erdogan thinks having a Muslim mayor hasn't fixed the problem. "It didn't help at all," he says. "Since having a Muslim mayor, the problem of xenophobia has got bigger. But when you call people out on it the reply you get is: 'You can be anything in Rotterdam – look, we even have a Muslim mayor!'"
De Abreu agrees, pointing to Rutte's most recent dismissal of the Black Pete protests. "The Netherlands sees itself as a liberal, tolerant country, and therefore believes it can never be racist," she says. Rotterdam, in particular, takes great pride in being liberal – meaning racism is rarely addressed.
Janusz Korwin-Mikke has been suspended for 10 days and will lose allowance for 30 days after tirade in European parliament
A far-right Polish MEP who said women must earn less than men because they are weaker, smaller and less intelligent has been handed an unprecedented punishment by the European parliament.
Janusz Korwin-Mikke caused uproar when he launched a sexist tirade this month during a debate in the parliament.
Its president, Antonio Tajani, said he was imposing unprecedented penalties in response. Korwin-Mikke will lose his daily subsistence allowance for 30 days, a total of €9,180 (£8,047) intended to cover his expenses while he attends parliament. He will also be suspended from all parliamentary work for 10 days and banned from representing the parliament for a year.
Issuing a statement during a parliament plenary session in Strasbourg on Tuesday, Tajani apologised to anyone who had been hurt or offended by the MEP's outburst.
"I will not tolerate such behaviour, in particular when it comes from someone who is expected to discharge his duties as a representative of the peoples of Europe with due dignity," Tajani said. "By offending all women, the MEP displayed contempt for our most fundamental values."
Tajani launched an inquiry after a bitter exchange in the chamber this month in which Korwin-Mikke interrupted the female Spanish MEP, Iratxe García-Perez.
"Of course women must earn less than men because they are weaker, they are smaller, they are less intelligent, they must earn less, that's all," he said. "Do you know how many women are in the first 100 of chess players. I tell you, no one."
In comments that quickly went viral, García-Pérez replied: "According to what you are saying … I would not have the right to be here. I think I have to defend European women to men like you."
European parliament rules require MEPs "not [to] resort to defamatory, racist or xenophobic language or behaviour in parliamentary debates".
In less than a week about 935,000 people had signed a petition written in Polish calling on the parliament to suspend Korwin-Mikke, who is well-known for his sexist and racist views.
The global campaign group Avaaz launched the petition on international women's day, saying his "hateful remarks about women and migrants … betray the values of the entire EU, which our parliament is elected to defend."
Recent deaths challenge city's identity as a bastion of humanitarian values and injects urgency into debate on how to address homelessness as rents are soaring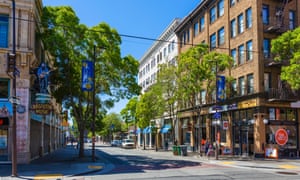 While nearly everyone in Berkeley agrees that housing costs are out of control, discussions on homelessness are among the most contentious to come before the city council. Photograph: Alamy Stock Photo
O

ne morning in mid-January, after days of intense rain, Tom White trudged to the back of an empty, muddy lot he owns across from Berkeley high school. He noticed a mound against the fence, next to some old tarps.
"At first I thought it was another pile of garbage someone had dumped," White said. Then he looked closer. "I realized that's human hair, that's a human shape. I just stood there and noticed there were no signs of life."
A woman, clad in layers of sweaters, was soaked and doubled over in a squat. She held an empty bottle. White called 911 and the body of the woman, later identified as 55-year-old Laura Jadwin, was taken away by the coroner. She was one of at least four homeless people to die in the past few months on the streets of Berkeley.
The deaths, in the middle of one of the coldest, wettest winters in years, have challenged Berkeley's idea of itself as a bastion of progressive and humanitarian values. They have also injected fresh urgency into a bitter debate over how to address homelessness when rents are soaring and affordable housing is vanishing.
"Literally the soul and the character of our city is at stake," said Jesse Arreguin, Berkeley's recently elected mayor. Homelessness, he said, "is a humanitarian crisis and it's increasing every week. We have to address this issue more effectively."
Literally the soul and the character of our city is at stake

Jesse Arreguin, Berkeley's mayor
For years, Berkeley has been known to locals by one of two nicknames: the People's Republic of Berkeley, birthplace of both the free speech movement and the Symbionese Liberation Army; and Berzerkeley, a time capsule of hippies and head shops. A festival named How Berkeley Can You Be?, now defunct, encapsulated the milieu: it brought together naked people, anti-circumcision activists and fire-breathers.
Yet today, Berkeley's values are clashing with unyielding economic realities. In recent years, its downtown has exploded with pricey restaurants and upscale apartment buildings catering to young technologists and researchers. Nearly 900 units are now under construction or approved.
Berkeley median rents have soared more than 40% in the past three years, to $3,483 a month, according to real estate firm Zillow. Meanwhile the homeless population has grown from 680 in 2009 to probably more than 1,000 today, according to the mayor. Strikingly, this is around 1% of the city's population.
"There is a direct association between how fast rents are growing and how much homelessness there is in cities," said Svenja Gudell, Zillow's chief economist.
White, the man who found Jadwin's body, said he has been discouraged by the nimbyish attitude of some of his fellow Berkeleyans.
Nearly all of these are English-edition daily newspapers. These sites have interesting editorials and essays, and many have links to other good news sources. We try to limit this list to those sites which are regularly updated, reliable, with a high percentage of "up" time.