18 Mar
Nearly all of these are English-edition daily newspapers. These sites have interesting editorials and essays, and many have links to other good news sources. We try to limit this list to those sites which are regularly updated, reliable, with a high percentage of "up" time.
Pontif espouses 'zero tolerance' policy on abusers, but little has changed on the ground
Pope Francis: has a reputation as a reformer, but in some areas it is difficult to see any meaningful progress. Photograph: Alessandra Tarantino/EPA/pool
Pope Francis has just completed four years of his pontificate. From the moment Jorge Bergoglio greeted Rome and the world with "Buona sera", he has been controversial. That is no bad thing. Jesus himself was controversial, to the extent that people left him in droves, unable to stomach his teachings.
Pope Francis is both deeply loved and deeply criticised by his flock. He also has had the most extended media honeymoon of any pontiff since John XXIII.
In contrast, his predecessor, Pope Benedict, could do nothing right in the media's eyes. The gentle, scholarly Benedict was constantly warding off judgments that he was either a crypto-Nazi or some kind of Islamophobe.
Strangely, the media seem to develop selective attention when Francis says something about abortion, such as this this statement from Evangelii Gaudium (The Joy of the Gospel): "This is not something subject to alleged reforms or 'modernisations'. It is not 'progressive' to try to resolve problems by eliminating a human life."
However, they quote him approvingly when he speaks about the environment, or the rights of refugees. Francis is a much-needed voice on these issues and an effective counterweight on the world stage to the appalling policies of Donald Trump.
The media constantly paint Francis as being on the progressive wing of the Catholic Church, and a leader who will bring about much-needed reforms.
Others are fearful that he is dismantling the traditions of the church. The London Times alleged earlier this month that a campaign to get Pope Francis to resign was under way and that it involved many cardinals who had voted for him in the conclave.
Not far enough
These Catholics fear that Francis will to go too far and will water down essential church teachings.
However, there may be another, more real fear – that Francis will not go far enough in certain areas. He has a reputation as a reformer, but in some areas it is difficult to see any meaningful progress, and in others there appear to have been regressive steps.
Take the vital issue of clerical sexual abuse of children. Belatedly, during Pope Benedict's time, the church began to tackle this issue and Benedict used canon law to remove some 800 priests from the priesthood.
Pope Francis has a truly wonderful emphasis on mercy and forgiveness. But when it comes to a deeply-rooted tendency such as paedophilia, what exactly does mercy mean?
Forgiveness can never be denied to someone who genuinely repents. But no child should be endangered. If someone has abused a child, they should never again be in a position of authority or be allowed to work with children.
Pope Francis has endorsed many times a 'zero tolerance' policy towards abusers, but has also overturned decisions to remove priests from the clerical state.
One controversial case involves Italian priest Rev Mauro Inzoli, who was laicised by Pope Benedict. Inzoli had a penchant for fast cars and boys as young as 10.
Paedophile reinstated
He had his priestly faculties restored by Pope Francis, along with a strict injunction to live a life of prayer and penance and to stay away from children. A life of prayer and penance has one advantage. A priest removed from the clerical state disappears into the community, probably to wreak further havoc anonymously.
 A life of prayer and penance, at least in theory, means that the church is still accountable for supervision and control of the individual in a way that protects children. However, that supervision must be exemplary and consistent if it is to be a substitute for laicisation.
According to the publication The Week, Inzoli participated in a family conference in Lombardy while supposedly under supervision. He has since been convicted in the Italian courts of child abuse and sentenced to nearly five years in prison. He was found guilty by the church, too, and a second church trial is ongoing.
The recent resignation of Marie Collins from the Vatican Commission for protection of children is another straw in the wind. She pinpointed the curial culture as the vital factor in her resignation. Where does this leave Francis, who has promised reform of the Curia since the beginning of his papacy?
There is still a tendency by some Vatican officials to dismiss clerical sexual abuse as a preoccupation of the English-speaking church. This will lead in only one direction – children being harmed and an ongoing stream of revelations of neglect of the issue by church leaders.

U.S. Politics
Donald Trump appeared to deny the German chancellor Angela Merkel a handshake during a photo opportunity with the press at the White House on Friday. Trump and Merkel met earlier for a bilateral meeting in the Oval Office where they were expected to talk about strengthening Nato, fighting the Islamic State group and resolving Ukraine's conflict
Aodhán Ó Ríordáin, the Irish senator who called Trump a 'fascist', says Irish are immigrants who were once branded terrorists and stigmatized for their faith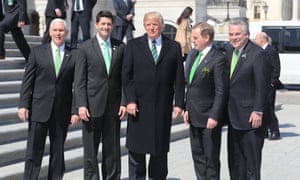 Mike Pence, Paul Ryan, Donald Trump, the Irish taoiseach, Enda Kenny, and congressman Peter King after a 'Friends of Ireland' lunch at the Capitol Building in Washington. Photograph: Niall Carson/PA
Irish American politicians working with Donald Trump should have more awareness of how Irish people had been treated in the 19th and 20th centuries in the US and elsewhere, according to an Irish Labour party senator who made headlines after calling Trump a "fascist".
"[Historically] we were the ones who were called terrorists when bombs were going off [in the UK]," Aodhán Ó Ríordáin told the Guardian in an interview. "You call someone a terrorist or give an impression that a certain entire religious faith is connected with terrorism and that's really undermining."
With Donald Trump standing only a few feet away, Irish PM Enda Kenny identifies St Patrick with immigrants – 'the patron saint of immigrants' – at the annual St Patrick's Day lunch in Washington on Thursday. Kenny quotes from Emma Lazarus's The New Colossus, saying the Irish were 'the wretched refuse on the teeming shore'
Ó Ríordáin pointed to Trump confidants embracing their Irish cultural heritage. The speaker of the house, Paul Ryan, vice-president, Mike Pence, and White House press secretary, were among those touting their Irish heritage on Thursday in anticipation of St Patrick's Day.
Paul Ryan took a very small sip of a suspect-looking pint of Guinness as he praised the US-Ireland relationship, while Pence used the phrase "Top of the morning" to greet Kenny.
Ó Ríordáin said there were distinct parallels between the plight of Irish people through history and that of both undocumented immigrants in the US and those seeking asylum to the country, and that US politicians embracing that culture should tone down their rhetoric.
"We have an immigrant story to tell. We are an immigrant nation, there are more Irish people born outside of Ireland than there are in Ireland," Ó Ríordáin said.
Ó Ríordáin will hold an anti-Trump, pro-immigrant rally in New York City on Friday night. "Irish Stand" is due to take place in the same Upper West Side church where Martin Luther King gave his famous speech opposing the Vietnam war, two days after Trump's latest travel ban barring immigrants from six Muslim-majority countries was blocked by courts.
"We know exactly what it means to leave to seek refuge. We used to leave Ireland on what they call coffin ships – as in you get on this and you may not survive. That's exactly what the Syrians are doing.
"We were the ones who had religious bigotry that we had to overcome."
Ó Ríordáin rose to international acclaim after he gave an impassioned speech in Seanad Eireann, the upper tier of the Irish legislature, after Trump's election victory in November.
"I don't use the word fascist lightly but what else would you call somebody who threatens to imprison his political opponents?" Ó Ríordáin told the Seanad. The speech has been watched more than 3.3m times on the senator's Facebook page alone.
Irish Stand, backed by the American Civil Liberties Union and celebrities including Rosie O'Donnell and Martina Navratilova, aims to "remind" the Trump administration "that the international community rejects the politics of division and fear".
As well as Irish artists such as the author Colum McCann and comedian Maeve Higgins, the event will also include contributions from Imam Shamsi Ali, a director at the Jamaica Muslim Center in Queens, New York, while Ó Ríordáin said Black Lives Matter activists were among the endorsees.
Ó Ríordáin said the timing of the event was due to coincide with a "perfect storm" in the US, given the visit of Ireland's taoiseach, Enda Kenny, to the White House on Thursday, St Patrick's Day, the attempted introduction of Trump's latest travel ban and the number of Irish Americans working with Trump.
Devastating downpour, caused by high ocean temperatures, could not have been predicted, president said, months after state of emergency declared for wildfires
A woman stumbles across rafts of debris to make it to safety after being caught in a huge mudslide that crashed through the outskirts of Lima. Media reports in Peru said Evangelina Chamorro Díaz, 32, escaped without serious injury. "She is a little confused, but she is very well and will recover because she is a warrior and thank God nothing serious happened," health minister Patricia Garcia said after visiting Díaz on Thursday. Several days of unusually heavy rains have killed at least a dozen people in the country.
Sixty-seven people have been killed and thousands more forced to evacuate by intense rains which damaged 115,000 homes and destroyed more than 100 bridges in Peru's worst floods in recent memory.
"We are confronting a serious climatic problem," said Peru's president, Pedro Pablo Kuczynski, in a broadcast to the nation on Friday afternoon. "There hasn't been an incident of this strength along the coast of Peru since 1998."
The disaster – which came after a period of severe drought – has been blamed on abnormally high temperatures in the Pacific Ocean, and fuelled criticism that the country is ill-prepared for the growing challenges of climate change.
Over the past three days, the downpour has burst river banks, created mudslides, collapsed bridges, closed roads and forced school suspensions in swaths of the west and north of the country.
Rains continued to lash the northern Piura region where streets remained flooded in the regional capital and homes had been washed away in poorer neighbourhoods.
By Thursday night, the floodwaters had subsided in the city's La Primavera slum, but the floor of Shirley Moran's home was a sea of dried mud and half-buried children's toys.
"The water came up to our knees, the only thing we could do was run for our lives and to try and keep calm," said Moran in the battered home she shared with five siblings.
Even the capital city, Lima, where a desert climate means that rain is rare, was lashed by a downpour which flooded outlying neighbourhoods.
The La Hacienda hotel collapses into the swollen waters of the Sicra river in the Peruvian town of Lircay on Thursday. The foundations of the three-storey tourist hotel, which is built on the river's edge, eroded due to the constant rainfall over the past week and the rising waters. According to local media, no injuries were reported as all guests had been evacuated before it fell
With temperatures still high, the meteorological agency expects the rain front to move inland and south over the coming days and has issued a highest-level weather warning for the Amazon part of the Cusco, Ucayali and Huánuco regions.
It is not the first time this year that Peru has been affected. Two months ago, tourists in Machu Picchu were stranded by mudslides and had to be airlifted.
The prime minister, Fernando Zavala, said 176 districts had already declared emergencies.
Abraham Levy, a Peruvian meteorologist, said the weather conditions were "extremely unusual" and the storms and flooding were caused by the "atypical" warming of sea surface temperatures off Peru's northern coast by five to six degrees to 29C.
He described the phenomenon as a "coastal El Niño". The last time this was seen was nearly a century ago in 1925.
"We've had these kinds of El Niños as long as we have historical data, so it's very difficult to link climate change or even global warming to these events," he said.
Other scientists say a global trend of rising sea temperatures was likely to have contributed to the recent storms.
In November Peru declared a state of emergency when wildfires tore through drought-stricken areas burning nearly 12,000 hectares (30,000 acres) of land.
"We've rarely seen this kind of rapid and quick change in climatic conditions," Juber Ruiz, from Peru's civil defense institute, told Reuters.
Scientists accused Peruvian authorities of ignoring a warning to countries in the region that there was a severe risk of drought, and opposition politicians have accused the government of failing to respond adequately to forecasts of increasingly frequent extreme weather events.
Nesting bald eagles, Adélie penguins and a newly hatched Komodo dragon are among this week's pick of images from the natural world
Opinion
If the cuts are allowed to go through, seniors will pay a dramatic and unfair price – all while taxpayer dollars are squandered building a border wall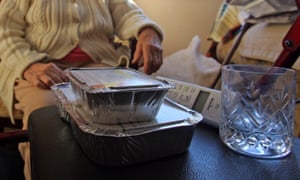 'The programs don't cost much, and cost even less to the federal government.' Photograph: Matt Cardy/Getty Images
D

onald Trump's budget proposal is a disaster-in-waiting for America's most vulnerable populations. The grant cuts that would imperil Meals on Wheels, a program that benefits countless seniors across the United States, are stark examples of the Republicans' continued war on the "war on poverty". If they are allowed to go through, seniors will pay a dramatic and unfair price – all while taxpayer dollars are squandered on swollen defense budgets and a wasteful border wall.
I worked on a Meals on Wheels program in upstate New York, and the seniors I met were always grateful for the company, however brief. I recall one especially chatty woman would never fail to let me know that I looked just like her grandson on each visit. Another man, obviously a stickler, would compare my arrival times with the other drivers and let me know when I was lagging behind on the route.
For many seniors these deliveries were the only social interaction they would have some days, and the only check on their wellness anyone would make. I fear, for some, it was likely their only proper meal as well.
Most days, it was senior volunteers delivering the meals. They routinely told me it gave them a sense of purpose and they liked helping other people in their generation. One gentleman I volunteered with, a retired teacher and recent widower, told me the program was one of the first things to get him out of the house after his wife had passed.
Those who made the program work were, it's worth repeating, volunteers. They gave freely of their time and the funding that made the whole operation work was applied to things like the food itself, and gas and insurance for the vehicles. It made it possible for folks of modest means to get involved in their community, a little grease on the wheels of compassion and goodwill.
The programs don't cost much, and cost even less to the federal government. That's because the contours of the Community Development Block Grant, which partially funds meals on wheels and has been slated for defunding by Trump, were designed by conservatives. They were intended as a compromise to the "big government" war on poverty approaches taken by Lyndon Johnson in the late 1960s.
This particular block grant, developed by the Ford administration and further tweaked by Ronald Reagan, was intended to allow maximum flexibility for communities to provide assistance for poor and vulnerable populations. Bipartisan consensus also pushed virtually all CDBG programs to leverage government grants into funding from state, local and private sources.
Ironically some conservatives have turned to this fact, that as proof that the government portion wouldn't even be missed. Writing for Forbes on Thursday Erik Sherman noted that just a small fraction of funding for the Meals on Wheels program comes from the CDBG. "If its portions of block grants were eliminated, the program wouldn't suddenly disappear," Sherman noted.
And on this point Sherman is correct, but here's what his analysis misses. The senior center that hosted the meals on wheels program I relied on CDBG funds. The SeniorCorps program which recruited and managed volunteers relied on funds from the Corporation for National and Community Service, which Trump's budget also zeroes.
There are interweaving agencies and initiatives, all relying partially on federal funds, that make programs like meals on wheels work. It's something like a game of Jenga, and years of social disinvestment have already left the tower tilted and unsteady. Pull out that next peg and seniors are certain to pay the price.
Of course, no conservative would tell you they are against feeding hot meals to lonely seniors, or want to see them starved and without the daily company.
"It's just not the government's role", they'll tell you, and ask why, if people like these programs so much, they don't just donate their own money and time. Let the market of philanthropy select for the best programs and weed out the waste.
Nearly all of these are English-edition daily newspapers. These sites have interesting editorials and essays, and many have links to other good news sources. We try to limit this list to those sites which are regularly updated, reliable, with a high percentage of "up" time.