19 Mar
Nearly all of these are English-edition daily newspapers. These sites have interesting editorials and essays, and many have links to other good news sources. We try to limit this list to those sites which are regularly updated, reliable, with a high percentage of "up" time.



© Eric FEFERBERG / AFP | French presidential election candidate for the far-left coalition "La France insoumise" Jean-Luc Melenchon (C) taking part in the "Marche pour la VI Republique" (March for the 6th Republic) on March 18, 2017, in Paris.
(AP)
Far-left French presidential candidate Jean-Luc Melenchon gathered tens of thousands of supporters in Paris at a rally Saturday calling for deep reforms in the French constitution.
Melenchon, who wants to shorten France's 35-hour workweek, leave NATO, block free-trade deals and stop using nuclear energy, has pledged to summon a constituent assembly if he wins the election.
The 65-year-old former Socialist who previously served as minister for vocational training often depicts himself as the candidate of the people. He promises to get rid of what he calls the "presidential monarchy" and give more power to parliament.
The gathering Saturday between two iconic squares in the French capital – the Place de La Bastille and Place de la Republique – took place on the anniversary of the Paris Commune, an alliance between the middle and working classes who broke into revolt on the 18th of March 1871 in the wake of the collapse of Napoleon III's Second Empire.
Melenchon was greeted to chants of "President! President!" as he joined the cortege. He later claimed on his Twitter account that 130,000 people had attended.
Melenchon, who is supported by the Communist party, has so far struggled to make his campaign take off. Opinion polls suggest he has no chance of making it to the second round of France's presidential ballot on May 7.
Melenchon and his Socialist rival Benoit Hamon are running neck-and-neck in opinion polls, but well behind far-right National Front candidate Marine Le Pen, independent centrist Emmanuel Macron and conservative hopeful Francois Fillon.
Both Melenchon and Hamon have criticized Socialist President Francois Hollande's austerity politics but have failed to join forces in the presidential race.
The first round of the French presidential vote will be held on April 23, with the two top vote-getters there going into a presidential runoff ballot on May 7.


U.S. Politics
GenForward poll shows 62% disapproval of Trump performance
African American, Latino and Asian Americans ranged against president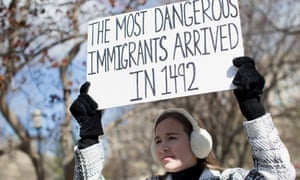 A protester holds a sign near the White House to protest President Donald Trump's travel ban. Photograph: Tasos Katopodis/AFP/Getty Images
Associated Press in Washington
A majority of young adults – 57% – see Donald Trump's presidency as illegitimate, including about three-quarters of blacks and large majorities of Latinos and Asians, a new poll has found.
GenForward is a poll of adults age 18 to 30 conducted by the Black Youth Project at the University of Chicago with the Associated Press-NORC Center for Public Affairs Research.
A slim majority of young whites in the poll, 53%, consider Trump a legitimate president, but even among that group 55% disapprove of the job he's doing, according to the survey.
"That's who we voted for. And obviously America wanted him more than Hillary Clinton," said Rebecca Gallardo, a 30-year-old nursing student from Kansas City, Missouri, who voted for Trump.
Clinton won the popular vote by nearly 3m ballots but Trump won the presidency in the electoral college.
Trump's legitimacy as president was questioned earlier this year by Representative John Lewis of Georgia, who said: "I think the Russians participated in helping this man get elected. And they helped destroy the candidacy of Hillary Clinton."
Trump routinely denies that and says he captured the presidency in large part by winning states such as Michigan and Wisconsin that Clinton may have taken for granted.
Overall, just 22% of young adults approve of the job he is doing as president, while 62% disapprove.
One respondent to the poll, Jermaine Anderson, said he kept going back to the same memory of Trump, then a candidate, referring to some Mexican immigrants as rapists and murderers.
"You can't be saying that [if] you're the president," said Anderson, a 21-year-old student from Coconut Creek, Florida.
Trump's rhetoric as a candidate and his presidential decisions have done much to keep the question of who belongs in America leading the news, though he is struggling to accomplish some key goals.
Powered by supporters chanting "build the wall", Trump has vowed to erect a barrier along the southern US border and make Mexico pay for it, which Mexico refuses to do. Federal judges in three states have blocked Trump's executive orders to ban travel to the US from seven, then six majority-Muslim nations.
In Honolulu, US district judge Derrick Watson this week cited "significant and unrebutted evidence of religious animus" behind the travel ban, citing Trump's own words calling for "a complete shutdown of Muslims entering the United States".
Trump is the leader of a country where by around 2020 half of children will be part of a minority race or ethnic group, the Census Bureau projects. Non-Hispanic whites are expected to be a minority by 2044.
"I'm thinking, he's saying that most of the people in the world who are raping and killing people are the immigrants. That's not true," said Anderson, whose parents are from Jamaica.
Megan Desrochers, a 21-year-old student from Lansing, Michigan, said her sense of Trump's illegitimacy was more about why he was elected.
"I just think it was kind of a situation where he was voted in based on his celebrity status verses his ethics," she said, adding that she was not necessarily against Trump's immigration policies.
Poll participants said in interviews that they did not necessarily vote for one party's candidates over another's, a prominent tendency among young Americans, experts say. And in the survey, neither party fares especially strongly.
Just a quarter of young Americans had a favorable view of the Republican party, and six in 10 had an unfavorable view. Majorities of young people across racial and ethnic lines held negative views of the GOP.
The Democratic party performed better, but views were not overwhelmingly positive. Young people were more likely to have a favorable than an unfavorable view of the Democratic party by a 47% to 36% margin. But just 14% said they had a strongly favorable view of the Democrats.
Views of the Democratic party were most favorable among young people of color. Roughly six in 10 blacks, Asians and Latinos held positive views of the party. Young whites were somewhat more likely to have unfavorable than favorable views, 47% to 39%.
Governments act after the Observer exposed exploitation of workers in Sicily
The Romanian government has agreed to collaborate with Italian authorities to stop the abuses in the Sicilian province of Ragusa, after an Observer investigation found that thousands of Romanian agricultural workers were being used as forced labour and sexually exploited by their Italian employers.
A delegation of Romanian ministers sent by the prime minister, Sorin Grindeanu, met provincial representatives and migrants' rights organisations in Ragusa on Friday to discuss conditions for Romanian women and find a way forward.
"Undeclared work is a major risk that Romanian workers are exposed to, and the sexual exploitation is real," said Andreea Pastarnac, minister for Romanians abroad, during the meeting. "Denouncing these abuses is an important step for the victims. But we also need to stop the abuses before they happen. To do so, we are going to collaborate with the Italian authorities."
Hidden among fields of flapping white plastic tents across Ragusa province, some 5,000 Romanian women work as seasonal agricultural workers, harvesting crops in a province that is currently the third-largest producer of vegetables in Europe. But the treatment of these workers is a growing human rights scandal, perpetrated with almost complete impunity. Migrant associations, authorities and unions estimate that more than half of all Romanian women working in the greenhouses are forced into sexual relations with their employers, and almost all of them work in conditions of forced labour and severe exploitation. Yet many told the Observer they are too afraid to speak out, for fear of losing their jobs and being sent back home.
'Romanian women are invisible, they are afraid – I hope the authorities will act but I'm sceptical'

Don Beniamino Sacco
Neither government is certain just how many Romanian women are working in Ragusa, nor how many are suffering exploitation. But Italian authorities describe the known level of abuse against these workers as unacceptable and have agreed an intervention plan is needed to support abuse victims, as well as to warn others of the risks they face in the province. A plan to build a refuge centre for victims is also being considered.
"We are trying to do our best, but … there is a phenomenon of exploitation in our province," said Maria Carmela Librizzi, the provincial official of the interior ministry, during the meeting. "Driven by a dramatic economic situation back in Romania, women are afraid to report it. As for the illegal work, we did a lot of investigations and, yes, we did find a lot of illegal contracts.
"The first step is to help these women get out of the isolation they live in. We need to build a high-trust relationship with them. If they trust us, they are going to speak out and report the abuses."
The government meeting between the two nations was hailed by some organisations as a potential milestone.
"The presence of a Romanian delegation is an important signal," said Domenico Leggio, the local president of Caritas, a Catholic charity, who has tried for years to help Romanian women working in the region. "I hope something important can be done this time." But other migrants' rights organisations in Ragusa were not optimistic. Beniamino Sacco, the Catholic priest who first denounced the sexual exploitation in Ragusa, was present at the meeting and told the Observer: "They always hold a meeting right after a story comes out, and the next day they pretend nothing has happened.
Two tribes sought emergency order to stop oil flow while suit plays out
DC court ruling means controversial pipeline could start work Monday
Associated Press in Washington
An appeals court on Saturday refused a request from two Native American tribes for an "emergency" order that would prevent oil from flowing through Dakota Access pipeline.
The decision by the US court of appeals for the District of Columbia circuit means the $3.8bn pipeline, set to move North Dakota oil to a distribution point in Illinois, could be operating as early as Monday, even as the tribes' lawsuit challenging the project moves forward.
The Standing Rock and Cheyenne River Sioux tribes have challenged an earlier ruling, by US district judge James Boasberg, not to stop final construction of the pipeline. They also wanted the appeals court to halt any oil flow until that case was resolved.
The appeals court said the tribes had not met "the stringent requirements" for such an order.
The tribes had asked Boasberg to direct the Army Corps of Engineers to withdraw permission for Dallas-based developer Energy Transfer Partners (ETP) to lay pipe under Lake Oahe in North Dakota, which the Corps manages for the US government.
The stretch under the Missouri River reservoir is the last piece of construction for the pipeline.
The company is wrapping up construction work under the lake and has said oil could start flowing between Monday and Wednesday.
The tribes fear the pipeline could harm their water supply and their right to practice their religion, which relies on clean water. ETP disputes that.
The Turkish president's bid to widen his powers by campaigning during the Dutch elections has sparked an all-out crisis
T

he ruthless drive by Recep Tayyip Erdogan, Turkey's pugnacious president, to expand his already considerable executive powers knows no bounds. Even cows are not safe. At the height of last week's furious row with the Netherlands, Turkey's red-meat producers' association said it was expelling 40 Holstein Friesian cattle. Dutch cows, like Dutch diplomats, were no longer welcome in Turkey.
If the political backdrop were not so deadly serious, the bovine ban might be funny. But Erdogan's rude push to take partisan campaigning in Turkey's fraught 16 April referendum on expanded presidential powers to the doorsteps of western Europe's four-million-strong Turkish diaspora is no laughing matter. It has sparked an all-out crisis in Turkey-Europe relations that had been threatening to erupt for years.
When the Dutch banned unsanctioned ministerial rallies and cracked down on Turkish demonstrators, Erdogan denounced them as modern-day Nazis. When Germany, where 1.4 million ethnic Turks have a vote in Erdogan's referendum, took a similar stance, he accused Angela Merkel, Germany's chancellor, of Islamophobia and harbouring terrorists. Denmark, Austria and Switzerland, which also have sizeable Turkish minorities, have all been caught up in the furore.
This jagged, ugly confrontation should come as no surprise. It has long been simmering, in particular since elections in 2015 when Erdogan's ruling Justice and Development party (AKP) unexpectedly lost its parliamentary majority. The pro-Kurdish People's Democratic party (HDP) made historic gains, winning seats for the first time – a result enthusiastically welcomed by EU countries.
In response, Erdogan began a fierce crackdown on political and media opponents while deliberately abandoning the 2013 ceasefire with PKK Kurdish separatists. Renewed security-forces repression in the Kurdish-dominated south-east caused numerous casualties and wrought dreadful destruction in Kurdish cities. This violence continues, as the UN made plain in a damning report this month. It is cynically perpetuated by Erdogan to bolster his claim that only he and the AKP can save Turkey from "terrorists" and foreign co-conspirators.
Last year's failed Turkish army coup, provoked by Erdogan's autocratic behaviour and a series of devastating terror bombings, accelerated this process of internal polarisation in a country where polls suggest an almost exact 50-50 split for and against the president. Erdogan blamed the coup on a US-backed conspiracy led by the exiled cleric, Fethullah Gülen. But he also lambasted Europe for being too slow to support him and too quick to criticise post-coup repression.
Erdogan has persisted with his divisive, Trump-like "for us or against us" tactics in the run-up to the referendum, denouncing the HDP and other opposition parties as terrorist sympathisers, arresting their leaders and detaining and persecuting independent civil servants, media, academics, police and judges in their thousands.
Erdogan's tactics are as simple as they are crude. His demand for quasi-dictatorial powers rests on the claim that he, and he alone, is the saviour of the Turkish republic. Since 2003, when he first became prime minister, his brand of neo-Islamist nationalism has gradually become more extreme and exclusive. He plays on Turks' historical fears of foreign meddling. He cynically brandishes the "religion card", pitting Muslim Turkey against Christendom. And with the Obama administration gone, Europe and the EU have become his preferred whipping boy.
Erdogan taunted "Christian Europe" again last Thursday while campaigning in Sakarya, condemning the European Court of Justice's ruling that allows companies to ban staff wearing "visible religious symbols" such as head scarves. "Where is the liberty of religion?" he demanded. "They have commenced a struggle between the cross and crescent … I am saying this clearly: Europe is heading towards the days just before the second world war."
French Human Rights League says protest, a month after officer charged with rape, is to express anger over police violence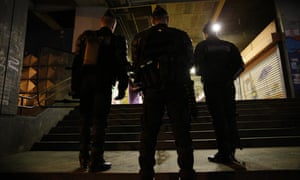 French police officers stand guard in Aulnay-sous-Bois last month after clashes between police and youths. Photograph: Geoffroy van der Hasselt/AFP/Getty Images
Rights groups and victims' families are to lead a rally in Paris on Sunday against police brutality after the recent baton-rape of a young man heightened tensions over alleged beatings and deaths in police custody.
Last month, after a police officer was charged with raping a young black man, Theo, with a baton during a violent arrest in Aulnay-sous-Bois, north of Paris, clashes and rioting broke out on estates around Paris leading to more than 250 arrests.
This week, a 37-year-old French police officer, Damien Saboundjian, was found guilty of deliberate assault after shooting dead a suspect, Amine Bentounsi, who he chased in a northern suburb of Paris in 2012. The police officer was given a five-year suspended sentence. The decision by a Paris appeals court overturned an earlier acquittal and was hailed by advocates against police violence.
But Daniel Merchat, the defence attorney in the case, accused the appeals court of being "anti-police". One police union, Unité SGP-Police protested against the verdict, complaining about the negative image of police in France: "Cops [are seen as] fascists, all violent, who don't respect the law."
French police are regularly accused of using excessive force in poorer neighbourhoods, and particularly against black and minority ethnic suspects.
The French Human Rights League, leading Sunday's protest march, said in a statement that the rally was about expressing "anger in the face of repeated police violence", warning against "a perverted notion of public security and the protection of citizens".
Amal Bentounsi, whose brother was shot dead by the officer Saboundjian, was among organisers of the rally. She warned that police "seem to benefit from abject impunity" while those who mobilised to find out the truth about deaths were "victims of campaigns of criminalisation".
The death in police custody last summer of a young black man, Adama Traoré, in Beaumont-sur-Oise outside Paris, and the slow reaction of authorities sparked accusations of police violence and a state cover-up. An investigation is ongoing.
After a demonstration in which the family demanded the truth about the death and tried to access a local council meeting, two of Traoré's brothers were found guilty of verbally and physically assaulting police officers, and one was jailed.
Nearly all of these are English-edition daily newspapers. These sites have interesting editorials and essays, and many have links to other good news sources. We try to limit this list to those sites which are regularly updated, reliable, with a high percentage of "up" time.