22 Mar
Nearly all of these are English-edition daily newspapers. These sites have interesting editorials and essays, and many have links to other good news sources. We try to limit this list to those sites which are regularly updated, reliable, with a high percentage of "up" time.

U.S. Politics
Deutsche Bank among western institutions that processed billions of dollars in cash of 'criminal origin' through Latvia
The German bank that loaned $300m (£260m) to Donald Trump played a prominent role in a money laundering scandal run by Russian criminals with ties to the Kremlin, the Guardian can reveal.
Deutsche Bank is one of dozens of western financial institutions that processed at least $20bn – and possibly more – in money of "criminal origin" from Russia.
The scheme, dubbed "the Global Laundromat", ran from 2010 to 2014.
Law enforcement agencies are investigating how a group of politically well-connected Russians were able to use UK-registered companies to launder billions of dollars in cash. The companies made fictitious loans to each other, underwritten by Russian businesses.
The companies would default on these "debts". Judges in Moldova then made court rulings enforcing judgments against the firms. This allowed Russian bank accounts to transfer huge sums to Moldova legally. From there, the money went to accounts in Latvia with Trasta Komercbanka.
Deutsche, Germany's biggest lender, acted as a "correspondent bank" for Trasta until 2015. This meant Deutsche provided dollar-denominated services to Trasta's non-resident Russian clients. This service was used to move money from Latvia to banks across the world.
During this period many Wall Street banks got out of Latvia, citing concerns that the small Baltic country had become a centre for international money laundering, especially from neighbouring Russia.
In 2013, and under US regulatory pressure, JP Morgan Chase ceased providing dollar clearing services to the country.
From 2014, only two western lenders were willing to accept international dollar transfers from Latvian banks. They were Deutsche and Germany's Commerzbank. Deutsche eventually withdrew correspondent services to Trasta Bank in September 2015.
Six months later, Latvian regulators shut down the bank. They cited repeated violations, and said the bank had failed to deal with its money laundering risk.
Latvia's deputy finance minister, Maija Treija, said the money sent via Trasta was "either stolen or with criminal origin".
The defunct bank was being used as vehicle to get money out of the ex-Soviet Union and "into the EU financial system", she added.
Deutsche said it had significantly strengthened its systems and controls. It said that by the end of this year it will have hired more than 1,000 new staff in its compliance and anti-financial crime unit since 2015.
It added: "The bank has comprehensively reviewed its client onboarding and know-your-client processes and where necessary is exiting higher risk client relationships and markets."
Commerzbank said it could not comment on its relationships with other banks. It said it put a high value on compliance. It said that suspicious transactions picked up during routine monitoring were reported to the authorities.
Said 'Sam' Barodi was fired after he refused to cooperate with customs agents who he believed were targeting him because of his ethnicity and religion. His and other accounts paint a stark picture of the bureau in the era of Trump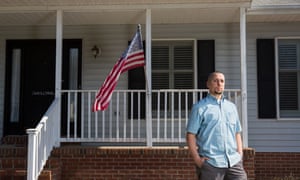 Said Barodi at his home in Stafford, Virginia. Barodi is a former FBI intelligence and language analyst who was fired by the organization. Photograph: Eric Kruszewski for the Guardian

M

uslim special agents and intelligence analysts at the FBI are reporting a climate of fear inside the agency coinciding with the political ascendance of Donald Trump, the Guardian has learned.
FBI officials from Muslim-majority countries, a minority in a predominantly white bureau, say they are subject to an organizational culture of suspicion and hostility that leadership has done little to reform. At least one decorated intelligence analyst has been fired this year after a long ordeal which began with a routine foreign visit to see his family.
His case and others in which Muslim agents have reported a workplace culture that includes open-ended investigations predicated on their backgrounds were brought to the personal attention of the FBI's director, James Comey, throughout 2016.
Muslim FBI officials are alarmed that their religion and national origin is sufficient for the bureau's security division to treat them as a counterintelligence risk, a career-damaging obstacle that their native-born white FBI colleagues do not encounter.
They do not dispute a need to vet potential insider threats, but they bristle at what they consider selective enforcement and an inability for those caught in a process based on their heritage to escape suspicion.
Said Barodi, a former FBI analyst, discusses his firing, which he considers an example of the climate facing Arabs and Muslims within the bureau, which is overwhelmingly white. Barodi describes being in transit from Paris to the US in early 2016, when he believes he was racially profiled in an airport encounter with a homeland security officer
Comey has publicly described the bureau's overwhelming whiteness as a problem for the bureau. But in a communication acquired by the Guardian, the director nevertheless signaled that he sees merit in keeping foreign-born FBI officials under continuous scrutiny.
Comey wrote to a Muslim analyst on 20 October: "We need folks from your background and many others if we are to be effective. Of course, we must also discharge our duty to apply appropriate scrutiny when folks have significant foreign national contacts or contacts of concern with subject [sic] of criminal, counter-intelligence or counter-terrorism cases, by virtual of [sic] family friends or travel. I see that scrutiny applied in a whole lot of contexts, and none of it is based on religion, and it never should be."
He added: "The challenge is figuring out what scrutiny is appropriate and how to talk to the employee about it."
Muslims within the FBI say that their treatment is not only unfair but frays the bureau's already shaky relationship with the US Muslim community. One recently ousted official believes his firing is a prelude to a wider "purge" of Muslims within the US national security apparatus.
"Before they can go after Muslims in general, they have to purge the US intelligence community," the analyst, Said "Sam" Barodi, told the Guardian.
Barodi was fired on 1 February 2017 after a year-long investigation that stemmed from what he considered to be a strict adherence to the rules. He refused to confirm his status as a government employee after a US customs official who was following him in a foreign airport blurted it out in a public area near his departure gate.
Henry Ford hospital is one of the busiest in Michigan, and with many patients on Medicare and Medicaid it stands to be impacted greatly by an Obamacare repeal. As the debate rages, one doctor remains the calm at the center of the storm

Dr Gerald Martin: 'If a homeless person walks thorough these doors, we give them the same care the mayor receives.' Photograph: Bryan Mitchell for the Guardian
Drew Philp in Detroit, Michigan
I

t's Monday, generally the busiest day for any ER, but at Henry Ford hospital in Detroit, it's biblical. Patients lie in beds lined up along soft hallways with harsh light, and the doctors have what they call a "campfire" going, a ring of moaning patients huddled in beds around a central dispatch area. An alarm sounds, and Dr Gerard Martin has two minutes to prepare. He doesn't yet know what tragedy will arrive by ambulance into the resuscitation bay, but he knows it's a matter of life or death.
The doctor and the patient arrive at the recess room at the same time: Martin in a white lab coat with a rapid energy devoid of panic, and the patient naked and unresponsive. One of two resuscitation bays where the most severe cases are taken, the room is all stainless steel and focused dynamism. Fourteen medical professionals swirl the room, unwrapping plastic packages and holding needles while paramedics perform CPR. Two nurses ready a yellow and black machine that looks like a drill press with an oversized button where the chuck would be.
"We call that the thumper," Martin winks before guiding a resident who is threading a needle into the flesh near the patient's collarbone. "The thumper" is an automated CPR machine, manufactured in Michigan. A tech attaches it around the man's body. The piston compresses his chest with a pneumatic sound and a click, like one of the stamping machines in Detroit's long-gone factories.
The patient's belly fat roils, his ribs break. Five minutes. Another resident squirts blood into a pan. Ten minutes. The patient's son is escorted from the room. Twenty minutes. The ambulance asks for its stretcher back.
Time of death: 7.26pm, heart attack.
Detroit is one of America's most violent and impoverished cities, and Martin has spent nearly 30 years on the spear-tip of the health crisis in a violent and ill country.
From crack (not as big a problem now as in the 1980s) to gunshot wounds (fairly steady, worse when it's hot) to heroin (currently at epidemic proportions), the challenges have varied. But Martin and the staff at Detroit's last not-for-profit hospital have tackled them all. When other civic institutions were leaving Detroit, along with prosperity and civic order, Henry Ford hospital stayed to care for the sick.
Green groups' report says move to cleaner energy in China and India is discouraging the building of coal-fired units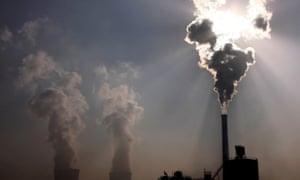 Seeing the light? China is turning its back on coal-fired power plants to clean up air pollution, curtailing planned new units and encouraging cleaner energy. Photograph: David Gray / Reuters/Reuters
The amount of new coal power being built around the world fell by nearly two-thirds last year, prompting campaigners to claim the polluting fossil fuel was in freefall.
The dramatic decline in new coal-fired units was overwhelmingly due to policy shifts in China and India and subsequent declining investment prospects, according to a report by Greenpeace, the US-based Sierra Club and research network CoalSwarm.
The report said the amount of new capacity starting construction was down 62% in 2016 on the year before, and work was frozen at more than a hundred sites in China and India. In January, China's energy regulator halted work on a further 100 new coal-fired projects, suggesting the trend was not going away.

Researchers for the groups said a record amount of coal power station capacity was also retired globally last year, mostly in the US and EU, including Scotland closing its last one.
One of the reasons for the fall in new plants was that too much capacity had been built in recent years, particularly in China.
Tim Buckley, director of energy finance studies at the IEEFA, a pro-green energy thinktank, said the falling demand for coal power in China and India and plans to curtail new power stations shows that the world has overestimated the need for the fossil fuel.
The report, which tracked power stations through publicly available information, company reports and satellite imagery, said 65GW of new coal-fired units had started construction between January 2016 and January 2017, down 62% on the 170GW the year before. Most coal power stations are around 1GW or greater in capacity.
Lauri Myllyvirta, a Beijing-based energy analyst at Greenpeace and author of the report, said the fall in China was largely down to government policy to clean up air pollution and encourage clean energy. That policy shows no sign of stopping – at the weekend, Beijing ordered its last coal-fired power plant to close in a bid to improve the capital's air quality.
Myllyvirta said that in India the decline was down to slower-than-expected growth in energy demand, and renewable energy projects being installed rapidly.
Paul Massara, the former chief executive of RWE Npower and now head of a green energy company, North Star Solar, said: "The decline in new coal plants in Asian countries is truly dramatic, and shows how a perfect storm of factors are simply making coal a bad investment."
Every single African citizen who requested a visa was rejected, according to the organizer of the African Global Economic and Development Summit
An annual African trade summit in California had no African attendees this year after at least 60 people were denied visas, according to event leaders.
The African Global Economic and Development Summit, a three-day conference at the University of Southern California (USC), typically brings delegations from across Africa to meet with business leaders in the US in an effort to foster partnerships. But this year, every single African citizen who requested a visa was rejected, according to organizer Mary Flowers.
Some are now questioning whether the denials to the Los Angeles event could be tied to the anti-immigration policies of Donald Trump, who is pushing forward with a travel ban against six Muslim-majority countries despite ongoing legal challenges.
Flowers said roughly 60 to 100 people from at least a dozen nations were denied entry to the summit, which went on as planned with a much smaller group last Thursday through Saturday.
"I don't know if it's Trump or if it's the fact that the embassies that have been discriminating for a long time see this as an opportunity, because of talk of the travel ban, to blatantly reject everyone," Flowers said in an interview on Monday. "These trade links create jobs for both America and Africa. It's unbelievable what's going on."
The problems for the trade summit mark the latest example of restricted travel to the US under Trump, whose controversial immigration policies and rhetoric have impacted a wide range of industries and communities. Soccer players, musicians, doctors, tech workers, protesters and others from across the globe have been denied access to the US, which has also experienced a slump in tourism since Trump's inauguration.
Rejected participants at the trade summit came from Nigeria, Cameroon, Angola, Ethiopia, Sierra Leone, Guinea, Ghana, South Africa and more, according to Flowers. Trump's travel ban covers Somalia, Sudan and Libya in Africa, and citizens from those countries did not seek visas for the event.
"This conference puts Americans in touch with real people so they can do real business," said Flowers, CEO of Global Green Development Group, which does economic development work in Africa.
A spokesperson for the US state department declined to comment on claims of rejections for summit participants, saying in a statement: "We cannot speculate on whether someone may or may not be eligible for a visa, nor on any possible limitations … Applications are refused if an applicant is found ineligible under the Immigration and Nationality Act or other provisions of US law."
This is not the first time the summit has struggled with visa problems, according to Flowers, who has been organizing the event since 2013. In past years, she said, roughly 40% of interested African participants were denied entry.
Nearly all of these are English-edition daily newspapers. These sites have interesting editorials and essays, and many have links to other good news sources. We try to limit this list to those sites which are regularly updated, reliable, with a high percentage of "up" time.