24 Mar
Nearly all of these are English-edition daily newspapers. These sites have interesting editorials and essays, and many have links to other good news sources. We try to limit this list to those sites which are regularly updated, reliable, with a high percentage of "up" time.

U.S. Politics
US president plays hardball with Congress by threatening to walk away from repealing Obamacare if the House fails to pass his healthcare bill
Donald Trump has warned House Republican lawmakers that he will leave the Affordable Care Act in place and move on to tax reform if they don't come together to stand behind a new healthcare bill on Friday. After a week of wrangling with GOP lawmakers, the president suffered an embarrassing setback on Thursday when a decision over the new healthcare bill had to be postponed due to a lack of support
The Trump Taj Mahal in Atlantic City has been described as the biggest gamble of Donald Trump's business career. In 1990, he relied on high-interest loans known as junk bonds to launch the casino-hotel complex. The gamble was a spectacular failure and, just over a year later, the Taj Mahal filed for bankruptcy.
Now Trump is taking the biggest gamble of his short political career. This time he is dealing not with bankers and bondholders but politicians with all their calculations around ideology and electoral cycles. Friday is make-or-break day – and no one knows what will happen.
The US president has demanded a vote on healthcare legislation in the House. If it falls, he threatens, he will leave Barack Obama's Affordable Care Act intact and move on to other issues. This came after a tense day – the seventh anniversary of Obamacare – during which the vote was postponed when it became clear it would be scuppered by Republican rebels.
The president is betting that the rebels won't dare drive all the way over the cliff. This would blow their chance to dismantle the signature policy achievement of the Obama presidency, leaving them facing the wrath of constituents and potential trouble at the ballot box. It would plunge the party into disarray.
Asked whether Republicans would be unified on Friday, Congressman Matt Gaetz of Florida told the Associated Press: "I sure hope so, or we'll have the opportunity to watch a unified Democratic caucus impeach Donald Trump in two years when we lose the majority."
But there is something else at stake – something that strikes at the very core of Trump's identity, his unique selling point as a political player. This is the man who co-authored a book called The Art of the Deal. A senior Republican dubbed him "The Closer". And on the campaign trail he declared: "If you can't make a good deal with a politician then there's something wrong with you."
The haggling and horse trading over components of the American Health Care Act should be Trump's forte. Two hours before the vote was delayed, his spokesman, Sean Spicer, had been assuring reporters that the president was on the phone to House members "well into the 11 o'clock hour" on Wednesday night and recruiting growing numbers to his cause, as if by sheer force of personality. "It's going to pass, so that's it," Spicer insisted at the time.
Trump continued to cajole but it turned out he was no Master of the Senate. Just as the courts have knocked back his travel bans, so public protests, medical professionals and free-willed congressmen demonstrated the checks on presidential power. Conservatives could not stomach legislation that did not repeal all regulations in the Affordable Care Act, while moderates were alarmed by late additions that rolled back Medicaid and eliminated 10 so-called essential health benefits such as maternity care and emergency services.
The expansion, which was originally proposed in 2008 and faced strong protest from environmental advocates, secures permit to start building from Trump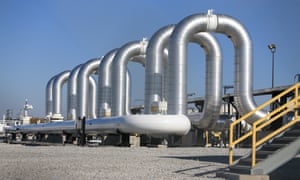 The Trump administration has issued a permit to TransCanada to build the Keystone XL pipeline, a few months after Trump signed the executive order to revive the project. Photograph: Nati Harnik/AP
2008
TransCanada proposes expanding an existing pipeline to transport oil from Hardisty, Alberta to Port Arthur, Texas, to transfer Canadian tar sands oil to US refineries. It was scheduled to be completed by 2013.
July 2010
November 2011
With a US government decision on the pipeline due by the end of 2011, thousands of people protest at the White House in a bid to persuade Barack Obama to block it. Environmental groups frame the decision as one that will define Obama's legacy on climate change.
US state department, which is involved because the pipeline crosses the US-Canada border, tells TransCanada to reroute the pipeline. TransCanada agrees.
January 2012
May 2012
TransCanada submits new application to the US state department for the northern section of the project.
March 2013
The state department publishes an environmental review which says the pipeline would not have a big impact on greenhouse gas emissions. The southern leg of the pipeline, from Cushing, Oklahoma, to the gulf coast, is also completed in 2013.
January 2014
November 2014
January 2015
The Nebraska supreme court approves the route of the pipeline through the state, removing one of the last obstacles to the project and placing the ball in Obama's court.
February 2015
November 2015
Weeks before the historic Paris climate change conference, Obama says the state department has rejected the pipeline and he agrees with the decision. He argued it would undercut US leadership on reducing carbon emissions. TransCanada said the decision was bad for the US and Canadian economies.
January 2017
Within days of taking office, Donald Trump signs an executive order to revive the Keystone XL pipeline, as well as the fiercely opposed Dakota Access pipeline. Two days later, TransCanada submits a presidential permit application to the state department.
March 2017
The state department issues a permit allowing the pipeline to be built. It says foreign policy and energy security and environmental issues were all considered.
It's not impossible that food in a restaurant in Charlotte, North Carolina could have involved undocumented workers at every stage of processing – and that deporting them would seriously hurt the whole industry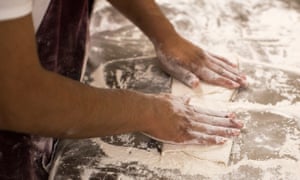 Miguel, an undocumented worker in Charlotte, NC, works in a kitchen to raise money for his children in Mexico. Photograph: Logan Cyrus for the Guardian
M

iguel has endured a lot to be able to make food for the people of Charlotte, North Carolina. As one of the city's thousands of undocumented workers from Mexico, he once spent over a week in the Texas desert after crossing the border. He hasn't seen his children for over three years.
But he loves the process of creating food, and has memorized the time it takes to prep each ingredient, and his goals for how to do it quicker. The kitchen has become his refuge – one of the only places in the city that he'll even go, now that his continued existence in the US is increasingly tenuous.
"I'm in already, there's no going back," Miguel says.
Charlotte's kitchens and food businesses are full of stories like Miguel's. This is a city where the tourist authority tells visitors to "eat your way around the world", a wealth of international cuisine that – as across much of the south – relies on the influx of Latino migrants.
You can easily find pupusas (the corn pancakes from El Salvador), tortas from Mexico, or baleada, the bean-stuffed quesadilla from Honduras – and of course the immigrant labor force works across the spectrum of cuisines, not just their own.
There are about 7,000 undocumented people in Charlotte's county estimated to be working in hospitality, such as restaurants, bars and hotels, according to the Migration Policy Institute. (The national figure is around 1.3 million.) This suggests roughly one in ten people working in hospitality positions across the city are likely undocumented, according to 2014 American Community Survey data. And that's not to mention the people who work in the city's food supply chain: the state's farms and fields employ another estimated 17,000 undocumented people, according to MIP.
Charlotte, North Carolina is a 'gateway city' for immigrants, who prop up its construction, health and food industries – not to mention its tax base. If all undocumented workers were to be deported, as the Trump administration is threatening, the consequences could be dire
It's not impossible that restaurant food in a city like Charlotte could have involved an undocumented worker at every stage – from field, to truck, to processing facility, to distribution centre, to kitchen, to the waiter placing down a plate.
My employees are immigrants and my customers are immigrants – we depend on them

Kitchen manager in Charlotte
This was apparent on the national Day Without Immigrants protest in February, when workers went on strike to show how the country would be affected if the Trump administration's crackdown on undocumented immigration intensifies. Charlotte restaurants and grocery stores closed in support, including the chain Compare Foods – one of 250 Charlotte businesses across all industries to shut down in solidarity with the workers.
One kitchen manager, Chris, who employs undocumented workers and whose business was closed the day of the protest, said the food industry and local economy relied on not just undocumented workers, but undocumented diners. "The protest impacted my pocket but it also impacted the pocket of North Carolina, the pocket of Charlotte," he says. "My employees are immigrants and my customers are immigrants – my business depends on them."
As owner of the food manufacturing business B. Roberts Foods, retired businessman Robert Shore had a clear view of how undocumented immigrants kept the city fed. The company has since been bought out by new owners, but he describes how workers in the Charlotte warehouse cooked and prepared food for retailers when he was in charge.
The Guardian's picture editors bring you a selection of photo highlights from around the world, including floral tributes to Westminster attack victims, solar system clocks and a sailor's return
Nearly all of these are English-edition daily newspapers. These sites have interesting editorials and essays, and many have links to other good news sources. We try to limit this list to those sites which are regularly updated, reliable, with a high percentage of "up" time.