25 Mar
Nearly all of these are English-edition daily newspapers. These sites have interesting editorials and essays, and many have links to other good news sources. We try to limit this list to those sites which are regularly updated, reliable, with a high percentage of "up" time.

U.S. Politics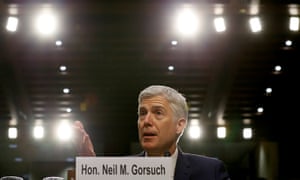 'The trouble with Neil Gorsuch, we learned this week, is not ideology but humanity.' Photograph: Jim Bourg/ReutersLucia Graves in WashingtonOn the surface, they could hardly be more different. Neil Gorsuch is known for his intellectual firepower; Donald Trump speaks at the level of a 10-year-old. Gorsuch has literary panache; Trump once referred to the size of his genitalia on a presidential debate stage. Gorsuch is a textualist; Trump makes up his own facts. And at first, it seemed confirmation hearings for Gorsuch's nomination to be the next justice on the supreme court this week would only serve to heighten these contrasts.
As Trump tweeted angry disinformation in response to the revelation of an FBI investigation into his administration, Gorsuch sat coolly before members of the Senate judiciary committee. He quoted Socrates and reminisced with Ted Cruz about playing ball on the supreme court's basketball court as young clerks.
Mainly, though, he successfully dodged senators' questions aimed at, as one put it, determining "who you really are". He was one of the most evasive nominees in recent memory, but what he did finally reveal had nothing to do with his patently conservative ideology – one thought to be even more staunchly conservative than that of the man he would replace, the late Antonin Scalia. Instead, on display were a set of unmistakably Trumpian attributes that should sound familiar to any close observer of the 2016 presidential election: a cold cognitive empathy coupled with a dearth of compassion.
One of the most revealing moments came on Tuesday as Gorsuch sought to explain his dissent in TransAm Trucking v Administrative Review Board. A focus of Democratic questioning much of the week, it has come to be known as the "frozen trucker" case. In it, Gorsuch sided with TransAm's decision to fire its employee Alphonse Maddin for disobeying company orders after his truck broke down in subzero temperatures and he began to fear he would freeze to death. After notifying his employer and waiting hours, Maddin unhitched and temporarily abandoned his trailer to seek shelter. The dissenting opinion filed by Gorsuch in effect presented him with what sounds like an inhumane option: leave and be fired or stay and risk freezing.
Senator Al Franken asked Gorsuch what he would have done in those circumstances. "I don't know what I would have done if I were in his shoes," Gorsuch replied. "And I don't blame him at all for a moment for doing what he did do. I empathize with him entirely."
Empathy is often conflated with sympathy or compassion, but there's a crucial difference. The latter connote feeling; the first does not. Having empathy, as Gorsuch said he had for Maddin, is morally neutral; it does not mean someone will necessarily help a person in need, only that they understand their situation.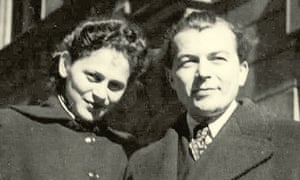 Auschwitz survivor Edita Grosman and her husband Ladislav. Photograph: Handout
"I

'm sure I've survived for a reason," says Edita Grosman. "One of us had to still be here to tell you what happened. And even if I was lying on my death bed, as long as my brain was working, I'd have to keep talking about it, especially because there are so many people who say it never happened."
The 92-year-old has travelled from her home in Toronto to her native Slovakia. On Saturday she will return to the railway station in the city of Poprad, from where, 75 years ago to the day, she was one of 999 girls and women driven in windowless cattle cars to Auschwitz.
It was the first mass transport of Jews to the death camp in Nazi-occupied Poland. Edita, who was 17 at the time, is the last remaining survivor.
"Only about 15 of those 999 came out alive," she says. "And now I am afraid I am the only one of those left.
"I will make the journey back one last time to try to keep alive the memory of all those girls who were together with me."
Grosman was living in the eastern Slovak town of Hummené, where about 60% of the 6,000 residents were Jewish, when a crackdown on Jews and the Jewish way of life began in 1938.
"It was a gradual process of dehumanisation over several years," says Grosman. "They took our jewellery from us, then our fur coats. Then we couldn't live on the main street, we couldn't own a cat. We had to wear a yellow band – the yellow stars were introduced later – and then we were prevented from going to high school and the non-Jewish neighbours stopped greeting us."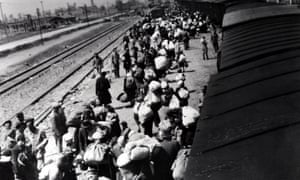 One day her family was informed that she and her sister Lea, who was two years older, and all the non-married girls aged between 16 and 30 had to be at the school at 8am on 20 March 1942. Their families were told they were to be taken off to work for the war effort. "We were allowed luggage weighing no more than 20kg. There was no way we could have carried anything like as much. We packed warm sweaters, shoes, I had two dresses, hygiene items, chunks of thick bread for the journey".
They were rounded up by members of the Hlinka guard, the military arm of Catholic priest Jozef Tiso's First Slovak Republic, a satellite to Nazi Germany. She recalls how the families cried and ran after the cattle car she and around 50 girls were packed into as it travelled to the spa town of Poprad. "There were no windows. Just one empty vegetable tin can as a toilet." Arriving that same day in Poprad, they were joined by hundreds of other girls from around the region, all of whom were kept in a holding pen near the station.
Numbering 999, they left Poprad for Auschwitz on 25 March at 8.20pm.
She vividly recalls the conversation among the girls in her wagon. "My sister, all my school friends and neighbours, people with whom we ate and played and went to the synagogue, lovely girls – from the Jakobovic, Grossmannova, Marckovicova, Reicherova families," she says, reeling off their names at a great speed. "We asked ourselves: 'Where are we going? Why only girls?'
"We had never heard of Auschwitz – it was a complete unknown to us."
One girl is believed to have leapt from the train as it made its way through Hungary, although whether she survived is unknown. They arrived at the camp, which was still in the process of being set up as a death camp, after an estimated 12 hours, on 26 March.
The SS guards had not yet arrived. Instead they were met by female German prisoners classified as convicted criminals and prostitutes who had been ordered to inspect the transport, shave the women, give them uniforms and prepare them for work. While the prisoners had been given the numbers 1-1000, the Slovak women were numbered 1001 to 2000; Edita was tattooed with 1970, her sister with 1969.
They were given a red bowl and spoon, an itchy sack-like uniform, and wooden shoes the prisoners nicknamed "clappers". "They made such a racket we had to take them off and walk bare foot whenever we went through the gate, so as not to annoy the SS," she says. They slept four or five to a wooden bed, one blanket between them, were woken at 4am and brushed their teeth using a finger dipped into the tea they received for breakfast.
When her group was ordered to stand outside for a roll call on the first day she recalls seeing the snow stained with blood. "Bizarrely quite a large number of us had got our periods at the same time," she says. "We had no underwear, no sanitary protection. But then that never happened again because of what they put in the water to prevent us from menstruating."
One day in winter Heinrich Himmler of the Nazi leadership came to inspect the camp. "An SS guard suggested it was too cold for us to be outside working. I heard Himmler reply: "Für Juden gibt's kein Wetter [there's no such thing as weather for Jews]."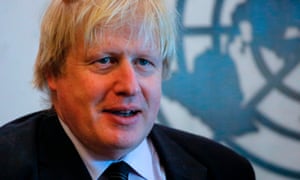 British foreign secretary Boris Johnson is paying Turkey a goodwill visit Photograph: Kena Betancur/AFP/Getty Images
The Commons foreign affairs select committee has accused the Turkish president, Recep Tayyip Erdo?an, of using an attempted military coup last summer to purge opponents and suppress human rights as the foreign secretary, Boris Johnson, embarks on the first full day of a goodwill visit to the country.
The committee's report, published on Saturday, says the government is right to engage but warns that the UK's approach to Erdo?an could damage its international reputation and weaken declining human rights in Turkey.
It said Ankara's response to the attempted coup was neither necessary or proportionate, arguing that the scale of the systematic abuse of human rights and lack of a free press in the country made it difficult to see how a referendum next month to extend Erdo?an's presidential powers could be seen as credible.
The report comes as Johnson and the foreign office minister Sir Alan Duncan visit Turkey in an attempt to cement UK trade and strategic ties with a country increasingly at odds with other European leaders.
The UK has been the EU state most sympathetic to the Turkish government since the coup attempt and also backed Erdo?an's claims that the coup was masterminded by a network of supporters of the exiled cleric Fethullah Gülen.
In contrast to Dutch and German hostility towards Turkish ministers seeking to hold pro-Erdo?an rallies on their soil, Johnson has said he would welcome them to the UK.
But given the unexpectedly critical tone of the report, Johnson will have to work to reassure Ankara about the broadness of British support.
In potentially its most damaging finding the report challenges the validity of the referendum, saying: "It is difficult to foresee a fair, free and credible referendum when media, opposition MPs and civic organisations critical of the government have been closed down or silenced."
It condemns Erdo?an's response to the coup attempt, which has seen tens of thousands of teachers and civil servants sacked as well as military personnel jailed, and says the government has sought to clamp down on dissent.
"There is a fundamental intolerance of alternative narratives in Turkey, with the government broadly suppressing, discrediting or punishing those who contradict its authorised accounts of sensitive events," the MPs said.
"The powers afforded by the state of emergency – combined with a vaguely framed definition of terrorism, a pliant media, and a politicised judiciary – have allowed the government to silence a broad spectrum of critics by labelling them as 'Gülenists' or 'terrorists' on the basis of light evidence or broad interpretations."
The report said it had not found the Turkish government's account of a Gülenist plot to be "substantiated by hard, publicly available evidence" yet noted the Foreign Office "seems willing to accept [it] broadly at face value".
"Nine months after the coup attempt, neither the UK nor Turkish governments can point us to one person who has been found guilty by a court of involvement in the coup attempt, let alone anyone being found guilty with evidence of involvement with Gülenist motives."
It warned that the UK risked "de-prioritising its concern for human rights in its drive to establish a strategic relationship with Turkey" and said the country should be added to the Foreign Office list of countries deemed as a human rights concern.
In a sweeping condemnation, the committee said civilian suffering in the resurgent conflict between the Turkish state and Kurdish militants, freedom of expression and assembly, judicial independence and restrictions on civil society organisations had all worsened since the coup attempt.
"Once held up as an example to the region, Turkey's democracy and democratic culture are under severe pressure," the report concluded. It said it was not the UK's role to tell the Turkish people how to vote, but while the "wrong choices have the potential to deliver catastrophe well beyond Turkey's borders … The right choices would cement Turkey's position as a liberal, democratic state which provides a philosophical and ideological bridge between west and east."
Directed by Dana Romanoff, edited by Blue Chalk Media, Source: Blue Chalk
Flint, Michigan is a city built on the American dream. With the disappearance of industry, it became impoverished and neglected, and so did its residents. The water crisis is just one more tragedy piled upon a mound of oppression.Noah Patton, a young man from Flint, was deeply affected after his mother committed suicide. But with the help of his pastor, he has turned his life around and is helping to positively shape the future of his community
"H

ey, come on in," I told Carlos. Silhouetted by summer sun, he stood at the front door of my Vermont house. "No," he said pointing to his work boots, heavy with mud and manure. "But can you help me?"
Carlos was one of the estimated 1,000-2,000 undocumented, mostly Mexican immigrants employed on the state's dairy farms. The actual number, like most of the workers who entered the country illegally, is hidden.
Carlos had come to Vermont after a year working construction in Texas, where even gringo bosses speak some Spanish, and where he could blend into the large Latino diaspora. In contrast, Vermont was an alien world in which he stood out. But many Vermonters, including police and officials, quietly welcome and often protect migrant dairy workers like him. Immigrants form an essential part of the local economy, and truth be told, they also offer relief from a monotonously white population that tends toward tolerance and leans toward smugness.
I met Carlos several years back when, as part of an informal volunteer network, I ferried immigrants to medical appointments or to supermarkets, where they buy the kind of calorie-rich junk food that horrifies kale-crunching Vermonters. I helped filled out forms enabling them to wire money to family in Mexico, lending my name and return address, and wondering what the IRS would make of my sending thousands of dollars to small towns in Tabasco and Chiapas.
After Vermont approved a special driver's license not requiring legal status, I taught a few guys how to drive by US rules so they could shop for themselves, get a maple creemee at a roadside stand, and visit relatives and friends on other farms.
Several had given me snippets of their tales, always without embellishment, self-pity or drama. But it was years before Carlos – bright and charming, but guarded – opened up.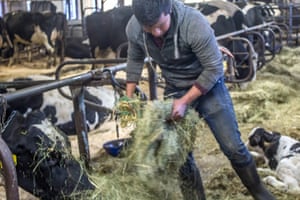 Carlos at work, tending to cows in Vermont. Photograph: Terry J Allen
The favor Carlos had come to ask that day was that I go with him for a "check-up". "Well," he hesitated, "to get tested for STI [sexually transmitted infections]."
"Are you sick? Do you need to go immediately?" I asked.
"No, I'm fine. I just want to get tested. Soon."
I phoned a local clinic, but it required one appointment for paperwork and another for testing. Two days interrupted during haying season is unthinkable for farm workers. When the grass is ready and there is a predicted stretch of sunshine, haying cannot be delayed.
Carlos suggested saving time by going to a "doc in a box" at a strip mall, so I drove him to one. I asked the receptionist about the cost: "$100 for the visit." As Carlos started taking bills from his wallet, I motioned him to stop. "And for the lab tests?" The young woman rummaged behind the counter. "Five hundred dollars, so $600 total," she said with all the animation of one of Carlos's cows.
"You're kidding," I nearly shouted. "For standard lab tests?"
"No way," I told Carlos, who was probably deeply embarrassed by me. It wasn't that he couldn't afford it, but I knew how he sweated for that much money, and how the medical system jacked up prices for the uninsured.
I phoned the community health center to compare costs, and the scheduler asked why didn't I go to Planned Parenthood. It had never occurred to me that the organization served men.
Except for a locked front door, security there appeared unobtrusive. Joining three pregnant women in the waiting room, Carlos and I made quite the intriguing couple: an ageing white woman and a handsome young Latino.
When we came to the part of a form on income, Carlos asked me what to do. I said he could report whatever amount he wanted. No, he corrected, do they want hourly, weekly, or what? He knew what I had meant, but with no inclination to cheat, wrote $30,000 a year.
The receptionist quickly scanned the paperwork. "We have a sliding scale," she said, and, with obvious pleasure, told Carlos: "You just qualify for free services."
Nearly 15% of female undergraduates at the University of Texas at Austin reported having been raped, according to a survey released by officials at the 50,000-student campus on Friday.
The University of Texas report was the result of an internet survey of more than 7,600 students and was funded by the school. Among the other findings were 28% of female undergraduates reporting unwanted sexual touching, and that 87% of all incidents occurred off-campus.
"The results of this survey of our students are of tremendous concern to me, and I know these findings are deeply troubling to every member of our community," the University of Texas president, Gary Fenves, said in a statement.
The Texas survey data works out to about one in seven undergraduate women in Austin. Nationwide, about one in four college women reported unwanted sexual contact in a 2015 survey conducted by the Association of American Universities.
The flagship Texas campus in Austin is one of the largest in the US. It released Friday's report ahead of schedule after a legislator this week revealed the 15% figure during a hearing in the Texas Capitol.
The survey comes at a time when another Texas university, Baylor, and state lawmakers are facing a sexual assault scandal involving football players at the country's largest Baptist university.
The Baylor scandal, which has engulfed the university for the past two years, has prompted several bills aimed at increasing reporting and reducing sexual assaults on campus.
Baylor officials have acknowledged at least 17 women reported having been raped by 19 football players since 2011. Lawsuits against the school put the number of alleged sexual assaults at more than 50 over a four-year period.
The scandal led to the firing of the football coach Art Briles and the university president, Ken Starr, stepping down.
A Baylor spokeswoman did not immediately return a phone call or email from the Associated Press asking if the university had conducted a similar survey.
The University of Texas was also part of the 2015 national survey that found that 18.5% of female undergraduates on the Austin campus were the victims of sexual assault.
Nearly all of these are English-edition daily newspapers. These sites have interesting editorials and essays, and many have links to other good news sources. We try to limit this list to those sites which are regularly updated, reliable, with a high percentage of "up" time.