26 Mar
Nearly all of these are English-edition daily newspapers. These sites have interesting editorials and essays, and many have links to other good news sources. We try to limit this list to those sites which are regularly updated, reliable, with a high percentage of "up" time.
The US-led coalition against the Islamic State (IS) group said Saturday that it struck a location in west Mosul where civilians were reportedly killed by aerial bombing.
"An initial review of strike data… indicates that, at the request of the Iraqi security forces, the coalition struck [IS group] fighters and equipment, March 17, in west Mosul at the location corresponding to allegations of civilian casualties," it said in a statement.
Iraqi officials and witnesses say that strikes in west Mosul have killed dozens of people in recent days, but the number of victims could not be independently confirmed, and the toll from the specific strike referenced by the coalition was unclear.
A spokesman for the Iraqi army said it was also investigating the incident, while blaming IS group tactics for the loss of civilian lives.
"The defence ministry opened an investigation into this issue," Brigadier General Yahya Rasool, the spokesman for the Joint Operations Command, told AFP.
Rasool accused the IS group of gathering civilians together and then blowing up explosives-rigged vehicles nearby to make it look like "Iraqi forces… are targeting innocent civilians."
The US has been bombing the IS group in Iraq since August 2014, and international strikes against the jihadists have played a major role in helping the country's forces push them back.
The coalition has also carried out strikes against the IS group in Syria.
Iraqi aircraft have also been bombing the jihadists, but have not released figures on estimated civilian casualties from strikes they have carried out.
The IS group overran large areas north and west of Baghdad in 2014, but Iraqi forces have since regained much of the territory they lost.
They launched the operation to recapture Mosul in October, recapturing the city's east before setting their sights on the smaller but more densely populated west.

U.S. Politics
Former vice-president tells college students in New York 'I don't have a lot of hope right now' about Donald Trump's administration
Joe Biden believes he could have won the presidency in 2016, had he made it through a tough Democratic primary.
Joe Biden, former US vice-president, says he regrets not being president stating that he believes he was the best candidate for the job. Biden, who was speaking at Colgate University in central New York state on Friday, said he made the decision not to run in 2016 due to family circumstances
Barack Obama's vice-president also hopes Donald Trump, who has had a tempestuous first two months in office since beating Hillary Clinton in the presidential election, "grows into the job a little bit".
"I don't have a lot of hope now," Biden said. "I hope that he succeeds."
The former Delaware senator with a dazzling smile was speaking to a student audience at Colgate University in central New York state on Friday. A local newspaper, the Observer-Dispatch of Utica, reported his remarks.
"On a college campus I will never, never do anything other than answer the question completely unvarnished and straightforward," said Biden, 74.
"The answer is that I had planned on running for president. And although it would have been a very difficult primary, I think I could have won."
Biden had "a lot of data collected" which backed his confidence, the paper reported.
In October 2015, after much press speculation and an organised attempt among activists to draft Biden, the vice-president announced that he would not run for the White House for a third time, after short runs in 1988 and 2008.
In an emotional speech delivered in the White House rose garden, with Obama and his wife, Dr Jill Biden, at his side, Biden said the "grieving process" for his son Beau, who died of brain cancer in May 2015, had affected his decision.
At Colgate, Biden said: "At the end of the day, I just couldn't do it. So I don't regret not running. Do I regret not being president? Yes."
He added: "I didn't run because no man or woman should announce they're running for president of the United States unless they can look the public in the eye and promise you they can give you 100% of [their] attention and dedication to this effort. I couldn't do that."
Joe Biden: 'Do I regret not being president? Yes.' – video>>
'He's a street fighter': Trump fans rally after heavy blow on healthcare>>
Donald Trump blames Democrats for stunning failure to repeal Obamacare>>
Lawmaker's 'peculiar midnight run' endangers Trump-Russia inquiry>>
Donald Trump's first 100 days as president – daily updates>>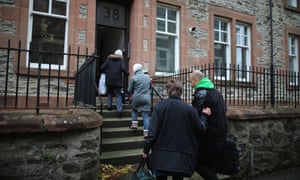 Syrian refugees arrive on the Isle of Bute in Scotland. Many asylum seekers in the UK are having to work illegally to survive. Photograph: Christopher Furlong/Getty Images
Hundreds of Syrian asylum seekers are struggling to survive in the UK, with some facing destitution and others forced into exploitative work because they are afraid of being detained and deported.
The Observer has found Syrian asylum seekers working in warehouses, construction sites and garages for as little as £10 a day. Many had stopped signing in with the Home Office after being held in detention centres for months. Hundreds more are living in destitution, reliant on charities for food parcels and clothes.
Mike Adamson, chief executive of the British Red Cross, said: "A two-tier system, where Syrian nationals who arrive in the UK as asylum seekers are left vulnerable to exploitation, seems completely at odds with the spirit behind the government's commitment to offer a safe home to 20,000 Syrian refugees under its resettlement programme.
"No one should arrive in the UK having fled conflict or persecution only to be left destitute and reliant on charity to survive."
The Observer interviewed 10 Syrians, all living in limbo because of the Dublin regulation, which means asylum seekers can be sent back to the first EU country they reach. The men were fighting removal to countries including Bulgaria, where Human Rights Watch found asylum seekers being shot at, beaten with weapons by uniformed officials and sent back to Turkey. Several of the men we spoke to were being threatened with removal to Hungary, despite the fact that the Home Office told the Observer that it is not currently returning asylum seekers there.
At least 50 Syrians have been removed under the regulation since the start of 2015, prompting some to drop off the radar. Eight of the men interviewed said that they had stopped signing in with immigration authorities because they were afraid of detention and removal. Most had family in the UK and were supporting themselves by working illegally.
Tarek, 31, has been living in the UK without documents for nearly four years. He stopped signing in with the Home Office after he was held in a detention centre for three months. "After that, I was too scared to go and sign in," he said.
Desperate for work, he found a job working with a mechanic at a garage. "Every day I'd get £10 and food and you could sleep in the garage. I worked there for three months," he said. He is being threatened with removal to Bulgaria.
Sayid, 25, arrived two years ago. After being held in a detention centre twice, he found a job in a warehouse on the outskirts of London. "I was moving food crates, carrying boxes from a lorry to a van. I'd work for 10 hours," he said. At first he was paid £3.50 an hour, then that rose to £50 a day. "I only got enough money to survive. I'm so up and down in my mind and my body, I'm not happy. In this job there are no human rights, but what can I do? I can't do anything."
The investigation also found Syrians working as gardeners, tiling bathrooms and in restaurants. Those not working and still reporting to immigration said they could not survive on the £36 a week they receive in benefits.
Osama, 18, arrived last October. He was severely wounded by shrapnel when his house was destroyed in 2015. He has been waiting for four months without papers, meaning he is reliant on government handouts. "It is so bad waiting," he said, "I just wake up, eat, maybe see friends, then I do nothing. I would work if I was allowed."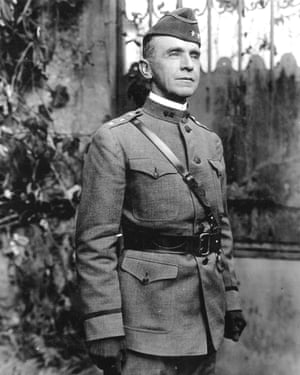 Major General Robert Lee Bullard. Photograph: US National Archives
US military scholars have rarely been as willing as their British counterparts to find fault with leadership and execution – even when those failures cost thousands of allied servicemen's lives.
But as commemorations of the first world war's centenary continue, US military scholars, as their European counterparts did decades earlier, are going back to the original records and looking more closely.
"There's a strong tradition in American military history to create and maintain heroes," says William Walker, author of Betrayal at Little Gibraltar, an account of the battle of the Argonne Forest, the final allied push of the war. Walker claims the cost in American lives of that battle would have been far lower if US forces had been not been led by an inept, vainglorious general. "However, centennials have a way of focusing attention on matters. We're seeing the mistakes that were made. In part, that's a natural re-evaluation of what happened 100 years ago. But what is astonishing is that we're seeing how some of the mistakes were covered up."
Walker claims that the disobedience of one senior officer, Major General Robert Lee Bullard, led to thousands of needless casualties in a battle which, with 122,000 dead and wounded, would become one of the largest and costliest ever fought by American troops.
For three days, Bullard delayed taking a German observation point during the assault on Montfaucon, a village in northern France that French commanders had dubbed the Little Gibraltar of the western front because it was so heavily fortified. His failure allowed the German artillery to pound the allied lines.
In his account, Walker makes the case that Bullard disobeyed General John J. Pershing's orders to take the position in order to compete with his genial counterpart and rival, George Cameron. At stake was the opportunity to lead the US Second Army.
"At that time, generals were judged on who went the farthest on the battlefield," explains Walker. "Bullard decided he wanted to go the farthest, and in doing so he abandoned his compatriots in Cameron's 79th Division." By leaving the observation point in good shape he has to answer for a three-day delay in the battle."Bullard, writes Walker, was "encumbered by a large ego and burning ambition … He knew only one direction – forward – and only one speed – fast. Bullard scorned orders from Pershing's staff that required teamwork and coordination." Walker also claims that Bullard's disobedience was covered up by Pershing, commander of the US forces and Bullard's near-contemporary at West Point military academy. While Pershing has come under criticism from other historians, including Edward Lengel in his 2009 book To Conquer Hell, Walker unearthed a remarkable affidavit published years later by one of the US officers who fought in the battle.
In it, Major Harry Parkin, 316th Infantry, 79th Division, asserted that the decision to delay taking Montfaucon was taken by Bullard explicitly to block his rival. "General Bullard said that he would not help General Cameron, our corps commander, win any battle laurels, so on account of this nasty jealousy between high officers the help was not sent to us, and the 4th Division went ahead with its much easier advance, and left us to be slaughtered … in a frontal attack against the machine guns in Montfaucon."
Bullard, Parkin continued, "received all the high military decorations of America, France, England, and Belgium. What he deserved was a long term in military prison for deliberately murdering hundreds of American soldiers".
In Pershing's account of the war, he briefly described the assault on Montfaucon, saying that a "misrepresentation of orders" had resulted in the failure to capture the observatory on the first day of battle.
The mildness of that rebuke speaks to the close friendship Bullard and Pershing had developed at West Point. "There's a mythical but well-known entity called the West Point Protective Association – a code of honour – that means you never denigrate another West Point graduate and that was very much in effect," says Walker.
But the larger question remains whether American historical scholarship will take the opportunity to further examine the US role in the first world war, a conflict Walker considers "the seminal event of the 20th century".
The exposure of military misadventure and incompetence has little tradition in the US, at least in comparison with historical excoriations of British generals such as John French and Douglas Haig or even of Churchill over the Dardanelles. Walker spent almost two decades combing the records for information about the battle. On the morning of the armistice on 11 November 1918, Bullard ordered a final attack. "He went out to watch it and found it glorious that his men were attacking German lines, despite the … cost in lives," says Walker.
Nearly all of these are English-edition daily newspapers. These sites have interesting editorials and essays, and many have links to other good news sources. We try to limit this list to those sites which are regularly updated, reliable, with a high percentage of "up" time.