29 Mar
Nearly all of these are English-edition daily newspapers. These sites have interesting editorials and essays, and many have links to other good news sources. We try to limit this list to those sites which are regularly updated, reliable, with a high percentage of "up" time.

U.S. Politics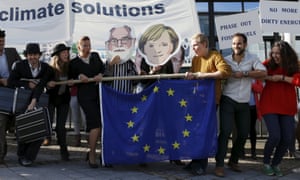 Environmental activists protest outside the EU Council in Brussels. Europe is poised to take the lead in global efforts against climate change. Photograph: Francois Lenoir/Reuters
The European Union has led criticism of Donald Trump's effort to unravel Barack Obama's measures to combat climate change, suggesting that Europe will now take the lead in global efforts.
The US president signed an executive order on Tuesday aimed at eliminating the clean power plan, Obama's landmark policy to set limits on the amount of greenhouse gases that power plants emit. America's commitment to the Paris accord of nearly 200 countries now hangs in the balance.
Miguel Árias Cañete, the EU's climate action commissioner, said: "We regret the US is rolling back the main pillar of its climate policy, the clean power plan. Now, it remains to be seen by which other means the United States intends to meet its commitments under the Paris agreement."
He added: "The continued leadership of the EU, China and many other major economies is now more important than ever. When it comes to climate and the global clean energy transition, there cannot be vacuums, there can only be drivers, and we are committed to driving this agenda forward."
The EU has the most ambitious emissions reduction target, Árias Cañete said. "We will stand by Paris, we will defend Paris, and we will implement Paris."
Christiana Figueres, former executive secretary of the United Nations Framework Convention on Climate Change, said Trump's action risked putting the US on the back foot. "I don't know anyone who wants to breathe dirty air, who wants to worry about their water source, or who wants to leave a dangerous world to their children," she said. "And because we are all united by these common desires, I am optimistic that Paris will endure, with world leadership remaining resilient in its commitments to Paris."
The president's executive order also throws out the government's method for counting the benefits of cutting carbon pollution and abandons a moratorium on new coal leases on federal lands. Reaction on Washington's Capitol Hill broke down along party lines, with Republicans welcoming the move towards energy independence.
The House speaker, Paul Ryan, said: "Today's executive order is based on a fundamental truth: energy drives our economy. President Obama disregarded this, and the result was a barrage of regulations that crippled America's energy industry. That is all in the past now. President Trump's executive order will help America's energy workers and reverse much of the damage done."
The clean power plan had "ravaged coal country", he added, and deserved a "full repeal".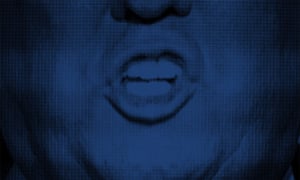 Associated Press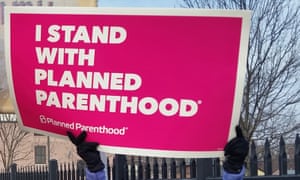 Planned Parenthood said the charges sent 'a clear message'. Photograph: Jim Salter/AP
California prosecutors have charged two anti-abortion activists who made undercover videos of themselves trying to buy fetal tissue from Planned Parenthood with 15 felonies, saying they invaded the privacy of medical providers by filming without consent.
State attorney general Xavier Becerra announced the charges on Tuesday against David Daleiden of Davis, California, and Sandra Merritt of San Jose. The two operate the Irvine-based Center for Medical Progress.
The allegations say the pair filmed 14 people without permission between October 2013 and July 2015 in Los Angeles, San Francisco and El Dorado counties. One felony count was filed for each person. The 15th was for criminal conspiracy to invade privacy.
Becerra says they used a fictitious bioresearch company to meet with women's healthcare providers and covertly record them.
Daleiden, in an email to the Associated Press, said the "bogus" charges were coming from "Planned Parenthood's political cronies".
"The public knows the real criminals are Planned Parenthood and their business partners," Daleiden said.
Planned Parenthood – which has previously said the videos were "heavily edited to deceive the public" – welcomed the charges, saying they sent "a clear message: you can't target women and healthcare providers without consequences".
In April of last year, Daleiden said in a Facebook post that California department of justice agents had raided his home, seizing all of his video footage along with personal information.
Since then, the case had gone largely quiet, with virtually no revelations about the investigation and no indication that the charges were coming before they were filed on Tuesday in San Francisco superior court.
Read Full Article>>
Singer to accept prize in 'small and intimate' Stockholm setting having turned down invitation to official ceremony last year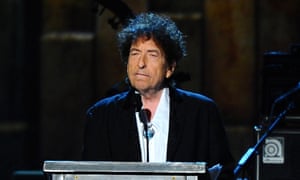 Bob Dylan is set to perform two concerts in Stockholm, on Saturday and Sunday. Photograph: Vince Bucci/AP
Bob Dylan, it seems, is not a man to be rushed. Almost five months after he was named the winner of the Nobel prize for literature, the singer will finally accept the award when he travels to Sweden this weekend.
His trip brings to a close a long-running saga that began in October when Dylan was named the winner for "having created new poetic expressions within the great American song tradition". For weeks after, the singer refused to publicly acknowledge the honour or even answer the phone calls from the Swedish Nobel academy.
The 75-year-old eventually told an interviewer that being given the Nobel was "amazing, incredible. Whoever dreams about something like that?"
He did not attend December's prizegiving, but in a speech read out by the US ambassador to Sweden said he was stunned and surprised when he was told he had won because he had never stopped to consider whether his songs were literature.
"If someone had ever told me that I had the slightest chance of winning the Nobel prize, I would have to think that I'd have about the same odds as standing on the moon," Dylan wrote.
Patti Smith also performed a specially arranged version of his beloved song A Hard Rain's A-Gonna Fall.

A nervous Patti Smith sings 'A Hard Rain's A-Gonna Fall' in Stockholm on Saturday, in a performance given to mark Bob Dylan's Nobel prize for literature. Dylan, whose speech was read out by US ambassador to Sweden Azita Raji, says the prize was 'something I never could have imagined or seen coming'
Dylan's touring schedule had long been due to bring him to Sweden this weekend, but until Wednesday he had remained silent over whether he would be picking up his SEK8m (€839,000, £726,000) winnings and delivering his Nobel lecture, which he must do by 10 June if he wants to keep the money.
Sara Danius, the permanent secretary of the Swedish Academy, said recently: "As far as the Swedish Academy is concerned, it is, in any event, clear that the 2016 Nobel prize laureate in literature is Bob Dylan and no one else."
But in a new blog posted on Wednesday, Danius wrote: "The good news is that the Swedish Academy and Bob Dylan have decided to meet this weekend.
"The academy will then hand over Dylan's Nobel diploma and the Nobel medal, and congratulate him on the Nobel prize in literature."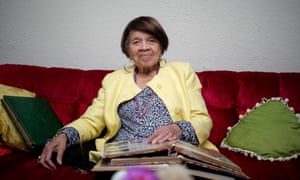 Iris Canada at her former home in San Francisco, California. Her family says she would have lived longer had she not suffered while fighting the eviction. Photograph: Josh Edelson for the Guardian
Iris Canada, a 100-year-old woman whose eviction became a symbol of San Francisco's housing crisis, died on Saturday, one month after she lost her home.
Canada, who died after a stroke, has struggled with serious health complications since the San Francisco sheriff's office evicted her on 10 February, according to housing activists and Canada's family.
"Iris Canada was betrayed by all the systems that were supposed to protect her," Iris Merriouns, Canada's niece, told the Guardian on Tuesday. "She would have lived longer had she not had to suffer so much. It was such a long, arduous fight."
The death of the centenarian marks the end of a protracted battle that received international attention as a representation of gentrification and income inequality in San Francisco amid California's growing housing shortage.
Canada's fight to stay in her first-floor two-bedroom apartment – her home of more than 50 years – began in 2014 when the owners first sought an eviction. Carolyn Radisch; her husband, Peter Owens; and his brother Stephen Owens had purchased the six-unit property in 2002 and granted Canada a "life estate" agreement, allowing her to remain until she died at a fixed rate of $700 a month.
The owners claimed that Canada eventually stopped living in her unit and failed to maintain the property, but Canada and her family vehemently denied the accusations and said she wanted to remain in the unit until her death.
The lengthy court fight – which included a judge granting more than ten requests for an eviction delay – came to a close when a court recently ruled in the owners' favor and ordered the San Francisco sheriff's office to proceed with the eviction.
Officers subsequently changed the locks on Canada's door, prompting intense protests at the office of Sheriff Vicki Hennessy, who told activists that she was acting at the direction of the court.
Canada's health worsened after the eviction, and she spent most of her time in recent weeks at the hospital, according to Merriouns. "Her heart rate never returned to normal."
"It was clear all along that this woman was not going to survive this eviction," said Tommi Avicolli Mecca, director of counseling programs with the Housing Rights Committee, a local advocacy group. "Something needs to be done to stop our seniors from being evicted. There's a lot of frustration, a lot of anger and a lot of sadness."
Merriouns was in tears recounting her final conversations with her aunt, trying to explain to her why she was unable to go back home.
"She just felt kind of thrown away," said Merriouns. "She was a person of dignity and pride, and she was not yelling and screaming. She was just simply saying, 'I want to remain in my home.'"
In an interview with the Guardian at her home last October, Canada said: "I love my house. This is my place. This is my furniture. Everything here is mine," adding, "All of this is killing me."
Mark Chernev, an attorney for the property owner, said in an email on Tuesday: "The owners were saddened to hear of Iris Canada's passing – she lived a remarkable life and will be remembered fondly."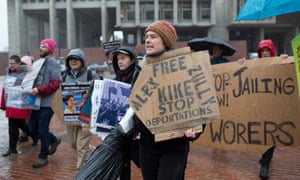 'The arrest of these three was clearly punitive and retaliatory.' Photograph: Cj Gunther/EPA
V

ermont, where I live, has the second-smallest population of any state. It's also among the most rural parts of America, and taken together those two facts produce an iron law: if you see someone with their car stuck in a snowbank, you don't drive by. You stop and help push. Because if you don't, nobody else may come by for an hour.
Which is why, I think, many of us have spent part of the past couple weeks trying to win the freedom of three of our neighbors – Kike Balcazar, Zully Palacios and Alex Carrillo. They are undocumented immigrants, who came here to work on our farms, and were detained by the (aptly named) Ice, or Immigrations and Customs Enforcement, in New Hampshire, awaiting deportation.
Even as the great healthcare debate came and went, even as the Keystone pipeline won approval – even as enormous affairs of great and lasting import captivated the nation – this particular small-town tragedy united a great many Vermonters.
Hundreds rallied in Burlington, and then hundreds more of us knelt down in the street in the capitol city of Montpelier, and hundreds more down south in Brattleboro. In Vermont, "hundreds" is a sizeable denomination – save for the tractor pulls at the best county fairs, that's about as many people as ever gather in one place at one time.
The arrest of these three was clearly punitive and retaliatory. They weren't just farmworkers – they were leaders of the community, who had come out into the open to try to win some rights for their brethren. Two were picked up after they left the office of Migrant Justice, the local campaign that tries to improve conditions for the undocumented. The third was on the way to the local courthouse, where state prosecutors were waiting to dismiss an old DUI arrest. It's the type of Trumpish political repression we need to push back at whenever it happens.
The harassment of the undocumented, which makes little sense across America, where they clearly contribute more economically than they cost, is utterly illogical in Vermont. Vermont's unemployment rate in February was 3%, which means it's about as low as anywhere in the known universe.
For employers in the state, the great problem is attracting enough new workers, especially young ones. They tend to stay away in part because Vermont is about as white as it gets, lacking the diversity that young Americans now take as a normal blessing. (Also, your cellphone won't work in about 75% of the state, but that's a different story.)
The dairy economy of Vermont would collapse without these workers. The number of dairy farms has dropped from 15,000 at the end of the second world war to less than a thousand today, but the amount of milk the state produces has remained at the same level – that is, family farms have been replaced by big industrial dairies.
The work there is hard and unforgiving, and the farmers report they can't find many Americans, at any price, willing to do it. Big industrial dairies are a bad idea, and Vermont will be better off in every way if it continues to build local, small-scale agriculture – but for the moment it's what we've got.
Nearly all of these are English-edition daily newspapers. These sites have interesting editorials and essays, and many have links to other good news sources. We try to limit this list to those sites which are regularly updated, reliable, with a high percentage of "up" time.