03 Apr
Nearly all of these are English-edition daily newspapers. These sites have interesting editorials and essays, and many have links to other good news sources. We try to limit this list to those sites which are regularly updated, reliable, with a high percentage of "up" time.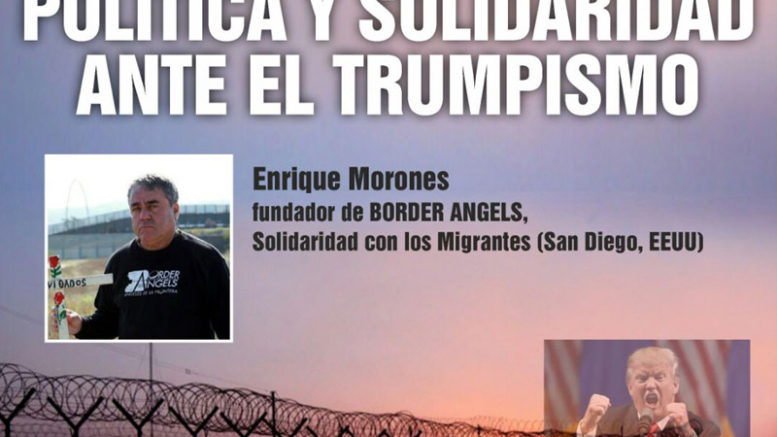 • Founder of California-based group spoke to migrant rights activists in Tenerife
• 'Border Angels' hopes to help provide assistance in Spain to migrants, refugees
The founder of U.S. migrant assistance organization 'Border Angels' addressed Spanish immigration rights activists in Tenerife last week and said his organization is hoping to establish chapters in Spain to help provide humanitarian assistance to Middle Eastern and African immigrants and refugees seeking political asylum status in Europe.
Enrique Morones, who founded Border Angeles in 1986 in San Diego, California, and has overseen the organization's assistance provided to thousands of predominantly Mexican and Central American immigrants making the desert border crossing from Mexico into California, says he sees much the same need for emergency and humanitarian assistance for refugees and migrants fleeing the turmoil in their countries and seeking a new life in Spain and Europe.
The partial wall constructed by the United States along the border with California in 1996, he said, has resulted in the deaths of thousands of immigrants over the past decade. Morones said the current global immigration and refugee crisis is very worrisome and noted that last year alone, nearly 8,000 migrants and asylum seekers died last year attempting to cross borders to reach safe haven, with nearly 5,000 dying just trying to reach Europe from North Africa.

U.S. Politics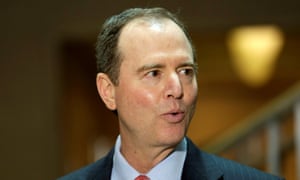 Adam Schiff, of the House intelligence committee, said Devin Nunes and the White House had made an effort 'to basically say, 'Don't look at me, don't look at Russia, there's nothing to see here'. Photograph: Yuri Gripas/Reuters
Donald Trump's White House and a Republican congressman who is supposed to be investigating Russian interference in the US election conspired to divert attention from Moscow's actions, a senior Democrat alleged on Sunday.
Adam Schiff accused Devin Nunes, the Republican chairman of the House intelligence committee, of colluding in an "attempt to distract" the public from concerns over potential links between Trump and Russian meddling.
Schiff, the committee's top Democrat, said on CNN's State of the Union that Nunes and the White House had made an "effort to point the Congress in other directions, to basically say, 'Don't look at me, don't look at Russia, there's nothing to see here'."
Nunes threw his investigation into chaos last month by announcing, without consulting committee members, that he had received evidence that members of Trump's presidential campaign were swept up in electronic surveillance of foreigners by the Obama administration.
The congressman's announcement gave a boost to efforts by Trump and his backers in the rightwing media to reframe Obama-era investigations of Russian interference – and possible collusion with Trump associates – as nothing more than politically motivated surveillance of the Republican presidential campaign.
Trump falsely claimed that Nunes's findings supported his false allegation on 4 March that Obama ordered the wiretapping of Trump's campaign headquarters by US spies. Trump was under pressure to explain himself after Obama's former director of national intelligence flatly denied the allegation.
It then emerged last week that two White House officials were actually involved in supplying Nunes with the evidence of "incidental" surveillance of Trump staff, suggesting intelligence materials may have been used for political purposes. Nunes viewed the documents during a mysterious late-night visit to the White House.
Schiff accused those involved of trying to "hide the White House hand" in making public the information.
Democrats accuse Nunes of working to protect his party's president rather than concentrating on independent oversight of the White House. US intelligence officials have concluded the Russian interference was designed to help Trump beat Hillary Clinton, his Democratic opponent.
Trump over the weekend continued to seize on Nunes's original allegation that the identities of Americans caught up in the surveillance had been improperly "unmasked" by US officials, for internal use during the Obama presidency.
Every time we turn around, another shoe drops from this centipede

John McCain
"If this is true, does not get much bigger," Trump said on Twitter. "Would be sad for US" On Sunday he added: "The real story turns out to be SURVEILLANCE and LEAKING! Find the leakers."
Schiff has said, however, that Nunes privately admits the names of most Trump associates in the documents did, in fact, remain "masked" – and that Nunes merely thought he could piece together their identities by reading between the lines. Identities of Americans may, in any case, be disclosed internally if necessary.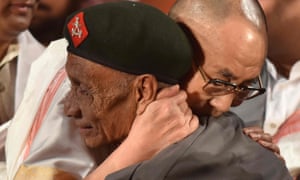 The Dalai Lama who has lived in exile ever since fleeing Tibet in 1959, was visibly emotional as he embraced Naren Chandra Das Photograph: Biju Boro/AFP/Getty Images
The first time they met, Indian paramilitary guard Naren Chandra Das was ordered not to talk to the bespectacled young soldier he was escorting near the Chinese border in a top-secret mission.
Nearly 60 years later, Das was reunited with the Dalai Lama in an emotional ceremony that recalled the Buddhist leader's escape from Tibet after a failed uprising against Chinese authorities.
This time the Dalai Lama had the first word. "Looking at your face, I now realise I must be very old too," he told Das, 79, at a ceremony on Sunday in the north-eastern city of Guwahati.
The ceremony is likely to fuel anger in Beijing over the Dalai Lama's tour of north-east India, including Arunachal Pradesh, a border state with areas that China regards as its own territory.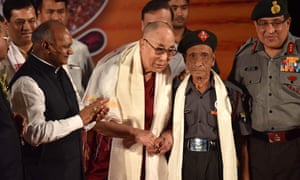 The Dalai Lama said: 'Looking at your face, I now realise I must be very old too,' on meeting Naren Chandra Das again. Photograph: Biju Boro/AFP/Getty Images
It has warned India that the tour by the Dalai Lama, whom Beijing calls an "anti-China separatist", will do serious damage to ties between the two Asian powers.
In Guwahati on Sunday the Dalai Lama – who denies seeking Tibetan independence – remembered the "warm-hearted" welcome he received in India after a 13-day trek through the Himalayas to escape the Chinese army.
"The days prior to my arrival in India were filled with tension and the only concern was safety, but I experienced freedom when I was received warm-heartedly by the people and officials and a new chapter began in my life," he said.
The Dalai Lama fled his Lhasa palace in March 1959 when he was 23 after years of tension between Tibetans and the Chinese government erupted into popular rebellion.
Disguised as a Chinese soldier, he and members of his cabinet slipped out of the palace and trekked by night through mountains and across the 500-metre (1,640ft) Brahmaputra river to reach the Indian border.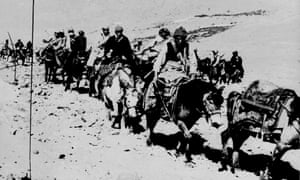 The Dalai Lama and his escape party cross the Zsagola pass, in southern Tibet on 21 March 1959, while being pursued by Chinese military forces. The 23-year-old Dalai Lama is aboard the white horse. Photograph: HG/Associated Press
Until he appeared in India, some observers feared the Dalai Lama had been among the estimated 2,000 people killed when the Chinese crushed the uprising.
India offered him asylum and a home base in the hill town of Dharamsala, where he was permitted to set up a government-in-exile. About 80,000 Tibetan refugees soon joined him in the Himalayan town.
Opinion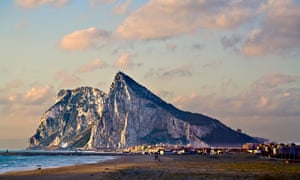 'This war meme over Gibraltar is not new in Tory thinking.' Photograph: John James Wood/Getty Images
A

nton Chekhov's rule was that if a gun appears in act one, by act three it must go off. This basic principle of drama holds true in diplomacy as well: don't make promises you can't keep, or threats you can't deliver on. It's a principle that Conservative politicians blathering about conflict with Spain over Gibraltar would do well to study.
On Sunday, the former Tory leader Michael Howard, citing Margaret Thatcher's war with Argentina over the Falkland Islands, said he was "absolutely certain that our current prime minister will show the same resolve in standing by the people of Gibraltar". It was no slip. This war meme over Gibraltar is not new in Tory thinking. Luke Coffey of the Heritage Foundation – a US conservative thinktank – has, since the Brexit vote, been calling for warships to be deployed around Gibraltar. Yesterday, in response to the row over Howard's comments, Coffey retweeted a picture of the Argentine cruiser General Belgrano sinking.
Sending warships to Gibraltar, and preparing what Coffey calls a "robust air bridge" should Spain close the land border, makes sense only if you buy the wider fantasy: that Britain's future after Brexit involves rekindling its colonial empire, both as a market and a diplomatic sphere of influence.
The economist Andrew Lilico, a hard Brexiter, advocates the creation of an alliance called Canzuk – involving Britain, Canada, Australia and New Zealand together with former colonial dependencies. Although Britain's trade with the Canzuk countries amounts to just 3% of GDP (compared with 40% with the EU), for Lilico it's not just about trade. He wants a military alliance involving the primarily white, English-speaking countries, backed up with a new free-movement deal.
Lilico's rationale rests on the "cultural similarity" of the Canzuk countries, which he assumes could override, say, the geographic proximity of Australia to China, and Canada to the US. Bonkers though it sounds, the proposal is more realistic than the official policy of the British government, which its own civil servants have derided as "Empire 2.0".
Liam Fox, the minister for international trade, last month began the process of persuading the 52 nations of the Commonwealth – including giant populations in India and Nigeria – into a free-trade agreement with the UK. The only problem is, as 32 of them pointed out, they already have free trade with the EU via special agreements with the UK. If the UK leaves the EU before signing free-trade agreements with these ex-colonies, trade will be more free between them and the EU than it will be with the UK.
Empire 2.0 is, then, in all its forms, a fantasy. It is a displacement activity for Fox and his cronies in the rightwing thinktanks to avoid confronting the main task posed by Brexit: to salvage our trading, diplomatic, military and cultural ties with Europe.
But it has deep roots not just in the thinking of the Tory right, but in that of a xenophobic minority in England whose consciousness is moulded by the Daily Mail, nostalgia dramas on TV and an almost continuous stream of military pageants on this or that anniversary of this or that war.
For them, the UK's connections with Europe were always the source of cognitive dissonance. Britain's essential destiny was to "rule the waves", not just through sea power, but through the cultural hegemony of its pop icons and its fashion designers.
That was always the subtextual meaning of the small wars the UK kept fighting: over the Falklands, with Iceland over fishing rights. It was the subtext, too, for the weirdly distributed bases of the British army: jungle training in Belize; the Gurkhas, stationed not just in Nepal but in Brunei; the two sovereign territories on Cyprus; and, of course, Gibraltar itself.
Maintaining a string of non-defensible bases between Borneo and Bermuda made sense as long as these were merely the legacy of an empire. But after 2010, Conservative military-diplomatic policy, under the influence of Coffey, among others, evolved towards the totally unrealistic philosophy of "global reach".
Enshrined in the 2015 Strategic Defence and Security Review, global reach revived the principles of imperialist thinking. The UK's military-diplomatic strategy is designed to enhance its "security and prosperity". Although it sounds meaningless, this phrase has for the Tories a specific meaning: we will go on arming dictators as long as they are not a threat to the UK; we will sign lucrative training deals with the armies, dictators and autocrats as long as it promotes trade. And we will project power way beyond the Nato eastern flank and the Middle East, the two regions where UK military power has been focused for decades.
Nearly all of these are English-edition daily newspapers. These sites have interesting editorials and essays, and many have links to other good news sources. We try to limit this list to those sites which are regularly updated, reliable, with a high percentage of "up" time.