04 Apr
Nearly all of these are English-edition daily newspapers. These sites have interesting editorials and essays, and many have links to other good news sources. We try to limit this list to those sites which are regularly updated, reliable, with a high percentage of "up" time.

Senator Antonio Razzi is an eccentric who has lost his ability to make us laugh; if anything, he deserves our pity. His new selfie companion, Bashar al-Assad, isn't funny either, but he's scary too.
"Eccentric" is not a derogatory term, and Senator Razzi himself seemed highly amused by Maurizio Crozza's hilarious impersonation of him, his caricature of a politician at constant loggerheads with the Italian language and culture in general. It is a mystery how he managed to get elected to what was once a prestigious institution such as the Senate, an institution which, discredited though it may be, should aspire to a minimum of solemnity and respectability from its individual members.
But yesterday, when Razzi detached himself from the European delegation on a visit to Damascus, and began to take chummy selfies with the Syrian tyrant Assad, the serial murderer of his own people, and then posted them online to get a bit of publicity, people stopped laughing. All attempts at irony were bound to fail, and no satire, however fierce, could even get close.
Joking with a man who in recent years has slaughtered over 200,000 civilians, including countless children, goes far beyond the merely ridiculous; it is frankly obscene. It is true that Senator Razzi is not new to this type of political-media stunt, and in the past he has even championed the views of North Korea, which is a brutal dictatorship, even if its totalitarian theatricals have something of the high grotesque. He was sadly not alone in this – Matteo Salvini took a similar line. But this is different. The images of the carnage in Aleppo are still fresh in our minds. We can still smell the gas that Assad sprayed over the Syrian people. We are guilty of hypocrisy for forging an alliance with a tyrant in order to fight IS, but we could at least refrain from laughing about it, trying to bring the house down using the script of a tragedy. It is not clear why Forza Italia, if it hopes to maintain a modicum of respectability, does not distance itself from a senator who cheapens the image of a party that aspires to govern Italy. Razzi is no longer funny. He has lost all sense of proportion along with his sense of humour. His selfie with the dictator is worthy only of our pity and sadness, not to mention our anger.

U.S. Politics
Jeff Sessions made clear during his confirmation hearings that he wanted to hand authority back to local police chiefs. Photograph: Michael B. Thomas/Getty Images
The US attorney general on Monday ordered a nationwide review of all reform agreements with local police departments, placing a key part of Barack Obama's legacy on criminal justice in jeopardy.
Jeff Sessions signalled in a memo filed to a federal court that "consent decrees" such as those struck in recent years with troubled departments in Ferguson, Missouri, and Baltimore, Maryland, could be scrapped or scaled down.
"It is not the responsibility of the federal government to manage non-federal law enforcement agencies," Sessions said in the memo.
Sessions said he had instructed senior officials to reexamine all formal agreements between the department of justice (DoJ) and police agencies – from training initiatives, to collaborative reform programs, to legal consent decrees – to ensure they fit his series of operating principles for his department.
These included: "The misdeeds of individual bad actors should not impugn or undermine the legitimate and honorable work that law enforcement officers and agencies perform in keeping American communities safe."
The American Civil Liberties Union's legal defense fund slammed the move, calling it "a blatant attempt by the justice department to abandon its obligations under federal civil rights law and the US constitution".
In a statement, the ACLU also took issue with the attorney general's suggestion that abuse within police departments was attributable to "the misdeeds of individual bad actors".
"There is no national census of police misconduct to support the DOJ's notion that there are only a few bad actors in law enforcement. Indeed, DOJ's own investigative reports over the past eight years document systemic unlawful policing practices of local law enforcement in cities across the country."
Sessions, a hardline conservative who was previously a US senator for Alabama, has frequently accused the Obama administration of unfairly maligning all police because of the use of arguably excessive force by officers in a handful of high-profile lethal cases.
Sessions made clear during his confirmation hearings in Washington in January that he was prepared to weaken legal reform agreements in order to hand authority back to local police chiefs.

John Brennan told BBC Newsnight that president's insistence on using term 'radical Islamic terrorism' helped legitimise Isis
The former CIA director told BBC Newsnight's Kirsty Wark that the US administration's attempts to block visitors from six Muslim-majority countries 'is wrongheaded and I don't think it would enhance the security of our country'.
The former CIA director John Brennan has described Donald Trump's travel ban on visitors from Muslim countries as "simplistic and misguided", predicting it would be counterproductive if implemented.
Brennan, who was director of central intelligence from March 2013 until the last day of the Obama administration on 20 January this year, was highly critical of a range of Trump policies and actions in an interview with the BBC Newsnight programme aired on Monday night.
He said the administration's use of the phrase "radical Islamic terrorism" served to legitimise terrorists in their own eyes, and warned that the president's disparagement of US intelligence agencies would hurt morale and recruitment.
The former spy chief reserved his most critical remarks for the executive order (EO) stopping entry to the US for refugees and suspending entry for travellers from six predominantly-Muslim countries. Two successive versions of the ban have been halted by courts, most recently in Hawaii and Maryland, and the administration is appealing against those rulings.
"Their proposed EO really I think was too simplistic and misguided because it was identifying one's nationality as being responsible for a potential terrorist act," Brennan said. "It is wrongheaded and I don't think it would enhance the security of our country."
Asked if he thought the ban would be counterproductive for US security, Brennan said: "I do, because a lot of citizens from those countries who have very legitimate reasons to travel to the US are really going to see this as reflecting a very different tone from the US … To me, I think they're going to see that as profiling specific nationalities."
He was also dismissive of the Trump administration's preference for the term "radical Islamic terrorism" in describing what it sees as the principle threat to the US.
"When you refer to the terrorist as following radical Islam, it legitimises the terrorist in terms of that they're actually carrying out a legitimate tenet of the Islamic faith and they're not," he told Newsnight.
Brennan was director of the CIA when it agreed with other intelligence agencies and the FBI at the end of last year that the Russian government had intervened in the 2016 elections to Trump's benefit. He took part in a briefing on those conclusions presented separately to Barack Obama and Trump on 6 January. Asked about possible collusion between the Trump campaign and the Kremlin, he said: "It would be premature at this time to make any determination or rule anything out."
Brennan was also scathing about Trump's denigration of the intelligence agencies, in the wake of their conclusions on the Russian role in the election and subsequent leaks about continuing investigations of Trump aides. Just over a week before taking office, the then president-elect compared the US intelligence community to Nazi Germany.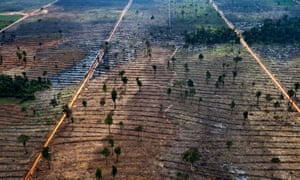 How do you stop the destruction of forests for agriculture or timber? Photograph: Kemal Jufri / GREENPEACE/EPA
1 | Stop subsidising agriculture that harms forests
Countries need to stop using outdated fiscal policies for agriculture. In some places, such as Brazil and Indonesia, the amount spent by their governments on subsidising agriculture is more than 100 times higher than the international funding provided to those countries for forest conservation. It sends out a contradictory message if a government is signing up to zero deforestation commitments on one hand, whilst simultaneously making deforestation more attractive to farmers.
Some countries are taking positive steps, however. Ecuador, for example, has 27 different subsidies to support palm oil production. Once they found out that some of these subsidies can harm forests, the ministers of environment and agriculture got together and agreed to review the country's fiscal policy framework, to better align it with sustainable development. We need more of these types of holistic, coherent policy reforms. Tim Christophersen, UN-REDD team leader, UN Environment, Nairobi, Kenya @TimChristo
2 | Invest in indigenous people
Forest dwellers are best placed be the first ones to indicate threats and call for help. In the past, radio units were installed in some indigenous communities in the Brazilian Amazon and they did wonders. I think the more we invest in getting low cost tech resources like this to people living in forests, the more we will get in return to fight deforestation. There are 20 million people living in the Brazilian Amazon, we should support their role in protecting their forests. They are the best park rangers as their cultures and livelihoods depend on healthy forests. Yet support rarely reaches them. Rachel Biderman, director for World Resources Institute Brazil, World Resources Institute, Sao Paulo, Brazil @rachel_biderman
3 | Talk about the causes of deforestation

There is a lack of understanding about the pressures and demands being placed on forests and dialogue around alternative sustainable options. For example, we know that in sub-saharan Africa the vast majority of wood is used for household energy – this puts enormous pressure on local forests and reflects the really tough choices poor local communities have to make every day. Elsewhere the choice is often between keeping forests standing or removing them for agriculture to take place. It appears a binary choice but it should not be. Going forward we need to think about how these pressures can be best absorbed – having a full and frank dialogue with all the people involved is essential. Ian Gray, coordinator, Forest Investment Program, Washington DC, USA
4 | Show that conservation is not a barrier to economic development

It's essential for the protection and restoration of tropical forests to actively dispute the false dichotomy between environmental stewardship and economic development.
Even in the short term the evidence is that countries are generally much better off – in terms of the productivity of their agriculture, in terms of local environmental benefits, in terms of social justice – through well-managed land use that combines forest protection and restoration with sustainable management of forests and higher productivity agriculture, than with the model now often prevailing.
Several governments are realising this and taking measures to change the paradigm. Brazil's remarkable reduction in deforestation in the Amazon went hand in hand with impressive agricultural growth. Per Pharo, director, The Norwegian Climate and Forest Initiative, Oslo, Norway
5 | Pressure companies to monitor supply chains

If companies want to meet the zero deforestation target by 2020, they need to increase their ambitions and be more effective at implementation. They have to set up effective monitoring systems that are transparent, so consumers can hold them accountable. Governments also have a role to play in supporting companies meet these targets. For example, Brazil has a lot of data that would help companies to control their whole supply chain, but it is not available. The commercialisation of illegally sourced cattle is an example. The information that would allow companies to monitor indirect suppliers is not shared with them. Cristiane Mazzetti, Greenpeace Amazon campaigner, Greenpeace Brazil, Manaus, Brazil @crmazzet
Greenpeace has consistently provided accurate and genuine guidance

Guardian commenter
Companies need to activate partners in forested countries to closely monitor their supply chains. They cannot do it by satellite images only. NGOs, communities and indigenous groups can all help in monitoring what is going on close to the ground, but companies need to invest some money if they want the job done properly. Rachel Biderman
In a previous role I was responsible for implementing such commitments for a large multinational firm and I can tell you from direct experience the primary bottleneck is cost. Sustainable supply chains, especially in forest products, are expensive. A verified sustainable source generally costs about three times more than a traditional source. However, there are some environmental NGOs who are amazing partners in helping develop unique approaches to building sustainable forest product supply chains. Greenpeace for example, has consistently provided accurate and genuine guidance. Guardian commenter Cateernaut
Opinion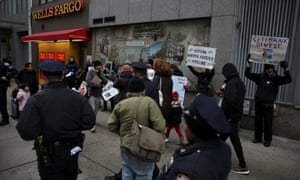 'Divestment campaigns have a long history as a tool to pressure governments and companies to act in morally.' Photograph: Ashlee Espinal/Reuters
M

oney is power. And when money conspires to block the path to a just and sustainable future, it takes the organized efforts of millions of people to break through those roadblocks. Divestment has worked in the past – and it is time to rediscover its power.
The fossil fuel industry, and its enablers in government and the financial sector, have a stranglehold on the country. These must be resisted at every turn.
The biggest first step was recently taken in Seattle, where city leaders voted to divest $3bn in public investments in Wells Fargo Bank, a prime investor and lender to companies building the Dakota Access Pipeline (DAPL) in defiance of the Standing Rock Sioux's treaty rights to protect its water and sacred cultural lands.
Seattle may be the biggest local government to act, but it is not alone. Across the United States, from Eugene in Oregon to Providence in Rhode Island, many localities are in varying stages of requiring the pension funds and other investment vehicles they control to divest from fossil fuel companies. Similarly, financial institutions that underpin their ability to carry out environmentally and, in the case of the Standing Rock Sioux, culturally destructive extractive activities, are also being targeted with divestment.
Divestment campaigns have a long history as a tool to pressure governments and companies to act in morally and socially productive ways. The Rev Desmond Tutu, the retired South African Anglican bishop who was at the forefront of the anti-apartheid campaign, said the same tactics that began small and mushroomed into a worldwide campaign to end the racist regime can work to force the world to wean itself from its climate-altering addiction to fossil fuels.
"It makes no sense to invest in companies that undermine our future," Tutu wrote in the Guardian. "To serve as custodians of creation is not an empty title; it requires that we act, and with all the urgency this dire situation demands."
And it should be no surprise that a predatory financial company that cares little beyond its bottom line has been accused of imposing boiler room-type tactics and sales goals on its employees, and has been forced to pay $175m to the Justice Department in connection with allegations of discriminatory lending practices.
Wells Fargo has millions invested in companies building the Dakota Access pipeline, which has drawn national attention for its utter disregard both for its environmental impacts and the treaty rights of the Standing Rock Sioux to protect against the pipeline's path through sacred Sioux water and burial sites. Wells Fargo is not the only target of the divestment campaign, though: many others are facing intense public pressure.
BayernLB, a German bank, recently ended its $120m in investments in the DAPL project. And Dutch banking and financial services giant ING, citing its discussions with indigenous leaders and other protesting DAPL, announced in March that it was selling its $120m stake in $2.5m of loan financing that a consortium of institutions has provided to the project.
Treaties – in the case of DAPL, a series of mid-19th century treaties between the United States and the Great Sioux Nation collectively known as the Fort Laramie Treaties – are enshrined in the US constitution as the supreme law of the land, though the American government has too often treated those treaties as worth less than the paper on which they are written.
We have seen in the short time since Donald Trump became president that civil society can use the tools of protest and resistance to change the path of American history in the face of injustice. Whether it is federal courts blocking the racist Muslim-focused travel ban, or thousands of people confronting Republican Congress members at town meetings in their home districts, collective action has been an effective counterweight to one-party control of the formal levers of power in Washington.
Nearly all of these are English-edition daily newspapers. These sites have interesting editorials and essays, and many have links to other good news sources. We try to limit this list to those sites which are regularly updated, reliable, with a high percentage of "up" time.