06 Apr
Nearly all of these are English-edition daily newspapers. These sites have interesting editorials and essays, and many have links to other good news sources. We try to limit this list to those sites which are regularly updated, reliable, with a high percentage of "up" time.
The debate over migration is plagued by a variety of inaccuracies and misunderstandings — on both the right and the left. Here is what the research really shows.
AFP Migrants at the Greece-Macedonia border in March 2016
Migration was the issue of the year in 2016 and it will likely remain important in 2017. The topic is, however, just as hotly debated as it is poorly understood. The so-called "refugee crisis" in Europe and the omnipresent images of overfilled boats arriving on Mediterranean shores give the impression that migration is threatening to spin out of control and that radical action is needed to curtail the uncontrollable influx of migrants. The fear of mass migration has fueled the rise of extreme nationalist parties throughout Europe and helped Donald Trump win the presidential election in the U.S.
This call for tougher migration policies is juxtaposed by another, albeit somewhat weaker, opinion voiced by the business sector, human rights and religious organizations and left-liberal parties. They argue that migration tends to be beneficial for both origin and destination societies, and that we should not see refugees as a burden but as a potential resource.
But in this polarized debate, the rather more sobering facts unfortunately get lost. Both the left-wing and right-wing narratives on migration are rooted in a series of myths that reveal a striking lack of knowledge about the nature, causes and consequences of migration processes. This text examines eight of the myths that I have often encountered in my research.
1. No, closed borders do not automatically lead to less migration.
It isn't quite as easy as simply slamming the door shut. Migration restrictions can have several unintended side-effects which may undermine their effectiveness. First, restrictions can compel migrants to find other legal or illegal channels – the use of family reunification channels by de facto economic migrants, for example. Second, strict border controls often divert migration flows through other terrestrial and maritime routes, thereby increasing the market for smugglers. Third, restrictions can lead to surges of "now-or-never" migration. When Suriname became independent from the Netherlands in 1975, for example, about 40 percent of its population migrated to Holland before visas were introduced.
Finally, restrictions tend to interrupt circulation and push migrants into permanent settlement. This is what happened, for instance, with the so-called "guest-workers" in the 1970s and '80s. Fearful that they would not be able to re-immigrate after a temporary return home, many opted for permanent settlement. Prior to 1991, when movement was free, many Moroccans travelled back-and-forth to Spain as seasonal and temporary workers, but the introduction of visa requirements in 1991, as a consequence of the Schengen Agreement, set in motion the phenomenon of illegal boat migration and triggered permanent settlement of Moroccan laborers in Spain. They, in turn, brought over their families, leading to the rapid growth of the Moroccan population in the country to over 700,000.
This does not mean that governments cannot or should not control migration. It rather shows that liberal immigration policies do not necessarily lead to mass migration and that ill-conceived migration policies can be counterproductive. Free migration is often strongly circulatory, as we see with migration within the EU. The more restrictive entry policies are, the more migrants want to stay. Such unintended effects create fundamental dilemmas for policymakers.
2. No, migration policies have not failed.
Significant media attention on persistent boat migration and irregular border crossings have created a distorted and misleading image that migration policies are "broken" and borders are beyond control. The intense focus on the "refugee crisis" has hidden the fact that most migration policies are, in fact, quite effective. After all, the large majority of migrants – according to best available estimates, at least nine out of 10 – enter Europe legally, defying the idea of that migration is "out of control." As such, illegal migration is a relatively limited phenomenon. Periods of extremely high refugee migration, such as in 2015 or in the 1990s during the Balkan conflicts, are more the exception than the rule and tend not to last.
Immigration is not a flow that can be turned on and off like a tap. Modern immigration policies aim to influence the selection and timing of migration rather than volumes of migration. We do, however, often overestimate what migration policies can achieve. This is because migration is driven by processes of economic development and social change – both in origin and destination societies – that lie beyond the reach of migration policies.
************There is an urgent need to see migration as an intrinsic part of economic growth and societal change instead of primarily as a problem that must be solved. It is inevitable that open and wealthy societies will experience substantial immigration in the future as well, whether they like it or not…….

U.S. Politics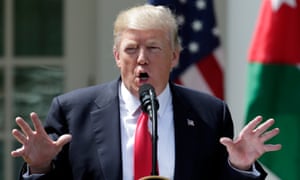 Donald Trump: 'I don't think Bill did anything wrong.' Photograph: Yuri Gripas/Reuters
Donald Trump defended Fox News host Bill O'Reilly on Wednesday as dozens of advertisers backed away from O'Reilly's top-rated evening news program because of a mounting sexual harassment scandal.
More than 20 advertisers cut their ties to O'Reilly's show following a New York Times investigation published on Saturday that said about $13m in settlements had been paid to women who had accused O'Reilly of sexual harassment and inappropriate behavior.
"I think he's a person I know well – he is a good person," Trump told the New York Times. "I think he shouldn't have settled; personally I think he shouldn't have settled. Because you should have taken it all the way. I don't think Bill did anything wrong."
O'Reilly has interviewed Trump multiple times, including in October 2016, when the two discussed a 2005 video that showed the president saying that he would kiss women without their consent and that being a star means "you can do anything," including "grab them by the pussy".
The video did not stop Trump from winning the presidential election, but O'Reilly's career has been threatened by the sexual harassment allegations.
In response to the allegations, O'Reilly said in a statement that his notoriety has made him "vulnerable to lawsuits" and that he has paid settlements to "put to rest any controversies to spare my children". He did not address the allegations on his news program on Monday or Tuesday night.
David Folkenflik, author of Murdoch's World and NPR's media correspondent, told the Guardian that O'Reilly's fate is in the hands of the acting Fox News CEO, Rupert Murdoch, and his sons, James and Lachlan, executives at the network's parent company, 21st Century Fox.
"Simply bumping out their top performing star, who they are paying in the high teens of millions per year to continue isn't a decision they take lightly," said Folkenflik. "On the other hand, it dramatically undercuts the contention made by Murdoch's sons – and made by Rupert Murdoch himself – that the culture has changed for employees generally, and particularly for women."
The Murdochs are under pressure to address the O'Reilly allegations amid a torrent of scandals affecting current and former network leadership.
On Monday, Fox News political commentator Julie Roginsky filed a lawsuit accusing the former Fox News chairman Roger Ailes of sexual harassment. Despite the suit, Roginsky appeared live on the network twice on Tuesday to discuss the day's news events. She did not mention the lawsuit.
Ailes, who helped found Fox News two decades ago, was driven out of the company in July 2016 after more than two dozen women, including the network's top hosts, accused him of sexual harassment. He has denied all accusations of sexual harassment through his attorneys.
The day after Roginsky filed suit, a third black female Fox News employee joined a racial discrimination lawsuit filed last week against the company. The staffer had worked at the company for 18 years and reported directly to Judith Slater, the network's comptroller, who was fired in response to the other two employees' allegations.
On Tuesday, the National Organization of Women (Now) has called for Bill O'Reilly to be fired. "For too long women have endured dangerous sexism at the hands of powerful men and powerful institutions," Now's president, Terry O'Neill, said in a statement. "Fox News is too big and too influential to simply let this go."
By Wednesday morning, more than 12 companies had pulled advertisements from the O'Reilly Factor, leaving the fate of the network's top program in the air.
"I think this is going to be a real test as to whether Rupert Murdoch, who has something of a buccaneer soul, is going to be able to skate by and ride this out," said Folkenflik.
GlaxoSmithKline, Allstate, Hyundai, and Mercedes-Benz are among the firms that have cancelled plans to advertise on O'Reilly's show. "The allegations are disturbing and, given the importance of women in every aspect of our business, we don't feel this is a good environment in which to advertise our products right now," said Donna Boland, manager of corporate communications for Mercedes Benz USA, in a statement.
Activists fight North Carolina law barring cities from raising minimum wage>>
Bannon booted from security council>>
Trump's chief strategist Steve Bannon stripped of national security council role>>
Steve Bannon: the turbulent story of Trump's chief strategist – video profile>>
Coalition of 17 states challenges Trump over climate change policy>>
Syria chemical attack has changed my view of Assad, says Trump>>
Obamacare repeal thwarted again as Mike Pence fails to reach deal>>
Will Ivanka Trump be a great policy 'moderator' or a wolf in sheep's clothing?>>
Ivanka Trump distances herself from controversial policies in interview>>
Donald Trump's first 100 days as president – daily updates>>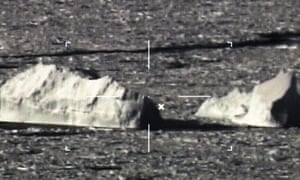 This photo from a US Coast Guard reconnaissance aircraft shows icebergs floating near the Grand Banks of Newfoundland in the North Atlantic. Photograph: AP
Associated Press
More than 400 icebergs have drifted into the North Atlantic shipping lanes over the past week in an unusually large swarm for this early in the season, forcing vessels to slow to a crawl or take detours of hundreds of kilometres.
Experts are attributing it to uncommonly strong counter-clockwise winds that are drawing the icebergs south, and perhaps also global warming, which is accelerating the process by which chunks of the Greenland ice sheet break off and float away.
As of Monday, there were about 450 icebergs near the Grand Banks of Newfoundland, up from 37 a week earlier, according to the US Coast Guard's international ice patrol in New London, Connecticut. Those kinds of numbers are usually not seen until late May or early June. The average for this time of year is about 80.
In the waters close to where the Titanic went down in 1912, the icebergs are forcing ships to take precautions.
Instead of cutting straight across the ocean, trans-Atlantic vessels are taking detours that can add around 650km (400 miles) to the trip. That's a day and a half of added travel time for many large cargo ships.
Close to the Newfoundland coast, cargo ships owned by Oceanex are throttling way back to three or four knots as they make their way to their home port in St John's, which can add up to a day to the trip, said executive chairman Captain Sid Hynes.
One ship was pulled out of service for repairs after hitting a chunk of ice, he said.
"It makes everything more expensive," Hynes said. "You're burning more fuel, it's taking a longer time, and it's hard on the equipment." He called it a "very unusual year".
US Coast Guard Commander Gabrielle McGrath, who leads the ice patrol, said she had never seen such a drastic increase in such a short time. Adding to the danger, three icebergs were discovered outside the boundaries of the area the Coast Guard had advised mariners to avoid, she said.
McGrath is predicting a fourth consecutive "extreme ice season" with more than 600 icebergs in the shipping lanes.
Most icebergs entering the North Atlantic have "calved" off the Greenland ice sheet. Michael Mann, director of the earth system science center at Pennsylvania State University, said it was possible climate change was leading to more icebergs in the shipping lanes, but wind patterns were also important.
In 2014, there were 1,546 icebergs in the shipping lanes – the sixth most severe season on record since 1900, according to the patrol. There were 1,165 icebergs in 2015 and 687 in 2016.
The residence of Mohammad Ali Jinnah in Mumbai. Photograph: Alamy Stock Photo
Donald Trump's Indian business partner is leading a campaign to raze a bungalow in Mumbai that was once the home of Pakistan's founding father, in a dispute threatening to provoke a diplomatic row between Delhi and Islamabad.
The property was the primary residence of Mohammad Ali Jinnah before he moved to Karachi after partition. It has long been a bone of contention between the two nations.
This week, the property magnate and politician Mangal Prabhat Lodha reignited tensions over the house, describing Jinnah House an "enemy property" and calling for it to be demolished.
Lodha, a multi-billionaire property magnate and owner of Lodha Group, which is building Mumbai's first Trump Tower, said upkeep of the bungalow was costing the government millions of rupees every year and called for it to be replaced with a cultural centre.
"The Jinnah residence in south Mumbai was the place from where the conspiracy of partition was hatched. Jinnah House is a symbol of the partition. Demolishing the property is the only option," he said, speaking to the state of Maharashtra's legislative assembly.
Demolishing Jinnah House would cause a major diplomatic row with Pakistan, which has repeatedly claimed ownership of the building and asked India to allow it to house a consulate in the property.
Pakistan foreign office spokesman Nafees Zakria has said in response to the campaign that the property belonged to Pakistan's founding father and "ownership rights" must be respected.
In Pakistan, Jinnah is celebrated as a hero for creating a nation for Muslims, where they could enjoy self-determination. In India he is depicted as a weak leader who betrayed Mahatma Gandhi's vision of a secular India, and whose demands for partition led to the loss of between one and two million lives.
Relations between the two countries have declined in the past year, with India blaming Pakistan for a series of terror attacks on Indian soil and retaliating with night-time raids on Pakistan-based terrorists in the contested territory of Kashmir.
Nikki Haley, the US ambassador to the UN, said on Monday that the Trump administration was "concerned about the relationship between India and Pakistan" and "very much wants to see how we de-escalate any sort of conflict going forward".
Soon after his election victory, Trump called Pakistan's prime minister, Nawaz Sharif, and expressed a desire to strengthen relations. In the surprise phone call, the US president described Pakistan as a "fantastic country" and Pakistanis as "one of the most intelligent people".
But Trump's alliance with Lodha complicates hopes of the US acting as a meditator between the two countries, which are still fighting over disputed territory of Kashmir, and of reinstating strong ties with Islamabad.
His rise to mogul status in India mirrors Trump's in the US. Both are known for building glitzy high-rises and golf courses, and both handed over control of their property empires to their sons to pursue political ambitions.
A member of the ruling Hindu nationalist Bhartiya Janata party, Lodha launched his political career in 1994, capitalising on the anti-Muslim sentiment after the Bombay riots of 1992-93 in which Hindus and Muslims clashed after Hindu hardliners demolished an iconic Muslim worship site.
Opinion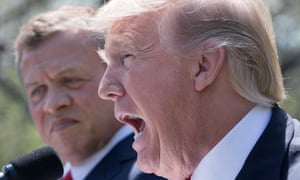 Trump with King Abdullah II of Jordan on 5 April. 'There are ominous rumblings … Mike Pence is now insisting that 'all options are on the table'.' Photograph: Michael Reynolds/EPA
'I

will tell you that attack on children yesterday had a big impact on me – big impact." Those were the words of Donald Trump following the use of chemical weapons in Idlib province, Syria. With them, he sent the diplomatic world into a spin: had the president changed his mind on one of the most urgent foreign policy issues of our times?
As far as it's ever possible to discern method in his madness, Trump's attitude towards the war in Syria has been relatively straightforward. Destroying Isis is the priority, he has stated time and again, and if that means bolstering Assad as a side-effect, so be it. This has been the logic of his benign attitude towards Russia, too: Vladimir Putin is a Christian leader willing to use hard power against jihadist Islam, so he's one of the good guys. Also, Iraq was a mess, and no one wants to start a third world war. Or, as he memorably put it back in November, "I had to listen to [Republican Senator] Lindsey Graham talk about, you know, attacking Syria and attacking, you know, and it's like you're now attacking Russia, you're attacking Iran, you're attacking."
But as images of the dead and dying of Khan Sheikhoun were beamed out across the internet and on TV, as Trump appointee Nikki Haley held up photos of them in the UN security council chamber in New York, the president seemed to be mulling a different approach. "My attitude toward Syria and Assad has changed very much … You're now talking about a whole different level."
This despite the fact that the Syrian civil war has been going on for six years, during which time, according to a 2016 report, there have been 161 chemical attacks by the regime. Despite the UN-documented use of sarin, mustard gas, VX and chlorine. Despite the fact that Samantha Power, Obama's ambassador to the UN, delivered a speech notable for its similarity to Nikki Haley's in December last year.
It remains to be seen what Trump's response to this appalling episode will be, but there are ominous rumblings. Haley said: "There are times in the life of states that we are compelled to take our own action." For defence secretary James Mattis, "It was a heinous act and will be treated as such." Vice-president Mike Pence is now insisting that "all options are on the table".
Donald Trump on Wednesday condemned a chemical attack in Syria as an 'affront to humanity', adding that it 'crosses many, many lines'. Trump, who remained largely vague in his comments, condemned the poison gas attack during a joint news conference with Jordan's King Abdullah in the Rose Garden of the White House, saying the attack on children 'had a big impact on me'. He said his attitude on Assad had 'changed very much'
All this may just be routine strategic ambiguity. But, as ever with the Trump administration, we are in uncharted territory. No one quite knows whether Haley et al are speaking from a Trump-approved hymn-sheet, or concerned with protecting their own reputations in an administration not exactly known for its message discipline. No one quite knows whether Haley's statement, only last week, that "Our priority is no longer to sit there and focus on getting Assad out," will stand or be overturned. Since the latter would represent a 180-degree turn, however, it's worth considering in more detail.
Those celebrating the possibility of a shift should consider carefully how it may have come about. If there's one thing we do know, it's that Trump wants us to see that he cares. This is a president who is obsessed with how he is perceived, griping about unflattering photos and the size of the crowd at his inauguration.
It's not even clear that he has any ideological aims, other than to win, and to be liked. He has, after all, donated to both Republicans and Democrats. He supported the Iraq war, then didn't, while claiming he never had. When Americans become conscious of an atrocity – despite the fact that it might be the latest in a long line of atrocities, many of which didn't make the morning news – he can't help but respond.
Nearly all of these are English-edition daily newspapers. These sites have interesting editorials and essays, and many have links to other good news sources. We try to limit this list to those sites which are regularly updated, reliable, with a high percentage of "up" time.