09 Apr
Nearly all of these are English-edition daily newspapers. These sites have interesting editorials and essays, and many have links to other good news sources. We try to limit this list to those sites which are regularly updated, reliable, with a high percentage of "up" time.

U.S. Politics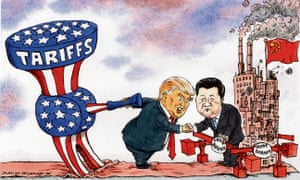 Speak softly and … Illustration: David Simonds/Observer
F

orget the warm handshake. Take with a pinch of salt Donald Trump's talk of his "very, very, great relationship" with Xi Jinping. The idea that Washington has ceased to harbour deep suspicions of Beijing just because the presidents of the world's two biggest economies shared pleasantries over steak in Florida is fanciful.
Xi will certainly be hoping Trump's cordial welcome was for real, because China has much more to lose economically from a trade war than America does. This might sound counter-intuitive given that Beijing can deploy the economic nuclear option if Trump makes good on his campaign pledge to slap whopping tariffs on Chinese imports. The US owes China more than $1 trillion and Xi could send America's economy into a tailspin by sanctioning a dumping of US Treasury bonds.
But the problem with nuclear missiles is that they are never really intended to be fired, and if they are, there are no winners. Sure, China could cause enormous damage to the US, but only by damaging itself.
Indeed, the US-China relationship is a classic example of the old saw: if you owe the bank a thousand dollars, you have a problem; if you owe the bank a trillion dollars, the bank has a problem. Trump holds the important cards and it is simply a case of whether he wants to play them.
As Brian Davidson of the US's Fathom consultancy has pointed out, the Chinese leadership is keen to avoid the social and political unrest a trade war with the US would inevitably bring. Beijing's willingness to pump the economy full of credit to finance unprofitable investment demonstrates its determination to avoid a sharp rise in unemployment.
China depends on the US in a way the US does not depend on China. Nearly 4% of China's GDP comes directly from exports to the US, while the equivalent figure for the US is less than 1%. There are several other countries that could provide the US with the manufactured goods it gets from China, but China would have real trouble finding an alternative to the US as an export market.
Trump has expressed in blunt, often bellicose, terms his unhappiness with the way China conducts its trade, but according to Davidson he has a point. "The US position in these trade negotiations is strengthened by international trade law, and by China's systematic violation of obligations under World Trade Organisation rules. The US has scope to open, and win, lawsuits against China at the WTO, a point not lost on both leaders."
Xi clearly hopes that Trump can be talked down from the aggressively anti-Beijing stance he adopted on the campaign trail, and arrived for his talks armed with a few vague promises about future Chinese investment in the US. This is not going to be enough to satisfy Trump, who has made action on America's $350bn a year trade deficit with China a touchstone of his presidency. It was a coincidence that the Florida tête-à-tête took place on the night the White House launched airstrikes on Syria, but the message will not have been lost on the Chinese president: Trump's impetuosity makes him hard to read.
Beijing has been left guessing about what it will actually take to stop Trump slapping a 45% tariff on all Chinese exports. The answer is that it will probably require Xi to remove the barriers that make it hard for hi-tech US companies to export to China. Even then, there is likely to be some US protectionism in sectors – such as steel – that are politically sensitive in the rust-belt states that carried Trump to victory.
There will be less talk in the months ahead of China "raping" the US, but that simply means the current occupant of 1600 Pennsylvania Avenue has learned from one of his predecessors, Teddy Roosevelt, to speak softly and carry a big stick.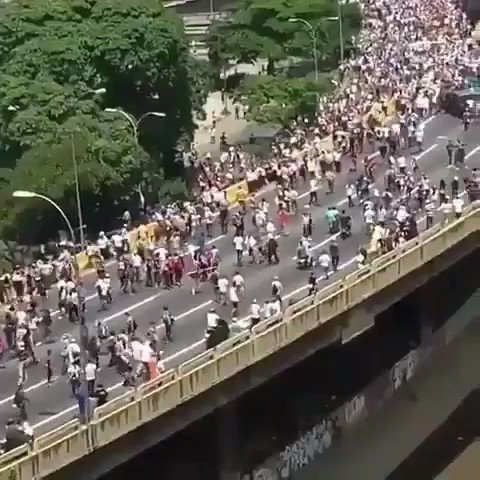 Reuters
Police in Venezuela have fired tear gas and rubber bullets at some of the thousands of protesters who poured into the streets of Caracas on Saturday amid a weeklong protest movement that shows little sign of losing steam.
Thousands of people, some carrying signs reading "Dictator Maduro!" and "Elections now!" in support of banned opposition leader Henrique Capriles, took part in marches across the country against unpopular leftist president Nicolás Maduro.
The demonstrations in the capital and several other cities came a day after Maduro's government barred Capriles from running for office for 15 years.
The ban capped a tumultuous 10 day-crackdown that saw pro-government groups attack several opposition leaders.
The protests were triggered by the Supreme Court's decision to gut the opposition-controlled legislature of its last vestiges of power, a move that was later reversed amid widespread international condemnation and even dissent within Maduro's normally disciplined socialist leadership.
"Nobody can disqualify the Venezuelan people," an emotional Capriles said from a stage Saturday as he called on protesters to march to the ombudsman's office downtown.
As the sea of protesters approached the headquarters of state-run PDVSA oil company, they were met by rubber bullets and a curtain of eye-scorching tear gas.
Mayhem ensued, with riot police racing down windy streets, dodging objects thrown from tall apartment buildings as they deployed to squash the unrest.
Later, a small group of youths unsuccessfully tried to set fire to a Supreme Court office building.
The violence was condemned by the opposition leadership, who nonetheless blame Maduro's obstinacy for fuelling the unrest.
They called for another protest on Monday. But with Caracas shutting down for the Easter holiday which Maduro extended by decree for three extra days they appeared to be saving their strength for a major demonstration called for 19 April.
At least 17 people were treated for injuries, according to Ramon Muchacho, a Caracas-area mayor where the demonstration took place.
Around most of Caracas, checkpoints were set up to search cars and frisk bus passengers even miles away from the clashes. As night fell, many streets still reeked of tear gas and a small group of youth burned trash and tore down street signs at busy intersections in eastern Caracas.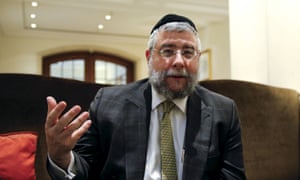 Chief rabbi of Russia and president of the Conference of European Rabbis Pinchas Goldschmidt says minority religions are facing new hostility. Photograph: Fabrizio Bensch / Reuters/Reuters
Jews and Muslims in Europe have a common cause in resisting attacks on minority religions and defending religious freedom, Europe's top rabbi has said. Speaking on the eve of Passover, which begins on Monday, chief rabbi Pinchas Goldschmidt warned that the rise of ultra-nationalist parties and damage to the European Union caused by Brexit threatened the security of Jewish and Muslim minorities.
"When there is tolerance for other languages, other cultures, religions, traditions, we Jews feel more accepted," Goldschmidt, president of the Conference of European Rabbis and chief rabbi of Moscow, told the Observer.
"Jews always felt more comfortable in places where other cultures and religions were respected. At the moment when an ultra-nationalist wind begins to blow, it makes Jews, as a minority, uncomfortable."
Europe was heading into a period of fluidity and turbulence, "which raises the question to what extent can you ensure the continuity of the Jewish community in Europe," he said. A new mood of hostility to minority religions was being fuelled by fears over immigration and terrorism.
"In general what we see is a reaction to immigration from the Middle East which has brought millions of Muslims to Europe. Europe is now engaging in anti-immigration measures and [dealing with] the fear of Islamic terrorism. But instead of engaging with the problems, there is a strong attack against minority religions in general. "We [Jews and Muslims] definitely have a common cause in fighting for religious freedoms."
Goldschmidt cited calls to close mosques, ban methods of ritual slaughter in the production of halal and kosher meat, outlaw circumcision – practised by Jews and Muslims – and last month's European court of justice ruling that employers could ban workers from wearing religious symbols or clothing.
Concerns over religious freedom in Europe led to the formation of the Muslim-Jewish Leadership Council in September 2015. Its leaders said it was the "first common platform for European Muslims and Jews".
With the victory of Trump, we have ultra-nationalist parties feeling invigorated and strengthened
Jews had been victims of Islamist terrorism in Europe, Goldschmidt pointed out. "We are the last ones to say it is not a problem. But what we are saying is that you don't counter and fight Islamic terrorism by fighting Islam. It's extremely important to mark a red line between normative Islam and radicalism and terrorism using the name of Islam. That red line must be seen and recognised by everyone. But populist parties in France, Holland, Austria and Germany are trying not to see this red line. It's imperative for us and millions of Muslims living in Europe to show everyone this red line exists."
Donald Trump's victory in last year's US elections had raised fears that ultra-nationalist parties in Europe might benefit from a "tailwind", he said. The anti-Islam, anti-EU, populist Geert Wilders had been defeated in the Dutch elections last month, "but we need to see what happens in France and Germany".
Opinion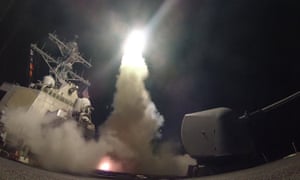 The destroyer USS Porter launches a missile bound for Syria. 'Compassion is welcome in a president; selective, impulsive responses less so. But look at the context too.' Photograph: Ford Williams/EPA
 

T

he US missile strike on a Syrian airbase came days after the chemical attack that killed scores in Idlib but years after the evidence began piling up of brutality, torture, the deliberate targeting of civilians, medical facilities and aid and the repeated use of chlorine by forces fighting to defend Bashar al-Assad's regime. Both those who have long called for his forcible removal and those who believe any military intervention to be wrong and dangerous may well ask what has changed. The uncertainty is supercharged by the fact that the attack was ordered by Donald Trump, a volatile narcissist without a coherent worldview, moral compass or significant attention span, who loudly urged Barack Obama not to take action after Mr Assad's forces used sarin to kill more than 1,000 people at Ghouta in 2013.
These questions matter. But the international community has long agreed chemical weapons are particularly abhorrent, and sarin (invisible and extremely potent) especially so. It has been used only a handful of times, notably by Saddam Hussein's forces at Halabja in 1988. Mr Assad himself signed up to the chemical weapons convention after Ghouta, forced by the US threat of military strikes. His commitment to destroying his stockpile was soon proved a lie: some arms remained, and he used chlorine repeatedly, breaching the convention. Emboldened by the indifference to his campaign of terror, his troops now appear to have used sarin again.
Deploying military force in response – particularly unilaterally, without UN approval – will always, rightly, be controversial. The risks are still more serious in a long and complex war involving Russia and Iran. Nerves and rumours across the region are jangling. So far, and the administration's unpredictability dictates caution, this has been presented as a discrete, largely symbolic action, sending a message on chemical weapons specifically. The US has targeted the airbase it says was used to launch the sarin attack. It warned the Russians in advance, with the aim of avoiding a confrontation. Many – including the UK, Turkey, Saudi Arabia and Israel – have supported it.
Inevitably, the strike is being read in the light of Steve Bannon's departure from the US national security council and the rise of national security adviser HR McMaster and defence secretary James Mattis (and, more broadly, Mr Bannon's struggles with Jared Kushner for influence). It has thus been seen as a victory for "globalists" who want to reassert that America will uphold its values internationally and for experienced "grown-ups", who have coordinated a clear but calibrated response. That seems premature.
Mr Trump's decision was apparently driven in part by his emotional reaction to photos of Tuesday's attack. Compassion is welcome in a president; selective, impulsive responses less so. But look at the context too. A president facing historically low poll ratings will probably see a boost; military action is usually popular, in the short term at least. US allies were already concerned he might be looking for a fight, albeit probably with Kim Jong-un. A man who likes to boast of decisiveness, but with little to show for 11 weeks in office, ordered action that could not be blocked by Congress or the courts. A politician facing an unprecedented scandal over his campaign's dealings with Russia and Moscow's interference in the election has put distance between himself and the Kremlin. A poll bump could encourage him to take rash action elsewhere – perhaps Pyongyang. And, of course, it opens the door to further action in Syria, even if that is not envisaged now.
The broader ramifications remain to be seen. Russian anger may affect the campaign against Islamic State. Moscow has no great love for Mr Assad, but does not see an obvious alternative; replacing him may become less likely, since it will not want to appear to have been strong-armed. Rex Tillerson's meetings in Russia next week may offer indications of the Kremlin's response to a more assertive administration. Mr Trump's willingness to press the button may make North Korea more cautious and Chinese president Xi Jinping, who was dining at Mar-a-Lago as missiles soared, may consider more pressure on Pyongyang. But he will not like the attack's timing, nor want to look weak by offering significant concessions in the short term.
Nearly all of these are English-edition daily newspapers. These sites have interesting editorials and essays, and many have links to other good news sources. We try to limit this list to those sites which are regularly updated, reliable, with a high percentage of "up" time.