14 Apr
Nearly all of these are English-edition daily newspapers. These sites have interesting editorials and essays, and many have links to other good news sources. We try to limit this list to those sites which are regularly updated, reliable, with a high percentage of "up" time.

U.S. Politics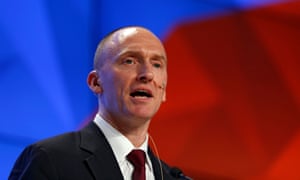 Carter Page, relatively obscure in US foreign policy circles, was among the most forthrightly pro-Russia advisers to sign on with Trump. Photograph: Yuri Kochetkov/EPA
A former adviser to Donald Trump who is at the centre of an FBI investigation was exhibiting "strongly pro-Kremlin" ideology almost two decades ago, his former employer has told the Guardian.
Carter Page, who was reportedly being monitored by the FBI last summer because of suspicions about his ties to Russia, was hired in 1998 by the Eurasia Group, a major US consulting firm that advises banks and multinational corporations, but left the firm shortly thereafter.
The account of Page's abrupt departure from the Eurasia Group suggests that concerns about Page and questions about his links to Russia were known in some professional circles for nearly two decades and long before Page joined Trump's successful presidential campaign.
Now Page – who has denied all wrongdoing – is at the centre of overlapping FBI and congressional investigations into possible cooperation between the Trump campaign and the Kremlin.
The former Merrill Lynch banker, who was relatively unknown in politics before he was touted as being a foreign policy adviser in the Trump campaign, has steadfastly declined to comment on how he got involved in the Republican campaign. He told ABC News on Thursday that he would not disclose the name of the person who recruited him into the campaign because it would fuel conspiracy theories and have their "lives disrupted".
Ian Bremmer, the influential president of the Eurasia Group, on Thursday used Twitter to call Page the "most wackadoodle" alumni of the firm in history.
Bremmer told the Guardian that Page had worked at Eurasia for three months.
"It was very clear he was ideologically very strongly pro-Kremlin, which wasn't at all clear when he interviewed. As a result, he wasn't a good fit at Eurasia Group," Bremmer said through a spokesperson in an email.
Page is the first Trump aide known to have been the subject of a secret surveillance order, known as a Fisa warrant and issued by a secret court, concerning his connections to Russia. The warrant, as revealed by the Washington Post, was issued in summer 2016, around the time the FBI's counterintelligence investigation into the Trump-Russia allegations began in late July.
Because Fisa exists to restrict national-security surveillance on Americans, the standards the FBI must meet to obtain one against a specific US citizen are high. They require a certification that probable cause exists that the target of the intended surveillance is an agent of a foreign power.
When the Guardian approached Page, he disputed the factual allegations Bremmer made against him about his departure from the Eurasia Group but said he would not comment for this story.
Page has repeatedly said he wants to testify before the House intelligence committee's inquiry into Trump-Russia contacts to clear his name. In the interview with ABC News on Thursday, Page initially denied discussing sanctions with Russians during his Moscow trip, but then backtracked under questioning, saying "something may have come up" with unidentified Russian contacts.
"Let's see what comes out in this Fisa transcript," Page told the journalist George Stephanopoulos.
One person who knew Page and is familiar with his employment history said the former Trump adviser was not regarded as particularly effective or intelligent – he was "not smooth or a slick guy", the source said.
The 2016 Fisa warrant, lasting 90 days and reportedly renewed at least once for another 90-day period, does not mark the first time Page has come under counterintelligence suspicion.
A January 2015 indictment of a Russian spy ring identified Page, under a pseudonym, as a contact of a Russian intelligence operative, Victor Podobnyy. Page confirmed to BuzzFeed that he was Podobnyy's "Male #1" associate, from whom Podobnyy, operating out of Russia's UN office, acquired documents about the US energy industry.
"I think he is an idiot and forgot who I am … He got hooked on Gazprom thinking that if they have a project, he could rise up," court papers quote Podobnyy as saying about Page.
Page, relatively obscure in US foreign policy circles, was among the most forthrightly pro-Russia advisers to sign on with Trump. In July 2016, Page traveled to Moscow to speak before the Kremlin-connected New Economic School. His speech, reportedly approved by the Trump campaign, lambasted US and western "hypocrisy" in pushing "democratization, inequality, corruption and regime change" while urging "mutual respect" between Moscow and Washington.
In 2015, Page referenced the Kanye West song New Slaves, a meditation on race and wealth, to accuse Barack Obama, the first black US president, of mistreating Russia. Page said the sections on Russia in Obama's February 2015 national security strategy "closely parallel an 1850 publication that offered guidance to slaveholders on how to produce the 'ideal slave'".
Up to several hundred gay men are feared to have been rounded up and some killed in ultra-conservative Russian republic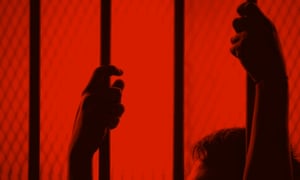 One man said he was held in an informal detention facility with more than a dozen gay men who were all tortured on a daily basis. Photograph: Putra Kurniawan/EyeEm/Getty Images
At least once a day, Adam's captors attached metal clamps to his fingers and toes. One of the men then cranked a handle on a machine to which the clamps were linked with wires, and sent powerful electric shocks through his body. If he managed not to scream, others would join in, beating him with wooden sticks or metal rods.
As they tortured him, the men shouted verbal abuse at him for being gay, and demanded to know the names of other gay men he knew in Chechnya. "Sometimes they were trying to get information from me; other times they were just amusing themselves," he said, speaking about the ordeal he underwent just a month ago with some difficulty.
Adam's testimony, as well as that of another gay Chechen man with whom the Guardian spoke, backs up reports that a shocking anti-gay campaign is under way in the Russian republic of Chechnya, involving over a hundred and possibly several hundred men. Some are believed to have been killed.
Adam was held in an informal detention facility with more than a dozen other gay men, who were all subjected to torture on a daily basis. A similar "mop-up" campaign by governmental security forces took place in towns across the republic.
Igor Kochetkov, a gay rights activist from St Petersburg, has helped organise an emergency contact centre which gay people in Chechnya can reach out to securely to get help with evacuation. He said "dozens" of people had got in touch to ask for help. Many are in hiding from both their families and the authorities.
"We are talking about the mass persecution of gay people, with hundreds of people kidnapped by authorities," Kochetkov told the Guardian. "This is unprecedented not only in Russia but in recent world history. There is little doubt that we are dealing with crimes against humanity."
Under the Moscow-backed local leader Ramzan Kadyrov, Chechnya has been rebuilt after two brutal separatist conflicts in the late 1990s and early 2000s. Kadyrov pledges allegiance to Vladimir Putin and a love for Russia, and in return the Kremlin turns a blind eye to human rights abuses. Critics say Kadyrov's notorious battalions have long operated outside the law.
Journalists at the Russian newspaper Novaya Gazeta, which first reported the story, say they have incontrovertible evidence that at least three gay men have been killed since the operation started, and believe the full death toll could be much higher. Chechen society is extremely conservative and homophobic, and there are fears that some gay men may have been killed by their families after being outed by authorities.
"I don't know what has happened to the others. It's too dangerous to contact people, because everyone's phones are monitored," said Adam.
Due to the extreme sensitivity of the subject and the danger of reprisals both against the men themselves and against their families, the names in this article have been changed, and identifying details have been excised. Both men with whom the Guardian spoke are now outside Chechnya but asked that their current location not be revealed.
For Adam, it all started with a phone call from a gay friend.
"He called me, and in a very calm and normal voice suggested meeting. I've known him for a long time, so I didn't suspect a thing," said Adam. But when he arrived at the arranged meeting place, he realised it was a set up. There were six people waiting for him, some of them in uniform, and they shouted that they knew he was gay.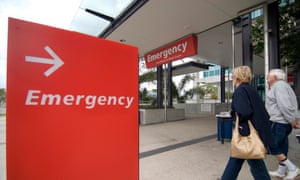 Jumana Nagarwala is an emergency room physician in Detroit. Photograph: Maria Zsoldos/AAPIMAGE
A doctor in Michigan has been charged with carrying out female genital mutilation on young girls, in what is thought to be the first prosecution of its kind in the US.
Jumana Nagarwala, an emergency room physician in Detroit, is accused of performing the procedure on girls aged between six and eight and then lying to investigators when confronted.
Nagarwala, 44, faces a sentence of up to life in prison if convicted of all the charges against her. She was scheduled to appear in federal court in Detroit on Thursday afternoon.
Prosecutors alleged in a complaint filed to court that Nagarwala had been carrying out female genital mutilation procedures for the past 12 years from a medical office in the Detroit suburb of Livonia.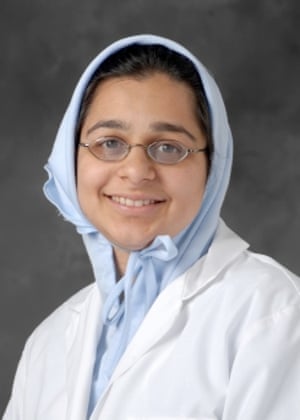 Jumana Nagarwala. Photograph: Handout
Justice department officials said on Thursday that the charges were believed to be the first ever brought under a US law against female genital mutilation that was passed in 1996 and amended in 2013.
"Female genital mutilation constitutes a particularly brutal form of violence against women and girls. It is also a serious federal felony in the United States," acting US attorney Daniel Lemisch said in a statement. "The practice has no place in modern society and those who perform FGM on minors will be held accountable under federal law."
The FBI and Department of Homeland Security's investigations division (HSI) acted after receiving a tip-off that Nagarwala was performing FGM, according to the court filing. Nagarwala is charged with female genital mutilation, transportation with intent to engage in criminal sexual activity and lying to a federal agent.
Investigators interviewed and examined two seven-year-old girls from Minnesota who appeared to have undergone FGM by Nagarwala in February this year. Telephone records, hotel bills and surveillance video are said to show that the girls traveled to Michigan with their mothers.
One of the girls said that she had been told she was going to see a doctor "to get the germs out" of her. She said Nagarwala had "pinched" her genitals and that she was given a pad to place in her underwear.
The second girl said she had screamed in pain after the procedure, and that afterwards "she could barely walk, and that she felt pain all the way down to her ankle". A glove belonging to the second girl was later found in the clinic. Her parents told investigators they had taken the girl to see Nagarwala in Michigan for a "cleansing".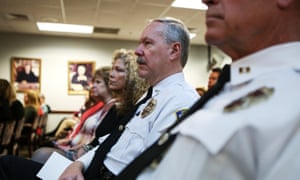 St Louis County police listen to the attorney general, Jeff Sessions, speak about efforts to combat violent crime. Sessions has begun to pull back federal scrutiny of local police departments. Photograph: Lawrence Bryant/Reuters
S

hana Tolliver had a simple question: how many of her Facebook friends knew a murder victim whose case was still unsolved?
On many Facebook pages, this question might spark few responses. But Tolliver, a 35-year-old who runs her own hairstyling business, lives in St Louis, which has America's highest big-city murder rate.
Tolliver's private Facebook post asking friends in St Louis about unsolved murders generated a list of more than 60 names in the space of an hour. By the end of the day, the private post had more than 100 comments: "My big brother." "My sister." "Both of my cousins." "My fiancé Londen." "My fiancé Brad."
Of the roughly 80 murder victims listed, according to family and friends, none had yet seen any justice.
Tolliver said she wrote her post in response to what seemed like a constant stream of friends writing "Rest in Peace" and talking about the loved ones they had just lost. She wanted to know if the murders she was hearing about were being solved, the perpetrators charged with a crime, or if the cases were still in limbo.
What the response revealed to her, she said, was: "Everything was unsolved."
St Louis has become a stark example of the tense relationship between African American neighborhoods and the police. Nearly 200 people were murdered in St Louis last year, almost all of them black. Barely half of the city's murders have been solved in recent years, according to statistics from the city's police department, compared with a national average murder clearance rate of 61.5%. Those numbers do not include murders in Ferguson and other small towns that border St. Louis.
At the end of last year, 111 of the city's 188 murders that year were still unsolved, according to police data.
On Tolliver's Facebook post, friends wrote about 14-year-old Jamarr Mack Jr, who was murdered on his way home from the library in 2016, and James Johnson Jr, or "Swagg Huncho", an 18-year-old rapper killed in late 2015, just months after his career began taking off.
Another of the victims mentioned was a 16-year-old girl, an innocent bystander killed by a stray bullet, Tolliver said. When the girl's friend saw her Facebook post, she wept, Tolliver said. "It's like, we still haven't gotten justice for her. We still don't know why it happened, who did it. She still needs answers. She's still in mourning."
Several people mentioned the Ferguson protest leader Darren Seals, who was found shot dead in a burning car last summer, a death that generated international headlines. St Louis County police said the investigation into his death was still active, but that there were no updates in the case.
The overwhelming response to Tolliver's post left her grieving and eager to see change. A key problem, she said, was that people were unwilling to give information about murder suspects – an analysis echoed by Richard Rosenfeld, a criminologist at the University of Missouri St Louis.
"When there's a death involved, that's when you should stand up," Tolliver said.
Tolliver lost her friend Bariah Crump in 2014. The 28-year-old father was killed after a Fourth of July party in downtown St Louis in what police described as a robbery. When he was killed, there were multiple people around who must have seen or witnessed something, but no one came forward, Tolliver said.
On Facebook, responding to her follow-up question about how to stop the pattern of unsolved murders, several of her friends talked with frustration about ending the "no snitching" code.
"If folks know that they can't get away with foolishness in your community, then they'll be less likely to do stuff there," one friend suggested.
"Start snitching," another wrote, urging the community to "stand together".
Opinion
The forcible removal of an Asian man from an overbooked flight echoes cases of American violence against people of colour who defy authority
A

fter a man was violently dragged from a United Airlines flight, there will no doubt be defenses of the company along the lines of, "Well, if the man had obeyed he wouldn't have been dragged off the plane." In frank terms, this is bull.
The fear aboard United Express flight 3411 should alarm all thinking people about how the American mind has been trained to obey above all else. Obedience is a relentless message in the US, drilled into the populace via education, business, government – and, of course, the threat and reality of police violence.
As George Carlin put it, the American ruling class doesn't "want well-informed, well-educated people capable of critical thinking". Rather, it wants "obedient workers, people who are just smart enough to run the machines and do the paperwork, and just dumb enough to passively accept all these increasingly shittier jobs".
Was this was an act of racial violence? Let's look at what we know.
The Chicago police department identifies the passenger as a "69-year-old Asian man". There seems to an unhealthy logic in thinking if that if he had refused to give up his seat, the appropriate response was violence. People tweeting "What would you have done?", as if the only "choice" was unleashing law enforcement upon an elderly person, reveals how the American moral imagination dwells in what Get Out director Jordan Peele might call our collective "sunken place".
The same logic is often applied to black men who don't survive encounters with the police: if he'd obeyed, he'd be alive. This message is meant to instill a fear of disobedience in the living and convince Americans that violence to facilitate commerce should be our first response. The Chicago police department's statement describes the passenger becoming "irate" when asked to disembark from the flight, then claims that he "fell", striking an armrest and "causing injuries to his face". That this so brazenly contradicts what we can all see on video speaks to the belief of American law enforcement that the public will obey it, regardless of what we can see with our own eyes.

Of course, the onus in this debacle was on United for overselling the flight, not on the person who bought the ticket. The United CEO's technocratic statement of apology for having to "re-accommodate these customers" disgusts me, as does the defense that its employees "followed established procedures". When your procedures wind up with a man drooling blood and saying "just kill me", they're not defensible.
Of course, the onus in this debacle was on United for overselling the flight, not on the person who bought the ticket. The United CEO's technocratic statement of apology for having to "re-accommodate these customers" disgusts me, as does the defense that its employees "followed established procedures". When your procedures wind up with a man drooling blood and saying "just kill me", they're not defensible.
Nearly all of these are English-edition daily newspapers. These sites have interesting editorials and essays, and many have links to other good news sources. We try to limit this list to those sites which are regularly updated, reliable, with a high percentage of "up" time.