20 Apr
Nearly all of these are English-edition daily newspapers. These sites have interesting editorials and essays, and many have links to other good news sources. We try to limit this list to those sites which are regularly updated, reliable, with a high percentage of "up" time.

The Venezuelan Criminal Forum reported that 105 demonstrators have been arrested this week
TODAY VENEZUELA – The Non-governmental organization (NGO) Foro Penal Venezolano  – Venezuelan Criminal Forum – reported that 105 people arrested during the recent anti-government demonstrations throughout Venezuela; 67 of them remain detained indefinetely.
Most demonstrations called by the Venezuelan opposition leaders were held against the magistrates of the Supreme Tribunal of Justice (TSJ) accused of staging a "coup d'état."
"From April 4-7, there are 105 detainees, all of them during the demonstrations; 67 out of them are still arrested," the NGO director, Alfredo Romero, said.
Romero added that the NGO is working on the number of political prisoners. "So far, though, we reckon 118," he said, as quoted by Efe.

U.S. Politics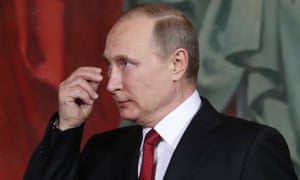 The Russian Institute for Strategic Studies is run by retired senior Russian foreign intelligence officials appointed by Vladimir Putin's office. Photograph: Sergei Savostyanov/Tass
Reuters
A Russian government thinktank controlled by Vladimir Putin developed a plan to swing the 2016 US presidential election to Donald Trump and undermine voters' faith in the American electoral system, three current and four former US officials have told Reuters.
They described two confidential documents from the thinktank as providing the framework and rationale for what US intelligence agencies have concluded was an intensive effort by Russia to interfere with the 8 November election. US intelligence officials acquired the documents, which were prepared by the Moscow-based Russian Institute for Strategic Studies, after the election.
The institute is run by retired senior Russian foreign intelligence officials appointed by Putin's office.
The first Russian institute document was a strategy paper written last June that circulated at the highest levels of the Russian government but was not addressed to any specific individuals.
It recommended the Kremlin launch a propaganda campaign on social media and Russian state-backed global news outlets to encourage US voters to elect a president who would take a softer line toward Russia than the administration of Barack Obama, the seven officials said.
A second institute document, drafted in October and distributed in the same way, warned that Democratic presidential candidate Hillary Clinton was likely to win the election. For that reason, it argued, it was better for Russia to end its pro-Trump propaganda and instead intensify its messaging about voter fraud to undermine the US electoral system's legitimacy and damage Clinton's reputation in an effort to undermine her presidency, the seven officials said.
The current and former US officials spoke on the condition of anonymity due to the Russian documents' classified status. They declined to discuss how the US obtained them. US intelligence agencies also declined to comment on them.
Putin has denied interfering in the US election. Putin's spokesman and the Russian institute did not respond to requests for comment.
The documents were central to the Obama administration's conclusion that Russia mounted a "fake news" campaign and launched cyber-attacks against Democratic party groups and Clinton's campaign, the current and former officials said.
"Putin had the objective in mind all along, and he asked the institute to draw him a road map," said one of the sources, a former senior US intelligence official.
Trump has said Russia's activities had no impact on the outcome of the race. Ongoing congressional and FBI investigations into Russian interference have so far produced no public evidence that Trump associates colluded with the Russian effort to change the outcome of the election.
Four of the officials said the approach outlined in the June strategy paper was a broadening of an effort the Putin administration launched in March 2016. That month the Kremlin instructed state-backed media outlets, including international platforms Russia Today and Sputnik news agency, to start producing positive reports on Trump's quest for the US presidency, the officials said.
Russia Today did not respond to a request for comment. A spokesperson for Sputnik dismissed the assertions by the US officials that it participated in a Kremlin campaign as an "absolute pack of lies". "And by the way, it's not the first pack of lies we're hearing from 'sources in U.S. official circles'," the spokesperson said in an email.
Pro-Kremlin bloggers
Russia Today and Sputnik published anti-Clinton stories while pro-Kremlin bloggers prepared a Twitter campaign calling into question the fairness of an anticipated Clinton victory, according to a report by US intelligence agencies on Russian interference in the election made public in January.
Russia Today's most popular Clinton video – "How 100% of the 2015 Clintons' 'charity' went to … themselves" – accumulated 9m views on social media, according to the January report.
The report said Russia Today and Sputnik "consistently cast president elect-Trump as the target of unfair coverage from traditional media outlets".
The report said the agencies did not assess whether Moscow's effort had swung the outcome of the race in Trump's favor, because American intelligence agencies do not "analyze U.S. political processes or U.S. public opinion".
Cyber-attacks
Neither of the Russian institute documents mentioned the release of hacked Democratic party emails to interfere with the US election, according to four of the officials. The officials said the hacking was a covert intelligence operation run separately out of the Kremlin.
The overt propaganda and covert hacking efforts reinforced each other, according to the officials. Both Russia Today and Sputnik heavily promoted the release of the hacked Democratic party emails, which often contained embarrassing details.
Five of the US officials described the institute as the Kremlin's in-house foreign policy thinktank.
The institute's director when the documents were written, Leonid Reshetnikov, rose to the rank of lieutenant general during a 33-year-career in Russia's foreign intelligence service, according to the institute's website. After Reshetnikov retired from the institute in January, Putin named as his replacement Mikhail Fradkov. The institute says he served as the director of Russia's foreign intelligence service from 2007 to 2016.
 

'I don't think Bill did anything wrong'
Donald Trump had defended O'Reilly when the latest revelations emerged, saying he was "a good person" and adding: "Personally, I think he shouldn't have settled, because you should have taken it all the way. I don't think Bill did anything wrong."
Residents view the first iceberg of the season as it passes the south shore, also known as 'iceberg alley', near Ferryland, Newfoundland. Photograph: Reuters
A towering iceberg is causing traffic jams in a remote town on Canada's east coast, as tourists jostle for a glimpse of the mass of ice sitting in shallow water just off Newfoundland.
The iceberg, which has dwarfed the nearby small town of Ferryland, is estimated to measure some 46 metres (150ft) at its highest point. "It's the biggest one I ever seen around here," mayor Adrian Kavanagh told the Canadian Press. "It's a huge iceberg and it's in so close that people can get a good photograph of it."
The light blue behemoth has become a tourist attraction in recent days, as locals from across Newfoundland sit in bumper-to-bumper traffic for a chance to snap photos of the glacial giant. Their shots have flooded social media, showing the massive structure looming over local homes and sitting large compared to a helicopter hovering over it.
Icebergs are no strangers to these parts – a large number drift through from the Arctic each year, earning the area the moniker "iceberg alley" and giving rise to a local industry focused on iceberg tourism.
"You can see off in the distance on a clear day, you can see five or six big 'bergs," said Kavanagh. Most of them simply float past the town, but this latest visitor appears to be grounded and could remain in place, he added.
So far this year the number of icebergs moving into the North Atlantic shipping lanes has spiked, forcing vessels to either slow down or make long detours. Some 616 icebergs have moved into the shipping lanes so far this year, as compared to 687 in all of 2016.
17-year-old boy fatally shot along with woman and National Guardsman as the opposition calls for another mass protest on Thursday
Tens of thousands of anti-government demonstrators took to the streets of Caracas in what they are calling the "mother of all marches" against the embattled socialist leader Nicolás Maduro on Wednesday. Venezuelan police launched tear gas in an effort to disperse demonstrators, leading to some violent clashes that left one man dead
At least three people have been killed and dozens injured in Venezuela as street battles erupted alongside a mass anti-government demonstration that the opposition billed as "the mother of all marches".
A 17-year-old boy was fatally shot in the head in a neighbourhood of Caracas, while several hours later a woman was killed in gunfire during a rally in the Andean state of Tachira near the Colombian border.
At least one legislator had to be hospitalised, and images posted online showed opposition leader and former presidential candidate Henrique Capriles choking on teargas.
As night fell, a few thousand people were still gathered in a plaza in wealthy eastern Caracas as residents in nearby buildings banged pots and pans in a show of support. A group of youths with their faces covered tore down street signs and billboards for makeshift barricades. They then launched rocks and Molotov cocktails against lines of police and national guardsmen who responded with tear gas in cat-and-mouse skirmishes.
The opposition called for another protest on Thursday, raising the specter of prolonged disruption in the country.
"Same place, same time," said Capriles on Wednesday night. "If we were millions today, tomorrow we'll be more."
Fears of bloodshed had been stoked after President Nicolás Maduro put troops on the streets, supplied guns to sympathetic civil militias and called for a simultaneous rally of his supporters against what he said was a United States-backed coup.
Wednesday's deaths brought the total number of deaths at protests this month to seven.
The first victim on Wednesday, Carlos Moreno, was not taking part in the demonstration but was shot when government supporters approached an opposition gathering and opened fire, witnesses told Reuters. Moreno, who was three days from his 18th birthday, was shot in the head, and later died in the hospital.
Hours later, university student Paola Ramírez died in the opposition stronghold of San Cristóbal, after she and her boyfriend, were shot at by a group of men as they left a protest.
"We were on a motorbike and they were following us, shooting," her boyfriend told Reuters. "I left her on a block where she was going to find her sister and I went to hide the bike. I heard shots and when I arrived she was on the ground. I tried to protect her as much as I could," he said.
A National Guard sergeant was later killed by a sniper, the human rights ombudsman Tarek Saab tweeted on Wednesday night.
State TV images showed red-shirted government loyalists on the rival march "to defend the homeland".
But their numbers were far exceeded by the tens of thousands who joined protests across Venezuela to express their anger and frustration at an administration that has led the country with the planet's biggest oil supplies into the world's deepest economic recession.
Banners reading "No more dictatorship" highlighted the steady erosion of democracy. In the past month, the supreme court attempted to circumvent Congress's legislative powers – a power grab which was subsequently reversed, while opposition figurehead Capriles was banned from running for office for 15 years.
Many targeted the Venezuelan president, who is blamed for high inflation and the chronic shortages of food, medicine and other basic goods. The chant "Esta es la ruta para salir del hijueputa" ("This is the way to oust the son of a bitch") echoed repeatedly around the downtown district.
The protesters came from all walks of life. Some said they had previously supported the government under Maduro's predecessor, Hugo Chávez, but the worsening economic and social crisis had made them march for change.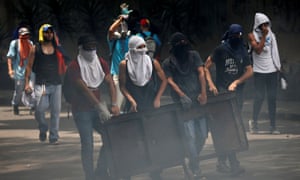 "We are desperate and tired of living in misery," said Kelvyn Cava, a former Chavista from the eastern state of Zulia. "With Chávez our salaries were worth something. Now, if hunger doesn't kill us, then crime will."
A group of Catholic clergy were also among the crowd, although the Vatican has tried to adopt a neutral position in hosting talks between the two sides.
"I came with several priests because we have reached the breaking point for this regime of narcotraffickers and terrorists. We need peace and to reconstruct this country," said Father José Palmar.
"We ask Pope Francis to do for Venezuela what Pope John Paul II did for Poland," he add, referring to the role that the Catholic church played in overthrowing communism in eastern Europe during the Soviet era.
Others said they were prepared for clashes with the security forces. "We have come today because we want freedom and a functional economy. It's paralysed," said Luis Machado, a money changer who was wearing gloves in case he had to pick up a gas canister and throw it back at the security forces.
Nearly all of these are English-edition daily newspapers. These sites have interesting editorials and essays, and many have links to other good news sources. We try to limit this list to those sites which are regularly updated, reliable, with a high percentage of "up" time.