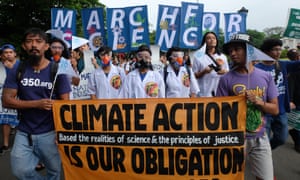 Filipino activists join the global March for Science in Manila, challenging local and international governments to commit to action on climate change. Photograph: AC Dimatatac/ACDimatatac/350.org
Hundreds of global protest marches in the name of science kicked off in Australia and New Zealand on Saturday, ahead of large crowds expected across the US.
Tens of thousands of scientists are this weekend rallying around the world in a rebuke of Donald Trump's dismissal of climate science and attempts to cut large areas of scientific research.
More than 600 marches, largely concentrated in the US, Europe, South America and Australia, began amid warnings from organisers that science is "under attack" from the Trump administration.
Placards demanded "science not silence", declared "there is no plan b", and offered support from "florists for research-based legislation", showing the crowd was not restricted to those in scientific community.
Chants asked what people wanted? "Science", the marches bellowed. When? "Following peer review."
Wellington in New Zealand, was one of the first marches to start, with protesters gathering on the waterfront and waving signs calling for action. Similar crowds gathered in Auckland.
In Sydney, hundreds gathered at Martin Place in the centre of the city and walked to Hyde Park. Speakers included Dr Angela Maharaj, lecturer at the University of New South Wales Climate Change Research Centre, and former Liberal party leader, Dr John Hewson, who told the crowd politicians' ignorance of climate change was "an embarrassment beyond belief".
Anti-tobacco campaigner Professor Simon Chapman, science writer Dr Jonica Newby, and writer and feminist Eva Cox, were also scheduled to speak.
Australian scientists and supporters flocked to 12 national events, including Brisbane, Canberra, Hobart, Adelaide, and Melbourne.
"It is very important that the March for Science is a community-led march; it's a statement that is coming from the community," professor Stuart Khan, an organiser of the Sydney march, told the ABC.
"It's not led by the academics, it's not led by eminent scientists because it's not about them, it's about the community saying: 'This is what is important to us'."
In Melbourne, immunologist and nobel laureate Prof Peter Doherty called for a price on carbon.
A preview of his speech on Friday said there were "major threats to the global culture of science" in today's world.
"Why? A clear understanding of what is happening with, for example, the atmosphere, oceans and climate creates irreconcilable problems for powerful vested interests, particularly in the fossil fuel and coastal real estate sectors."
Small crowds also gathered in Tokyo and South Korea's second biggest city of Busan.
At least 12 people were killed overnight following looting and violence in Venezuela's capital amid a spiraling political crisis, authorities in Caracas said Friday.
Most of the deaths took place in El Valle, a working class neighborhood near the city's biggest military base where opposition leaders say 13 people were hit with an electrical current while trying to loot a bakery protected by an electric fence.
Two days of massive protests on the streets of Caracas against the government of Nicolás Maduro spilled into a violent night in several parts of the city, with residents in El Valle witnessing repetitive gunfire, street barricades set aflame and more than a dozen businesses looted. Amid the confusion, mothers and newborn children had to be evacuated from a maternity hospital named after the late leader Hugo Chávez when it was swamped with tear gas.
The Public Ministry said the violence left 11 people dead in El Valle, all men between the ages of 17 and 45. Another death was reported east of Caracas in El Sucre. Six others were injured.
Opposition leaders blamed the government for repressing protesters with tear gas but standing idly by as businesses were looted.
Vice-president Tareck El Aissami said the country was facing what he calls an "unconventional war" led by opposition groups working in concert with criminal gangs.
Foreign Minister Delcy Rodriguez pointed the finger at the opposition, saying armed groups controlled by them were responsible for the attack at the hospital.
Earlier Friday, officials reported that one of the dead was Mervins Guitian. The young Venezuelan man was fatally shot when he was returning home late from work on Thursday and got caught in the middle of late-night street clashes.
Vicente Paez, a local councilman, said Guitian was an employee of a Caracas-area city governed by an opposition mayor and didn't join the protests. It wasn't clear who shot him and there was no immediate comment from authorities.
Venezuelan social media was ablaze late into the night with grainy cellphone videos of light-armored vehicles plowing down dark streets to control pockets of protesters who set up burning barricades in several neighborhoods.
The opposition said they have no intention of pulling back on protests demanding new elections that were triggered when the government-stacked supreme court three weeks ago gutted congress of its last vestiges of power, a move that was later reversed amid a storm of international criticism.
Protesters are angry at what they see as a government that has essentially become a dictatorship responsible for triple-digit inflation, rising crime and food shortages.
"Twenty days of resistance and we feel newly born," said opposition lawmaker Freddy Guevara during an evening, outdoor press conference as residents looking out from balconies in an eastern Caracas neighborhood at the heart of the protest movement cheered loudly in support.
The next planned protest is Saturday, when opponents are being asked to dress in white and march silently to commemorate the victims of the demonstration. There's also a sit-in to block major highways planned for Monday.
General Motors announced early Thursday that it was closing its operations in Venezuela after authorities seized its factory in the industrial city of Valencia, a move that could draw the Trump administration into the escalating chaos engulfing the nation.
Opinion
I

'm marching for science today because I'm mad. Yes, I'm a mad scientist. I became a scientist because I wanted to help people. In my career I've researched gene therapy, how to engineer new antibiotics and how to make better cancer drugs. But now what I do and care about has come under attack. I'm mad at politicians for hijacking science for their own selfish interests.
I know that many people just love debating whether science should be political or not. But personally I'm not really too interested in spinning my wheels in this pyrrhic war. Science has always been political ever since we first used it to show that the Earth orbits the Sun. And right now, we haven't any time to waste.
The real question is who does science serve? When politicians are left alone to attack science with impunity, the answer is that science serves only the most elite, and is obstructed from helping all of us. As a result, real people get hurt, particularly our most vulnerable and marginalized communities. Look at lead poisoning in Flint. Or Hurricane Katrina and Superstorm Sandy. Or the Dakota Access Pipeline. Or the rising seas of Tuvalu. Or the Ebola outbreak in West Africa. Or the measles outbreak in Europe.
I'm marching because science needs to take a stand and fight for justice with the communities who are harmed by bad science policy.
And while we're here marching, we scientists need to recognize that we are extremely late – science has been under attack for a long time, not just in 2017. Our scientific community has been sitting on the sidelines watching in horror, afraid to get involved and be called biased. This strategy of ceding the floor has failed us terribly, as those with private political interests have gone ahead and polarized scientific issues anyway.
I'm marching because democracy is not a spectator sport. Not even for scientists.
Young people get this. Many of my young scientist friends are reacting to the assault on science by leaving the lab to work in communications, policy and advocacy. And they're organizing the March for Science. Our generation is standing up right now because we are the ones who will suffer the most from bad science policy decisions.
It's our cities that will be wrecked by climate change, it's our bodies that will suffer from the dismantling of public health, it's our jobs that will be lost to automation. We're leading the fight because our heads are on the chopping block.
It's also significant that the science justice movement is being led by the people. The march was started by strangers connecting over social media and has bloomed into a global movement, 600 cities and hundreds of thousands of participants strong.
In the past, the institutional structure of science advocacy has created a conservative bystander culture that has failed science abysmally. We need grassroots activists unfettered by protocol, and not content to just do better "outreach". We need science advocates who can speak truth to power, organize in our communities, and to challenge problematic power structures with action. Scientists in the streets is a sign that politics as usual cannot continue.
And as march for science, we are also defending the people who do science, because they're under attack. Scientists are being gagged from speaking about research like climate change online (at the National Park Service and Department of Energy), and being banned from the country because of their background. This is especially troubling given our history of erecting institutional barriers that prevent prevent certain groups from participating in science (see Hidden Figures, Rosalind Franklin, or Henrietta Lacks).
The attacks hit close to home for me because I was born in a refugee camp. I am only a scientist today because I benefitted from pro-refugee policies – why doesn't the future generation have the same chance I did? When scientists face barriers, they can't do their work in service of the public good, so we all suffer. That's why the fight to stand up for scientists and science itself are one and the same.
We've been speaking to many historians and seasoned scientists, and they all tell us: the March for Science is poised to be the largest science event in history. That's poignant because, right now, changing history is absolutely what is required.