U.S. Politics
On another day in Washington, and as what Trump called a "very interesting election" played out in France and tensions remained over North Korea, confusion reigned over domestic priorities . Would Trump force the country towards another government shutdown on his 100th day, by demanding Democratic approval of funding for his promised border wall? Were Dreamers, undocumented migrants brought to the US as children, safe from deportation efforts (as Trump said on Friday) or not (as attorney general Jeff Sessions said on Wednesday)? Would Trump's promised "massive" tax cut, which left Treasury officials stunned when he blurted it out on Friday, be revealed this week or not? Answers came there… many, and all conflicting. For light relief: watching Sessions refuse to apologise for dismissing Hawaii as "an island in the Pacific" and trying to work out if Trump was hoping the far-right Marine Le Pen would win the French presidency. Chief of staff Reince Priebus said… not.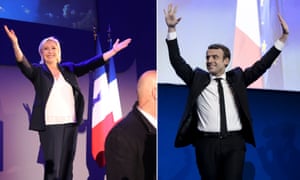 German Chancellor Angela Merkel's spokesman has welcomed Emmanuel Macron's success in the first round of France's presidential election and wished him "all the best for the next two weeks."
Merkel's spokesman, Steffen Seibert, wrote on Twitter late Sunday night: "Good that Emmanuel Macron was successful with his course for a strong EU + social market economy."
Merkel's chief of staff, Peter Altmaier, tweeted that "the result for Emmanuel Macron shows: France AND Europe can win together! The center is stronger than the populists think!"
Marine Le Pen and her party have started the day early – trying to reach out to disgruntled supporters of far-left candidate Jean-Luc Mélenchon.
While voices on the left and right have endorsed Macron this morning, the defeated far-left candidate, Jean-Luc Melenchon, has pointedly refused to do the same.
Speaking on RTL radio Louis Aliot, the vice president of the National Front party who has been in a relationship with the leader of the Front National since 2010 (if you read French there's more on him here), said Le Pen offers an alternative for anyone skeptical of the European Union and France's role in it.
Associated Press in New York
The former New York mayor Michael Bloomberg has urged world leaders not to follow Donald Trump's lead on climate change, and declared his own intention to stave off the "tragedy" that would be the collapse of the Paris climate deal.
The billionaire said in an interview there was no political motive tied to the release of his new book, Climate of Hope: How Cities, Businesses, and Citizens Can Save the Planet, which is co-authored with the Sierra Club executive director, Carl Pope.
"I'm not running for office," the 75-year-old said, who considered a 2016 presidential bid after serving three terms as mayor of New York.
His new book, he said, offers a specific policy objective: to help save the Paris climate agreement, which was signed a year ago.
Under the deal, the US pledged that by 2025 it would reduce its annual greenhouse gas emissions by 26% to 28% below 2005 levels, which would be a reduction of about 1.6bn tons.
The Trump White House is debating whether to abandon the pact, as the president promised during his campaign. This week, days before thousands of protesters around the US marched in support of scientific research, a meeting on the issue was abruptly cancelled.
On Sunday, a White House official told Reuters Trump would sign several executive orders on energy this week. In March, Trump signed an executive order to roll back Obama-era climate change regulations such as the clean power plan.
"This builds on previous executive actions that have cleared the way for job-creating pipelines, innovations in energy production and reduced unnecessary burden on energy producers," the official said, speaking on condition of anonymity.
Bloomberg said he believed the US would hit its Paris goals regardless of what Trump chooses to do, because of leadership at the state level and market forces at play in the private sector.
"Washington won't determine the fate of our ability to meet our Paris commitment," he said. "And what a tragedy it would be if the failure to understand that led to an unraveling of the agreement. We hope this book will help to correct that wrong impression – and help save the Paris deal."
Bloomberg has played a prominent role in some of the fiercest US policy debates, having invested millions in an advocacy group that pushes for stronger gun control and another that promotes liberal immigration policies. In his new book, which follows what a spokeswoman described as $80m in donations to the Sierra Club, he solidifies his status as a prominent advocate of action to combat climate change.
His policy repertoire aligns him with core values of the Democratic party, although he has no formal political affiliation.
In the interview, Bloomberg shrugged off conservatives who condemn him as an east coast elitist. He noted that policies he helped initiate in New York City – including a smoking ban and high taxes on sugary drinks – have caught on elsewhere.
"My goal has been to save and improve lives," he said. "Some ways of doing that can be controversial at first, but end up being highly popular and successful."
In his focus on climate change, Bloomberg directs particularly aggressive language at the coal industry.
"I don't have much sympathy for industries whose products leave behind a trail of diseased and dead bodies," he writes in his book, adding: "But for everyone's sake, we should aim to put them out of business."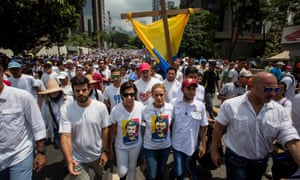 Thousands of white-clad protesters march in the Venezuelan capital, Caracas, following a week of deadly protests. Photograph: Miguel Gutierrez/EP
Associated Press
Thousands of Venezuelans dressed in white have marched in the capital to pay homage to at least 20 people killed in anti-government unrest in recent weeks.
But for the first time since the protests began, demonstrators managed to cross from the wealthier eastern side of Caracas to the traditionally pro-government west without encountering resistance from state security.
Opposition politician Freddy Guevara, relishing the feat, likened the protesters' arrival in the city's more humble neighbourhoods as "crossing the Berlin wall".
Once assembled outside the headquarters of the Roman Catholic bishops' confederation, religious leaders led the crowd in a moment of silence and asked God for strength. Then a string of political leaders passed around a megaphone and from the back of a pick-up truck repeated their demand of recent days for immediate elections and freedom for dozens of jailed government opponents they consider political prisoners.
"Let it be heard: the dictatorship is in its final days," said Maria Corina Machado, who was stripped of her seat in congress in 2014. The crowd responded with shouts of "Freedom! Freedom!"
Many Venezuelans blame the socialist policies of the president, Nicolás Maduro, for triple-digit inflation and widespread shortages of food and medical supplies.
Among the demonstrators gathered in Caracas was Andres Ramirez, a 34-year-old agricultural engineer who marched with a giant cross draped in the Venezuelan flag.
"I am here carrying this cross for the peace of all Venezuelans," he said beneath a punishing sun. "We ask God to protect us in these moments of crisis and suffering."
Opinion
Emmanuel Macron will be almost certainly be the next French president. And the relief is immense. The much anticipated domino effect following the Brexit vote and Donald Trump's election has not, so far, materialised. And the European project has won – at least for now. At Macron's headquarters in Paris, a euphoric crowd was waving French flags, as well as many European ones. "C'est magnifique!", his supporters kept saying. Being in the second round is a huge achievement, being the frontrunner even more so.
Mathematically, it seems impossible for Marine Le Pen to win in two weeks time, on the 7 May. There is one simple reason: "Le Pacte Républicain", under which all mainstream parties are now going to call for a vote for Macron, to block the leader of the Front National. Within an hour of the exit polls, François Fillon, the candidate for the conservative Les Républicains, who came third, had said he would vote for Emmanuel Macron. The socialist candidate, Benoît Hamon, did the same, closely followed by the prime minister, the socialist Bernard Cazeneuve. The same strategy worked in 2002, when Jacques Chirac won a landslide victory against Marine Le Pen's father, Jean-Marie. Jean-Luc Mélenchon's failure to endorse Macron won't be enough to derail it.
This result is a relief but it also represents a shock – not because of Marine Le Pen's presence in the second round, which the polls prepared us for. But because the next president will come from neither of the two traditional main parties, the conservatives and socialists, the first time since the beginning of the fifth Republic, founded in 1958 by Charles de Gaulle.
François Fillon, who surprisingly won the conservative primaries last November, and was initially considered the frontrunner, has suffered badly as a result of allegations of corruption. He refused to stand down and even managed to make up some of his early losses, but not sufficiently to overcome Macron.
Benoît Hamon scored nearly the worst result of any socialist presidential candidate in the history of the fifth Republic. With just 6% of the votes, he comes just ahead of Gaston Defferre who scored just 5.01% in 1969, against Charles de Gaulle. Hamon's lack of charisma failed to convince the socialist electorate, already badly disappointed by the Hollande presidency.
And he has been eclipsed by the far-left candidate Jean-Luc Mélenchon, leader of the France Insoumise, who scored an amazing 19.5%. With a very astute and witty campaign, he attracted a lot of disenchanted, young voters on the left.
The main surprise, however, remains the extraordinary rise of Emmanuel Macron. Without any electoral history or even an official party, having only been an appointed finance minister for two years, this 39-year-old stands at the doors of the Elysée Palace.
He was the most-outspokenly pro-European candidate. He was also the one who led the most optimistic campaign. He has been accused of being a populist for the centre, of trying to please everyone. But he has managed to attract people who had never been interested in politics before.
France had a choice. To be more or less open; more or less democratic; more or less European. With Emmanuel Macron, it has chosen openess, democracy and Europe.