28 Apr
Nearly all of these are English-edition daily newspapers. These sites have interesting editorials and essays, and many have links to other good news sources. We try to limit this list to those sites which are regularly updated, reliable, with a high percentage of "up" time.


World Politics
France
United States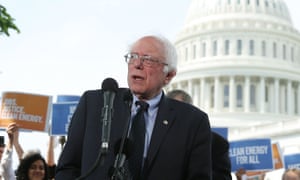 Bernie Sanders told the crowd: 'This is not a red or a blue issue. There is no excuse for failure. This is the biggest test facing human civilization and we have to respond and win this battle.' Photograph: Mark Wilson/Getty Images
As protesters prepare for nationwide demonstrations against Donald Trump's environmental agenda, Bernie Sanders on Thursday backed legislation that would phase out the use of fossil fuels in the US by 2050.
"Mr President, start listening to the people and the scientists, not the greed of the fossil fuel industry," Sanders said at a rally on Capitol Hill, where he was flanked by environmental advocates and two of his Democratic colleagues, Senators Jeff Merkley of Oregon, who authored the bill, and Ed Markey of Massachusetts.
"As you all know," the Vermont senator and former presidential candidate told the crowd, "Donald Trump is wrong about a lot of things. But there is no area where he is more wrong than on the issue of climate change."
Sanders added: "No, Mr President, climate change is not a hoax. Climate change is real."
At the event, held just outside the US Capitol, Sanders, Merkley and Markey unveiled legislation which seeks to completely phase out the use of fossil fuels through a transition to 100% clean and renewable energy by the middle of this century. But the bill, called the 100 by '50 Act, is unlikely to be considered by a Republican-controlled Congress, where many GOP lawmakers are still unwilling to acknowledge the science behind global warming and contribution of human activity.
The partisan nature of the debate was not lost on the audience, as one attendee interrupted the proceedings to ask: "Where are the Republicans?"
"We're going to have to recruit those colleagues across the aisle," said Merkley, who ranks among the Senate's most progressive voices. "This is not a red or a blue issue," he said. "There is no excuse for failure. This is the biggest test facing human civilization and we have to respond and win this battle."
Demonstrators are set to gather in Washington for the People's Climate March on Saturday, which will also mark the 100th day of the Trump administration. Similar marches are expected in major cities across the US, as part of a broader effort to oppose Trump's efforts to roll back the climate initiatives put in place by Barack Obama.
The president has signaled his intentions to tear up the landmark Paris climate agreement, forged by more than 195 nations in late 2015, to reduce greenhouse gas emissions by 26 to 28% over a decade.
Trump's top aides, who are split on whether or not the US should remain part of the Paris accord, were scheduled to meet on Thursday afternoon to discuss the deal's future. Trump's chief of the Environmental Protection Agency, Scott Pruitt, is a vocal proponent of pulling out immediately.
Trump has vowed to withdraw from the Paris agreement, and has already taken steps through executive action to begin the process of overturning Obama-era environmental regulations.
Among them was a directive to the EPA to dismantle the Clean Power Plan, one of Obama's signature climate policies to reduce carbon pollution from power plants. Trump also signed an executive order that aims to unravel the Obama rule designed to protect American waterways from pollution, and proposed in his budget draconian cuts to the EPA.
At the rally, Markey said Trump's actions were precisely why hundreds of thousands of people felt compelled to take to the streets.
"Donald Trump [is] still saying that he's going to issue a new executive order allowing for more oil drilling on the public lands of the United States of America," he said, drawing jeers for the president from the crowd. "That is just completely and totally unacceptable."
Arkansas has carried out its fourth execution within a week, bringing to a troubling end the state's controversial attempt to run a "conveyor belt of death" in an aggressive burst of killings unseen in the US for more than half a century.
Kenneth Williams was pronounced dead at 11.05pm local time at the end of a 13-minute lethal injection that resulted in disturbing signs of distress on the part of the prisoner.
Eyewitnesses in the death chamber reported that his whole body shook with 15 or 20 convulsions just minutes into the procedure, and that he continued to breathe heavily even after a paralytic was injected into him to render all movement impossible.
After the killing was completed, the Republican governor of Arkansas, Asa Hutchinson, the architect of the state's controversial schedule of quick-fire executions, proclaimed that "the long path of justice ended tonight. Arkansans can reflect on the last two weeks with confidence that our system of laws in this state has worked".
But observers were left with anything but confidence in the state's ability to conduct humane executions as doubts continued to dog the week's proceedings. Those doubts are certain to deepen after Thursday night's killing, if the eyewitness accounts are any indication.
The lethal injection began at 10.52pm with the injection of midazolam, a sedative that has a very controversial track record in executions. At the time, Williams was still making a statement, and was speaking in tongues. His voice tailed off as he said: "The words that I speak will forever, forever …"
At about 10.55pm he was reported by media witnesses to be breathing heavily and "gasping". Then he went into at least 10 seconds of convulsions, in which his body was described as "shaking", he lurched forwards quickly multiple times, and he moaned and groaned.
Two minutes later, a consciousness check was carried out by rubbing his sternum and lifting his eyelids. Members of the execution team were sufficiently certain that he was unconscious to at that point administer the second drug, vecuronium bromide, that paralyses the muscles and stops all movement.
But according to the witnesses, he was still breathing heavily and he issued a further moan and a groan at 10.59pm – two minutes after the paralytic would have been given.
The governor's spokesman said after the execution was completed that Williams' convulsions amounted to "involuntary muscular reaction" brought about by the midazolam. Asked whether he was worried that the heavy breathing had continued after the consciousness check was done, he replied: "No I am not."
Fears have swirled around the state's insistence on using midazolam as its first of the three drugs. As a sedative, midazolam does not have the same properties as anaesthetics used to render people unconscious before hospital surgeries. It has been associated with several gruesomely botched executions in the past few years including that of Clayton Lockett in Oklahoma in which he writhed and groaned on the gurney for 43 minutes.
During Monday night's execution of Marcel Williams in Arkansas, witnesses saw him breathing heavily and arching his back for several minutes. Lawyers representing the death row inmates had warned repeatedly that were the prisoner not fully unconscious they could be subjected to excruciating pain as a result of the third drug potassium chloride that stops the heart, yet no-one would know because the second drug vecuronium bromide is a paralytic that makes the individual incapable of any movement.
…………….. On Thursday, Kayla Greenwood, the daughter of the deceased driver, wrote a letter to Hutchinson pleading with him not to go ahead with the Williams execution. "When he took my father from us, Mr Williams caused us all a great deal of pain," she said.
"That does not mean that asking you to spare Mr Williams is not the right thing to do. It is."
She went on to reveal that her family had paid for travel costs to allow the condemned prisoner's own daughter, Jasmine, to visit him in prison before he died. "Jasmine had done nothing at all but like me, she could lose her father," Kayla Greenwood wrote. "If Mr Williams is executed, her loss, her pain will be as real as mine. I do not wish this on anyone."
Haydée Gastelú was among the first to arrive. "We were absolutely terrified," she recalls.
On the afternoon of 30 April 1977, 14 courageous women set aside fear – and the their families' warnings – and left their homes to confront the dictatorship that had stolen their children.
That day marked the first weekly march by the mothers of Argentina's "disappeared" against the military commanders who had planned the systematic murder of thousands.
Four decades on and 2,037 marches later, the mothers are still marching, though some of them are now confined to wheelchairs.
The mothers' white headscarves became a symbol of courage and the relentless battle for justice – and they have largely succeeded in their original aims: as of 2016, more than 1,000 of the dictatorship's torturers and killers had been tried and 700 sentenced.
But the mothers – most of them now in their late 80s – warn that the current era of alternative facts and revisionist history poses a new kind of threat for the country.
"Argentina's new government wants to erase the memory of those terrible years and is putting the brakes on the continuation of trials," says 88-year-old Taty Almeida, whose 20-year-old son, Alejandro, disappeared in 1975.
This struggle began when we were in our 40s. Now, 40 years later, we have to start all over again

Taty Almeida
These days, the mothers are hailed as human rights champions around the world and feted by the likes of Pope Francis and the former United Nations secretary-general Ban Ki-moon.
Forty years ago, however, they couldn't even get their neighbours to hear their plight. The mainstream press was silent, and a large segment of the country sympathized with the dictatorship.
"People were scared," recalls Gastelú, now 88. "If I talked about my kidnapped son at the hairdresser or supermarket they would run away. Even listening was dangerous.
"But I couldn't keep quiet. We needed everyone to know, even if nobody believed us. That's probably why they called us the Mad Mothers at first," she says.
"Of course we were mad," Almeida says. "Mad with grief, with impotence. They took a woman's most precious gift, her child."
At the time, the women couldn't gather in groups of more than three or four if they wished to avoid arrest. Instead, they marched two by two, around the Plaza de Mayo in front of the presidential palace every Thursday at 3.30pm.
Like thousands of other young people who were forcibly "disappeared" during the dictatorship, Gastelú's son Horacio – a biology student – was not actively involved in politics when he was seized by a group of armed men in August 1976 and disappeared without trace.
It took another 24 years before forensic anthropologists confirmed that he was one of 30 youths murdered by the army in revenge for the assassination of a general by leftwing guerrillas.
After staging a coup in 1976, the military rapidly put into action a plan to crush any potential opposition, eventually murdering some 30,000 people – almost all of them unarmed non-combatants.
But in recent months the historical consensus over the 1976-1983 dictatorship has been challenged under Argentina's current centre-right president, Mauricio Macri.
His government suggests that the number of victims may have only been around 9,000, citing a provisional figure drawn up by a special commission after the return of democracy in 1983. But the military themselves reported killing 22,000 people in a 1978 communication to Chilean intelligence.
The Goldman environmental prize honours the achievements of grassroots activists in six continents, recognising their sustained efforts to protect natural habitats often at great personal risk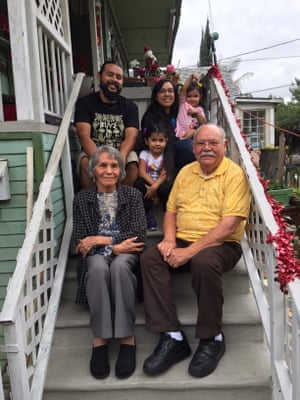 Lopez is the third generation in a family of activists. His grandparents (front row) are well-respected community activists in East LA. Lopez is seen here with his wife and two children
Photograph: Goldman Environmental Prize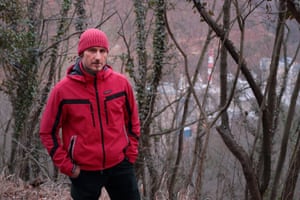 Photograph: Goldman Environmental Prize