29 Apr
Nearly all of these are English-edition daily newspapers. These sites have interesting editorials and essays, and many have links to other good news sources. We try to limit this list to those sites which are regularly updated, reliable, with a high percentage of "up" time.


World Politics
The French presidential hopeful has made no secret of her admiration for Russia's strongman leader, but her relationship with Trump is less clearcut
Jon Henley European affairs correspondent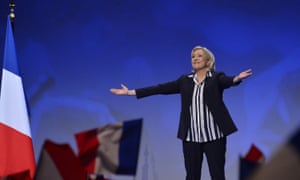 Marine Le Pen said last month: 'A new world has emerged. It's the world of Putin, it's the world of Trump. I share with these great nations a vision of cooperation, not of submission.' Photograph: Aurelien Meunier/Getty Images
The week after Donald Trump won the US presidential election last November, Marine Le Pen was inaugurating the headquarters of her own election campaign in Paris, less than a mile from the Elysée Palace she hopes to move into soon.
The far-right, anti-immigration Front National leader had been the only French political leader to back Trump in his bid for the White House. She has also made no secret of her admiration for Russia's president, Vladimir Putin.
Unveiling her campaign symbol, a blue rose, she said that her election as France's president would form a trio of world leaders that "will be good for world peace", leading "a worldwide movement that rejects unchecked globalisation, destructive ultra-liberalism, the elimination of nation states, the disappearance of borders".
Last month, Le Pen was in Moscow for a personal audience with Putin. "A new world has emerged in these past years," she said. "It's the world of Vladimir Putin, it's the world of Donald Trump in the US. I share with these great nations a vision of cooperation, not of submission."
Clearly, there is ideological common ground between the three leaders: variations on a theme of nation-first politics, support for economic protectionism and immigration controls, mistrust of international alliances and institutions such as Nato or the EU, and a rejection of globalism and the liberal consensus.
But Le Pen's actual ties with the two leaders differ significantly. With Russia, at least, they go beyond the ideological to the personal and the practical. Her meeting with Putin in March was reported to be their first; but according to French investigative journalists, it is possibly their third.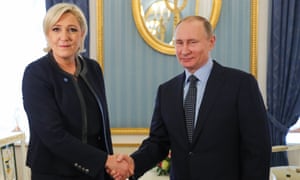 Jean-Marie Le Pen, Marine's father and an admirer of authoritarianism and ultra-nationalism, told the BBC in an interview recorded before last month that his daughter had previously met the Russian president, and her former foreign affairs adviser Aymeric Chauprade said in 2014 unofficial talks had taken place.
Unless she thinks media attention will serve her, Le Pen's trips abroad are often conducted discreetly. She has, though, visited Russia in 2011 – when she told the daily Kommersant: "I won't hide that, in a certain sense, I admire Vladimir Putin" – and in June 2013 and April 2014.
Front National aides and MEPs have been to Moscow far more often – and two ruling-party Russian MPs were honoured guests at the 2014 party conference that re-elected Le Pen party leader with a 100% mandate.
In further shows of sympathy, Le Pen has called for "completely stupid" EU sanctions against Russia to be lifted, said there was "no invasion" of Crimea because it had "always been Russian", and argued Ukraine had undergone "a coup d'état".
Nor has the party been shy about accepting Russian money, claiming no French bank will lend to it. The party borrowed €9m in 2014 from the First Czech Russian Bank (which later lost its licence) and acknowledged seeking €3m from Russia's Strategy bank in 2016.
The FN has always denied the Russian loans had bought Moscow any influence with the party. Le Pen told Le Monde the suggestion was "ridiculous" and "outrageous", adding: "So because we get a loan, that dictates our foreign policy? We've held this [pro-Russian] line for a long time."
There seems little doubt that for its part, Russia is attempting to influence the outcome of France's presidential election, whose final round on 7 May will pit Le Pen against the independent centrist Emmanuel Macron. Current polls suggest she will lose.
Japanese cyber-security group Trend Micro said in a 41-page report this week that the Russian hackers known as Pawn Storm or Fancy Bear APT28 – thought by US spy agencies and private cyber-security firms to be an arm of Russian intelligence – had targeted Macron's En Marche! using exactly the same tactics employed against the Democratic National Committee (DNC) in the operation which US authorities believe helped sway the election in Trump's favour.
………………..
Le Pen's relations with Trump are less clearcut. She has said she would have voted for him if she could, and he has come close to endorsing her, telling AP on the eve of the first round that the far-right leader was "the strongest on borders, and the strongest on what's been going on in France".
In January, Le Pen was photographed drinking coffee in Trump Tower with her partner, the party's vice-president Louis Aliot, and Guido "George" Lombardi, a businessman neighbour of Trump's who has portrayed himself as a kind of European far-right fixer for the president.
Lombardi was known to have held a fundraising party for the Front National the previous evening, and most of the efforts by Le Pen's entourage in the US are so far believed to have been directed towards securing much-needed contributions to party funds.
But Trump and Le Pen did not meet, staff from both sides have insisted. Nor did the Front National's European affairs adviser, Ludovic de Danne, or its US representative, Denis Franceskin, get to see Trump in November, when Lombardi invited them to Trump Tower for the election night party…………
France
United States
The UK government was given details last December of allegedly extensive contacts between the Trump campaign and Moscow, according to court papers.
Reports by Christopher Steele, a former MI6 officer, on possible collusion between the the Trump camp and the Kremlin are at the centre of a political storm in the US over Moscow's role in getting Donald Trump elected.
It was not previously known that the UK intelligence services had also received the dossier but Steele confirmed in a court filing earlier this month that he handed a memorandum compiled in December to a "senior UK government national security official acting in his official capacity, on a confidential basis in hard copy form".
The court papers say Steele decided to pass on the information he had collected because it was "of considerable importance in relation to alleged Russian interference in the US presidential election", that it "had implications for the national security of the US and the UK" and "needed to [be] analysed and further investigated/verified".
The December memo alleged that four Trump representatives travelled to Prague in August or September in 2016 for "secret discussions with Kremlin representatives and associated operators/hackers", about how to pay hackers secretly for penetrating Democratic party computer systems and "contingency plans for covering up operations".
Between March and September, the December memo alleges, the hackers used botnets and porn traffic to transmit viruses, plant bugs and steal data online from Democratic party leadership. Two of the hackers had been "recruited under duress by the FSB" the memo said. The hackers were paid by the Trump organisation, but were under the control of Vladimir Putin's presidential administration.
Trump has rejected the allegations of collusion as a smear campaign. His lawyer, Michael Cohen, one of Trump representatives named in the memo, has described the claims in the memo as "totally fake, totally inaccurate", and has said he had never been to Prague.
Since the memo became public in January, Steele had not spoken about his role in compiling it but he and his company, Orbis Business Intelligence Limited, have filed a defence in the high court of justice in London, in a defamation case brought by Aleksej Gubarev, a Russian venture capitalist and owner of a global computer technology company, XBT, and a Dallas-based subsidiary Webzilla.
Gubarev, who was named along with his company in the December memo as being involved in hacking operation, has denied any such involvement and is also suing Buzzfeed in the US courts for publishing the December memo alongside Steele's earlier reports on election hacking.
A statement by Steele's defence lawyers, endorsed by the former MI6 agent, said Orbis was hired between June and November last year by Fusion GPS, a Washington-based research consultancy to look into Trump's links with Russia.
In that period, Steele produced 16 memoranda citing mostly Russian sources as describing a web of alleged contacts and collusion between Trump aides and Russian intelligence or other Kremlin representatives.
The document said that he passed the memos to Fusion on the understanding that Fusion would not disclose the material to any third parties without the approval of Steele and Orbis. They did agree to Fusion providing a copy to Senator John McCain after the veteran Republican had been told about the existence of Steele's research by Sir Andrew Wood, a former UK ambassador to Moscow and an Orbis associate, at a conference in Canada on 8 November.
On a clear day the channel dividing Chios from the Turkish coast does not look like a channel at all. The nooks and crevices of Turkey's western shores, its wind turbines and summer homes could, to the naked eye, be a promontory of the Greek island itself. For the men, women and children who almost daily make the crossing in dinghies and other smuggler craft, it is a God-given proximity, the gateway to Europe that continues to lure.
Samuel Aneke crossed the sea almost a year ago on 1 June. Like those before him, and doubtless those who will follow, he saw the five-mile stretch as the last hurdle to freedom. "You could say geography brought me here," said the Nigerian, a broad smile momentarily dousing his otherwise dour demeanour. "But it was not supposed to keep me prisoner."
Refugee flows via Greece were meant to stop when the EU and Turkey announced what was seen as a pioneering agreement to stem the influx in March 2016. In Chios, like other Aegean isles, residents initially welcomed the accord. It was short-lived. The influx of more than 850,000 refugees arriving in the country in 2015 was soon replaced by a steady flow, with asylum seekers coming in groups that were sometimes small, sometimes large, but always propelled by the same ambition: to reach Europe by way of its southern shores.
On Chios, more than 825 asylum seekers, the vast majority Syrians, arrived from Turkey in March. This month almost 600 have come. With at least 3,000, according to authorities, housed in two overcrowded camps – one makeshift, the other a razor-wire topped detention centre in a former factory known as Vial – it is anger that hangs in the air.
Greece's Aegean isles have become de facto detention facilities – a dumpling ground for nearly 14,000 stranded souls, unable to move until permits are processed and fearful of what lies ahead.
"Anything could happen because everything is hanging by a thread," says Makis Mylonas, a policy adviser at the town hall. "Chios, Samos, Lesvos, Kos, Leros were sacrificed in the name of Europe's fixation to keep immigrants out," he claims, listing the isles that continue to bear the brunt of the flows.
International aid organisations do not disagree. "Are we worried? Of course we are worried," says Shane O'Brien, the UN Refugee Agency's resident spokesman. "To say things are tense is to state the obvious."
Officials are scrambling to cope with rising tensions. A coterie of far-right extremists has emerged and there have been attacks on migrant camps. Last week, neo-fascists threw incendiary devices at immigrants living at the Souda camp.
Frustration is also growing among refugees with nothing to do but wait for requests to run through an asylum-processing machine widely damned for moving at glacial speed. In March a young Syrian self-immolated.
"It's an emergency," says Chios's mayor, Emmanouil Vournous. "The islands need to be relieved but we, also, need to take measures. Since we are here, planted by history and geography we need to understand the reality."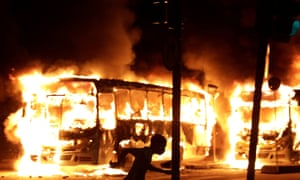 Buses burn during clashes in Rio de Janeiro. Photograph: Ricardo Moraes/Reuters
Brazilian unions have ratcheted up the pressure on president Michel Temer with a nationwide general strike that closed schools, disrupted transport networks and led to clashes with public security in several cities.
Demonstrators in Rio de Janeiro and São Paulo blocked key roads with barricades of burning tires on. Riot police used teargas and percussion grenades to try to disperse the crowds and open the routes.
Domestic media said it was the biggest general strike in decades, with protests reported in 26 states and strikes by teachers, bus drivers, healthcare providers, oil industry workers and public servants.
As night fell on Friday, there were multiple clashes in central Rio between protesters, who set fire to a bus, and riot police, who fired dozens of rounds of tear gas.
Cintia Manoel, a municipal employee, joined the crowd chanting "Fora Temer" (Temer out). Despite the friction, she felt it was necessary to participate. "I was there primarily against the government, which I consider illegitimate and because of the worker's rights and pension reform, which made this protest much bigger."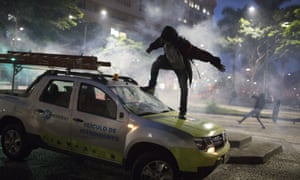 Daniela Barbosa, an elementary school teacher, said the proposed changes to the pension system would oblige her to work for several years longer than she wanted.
The protest comes at a difficult time for the labour movement. Earlier this week, congress passed labour law reforms that weaken worker's rights. The figurehead of the Workers party, Luis Inácio Lula da Silva, is on trial, facing corruption charges.
His successor Rousseff said the strike was a symbol of courage. "This is a historic day," she said. "In these difficult time, a fight for democracy and in defence of our social gains is the duty of all of us."
Many voters are furious that politicians are insisting on the need for cuts in benefits and public services even as evidence grows that they benefited personally from illegal kickbacks on overinflated contracts.
Eight cabinet ministers have been implicated in the Lava Jato (Car Wash) investigation into corruption at the country's two biggest companies, Petrobras and Odebrecht. Temer's approval ratings have slipped into single digits, similar to the level of his predecessor, Rousseff, when she was impeached last year.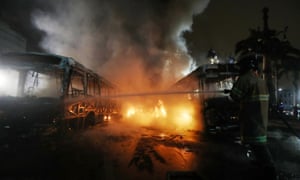 Government spokesman Alexandre Parola played down the significance of the industrial action. "A strike is a part of democracy. It's acceptable as long as participants stay within the law. The country is still functioning," he noted.
The shutdown was not total. In Rio, bus and metro companies ran a reduced service. Most shops and banks remained open. But students were told to remain at home and there were skirmishes between protesters and police at Santos Dumont airport and the main bus terminal. São Paulo was hit harder, with a shutdown of many bus lines and fierce clashes on the road to the Congonhas airport. More protests were expected later in the day.
Tension on the border of North and South Korea, the French elections and the ongoing violence in Mosul – the news of the week captured by the world's best photojournalists