30 Apr
Nearly all of these are English-edition daily newspapers. These sites have interesting editorials and essays, and many have links to other good news sources. We try to limit this list to those sites which are regularly updated, reliable, with a high percentage of "up" time.


World Politics
France
United States
Hundreds of marches held around the US including in Washington DC, Seattle, Boston and San Francisco
Staff and agencies
Mass protests in Washington, San Francisco, Denver and Seattle coincide with Donald Trump's 100th day in office and take aim at his rolling back of environmental protections. Organisers said about 300 sister marches were being held around the country, including in Seattle, Boston and San Francisco. In Chicago, marchers headed from the city's federal plaza to Trump Tower. In Denver, marchers were met with a dose of spring snow
Thousands of people across the US have marched in rain, snow and sweltering heat to demand action on climate change mass protests that coincided with president Donald Trump's 100th day in office and took aim at his agenda for rolling back environmental protections.
A sea of protesters taking part in the People's Climate March swarmed in front of the White House to demand Trump rethink plans to reverse the climate change policies.
Organisers said about 300 sister marches or rallies were being held around the country, including in Seattle, Boston and San Francisco.
A wet spring snow fell in Denver, where several hundred activists posed in the shape of a giant thermometer for a photograph and a dozen people rode stationary bikes to power the loudspeakers. In Chicago, a rain-soaked crowd of thousands headed from the city's federal plaza to Trump Tower.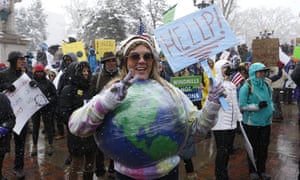 In Washington, as temperatures rose above 90F, tens of thousands of people marched from the grounds of the US Capitol and passed the White House en route to the Washington Monument for a rally.
Participants on Saturday said they object to Trump's rollback of restrictions on mining, oil drilling and greenhouse gas emissions at coal-fired power plants, among other things.
Many of the protesters carried signs with slogans such as "The seas are rising and so are we" and "Don't be a fossil fool." As the procession passed the Trump International Hotel on Pennsylvania Avenue, marchers booed and chanted "shame."
While a good-natured mood prevailed and there were no signs of violence, many demonstrators said they were angered by the prospect of Trump carrying through on his vow to roll back protections put in place by his predecessor Barack Obama.
"We're going to rise up and let them know that we're sick and tired of seeing our children die of asthma," said Reverend Leo Woodberry of Florence, South Carolina, who spoke during a press conference before the march. "We're sick and tired of seeing people with cancer because of coal ash ponds. We're sick and tired of seeing sea-level rise."
Elsewhere, more than 2,000 people gathered at the Maine State House in Augusta. Speakers included a lobsterman, a solar company owner and members of the Penobscot Nation tribe.
"I've seen firsthand the impacts of climate change to not only the Gulf of Maine, but also to our evolving fisheries, and to the coastal communities that depend upon them," said lobsterman Richard Nelson of Friendship, Maine.
People in the crowd spoke about the importance of addressing climate change to industries such as renewable energy, forestry, farming and seafood.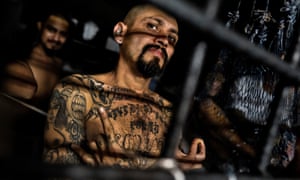 An MS-13 leader in jail in El ­Salvador. The international gang is believed to have 30,000 members worldwide and 10,000 in the US. Photograph: Jan Sochor/LatinContent/Getty Images
T

he first victims were high school friends Nisa Mickens, 15, and Kayla Cuevas, 16 – killed as they were out on an evening walk last September. A week later, the bodies of Oscar Acosta and Miguel Garcia-Moran, both 19 and missing since the start of the year, were found near an abandoned hospital. Then, this month, four teenage boys were killed close by in a park in Central Islip, a predominantly Latino town on New York's Long Island, 40 miles east of Manhattan.
In that incident, the killers used machetes or other sharp instruments, their grotesque handiwork betraying the cruelty and ritualism of MS-13, or the Mara Salvatrucha, a neighbourhood street gang with its roots in El Salvador's civil war of the 80s and 90s.
While no arrests have been made in the most recent murders, police said the victims – Jorge Tigre, 18, Justin Llivicura, 16, Michael Banegas, 18, and Jefferson Villalobos, 18 – were killed in a manner "consistent with the modus operandi" of MS-13.
Now the gang's trademark brutality and terrifying, heavily tattooed countenances have attracted the attention of US political and law enforcement leadership. On Friday, at Central Islip's vast federal courthouse, which rises like a white edifice in scrubby woodland five miles from where the murders took place, President Trump's attorney general, Jeff Sessions, restated his commitment to helping the police battle street gangs.
He said the killings were an assault on law and safety, vowed to not let this continue, and blamed "bad guys [that] know how the system works, and they have exploited it".
Coming on the 100-day mark of the new presidency, Sessions's comments sought to give flesh and bone to the "bad hombres" of Trump campaign folklore. They could hardly have found a more ferocious-looking group of young men upon which to fix their fear of the outsider.
Indeed, senior administration officials have been outdoing each other with graphic descriptions of a gang that, according to the FBI's National Gang Intelligence Center, has 30,000 members worldwide and around 10,000 in the US.
The secretary of homeland security, John Kelly, described their supposed role in smuggling immigrants into the US as "a course north that rivals Dante's journey into hell".
Kelly was followed by Sessions, who said "depravity and violence are their calling cards". He was followed by Trump, who added: "They are a bad group, and somebody said they are as bad as al-Qaida, which is a hell of a reference … We are out in Long Island, cleaning out the MS-13 scum."
Thus, the blue-collar communities of Central Islip and Brentwood – with their brightly decorated Spanish-language restaurants serving Salvadoreans, Guatemalans, Mexicans and other Latino communities – have become the prima facie justification for President Trump's immigration crackdown.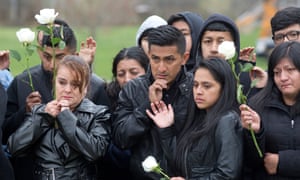 It is a bitter confluence: a president, so far thwarted in his anti-immigration agenda and now looking to make a mark, coupled with a criminal gang that has spread through poor immigrant communities virtually unimpeded, many say, by law enforcement.
In a recent roundup of 13 suspected MS-13 gang members, seven had entered the US as unaccompanied minors, giving what many fear will be false justification to an administration that has been accused of trying to scapegoat immigrants in the service of a racial agenda.
"These are ugly, brutal events, so for Sessions to come in here to score political points is insulting," said Foster Maer of campaign group LatinoJustice, who had come to the courthouse with dozens of others to protest at the attorney general's visit. He accused Sessions of grandstanding for attention and warned that a heavy-handed, poorly targeted crackdown would serve to exacerbate a growing sense of ostracism within immigrant communities.
Maer claimed discrimination had contributed to authorities failing to heed warnings about MS-13 violence or to investigate MS-13-related activity when Latino teens began to disappear last year.
The US Environmental Protection Agency's main climate change website is "undergoing changes" to better reflect "the agency's new direction" under Donald Trump.
The announcement, made late Friday evening, left empty what was previously the "official government site" providing "comprehensive information on the issue of climate change and global warming".
At the marquee climate protest, the Peoples Climate March in Washington, tens of thousands made their way down Pennsylvania Avenue in sweltering heat on their way to encircle the White House.
Organizers said about 300 sister marches or rallies were being held around the country, including in Seattle, Boston and San Francisco. In Chicago, marchers headed from the city's federal plaza to Trump Tower. In Denver, marchers were met with a dose of spring snow.
Some of the marches drew celebrity attendees, including former Vice President Al Gore and actor Leonardo DiCaprio in the capital and senator and former candidate for the Democratic presidential nomination Bernie Sanders at an event in Montpelier, Vermont.
"Honored to join Indigenous leaders and native peoples as they fight for climate justice," DiCaprio tweeted.
Any marchers who used their phones to look at the EPA climate change website would have been greeted with a message from the new administration: "This page is being updated."
"As EPA renews its commitment to human health and clean air, land and water, our website needs to reflect the views of the leadership of the agency," said JP Freire, an associate administrator for public affairs.
Previously, the website housed data on greenhouse gas emissions from large polluters and reports on the effects of climate change and its impact on human health.
"We want to eliminate confusion," Freire said, "by removing outdated language first and making room to discuss how we're protecting the environment and human health by partnering with states and working within the law."
Information from previous administrations is archived as a link from the EPA's website.
The Trump administration has called for budget cuts of nearly one-third at the EPA and has sought to weaken protections for human health. For instance, the White House has proposed cutting funding and regulations regarding lead poisoning prevention and is considering rewriting regulations concerning smog.
It has already rolled back a law that prevented coal mining companies from dumping waste in streams.
Pope Francis has said a third country should mediate the dispute between North Korea and the US, which he said had become "too hot", risking a war in which "a good part of humanity" would be destroyed.
Donald Trump, meanwhile, answered a question in a television interview about whether military action was possible by saying: "I don't know. I mean, we'll see."
The pope, speaking to reporters aboard the plane taking him back to Rome from Cairo, also said he was ready to meet Trump in Europe next month. He added, however, that he was not aware of any request for a meeting.
In answer to a question about North Korean missile tests and military and diplomatic moves by the US, Francis said the United Nations should re-assert its leadership because it had become "too watered down".
"I call on … all leaders … to work to seek a solution to problems through the path of diplomacy," he said.
North Korea test-fired a ballistic missile on Friday, shortly after secretary of state Rex Tillerson warned that failure to curb Pyongyang's nuclear and ballistic missile programmes could lead to "catastrophic consequences".
The test failed. Trump, who earlier this week said the US could have a "major, major conflict" with North Korea, responded with a tweet. The president wrote: "North Korea disrespected the wishes of China & its highly respected president when it launched, though unsuccessfully, a missile today. Bad!"
In remarks released by CBS ahead of an interview set to be broadcast on Sunday and Monday and part-taped at Trump's rally in Pennsylvania on Saturday night, the president was asked if diplomatic and military pressure was working.
"Well, I didn't say, "don't test a missile'," Trump said. "[North Korean leader Kim Jong-un is] going to have to do what he has to do. But he understands we're not going to be very happy."
Trump said president Xi Jinping of China, "a man that I've gotten to like and respect" and whom he met earlier this month in Florida, was also pressuring North Korea.
"But so far," he continued, "perhaps nothing's happened and perhaps it has. This was a small missile. This was not a big missile. This was not a nuclear test, which he was expected to do three days ago. We'll see what happens."
Trump added: "If he does a nuclear test, I will not be happy. And I can tell you also, I don't believe that the president of China, who is a very respected man, will be happy either."
Would that mean military action?
"I don't know," said Trump. "I mean, we'll see."
On the papal plane, Francis gave a news conference that lasted around 30 minutes. He said: "There are so many facilitators in the world, there are mediators who offer themselves, such as Norway for example. It [Norway] is always ready to help. That is just one but there are many. But the path is the path of negotiations, of a diplomatic solution.
"This question of missiles in [North] Korea has been brewing for more than a year but now it seems the situation has become has become too hot.
"We are talking about the future of humanity. Today, a widespread war would destroy – I would not say half of humanity – but a good part of humanity, and of culture, everything, everything. It would be terrible. I don't think that humanity today would be able to withstand it."
A hellbender salamander, a red kite in flight and a hawksbill turtle are among this week's pick of images from the natural world