01 May
Nearly all of these are English-edition daily newspapers. These sites have interesting editorials and essays, and many have links to other good news sources. We try to limit this list to those sites which are regularly updated, reliable, with a high percentage of "up" time.

Marine Le Pen's National Front party claims its Eurosceptic platform is aimed at protecting workers. But in the European Parliament, critics say the French far-right party has done everything to scuttle workers' rights.
Two days after she made it past the first round of the 2017 French presidential election, Le Pen was live on national TV, trying to position herself as the "candidate of the people". The 48-year-old National Front (FN) presidential candidate was ticking the boxes when she declared, "The choice I offer is the choice of the nation, the choice of the homeland, for the protection of the French people against the excesses of regulations, and the drifts of the market."
Le Pen has long cast herself as the saviour of French workers against a rapacious global financial system – stealing the thunder of the French left in the process.
However the voting history of FN members in the European Parliament reveals a pattern of choices that contravene Le Pen's stated intentions.
The 23 French far-right European Parliament members (MEPs) almost systematically choose to vote against measures aimed at improving the lot of Europe's workers, according to critics. These include the fight against de-industrialisation, directives to reduce tax evasion, as well as measures against social dumping (the practice of employing cheap labour or moving work sites to low-wage countries). The far-right bloc has also voted against a directive seeking to prevent and deter undeclared work – or paid activities that are not declared to public authorities and therefore not taxed.
Despite the party's staunchly anti-EU platform, the FN has had no qualms about running for European parliamentary elections – and generally does better than in national legislative elections, benefitting from low voter turnouts for EU elections. While the party has more than 20 seats in the European Parliament, it has only three in the French National Assembly.
Once in, the elected FN MEPs benefit from EU salaries, perks and privileges. Earlier this week, the party was accused of defrauding the European Parliament of nearly €5 million, more than twice an initial estimate.
The allegations however have not appeared to affect her popularity ratings among the party's core base of supporters, who are overwhelmingly Europhobic.
'We have never seen the FN'
For anti-National Front MEPs though, the French far-right party's obstructionist voting track record is particularly galling.
"What strikes me most is that they act, in the European Parliament, in opposition to everything they say in France," said Elisabeth Morin-Chartier, an MEP from the French centre-right Les Républicains party and member of the EU's Employment and Social Affairs Committee.
"Because the National Front rejects the legitimacy of European institutions, they vote against everything that gives power to these institutions to invest locally, even if their intervention is positive for social rights," said Doru Frantescu, director of VoteWatch, a Brussels-based think tank that monitors the votes of European parliamentarians.
Thiébaut Weber of the European Trade Union Confederation (ETUC), which includes almost all the French trade unions, agrees. "Social and labour rights issues at the European level and the National Front are two different things. They are totally absent on these issues," he said, explaining that he does not count on the elected representatives of the French far-right party to defend the interests of European workers. "We have never seen the FN, no effective work, no initiatives, only speeches. Their position is not to engage," explained Weber.
'They cannot claim they defend the most precarious workers'


World Politics
France
United States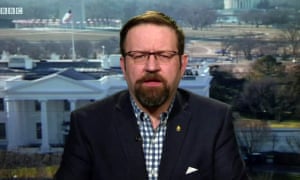 Sebastian Gorka is out Photograph: BBC
Guardian staff and agencies
Sebastian Gorka, an adviser to Donald Trump who has been under pressure over his links to Hungarian far-right groups, is leaving the White House.
A senior official said Gorka, a former counterterrorism analyst for Fox News who joined the administration as an adviser, will be leaving the White House in the coming days.
The official said that Gorka had initially been hired to sit on the strategic initiatives group, an advisory panel created by Trump's chief strategist Steve Bannon to run parallel to the national security council.
But that group fizzled out in the early months of the administration. Gorka was unable to get clearance for the national security council after he was charged last year with carrying a weapon at Ronald Reagan Washington national airport.
The Guardian reported in April that Gorka attempted to push a plan to partition Libya into three as part of an effort to be named special envoy to the country by Trump.
Despite his lack of a security clearance, Gorka has served as a prominent Trump surrogate on cable news, accusing critics of promoting "fake news" and touting that with Trump's election, "there's a new sheriff in town."
In recent weeks, one White House source told the Washington Examiner that Gorka's role had diminished to the point where he was appearing on television, "giving White House tours and peeling out in his Mustang."
The official spoke anonymously to discuss private personnel matters. Attempts to reach Gorka by email for comment were not immediately successful.
Gorka, who is in his 40s, was born in London to Hungarian parents who had fled during the country's 1956 failed anti-Soviet revolution. His wearing of a medal awarded to his father by by the Hungarian group Vitezi Rend – or Order of Heroes – at the inaugural ball for the president raised eyebrows, as the group, which was anti-Soviet, has been linked by some to Nazi colluders.
His links to the Vitezi Rand as well as other ties to the Hungarian right had come increasingly scrutiny in recent weeks. Prior to immigrating to the United States, Gorka had mounted an unsuccessful political career in Hungary and, in doing so, once expressed support for a far-right militia in the country.
Y

ou could measure Donald Trump's victory in the silence and stillness on both sides of this sunbaked border.
The reception centre in McAllen, Texas which used to feed and clothe hundreds of migrants and refugees daily is now nearly deserted.
The shelters in Reynosa, Mexico, where travellers thronged in preparation to cross the Rio Grande are now quieter than libraries.
Even the arrival of Francisco Ramirez, 36, who crossed the river on an inflatable raft last week with three other Salvadoreans, was a victory of sorts for Trump. "The smuggler complained that normally he would have 12 clients," Ramirez said.
With stalled plans to shake up trade, healthcare and other policies during his first 100 days in office, the president can at least point to the south-western border and declare success.
"Yes, he has succeeded," said Hector Joaquin Silva de Luna, who runs the the Senda de Vida shelter in Reynosa. "The numbers have fallen. People are afraid."
According to US Customs and Border Protection (CBP) data, 12,193 people were apprehended on the US-Mexico border in March, the lowest number since fiscal year 2000. That represents a 64% decline from the same month last year. The plunge began in January, when Trump was inaugurated.
"It looks good for him that the numbers have come down," said Sister Norma Pimentel, executive director of Catholic Charities of the Rio Grande Valley.
There are other factors, including crackdowns by Mexican authorities, but few doubt the Trump effect.
"That's a tremendous achievement," the president told the Associated Press in a recent interview.
There are, however, two problems with this policy of fear: it is worsening a humanitarian crisis by exposing people to abduction, extortion and murder and it may stop working.
There is already anecdotal evidence in McAllen that the numbers of arrivals from Central America – principally Guatemala, El Salvador and Honduras – are rebounding.
"I think they've stopped to wait and see what's happening here in the US," said Jennifer Harbury, a local lawyer and veteran human rights activist. "I think the surge will happen again, it's just a matter of when it'll explode.
"Because people can't stay in their countries and it's not safe in Mexico. They don't come to buy refrigerators. It's life and death."
After Trump's victory in November, US officials at the international bridge just north of Reynosa started turning away asylum seekers who had credible fear of persecution back home in Central America, which has the world's highest murder rate, and in Mexico, Harbury said.
An injured Guatemalan waitress, she said, was kidnapped as soon as she returned across the bridge. The lawyer also cited a couple with a toddler who were turned away six times even though the father had a bullet scar.
"Every time they crossed and were sent back they feared being kidnapped," she said.
Opinion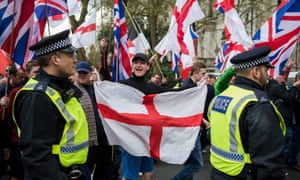 'The far right has gained influence on all levels: from far-right populism to white supremacist terrorism, from alt-right movements to neo-Nazi groups.' Photograph: Ben Stevens/PA
"M

uslims are like cockroaches. An infestation that needs to be eradicated. Immediately. Permanently", reads the tweet by one of thousands of anonymous far-right Twitter accounts that spread hate against ethnic and religious minorities each day.
Meanwhile, National Action calls for a "White Jihad", right next to a tweet about their Miss Hitler 2016 competition. After National Action became Britain's first far-right group to be banned, its web page was taken down. Yet, until a few days ago its official Twitter profile has been operative and hosts an arsenal of dangerous propaganda.
The home affairs committee's new report released today, called Hate Crime: Abuse, Hate and Extremism Online harshly condemns social media companies for their failure to identify and remove illegal content. They are "shamefully far from taking sufficient action" to safeguard online users from harassment, abuse and promotion of violence, it warns. The report comes at a crucial time. Our research at Quilliam into far-right extremism and hate crimes, which contributed to the report's findings, shows that the far right has gained influence on all levels: from far-right populism to white supremacist terrorism, from alt-right movements to neo-Nazi groups.
Over the past year, anti-immigrant rhetoric has grown and anti-Muslim hate crimes have surged. The government's Channel programme, which aims to reach people at risk of being radicalised, is receiving more far-right referrals than ever before, and online hate speech against ethnic and religious minorities has reached unprecedented levels. The Metropolitan police even warned that the threat from far-right groups is as severe as the jihadist threat.
The British far-right landscape is increasingly splintered and leaderless. But low membership numbers of street protest movements such as the EDL and Pegida UK are hardly comforting. Some of their former cohort have joined smaller, more militant groups while others have focused their efforts on spreading hate online. Increasingly, far-right movements show signs of collective learning and create powerful multiplier effects for their messages. As early adopters of new technology, they have been exceptionally good at using social media to widen their echo chambers and foster ties with like-minded groups abroad.
British "counter-jihadis" have stepped up their cooperation with American alt-righters, French and Austrian "identitarians" and even German and Polish neo-Nazis. This is the paradox of modern-day nationalists: they capitalise on the opportunities of globalisation to spread their anti-globalist views globally.
It is within this context that EDL founder turned Pegida UK leader Tommy Robinson features prominently on Alex Jones's conspiracy theory show, Infowars, and receives support from American alt-right leaders Robert Spencer and Pamela Geller. Platforms such as Gates of Vienna, the FrontPage Mag and Jihad Watch provide outlets for all of them.
Once their ideas are carried into social media echo chambers, hateful rhetoric quickly turns into crime and calls for violence. Some far-right pages have become melting pots for misogynistic, racist, anti-Muslim and antisemitic hate speech, where #Manosphere activists meet conspiracy theorists and alt-right trolls. These online nexus points have enabled British far-right activists to mobilise young people, hijack online subcultures and obfuscate the 24-hour media circle by spreading hyper-partisan and alternative news.
It would be wrong to claim that we have not made any progress in challenging far-right hate crimes and extremism. In the past year, Twitter has started removing neo-Nazi accounts, the media has begun calling far-right-inspired attacks "terrorism" and Prevent efforts increasingly focus on rightwing radicalisation. But with an American president who conflates Islam and Islamist extremism while blurring the lines between fact and fiction, efforts have been somewhat impeded. The election successes of populist politicians across Europe and the US have further normalised extremists' rhetoric and given credence to the perception of an inevitable conflict between Muslims and non-Muslims.
That the far right has moved from the fringe into the mainstream demonstrates the massive support that white supremacist movements have attracted from digital natives. Their online followership often exceeds that of mainstream political parties: with over 200,000 followers, Tommy Robinson's Twitter account has almost the same number of followers as Theresa May's.
Neo-Nazis outperform Isis in nearly every metric, a 2016 report by the Institute for Strategic Dialogue found. In my evidence to the home affairs committee, I warned of the link between online hate speech and offline violence. The murder of Jo Cox by far-right terrorist Tommy Mair in the run-up to the Brexit referendum was a sad reminder that dehumanising words can inspire and translate into violent action and self-starter terrorism. My conversations with members and ex-members of the EDL, Pegida and Combat18, as well as Hizb ut-Tahrir, Al-Muhajiroun and Isis, confirmed that jihadis and far-right extremists use each others' rhetoric to reinforce their common narrative that a final battle between the west and Islam is inevitable.
This is why the far right celebrates every terrorist attack as a victory for their narrative of "all Muslims are terrorists", while jihadis rejoice at the election of far-right politicians. Robinson reacted to the Westminster attack by going on an anti-Muslim rant, while Marine Le Pen instantly exploited the Champs-Élysées attack by giving her anti-immigration line a final pre-election push. Likewise, Isis-supporting Telegram channels cheered at the news of Donald Trump's victory and expressed their hope that Le Pen will become France's next president.