02 May
Nearly all of these are English-edition daily newspapers. These sites have interesting editorials and essays, and many have links to other good news sources. We try to limit this list to those sites which are regularly updated, reliable, with a high percentage of "up" time.


World Politics
France
Great Britain
All the day's campaign action, as Nick Clegg speaks out for Lib Dems, Tom Watson hits out at Boris Johnson, and Theresa May sets out to find voters
United States
President says roots of civil war go unquestioned as he lauds 'big-hearted' Andrew Jackson, who was 'very angry' about a conflict years after his death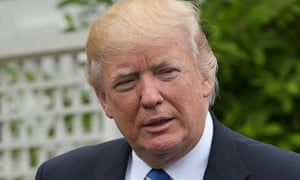 Donald Trump: 'People don't ask that question, but why was there a civil war?' Photograph: Mandel Ngan/AFP/Getty Images
Donald Trump has expressed confusion as to why the American civil war took place and claimed that President Andrew Jackson, who died 16 years before the war started, "was really angry" about the conflict.
In an interview published on Monday the US president also said Jackson, a slaveholder who led a relocation and extermination campaign against Native Americans, "had a big heart".
On Monday night, Trump sought to clarify his remarks, arguing in a tweet that Jackson had predicted the civil war and would have prevented it had he not died 16 years prior.
The president made his remarks in an interview with the Washington Examiner to mark his 100th day in office, which fell on Saturday. "It's a very intensive process," Trump told his interviewer of the presidency. "Really intense. I get up to bed late and I get up early."
His remarks about Jackson and the civil war appeared to arise from a discussion of a painting of the seventh president that Trump moved into the Oval Office after his inauguration. Trump has called Jackson "an amazing figure in American history – very unique so many ways" and said that he identifies with his populist forebear.
In March he visited the Hermitage, Jackson's home in Nashville, Tennessee, which was partly built by slaves, and was pictured saluting at the former president's grave.
"I mean, had Andrew Jackson been a little later, you wouldn't have had the civil war," Trump told the Examiner's Salena Zito. "He was a very tough person, but he had a big heart.
"He was really angry that he saw what was happening with regard to the civil war. He said, 'There's no reason for this.' People don't realize, you know, the civil war – if you think about it, why? People don't ask that question, but why was there a civil war? Why could that one not have been worked out?"
The civil war was fought over slavery – the enslavement in the United States of African Americans – and related territorial, economic and cultural struggles. Jackson died in 1845. The first shot was fired by forces of the secessionist, slaveholding states on Fort Sumter in Charleston, South Carolina, on 12 April 1861.
Defenders of Trump's creative approach to history argued on Monday that the president was referring to a successful effort by Jackson in the 1830s to put down a secessionist threat. Nothing in Trump's statement, however, indicates knowledge of the earlier episode, which was not part of the civil war.
Trump's statements drew expressions of extreme disbelief and consternation online. Many scholars noted that the investigation of the civil war's roots was one of the richest veins in all of US historiography.
Part one: In Montana, Native Americans fear a leak could destroy their way of life, but local politicians worry about the threat of protesters above all else
Our people call it the black snake because it is evil," says Tressa Welch, as thunder clouds steamroll the blue sky over the plains of Wolf Point. "And like snakes they come out of nowhere, they slither and strike unknown."
She faces southwards where, a couple of miles away, forks of lightning crack over the Missouri River. The 2m acre Fort Peck Indian Reservation straddles this winding water source, providing sustenance for the almost 7,000 Assiniboine and Sioux tribe here and thousands of others throughout north-east Montana. It is the river that Welch and other Native American activists on the reserve say the Keystone XL oil pipeline – or the "black snake" – will corrupt.
The river maintains the deer, the fish, the native plants, sweet grasses and sacred sage. "Anything that threatens my way of life and my spiritual well-being, I consider myself at war with," she says, her two-year-old daughter by her side. "I will do whatever it takes."
After Trump's revival of the Keystone XL pipeline project, some communities along its route are getting ready to fight back.
The Guardian drove along the proposed route of the pipeline, through three red states – Montana, South Dakota and Nebraska – to hear what those who will be affected have to say about it.
Although the XL is expected to cross the Missouri just outside of the reservation, it will do so about 40 miles upstream of the tribes' multimillion-dollar water treatment plant, which supplies clean water to communities throughout the entire region. A leak at this junction, they say, could be catastrophic. The project's backers insist it will be safe.
The gargantuan underground pipeline is set to carry a daily load of 830,000 barrels of oil over 1,204 miles, from the Athabasca oil sands in Alberta, Canada – where it enjoys the support of the prime minister, Justin Trudeau – across the US border into eastern Montana. It will travel down to South Dakota, eventually linking with the first Keystone pipeline, which was completed in 2010, in southern Nebraska. The route connects not just countries and states, but three US presidencies. First proposed by the private Canadian infrastructure giant TransCanada during George W Bush's final months in office, the project was eventually rejected by the Obama administration in 2015, only to be resurrected almost as soon Donald Trump was sworn in at the beginning of this year.
The proposed Keystone XL pipeline

would carry a daily load of 830,000 barrels of oil over 1,204 miles, from the oil sands in Alberta, Canada, into Montana, weaving between

Native American reservations

.
Tribal members and other local communities are concerned about their water being contaminated by potential oil spills under the pipeline's 56 river crossings and its pathway underneath one of the world's largest ground water sources.
Its potential pathway crosses 56 rivers and streams, dozens of farms and ranches, one of the world's largest groundwater sources and comes close to a handful of Native American reserves, exposing the deep divisions and unlikely alliances within these rural communities after nearly a decade of struggle, which were entrenched even further by a bitterly divisive presidential election.
Framed as a victory over government regulation and a win for jobs creation by the Trump administration and those who support the project, critics characterize the reversal as a win for a foreign business over environmentalism and private land rights.
As the prospect of construction looms, The Guardian spent one recent week travelling along the proposed US route of the XL, meeting with those who will be directly affected by the expansion. The journey starts at the Fort Peck reserve, about 80 miles from the Canadian border and the first concentrated population in its pathway, where Tressa Welch and her group of "water protectors" believe it is a duty endowed upon them by their ancestors to resist the construction.
The men here are preparing the land for the Sun Dance festival in June, when the community will gather to pray for good health, fast without water for four days and offer parts of their flesh. "We give a little piece of ourself back to Mother Earth, because she supplies everything to us," Welch says.
As for many of the young tribal members on this reserve, the election of Trump and the rebirth of Keystone has brought with it a renewed connection to history and culture through activism.
Only a few years ago, the 26-year-old had worked as a land surveyor carrying out contract work for large oil companies. After she saw the protest camps opposing the Dakota Access pipeline, arguably the landmark environmental struggle of the Obama administration and a likely precursor to the future struggle over the XL, she felt compelled to travel to the Standing Rock reservation in North Dakota. She stood on the frontlines as protesters were water cannoned by police officers in subzero cold last winter. Their hard fought victory was almost instantly reversed by the election of Trump, but the experience changed her life nonetheless.
It is likely that the Fort Peck reservation will be the first frontier of physical opposition to the XL, should a series of recent oppositional lawsuits fail and the final route proposal in Nebraska be approved. Already this year, Welch and others here have marched 85 miles along the banks of the Missouri and protested peacefully outside a planned meeting between the tribal council and TransCanada, which was eventually called off.
TransCanada insist it has consulted with all parties along the XL route including Native American tribal leaders.
But less than an hour down the highway in the old railroad town of Glasgow, the sentiment is the polar opposite. Here the city is almost cut in half by the railway track. The town's station, a single storey white bricked depot, sits at the centre of the Amtrak Empire Builder line, which runs over 2,000 miles and connects Chicago to the Pacific Northwest.
Jeff Swanson and RJ Winderl, who both own ranch land the XL will cross, sip coffee and pour over the papers at the local John Deere retailer, which serves as a hub for ranchers who come to sit among friends and peruse the large green tractors and combine harvesters on sale outside.
The city is 92% white, in a county that voted 70% for Trump, and there is a sense of resentment expressed by some here for "the Indians" on the reserve.
"They're mad because it didn't go through their reservation, so they're not getting payment off it," says Swanson, slamming down his fists. "It's greed, that's all it is."
The cattle rancher signed an easement with TransCanada years ago, which left him with a one off payment of $15,000 (just $1.21 a day if the project fulfils its 50 year lifespan) in exchange for the use of a quarter of a mile of his pasture land. But Swanson says his support for the project was never about the money. It was politics.
He saw the Obama administration's veto of the project as government overreach and reiterates the essence of one Trump banner claims in support of it: energy independence. "Our country needs oil. Why import from the Middle Eastern countries when we can take it right from our Canadian neighbor?"
There are only two kinds of pipelines. The ones that are leaking and the ones that are going to leak.

Dena Hoff
The reality however, dictated by cascading domestic crude prices in the US, is that the majority of final product from the XL will probably be exported to foreign markets after it is processed at refineries on the Gulf Coast. But that doesn't seem to bother the pair.
Perhaps they share the concerns of those on the reserve about the potential of a leak?
"Well the oil comes out of the ground, so it should be good for it," says Winderl. "They're going to double pipe it anyway. There's no way it will leak."
About 150 people armed with molotov cocktails and stones invade event, with France divided over presidential election
France's political, personal and social divisions divisions were laid bare on the streets of Paris on Monday as May Day marches dominated by the final round vote in the presidential election saw violent clashes between police and masked youths.
Six riot police officers have been injured during clashes with protesters armed with molotov cocktails in Paris on Monday. A group of around 150 people are said to have hijacked the city's traditional May Day marches, organised every year by France's unions
Thousands had joined the celebration, with many using the occasion to protest against the far-right presidential candidate Marine le Pen and her party, the Front National. Police said 142,000 people attended May Day marches across France.
Shortly after the Paris march set off from the central Place de la République, a group with scarves covering their faces forced their way to the front and began throwing missiles at police, who responded with teargas. Some pulled masonry from the walls of buildings to throw at the police and several shopping bags and backpacks filled with stones and bottles were found.
Even before the violence, the march had got off on the wrong foot. Unable to agree on how best to confront the prospect of Le Pen becoming the country's next president – by voting blank, abstaining or choosing Emmanuel Macron – the unions went their separate ways, with two organising a breakaway gathering in north Paris on Monday morning.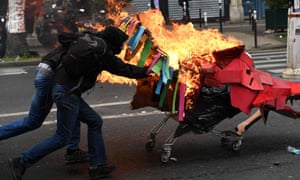 The main march took place hours later, when tens of thousands of people set off from Place de la République heading for Place de la Nation, via Bastille, three of the French capital's most symbolic squares.
The eliminated hard-left candidate Jean-Luc Mélenchon was given a rapturous welcome by supporters, leaving him close to tears. They carried banners calling for voters to shun the FN but, like their leader, none were publicly calling for a Macron vote.
"We have nothing in common with Mr Macron," said Paul Vannier, who plans to stand for parliament as a candidate for Mélenchon's France Unbowed movement in the legislative elections that follow later this month.
He said it was up to Macron to "stop insulting us … and take a step in our direction". "It for him to make sure Marine Le Pen is eliminated," Vannier said.
Other marchers carried banners rejecting both Le Pen's nationalism and Macron's neoliberalism, reading "ni patrie, ni patron" – meaning "not homeland nor boss".
The street battles erupted hours after Le Pen had laid into Macron at her final major rally in the capital. She appeared before a delirious crowd in north-east Paris, where supporters chanted: "This is our home."
Viktor Orbán still commands firm lead in opinion polls, but discontent is growing among voters concerned at rising Russian influence in Hungary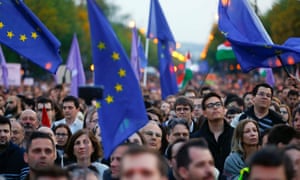 Momentum, an upstart political movement that called for Monday's rally, has announced it will run at next April's election. Photograph: Laszlo Balogh/Reuters
Reuters in Budapest
Thousands of Hungarians have marched across central Budapest in a show of support for the European Union, protesting against what a new political movement sees as a creeping rise in Russian influence under prime minister Viktor Orbán.
The rally follows a series of major demonstrations in Budapest in recent weeks, triggered by a new law that would drive out of Hungary a top university founded by US financier George Soros.
Momentum, an upstart political movement that called for Monday's rally dubbed "We belong to Europe," announced it would run at a parliamentary election next April.
"Healthcare, education, [public] transportation are failing," András Fekete-Gy?r, the Momentum leader, told demonstrators. "We struggle to make things work every day."
Fekete-Gy?r added that the group would unveil its election manifesto in October.
The group gained national prominence with a referendum campaign that torpedoed Orbán's bid for Budapest to host the 2024 Summer Olympics.
Orbán, a former critic of Moscow, changed tack after returning to power in a 2010 landslide. In a key speech, he called for transforming Hungary into an "illiberal state," citing Russia and Turkey as templates for success.
He still holds a firm lead in opinion polls. But on Saturday he told leaders of his centre-right EU political group he would comply with demands from Brussels to change measures branded an attack on academic freedom.
"Viktor Orbán's performance at the European parliament has shown that it is not only Hungarians who are tired of Orbán and his Fidesz party," said Daniel Kiss, a 23-year-old university student, who carried EU flags at the rally with his girlfriend.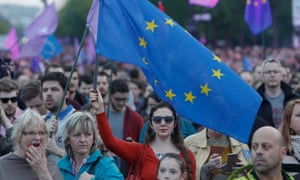 "He blasts the EU, but at the same time we need European money to stay afloat," he said. "We have had enough."
Orbán has said Hungary should remain a member of the EU, but is also seeking reforms and wants to avoid a further loss of national sovereignty.
In the past seven years, Orbán has eliminated checks on his power by taking control of the public media, curbing the powers of the constitutional court, and placing loyalists in top positions at public institutions.
But Orbán's unorthodox fiscal stabilisation measures have slashed the budget deficit, sent unemployment to record lows and Budapest forecasts economic growth above 4% this year and next, which would be the fastest rates since Orbán took power.
This entry was posted on Tuesday, May 2nd, 2017 at 5:44 am and is filed under General. You can follow any responses to this entry through the RSS 2.0 feed. Both comments and pings are currently closed.