03 May
Nearly all of these are English-edition daily newspapers. These sites have interesting editorials and essays, and many have links to other good news sources. We try to limit this list to those sites which are regularly updated, reliable, with a high percentage of "up" time.


World Politics
France
Poll suggests 65% of those who backed hard-left candidate will not vote for centrist fighting Marine Le Pen for French presidency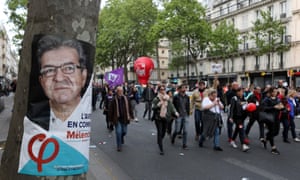 Mélenchon, who came fourth in the first-round vote, has been heavily criticised for not advising his supporters how to vote next Sunday. Photograph: UPI/Barcroft Images
The majority of supporters of the hard-left French presidential candidate Jean-Luc Mélenchon will abstain or spoil their ballot papers in Sunday's second round, according to the results of a consultation of members of his France Unbowed movement.
About 450,000 of his supporters were asked to say whether they would abstain, spoil their ballots or support Emmanuel Macron in the second round runoff this Sunday. Voting for the other candidate, he Front National's Marine Le Pen, was not an option.
The results, released on Tuesday afternoon, showed that of more than 243,000 Mélenchon supporters who responded, 87,818 (36.1%) intended to spoil their vote, 84,682 (34.8%) planned to support Macron and 70,628 (29%) would not turn out for the second round. The figures suggest a total of 65% will not vote for Macron.
Mélenchon, who came fourth in the first round vote 10 days ago with the support of 19.5% – about 7 million voters – has been heavily criticised for not advising his supporters how to vote.
Both he and his team have, however, insisted not a single vote should go to Le Pen. Alexis Corbière, Mélenchon's spokesman, said they were not going to take "moral lessons" on how to combat the far-right Front National, and Mélenchon was not a "guru".
On YouTube last Friday, Mélenchon said he would have been in the second round "but for 620,000 votes". He told supporters: "I'm going to vote, but what I'm going to vote, I'm not going to say. You don't have to be a great scholar to guess what I'm going to do." He added: "Is there a single person among you who doubts the fact that I'm not going to vote for the Front National? Everyone knows that."
Mélenchon made it clear he did not support Macron's programme. Macron is still favourite to win Sunday's presidential vote, but opinion polls suggest the gap with Le Pen is narrowing.
In the run-up to the French presidential election, the far-right Front National leader has courted growing numbers of voters in rural France where residents of villages and small towns have seen factories close and services disappear. Le Pen calls this 'forgotten France'. Angelique Chrisafis went to a Burgundy heartland of the left to meet voters turning to Le Pen
United States
Stephen Colbert 'interviews' Donald Trump on his first 100 days – video
Roy Oliver terminated for violating department policies in shooting
Oliver had committed 'several' violations of policy, police chief said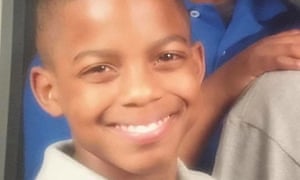 Jordan Edwards, a high school freshman, was shot when he was leaving a party with four other teenagers. Photograph: EPA
Associated Press
The officer who shot and killed a black 15-year-old boy who was riding in a vehicle while leaving a house party in suburban Dallas has been fired.
The Balch Springs, Texas, officer, identified as Roy Oliver, was terminated for violating department policies in the shooting death of Jordan Edwards, police chief Jonathan Haber said.
The officer fatally shot Edwards, a high school freshman leaving a party with four other teenagers Saturday night. Officers were called to the scene to investigate an underage drinking complaint.
Haber said Oliver, who joined the department in 2011, had committed "several" violations of policy but would not say what they were because Oliver is entitled to appeal his firing. The Dallas County district attorney and the Dallas County sheriff's office are investigating the case.
Police originally said the teenagers' vehicle was reversing "in an aggressive manner" toward officers, but later said that video taken at the scene proved the vehicle was actually driving away. An officer shot his rifle through the front passenger side window and struck Edwards, said Lee Merritt, an attorney for Edwards' family. The Dallas County medical examiner ruled his death a homicide.
The police department's latest statement, released Tuesday night, says officers entering the house heard gunshots ring out during a "chaotic scene with numerous people running away from the location". As officers exited the house, they encountered the vehicle backing out onto a main road and driving away despite their attempts to tell the driver to stop, the new statement said.
Edwards' family had called for the officer to be fired and criminally charged.
Thousands of Facebook and Twitter users have posted about the case using #jordanedwards in recent days, with some comparing his death to other police shootings of young black men, such as 12-year-old Tamir Rice in Cleveland, who was fatally shot in November 2014 as he held a pellet gun.
Friends have described Edwards as a good student and a popular athlete. Edwards and the four teenagers with him decided to leave what was becoming an unruly party as they heard gunshots ring out and police were arriving, Merritt said, citing what witnesses had told lawyers.
Related:
As Venezuelans take to the streets, Argentina says calling of constituent assembly 'poured petrol on the fire' while Brazil denounces a 'break with democracy'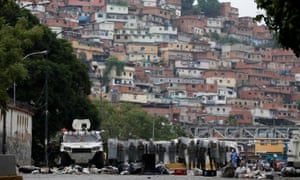 Venezuelan national guards take cover with their shields during a protest by opposition supporters against Venezuela's President Nicolás Maduro's government in Caracas. Photograph: Carlos Garcia Rawlins/Reuters
Venezuela's former regional allies, Brazil and Argentina, have reacted with dismay to President Nicholás Maduro's plans to rewrite the constitution, as protesters in Caracas once again barricaded streets and clashed with riot police.
Argentina's foreign minister, Susanna Malcorra, said on Tuesday that the move "poured petrol on the fire" of unrest, which has claimed 29 lives over the past month, including victims on both sides of the political divide as well as bystanders.
Maduro – who is struggling to overcome low approval ratings, bloody demonstrations, a deteriorating economy, runaway crime and riots over food shortages – announced on Monday night a constituent assembly that will revise the nation's democratic system.
"It seems that he is doubling down, and not realizing that those who die in the street – whatever colour they wear – are Venezuelans," said Malcorra.
Brazil's top diplomat described the proposal for a constituent assembly as a coup d'état. "It is another break with democracy, violating the country's constitution," said foreign minister Aloysio Nunes in a Facebook post. Nunes said Brazil could not intervene, but had condemned Maduro's "escalation of authoritarianism".
Venezuela is likely to shrug off the accusations, having grown accustomed to criticism from the two countries which have seen a switch of government from left to right in recent years. In Brazil's case, that shift came about after the impeachment of president Dilma Roussef – a move which Maduro described as a coup.
Maduro – who is struggling to overcome low approval ratings, bloody demonstrations, a deteriorating economy, runaway crime and riots over food shortages – said on Monday that the new constitution was necessary to overcome the gridlock paralysing the country so that the nation's considerable oil wealth could be channelled to the people more effectively.
But the country's opposition accuse him of a cynical ploy to circumvent the national assembly – which they won control of by a large majority at the last nationwide polls in 2015 – and to delay regional and presidential elections that polling suggests the governing party is likely to lose by a wide margin.
Henrique Capriles, the opposition's presidential candidate in the last two polls, said the ruling United Socialist Party of Venezuela was tearing up the rulebook drawn up by its deceased figurehead Hugo Chávez.
"Those who call themselves the fathers of this constitution now want to kill it," he said. "The constituent assembly that Maduro has called doesn't appear in our constitution. All Maduro wants to do with this is avoid an electoral process."
Protesters returned to the streets on Tuesday morning, throwing up barricades of tyres, branches and burning rubbish.
"We don't believe in Maduro's fake peace, what he's done is add more fuel to the fire," Jesús Gutiérrez, 64, told Reuters at a protest in central Caracas. "The people have to react, and that's what they've been doing."
In the working-class neighbourhood of La Valle, Venezuelans are angry and afraid, and hostility towards Nicolas Maduro's government runs high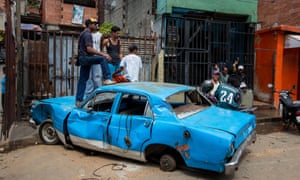 A burnt-out car in Caracas. Thirty people have died in the violence, which broke out on 20 April. Nicolas Maduro, the president, blames the crisis on rightwingers and foreign interests. Photograph: Miguel Gutierrez/EPA
T

he singed remains of an old fridge dumped on the side of a trash-covered street are the only sign of an outbreak of violence that erupted after anti-government protests in El Valle, a gritty working-class neighbourhood in south-east Caracas.
Other traces – ripped-out door frames, shards of broken glass – were swiftly tidied away by government workers, said Ana Sánchez, a local resident, who asked not to use her real name for fear of reprisals.
"They're even painting the edges of sidewalks bright yellow. That's never been done before," she said. "The government is trying to pretend nothing happened, but we all know."
Sánchez, a stay-at-home mother, was referring to a wave of protests that broke out on 20 April and slowly morphed into a nighttime looting spree that left 12 people dead. Nine of the victims died inside a bakery, electrocuted after a bare cable from an industrial coffee-maker ransacked in the looting hit a puddle of water. Three other people were shot.
But the events of that night also offer an indication that Venezuela's slow-moving crisis may be shifting to a new phase: poor people took to their streets to express their frustration with the government of Nicolás Maduro. A week before, in the city of San Félix, the president was pelted with stones and eggs. Six months earlier, a similar incident happened in the island of Margarita.
Maduro grew up in El Valle, and residents say they are not necessarily joining the anti-government marches – but they are angry, and they've begun to show it.
In El Valle and other poor sections of Caracas, the stakes may be higher: residents fear a heavy-handed response from the national guard, but they also fear the heavily armed street gangs which dominate such neighbourhoods – and which now appear willing to confront state security forces.
The latest round of unrest began just over a month ago, when a supreme court ruling stripping the opposition-led assembly of its powers. The power grab was quickly overturned, but it galvanized the opposition, which has launched a string of near-daily protests.
Thirty people have died, including a national guardsman, a woman who was hit on the head by a bottle of frozen water thrown from a balcony, and the nine men inside the La Mayer bakery.
Demonstrators again clashed with riot police on Tuesday after Maduro announced a constituent assembly to redraft the country's constitution, saying it was necessary to restore peace and prevent his opponents from carrying out a "coup". Opposition activists described the move as a ploy to delay regional and presidential elections that the government knew it was unlikely to win.
And public frustration is unlikely to diminish soon.
Venezuela has the world's highest inflation, forecast by the IMF to exceed 700% by the end of the year. In 2016, the economy contracted more than 18.6%. Everyday life has become reduced to succession of challenges: food shortages, cash shortages, spiralling crime and a health sector in crisis.
In El Valle, this translates into endless hours lining up – often under a hot sun – for a chance to buy basic foods. Crime forces people to live under a self-imposed curfew. Economic contraction means more people hold informal jobs – typically as moto-taxi drivers or street fruit vendors – with low incomes that evaporate as prices rise.
For businesses, it means a lack of raw materials, the increased threat of robbery and a daily struggle to make a profit. It also means a new threat: looting.
The bakery, La Mayer del Pan, has remained closed since the night of the looting. So have most of the other shops on the Cajigal street, at the foothill of the Las Malvinas shantytown.
"Why would they open? They have no products," says Nelly Olavarria, who used to buy bread there "whenever there was any".
But shop owners are also wary of lifting their heavy
Part two: In South Dakota, a law could ban protests amid opposition from Republican ranchers, as many fear a 'serious threat' to water
Bret Clanton might not belong to the most obvious group of opponents to the proposed Keystone XL pipeline. But when a survey crew from TransCanada arrived on his property eight years ago, the rancher and registered Republican – worried they were cattle thieves – says he called the sheriff's department, and marched out to confront them.
He says the encounter changed his life, and set up a battle that would come to dominate his existence.
On the outer perimeter of the Clanton ranch, where three large sandstone rock formations stand over the otherwise empty horizon, TransCanada later told him it planned to dig up three miles of his land and lay a section of the Keystone XL pipeline. TransCanada also hopes to bulldoze along another two and half miles of his pastures to make way for an access road.
"I've lived here all my life and this ground is pretty much as God, or whoever, made it, and I just want it stay that way," he says.
Clanton fought from the beginning and lobbied the state government for several years. But he was made aware almost instantly it was likely to be a losing fight. "From the very first meeting [with TransCanada] I was informed they would have power of condemnation," he says.
The bleak assessment was correct. As soon as the XL route had received the necessary state approval in South Dakota back in 2010, TransCanada was essentially able to seize control of any private land it needed, in return for a fee, through the power of eminent domain.
A principle protected by the fifth amendment to the US constitution, eminent domain permits the seizure of private land for "public use" in exchange for "just compensation". It was used by government at the turn of the 19th century, when Clanton's great grandfather arrived in South Dakota on horseback, driving cattle from the south, to reclaim land for public infrastructure and to preserve historic sites.
But emiment domain has since morphed to empower various gas and oil pipeline companies to construct across the US, buoyed by a 2005 supreme court ruling that found private entities providing "economic development" were essentially providing a public service.
Advocates estimate that dozens of landowners in South Dakota and Montana were essentially forced to settle with TransCanada to avoid eminent domain enactments during the Obama administration.
Close to the north-east border with Montana, Clanton's remote ranch, outside the small town of Buffalo, is one of the first properties the XL will cross in South Dakota. It marks the Guardian's first stop-off in the state during a trip that traces the proposed pipeline's entire length through the US to examine the battles that have reignited after the Trump administration resurrected the project.
It is not just environmentalists and Native Americans lined up against the construction. Registered Republican ranchers like Clanton are also among the opposition, pitting them against the leaders of their own party who have long supported the pipeline.
Every Republican candidate in the 2016 presidential race supported the project. Donald Trump, himself a frequent user of eminent domain in private business, described the power as "wonderful" during the campaign.
Clanton will not say how he voted last year and does not want to engage with the obvious contradictions between his preferred party and his current situation.
"If Hillary Clinton had been elected, she would've done the same thing. It was inevitable," he says. (During the election, Clinton pledged to oppose the project but had expressed tentative support for it during her tenure as secretary of state.)
Clanton is clinging to the hope that if oil prices continue to fall, the construction may no longer be economically viable. But he expresses a certain resignation already. Perhaps the only landowner still holding out TransCanada in South Dakota lives 350 miles south-east of Clanton's ranch.
John Harter's ancestors have ranched cattle close to the south-western border with Nebraska since 1939. The XL is scheduled to bisect a 280-acre grazing pasture that has been in the family since then and the 54-year-old is preparing to battle until the bitter end.
Guided by Christian faith and the values he learned through Shotokan karate – Harter is a level-five black belt – he says: "I don't believe in being bullied, and I won't be bullied."
TransCanada eventually took Harter to eminent domain, he claims. But he is now arguing that the easement is void because of what he describes as a breach of contract.
"I have told TransCanada that they do not have a legal easement to my property, and if they entered my property, that I would remove them, and if necessary with force," Harter says.
TransCanada says it has completed easements with every landowner on the XL route within Montana and South Dakota. "We have been working with Mr Harter for several years and we are committed to working with him in the future," said TransCanada spokesman Terry Cunha.
Harter drives out to the pasture they plan to bulldoze, his navy blue 1978 Ford F-150 bouncing on tufts of windswept wild grass, and reveals he, too, is a registered Republican. The contradiction remains striking, and Harter is clearly discomforted by it.
"Being a conservative is one thing," he says about those in his party who support the project. "Being a blind conservative is another."
But it is not only be these rancher's right to their land that is under threat in South Dakota. It is their right to protest, too.
This entry was posted on Wednesday, May 3rd, 2017 at 10:51 am and is filed under General. You can follow any responses to this entry through the RSS 2.0 feed. Both comments and pings are currently closed.