05 May
Nearly all of these are English-edition daily newspapers. These sites have interesting editorials and essays, and many have links to other good news sources. We try to limit this list to those sites which are regularly updated, reliable, with a high percentage of "up" time.


World Politics
Great Britain
France
Marine Le Pen's presence in the final round has pushed Islam and national identity to the top of the election agenda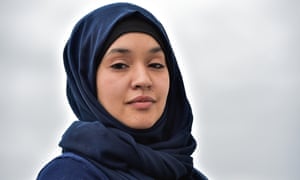 Hanane Charrihi, whose mother, Fatima, was the first person killed in the Nice truck attack last year. Photograph: Christophe Archambault/AFP/Getty Images
I

n her apartment in a northern suburb of Paris, Hanane Charrihi looked at a photograph of her mother Fatima. "Her death shows that we need tolerance more than ever," she said. "Tolerance does exist in France, but sometimes it seems those who are against tolerance shout the loudest and get the most airtime."
Fatima Charrihi, 59, a Muslim grandmother, was the first of 86 people to be killed in a terrorist attack in Nice last summer when a lorry driver ploughed into crowds watching Bastille Day fireworks. She had left her apartment and gone down to the seafront to have an ice-cream with her grandchildren. Wearing a hijab, she was the first person the driver hit in the gruesome attack claimed by Islamic State. A third of those killed in the Nice attack were Muslims. But Fatima Charrihi's family, some wearing headscarves, were insulted by passersby who called them "terrorists" even as they crouched next to their mother's body under a sheet at the site of the attack. "We don't want people like you here any more," a man outside a cafe told her family soon after the attack.
Hanane Charrihi, 27, a pharmacist, was so irked to find that, even after her mother's death, the so-called "problem" of Islam in France was such a focus of political debate that she wrote a book, Ma mère patrie, a plea for living together harmoniously in diversity. The far-right Front National gained a slew of new members in Nice after the attack and now Marine Le Pen's presence in the final presidential runoff this weekend – after taking a record 7.6 million votes in the first round – has pushed the issue of Islam and national identity to the top of the agenda.
"I'm French, I love my country, and it seemed like people were saying to me: 'No, you can't possibly love France,'" Hanane Charrihi said. "All this focus on debating national identity by politicians seems like wasting time that could be focused instead on unemployment, work or housing."
The runoff between the far-right, anti-immigration Le Pen and the independent centrist Emmanuel Macron has seen heated exchanges over Islam and national identity. In 2015, Le Pen was tried and cleared of inciting religious hatred after comparing Muslims praying in the streets to the Nazi occupation. Macron has insisted that Le Pen still represents "the party of hatred". He told a Paris rally this week: "I won't accept people being insulted just because they believe in Islam." After more than 230 people were killed in terrorist attacks in France in just over two years, Le Pen has called Islamic fundamentalism a "mortal danger" for France and accused Macron of having an "indulgent attitude" towards it. He accused her of dividing France and stoking "civil war".
Le Pen's policy proposals include banning religious symbols, such as the Muslim headscarf, from all public places. She would outlaw ritual animal slaughter, namely Islamic halal slaughter, although Jewish kosher practices would also be affected.
Iman Amrani visits France's second biggest city to meet the inhabitants of two housing estates with opposing cultural and political identities. Disillusioned voters have turned to the far left and the far right for answers in the most divisive election in a generation. Rising resentment towards the political class has resulted in non-traditional candidates dominating the election. With the faultlines in French society revealed, how should such a divided country be represented?
When Le Pen's father and her party's co-founder, Jean-Marie Le Pen, reached the final round of the presidential election in 2002, the political class spontaneously united with anti-racism campaigners to block his vote, marching on the streets. This time anti-Le Pen demonstrations have been fewer, smaller and more fragmented. Comparatively few people have lined up behind anti-racism banners, and the Front National is now accepted as a part of the political landscape. The issue of diversity and France's divisions – between city and countryside, rich and poor, so-called "native" French and immigrants – have haunted the campaign.
United States
Senators caution that their version 'would be a blank sheet of paper' to start and signal they will pursue budget reconciliation process, which limits scope of bill
As House Republicans cheered the "beginning of the end" of the Affordable Care Act at a celebration in the White House Rose Garden on Thursday, Senate Republicans welcomed the bill with muted fanfare.
After weeks of fits and starts, House Republicans had narrowly passed a proposal to repeal and replace Obamacare and voted to forward to the Senate a bill that is both unpopular with the American public and unlikely to pass the chamber in its current form.
The Senate majority leader, Mitch McConnell, hailed the vote as "an important step" and a "job well done". But Republicans in the upper chamber swiftly vowed to draft their own healthcare legislation rather than take up the House-passed American Health Care Act.
"We are going to draft a Senate bill," Iowa senator Chuck Grassley told reporters on Capitol Hill. "That is what I've been told."
Bill Cassidy, a senator from Louisiana who has been pushing his own Obamacare replacement plan, echoed the sentiment.
"I was given the impression it would be a blank sheet of paper," he said, while adding of the House-passed legislation: "I'm not sure this is the last bill."
The widespread caution among Republicans in the Senate was reflective of both the obstacles and limitations they foresee ahead. Republicans hold just 52 seats in the upper chamber and thus can afford to lose no more than two votes.
And so while House Republicans marked the moment by hopping on buses to the White House, their counterparts in the Senate warned of a long and windy road that could last anywhere from weeks to months before a vote.
"I can't imagine less than six weeks of a process for us," said Oklahoma senator James Lankford, while adding of the House-passed bill: "It's a skeleton, but it's definitely not the final product."
The widespread consensus among Republicans was that it was difficult to truly weigh in on the House legislation due to the hurried process through which it was passed. Most Senate Republicans confessed to not knowing what was even in the House bill and declined to take an explicit position absent a score from the Congressional Budget Office.
"I'm not so sure this is good civics here – a bill [that has] not been scored, not been amended – but it is what it is," said Senator Lindsey Graham of South Carolina.
Citing concerns with preexisting conditions and changes to Medicaid, Graham said the final drafting "will be done by the Senate".
"The Senate is the place still, in my view, where you deliberate, you have a say, you vote," he said.
Swati Maliwal has a long list of enemies. But in a city where a rape is reported every four hours, she says: 'Somebody has to raise their voice'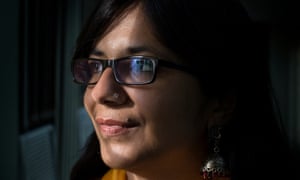 Swati Maliwal: 'If there are no convictions, no wonder the perpetrators don't feel scared.' Photograph: Ahmer Khan for the Guardian
Michael Safi in Delhi
"T

he fact my car has arrived at the road, it would already be known," Swati Maliwal says as her Delhi government vehicle coasts along GB Road, a strip of hardware and machinery shops at street level, and dark-windowed brothels above.
"The pimps have their people watching, calling," she says, motioning at the tea stalls and hawkers lining the street. Nobody appears to pay the car any notice in Delhi's afternoon traffic, but in the past year Maliwal has had to learn to see enemies everywhere.
As the youngest ever commissioner for women, in one of the most dangerous cities for women in the world, she has made a long list of them.
"At first I was shocked," the 32-year-old says of being asked to become chair of Delhi's commission for women (DCW) in mid-2015. "I thought this post didn't really have any powers."
Government watchdogs – including for minorities, lower castes and "backward classes" – abound in India's state and national bureaucracies, but many are considered toothless. Delhi's women's commission in particular is derided as a "parking lot for politicians".
Then Maliwal, a former activist, actually read the decades-old legislation that governs the women's watchdog. "I was shocked again," she says.
Though the powers had never been used, the commission could do more than just publicise cases or recommend changes: it could order government departments to turn over information, and summon anyone it chose, even Delhi's most senior police officials, for civil examination. "And if that information or those people aren't provided, we have the power to issue arrest warrants," Maliwal says.
In the 18 months since that discovery, Maliwal has refashioned the DCW into a crusading organisation, taking on the cases of about 12,000 of the women who line the faded halls outside her office each day, and pushing – occasionally forcing – police and government departments to give a true picture of women's safety in the capital.
One of the first things she sought was the conviction rate in alleged crimes against women in Delhi. "For six months the police refused to give us this information," she says.
"We issued a notice, and they told us it would cause a law and order problem if they gave us the data regarding crimes against women. We did not back down and we summoned the police commissioner. After which the data came."
The statistics showed that more than 31,000 crimes against women had been registered with the police in the two years to 2014. Of those, just 146 – less than half of one percent – had resulted in convictions.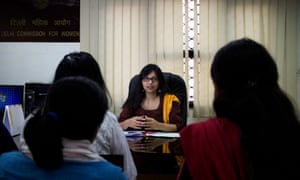 Another probe into the city's forensics labs revealed a backlog of 7,500 DNA samples, "out of which 1,500 had probably putrefied, pending for so many years that they had expired", Maliwal explains.
"If there are no convictions happening in the capital, no wonder the [perpetrators] don't feel scared," she says. "There's a message that, whatever you do, you'll somehow be able to get away it."
Maliwal dismisses the idea that Indian women and tourists in the country face a unique danger. "In any nation, there is this gender bias that exists. There are crimes against women in all countries. But the amount of crime happening in Delhi against women is very shocking, very disturbing."
Delhi police records released in February showed a small drop in reported rapes and molestations last year, and 10% fall in offences against women overall. Yet nearly five years since the rape and murder of a Delhi woman, Jyoti Singh, on a bus incensed the country, statistics suggest little has changed for women.
An albino orangutan, a wolverine and an oleander hawk moth are among this week's pick of images from the natural world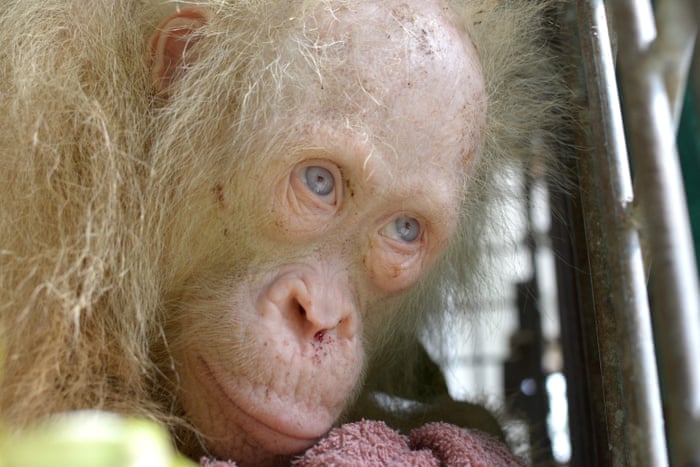 A rare albino orangutan that was saved from villagers who were keeping it in a cage in Kapuas Hulu, on the Indonesian side of Borneo island. The Borneo Orangutan Survival Foundation, which is caring for the critically endangered ape, said in 25 years they had never taken in an albino orangutan.
Photograph: Borneo Orangutan Survival Foundation/AFP/Getty Images
This entry was posted on Friday, May 5th, 2017 at 12:04 pm and is filed under General. You can follow any responses to this entry through the RSS 2.0 feed. Both comments and pings are currently closed.