08 May
Nearly all of these are English-edition daily newspapers. These sites have interesting editorials and essays, and many have links to other good news sources. We try to limit this list to those sites which are regularly updated, reliable, with a high percentage of "up" time.


World Politics
France
Centrist independent on course for victory by 66% to 34% margin but Marine Le Pen's defeat still marks historically high vote for France's far right
Addressing thousands of supporters in front of Paris' Louvre museum, French President-elect Emmanuel Macron declared he would serve his country with humility, strength and love
Emmanuel Macron gives victory speech vowing to unite France – video
French president-elect says in his victory speech that he understands the divisions within France and that he respects them. Macron vows to unite the country with a renewed sense of optimism and expresses his gratitude for the confidence the French people have placed in him
The pro-EU centrist Emmanuel Macron has won the French presidency in a decisive victory over the far-right Front National leader, Marine Le Pen, and vowed to unite a divided and fractured France.
Macron, 39, a former economy minister who ran as a "neither left nor right" independent promising to shake up the French political system, took 66% to Le Pen's 34%.
His victory was hailed by his supporters as holding back a tide of populism after the Brexit vote and Donald Trump's victory in the US election.
Addressing thousands of supporters in the grand courtyard of the Louvre, the vast Paris palace-turned-museum, Macron said he would defend France and Europe. He said Europe and the world are "watching us" and "waiting for us to defend the spirit of the Enlightenment, threatened in so many places".
He promised to unite a divided and fractured France, saying: "I will do everything to make sure you never have reason again to vote for extremes."
Speaking of his meteoric rise and victory that was not forecast even a year ago, he said: "Everyone said it was impossible. But they didn't know France!"
Despite the wide margin of the final result, Le Pen's score nonetheless marked a historic high for the French far right. Even after a lacklustre campaign that ended with a calamitous performance in the final TV debate, she was projected to have taken almost 11m votes, double that of her father, Jean-Marie Le Pen, when he reached the presidential run-off in 2002. The anti-immigration, anti-EU Front National's supporters asserted that the party had a central place as an opposition force in France.
Turnout was the lowest in more than 40 years. Almost one-third of voters chose neither Macron nor Le Pen, with 12 million abstaining and 4.2 million spoiling ballot papers.
Macron, who has never held elected office and was unknown until three years ago, is France's youngest president. Next Sunday, he will take over a country under a state of emergency, still facing a major terrorism threat and struggling with a stagnant economy after decades of mass unemployment. France is divided after an election campaign in which anti-establishment anger saw the traditional left and right ruling parties ejected from the race in the first round for the first time since the period after the second world war.
François Bayrou, an ex-minister and Macron's centrist ally, said: "He is the youngest head of state on the planet [which] sends an incredible message of hope. Macron is giving hope to people who had no hope. Hope that maybe we can do something, go beyond the [left-right] divide that no longer makes sense."
Le Pen swiftly conceded defeat. She said she had won a "historic and massive" score that made her leader of "the biggest opposition force" in France and vowed to radically overhaul her Front National party. Her promise to "transform" the far-right movement left open the possibility that the party could be expanded and renamed in an attempt to boost its electoral chances. It was a major step in the political normalisation of her movement.
The outgoing Socialist president, François Hollande, who was once Macron's mentor and had appointed him economy minister, said: "His large victory confirms that a very great majority of our citizens wanted to unite around the values of the Republic and show their attachment to the European Union and show France is open to the world."
Macron's victory came not only because voters supported his policy platform for free market, pro-business reform, and his promises to energise the EU, coupled with a leftwing approach to social issues. Some of his voters came from other parties across the political spectrum and turned out not in complete support of his programme but to stop the Front National.
In a political landscape with a strong hard left and far right, Macron faces the challenge of trying to win a parliamentary majority for his fledgling political movement En Marche! (On the Move!) in legislative elections next month. Without a majority, he will not be able to carry out his manifesto promises.
United States
New York protesters made it clear what the city thinks of him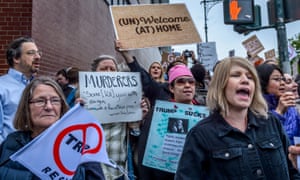 Thousands of people protested against Donald Trump's visit to New York. Photograph: Erik McGregor/Pacific/Barcroft
H

ave New Yorkers no manners whatsoever? President Trump returned to his stamping ground for the first time since his inauguration, but was kept several blocks away from the penthouse of his glorious golden tumescence – sorry, I meant to type "Trump Tower" – because of hordes of marching, chanting protesters, waving placards declaring "Arrest Trump", "SAD!" and "Trump, get out!"
Do they kiss their mommas with those mouths? When interviewed, marchers said that Trump was an "embarrassment" and "unwelcome". In the end, Trump completed his official engagement and veered back to his New Jersey golf course without even popping in to Trump Tower to see if he could find which cupboard Melania had frantically hidden in this time.
What's the betting that Trump was sitting in the back of his car pulling his maddest, crossest presidential face – you know, the one that makes him resemble Mount Rushmore before the stonemasons started work?
His reception in New York comprised an exact reversal of what anyone wants from a homecoming – a kind of "home-going".
The president had arrived in such a good mood, too – he'd just managed to push through legislation dismantling Obama's Affordable Care Act or, as Trump may privately term it, "my fantastic 'stop giving medical aid to desperate poor people' bill".
Only recently, Trump was hinting that being the leader of the free world wasn't all it was cracked up to be and now this happens.
The people of New York need to take a long hard look at themselves. Anyone would think that the only way that they'd want Trump to take another bite of the Big Apple would be if he instantly choked on it and they got to watch.

15-year-old was shot in a car while leaving a chaotic house party in Texas

Lawyers say officer used a rifle, in violation of federal guidelines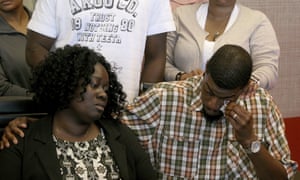 Jordan Edwards' parents. Photograph: Guy Reynolds/AP
Associated Press in Balch Springs, Texas
The family of Jordan Edwards, a 15-year-old boy who was shot and killed by a police officer in a Dallas suburb last weekend, is suing the officer and his police department.
Edwards was black. The officer charged with his murder is white. The teen's funeral took place on Saturday, a week after he was shot dead in a car while leaving a chaotic house party in Balch Springs.
Lawyers for the Edwards family say police officer Roy Oliver used a rifle to shoot at the vehicle as it was driving away, in violation of federal guidelines, piercing a passenger window and striking Edwards.
Balch Springs police initially said they responded at about 11pm on 29 April to reports of underage drinking. They heard gunshots, and an officer opened fire as a vehicle supposedly backed towards police "in an aggressive manner".
On Monday, after viewing body camera footage, police chief Jonathan Haber said the vehicle was in fact moving away.
Oliver was fired on Tuesday. On Thursday, a public vigil in memory of Edwards attracted more than 200 people. Oliver was arrested on Friday on a murder charge, on which he posted a $300,000 bond.
The lawsuit, filed on Friday, says police should have known Oliver had "exhibited a pattern of escalating encounters with the public", including a prosecutor's complaint about aggressive behavior detailed in personnel records.
Records obtained by the Associated Press showed that Oliver was briefly suspended in 2013 following a complaint about his conduct while serving as a witness in a drunk-driving case.
Personnel records from the Balch Springs police department show Oliver was suspended for 16 hours in December 2013 after the Dallas County district attorney's office filed the complaint. Oliver also was ordered to take training courses in anger management and courtroom demeanor and testimony.
Oliver joined the Balch Springs department in 2011, having been an officer with the Dalworthington Gardens police department for almost a year. A statement from Dalworthington Gardens officials said he received an award for "meritorious conduct" and there were no documented complaints or disciplinary action in his work either as a public safety officer or dispatcher.
The Counted – Series:
Australia and New Zealand should allow open migration for citizens of Pacific nations threatened by climate change, to boost struggling island economies and prevent a later mass forced migration, a paper from the World Bank argues.
The policy paper, Pacific Possible, suggests as one climate change adaptation measure, open access migration from Tuvalu and Kiribati – for work and permanent settlement – to Australia and New Zealand.
Tuvalu (population 11,000) and Kiribati (107,000) are low-lying archipelago nations in the Pacific acutely vulnerable to climate change, in particular to rising sea levels that have already begun inundating land and homes across the islands.
The World Bank paper argues a structured migration program instituted now would prevent a more harried, forced migration in future generations.
"The worsening impacts of climate change have provided a new moral imperative for providing open access," the report says.
It forecasts, with open migration, about 1,300 i-Kiribati and Tuvaluans would migrate to Australia and New Zealand annually, about 0.6% of those countries' combined annual permanent migration programs.
"The two governments would prefer a slow outward flow resulting from voluntary migration and do not wish their peoples to be treated as 'refugees' fleeing a hopeless economic and environmental situation."
Seventeen people from the Pacific – including 11 from Tuvalu and five from Kiribati – have already made refugee claims in New Zealand, citing climate change as part of their basis of claim. None have been successful (four have yet to be determined and 13 have been rejected) because the refugees convention does not recognise climate change as grounds for protection.
Report author Prof Stephen Howes from the Australian National University said unrestricted access across national borders was unusual but it did occur, with some Pacific nations, such as the Federated States of Micronesia, granted open access to the US, effectively borderless travel between Australia and New Zealand, and free movement within the EU.
"But there has to be something very special, very important to allow that free movement. It seems to us that climate change might provide such unusual circumstances as to give rise to open access."
He stressed the migration to Australia and New Zealand was not "about emptying out those countries" but with making them sustainable, economically and environmentally.
Howes said it was important to have a pathway to permanent migration for Pacific Islanders coming to Australia and New Zealand so they could form diasporas that could assist later generations of migrants.
"If you don't have that avenue for permanent migration, you won't establish a diaspora, and the most successful migrant communities we've seen, for instance, the Indian community in Australia, thrive because of the personal and community links an established diaspora provides."
Open access migration for all Pacific Islanders has been proposed by a number of Australian thinktanks as a more effective mechanism than aid for lifting struggling Pacific states out of poverty.
A December 2016 report by the Lowy Institute's Leon Berkelmans and Jonathan Pryke argued that allowing just 1% of the Pacific's population – an average intake of fewer than 3,000 people – to work permanently in Australia would deliver a "transformational impact" and be of greater benefit to the people of the Pacific by 2040 than all of Australia's current aid to the region.
Based on conservative assumptions, an uncapped migration model could increase the income of some Pacific Island countries – for the entire population, not just emigrants – by 300 to 400% over the next 25 years.
"We are conscious that this focus is a different way of thinking about development but conventional thinking is clearly not working in the Pacific."