09 May
Nearly all of these are English-edition daily newspapers. These sites have interesting editorials and essays, and many have links to other good news sources. We try to limit this list to those sites which are regularly updated, reliable, with a high percentage of "up" time.


World Politics
France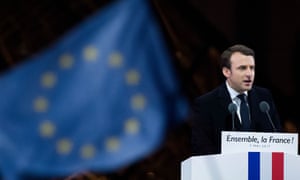 Former acting attorney general testifies to warning counsel that the then national security adviser was susceptible to blackmail by Russia on 26 January
At a US senate hearing investigating Russia's interference in the 2016 presidential election, former acting attorney general Sally Yates says she warned the Trump administration that national security adviser Michael Flynn 'could be' blackmailed by the Russians because he had misled his bosses about contact with Russia ambassador Sergey Kislyak
Former acting US attorney general Sally Yates said on Monday that she warned the White House on 26 January that then national security adviser Michael Flynn was "compromised" and open to blackmail by the Russian government.
Her comments to a Senate judiciary subcommittee hearing came after it emerged that Barack Obama had warned Donald Trump in November against hiring Flynn, who was forced to resign as national security adviser over his contacts with Russia after less than three weeks in office.
Testifying for the first time about her knowledge of contacts between the Trump camp and Moscow, Yates said on Monday that she requested an urgent meeting with the White House counsel, Don McGahn, after she became aware that the White House had made false public statements about Flynn's contacts with the Russian ambassador to Washington, Sergey Kislyak.
White House officials including the vice-president, Mike Pence, had stated that Flynn and Kislyak had simply exchanged pleasantries and talked about arranging a future meeting between Trump and the Russian president, Vladimir Putin.
It later emerged that the conversations were more extensive and included discussion of sanctions imposed on Russia by the Obama administration.
Yates said that she telephoned McGahn on the morning of 26 January, two days after the FBI interviewed Flynn about the contacts and had given her a detailed readout of the interview. She told McGahn she needed to meet him in person because what she had to say was so sensitive.
Yates and a senior justice department colleague met McGahn the same afternoon in a secure room in the White House and told him that statements made by Pence and other administration officials about Flynn's behaviour were untrue, and that "Flynn's underlying conduct was problematic in and of itself".
McGahn called Yates back to the White House on 27 January and put further questions to her about Flynn. According to her Senate testimony, the White House counsel asked her: "Why does it matter to the Department of Justice whether one White House official lies to another White House official?"
"We explained to him that it's a lot more than that," Yates said. "We also said that we weren't the only ones who knew this. The Russians also knew what General Flynn had done and that what Pence said was not true. The Russians not only knew this but they also likely had proof."
The White House's national security adviser has resigned after leaks revealed that he had secretly discussed sanctions with the Russian ambassador to Washington and then tried to cover up the conversations. The Trump administration had been warned weeks ago that Flynn might be vulnerable to Russian blackmail
Yates added: "To restate the obvious, you don't want your national security adviser compromised with the Russians."
McGahn also asked whether Flynn's actions could lead to criminal prosecution and whether White House action against him would interfere with FBI investigations.
Yates said she could not speak about statutes under which Flynn might be prosecuted without revealing classified information about the investigation, but she told McGahn that any White House action on Flynn would not interfere with the FBI investigation as he had already been interviewed.
Lastly, McGahn asked Yates whether he or his staff could come to the justice department to review classified evidence of Flynn's conduct. Yates consulted the FBI over the weekend and called McGahn back on Monday, 30 January, and said White House officials could come to the department to review the material.
She said she did not know if McGahn or his staff took up her offer, as that was her last day at the department: Trump fired her on the night of 30 January, ostensibly because she had refused to defend his executive order suspending entry for refugees and travelers from seven Muslim-majority countries.
Flynn resigned on 13 February only after the details of his contacts with Kislyak were leaked to the press. Yates said she did not know what action the White House took, if any, to restrict his access to classified material.
"I don't know what they did," she told the Senate panel. "They took it seriously during the meeting. If they didn't do anything, that would be concerning."
Report cites 'systemic failure' to provide adequate medical care to detainees with health issues and warns Trump's desire to expand capacity would make it worse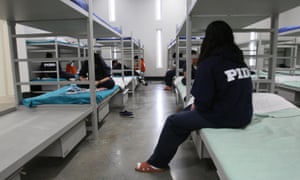 Female detainees sit on their bunks in the dormitory of the Alpha Unit at Port Isabel detention facility in Texas. Photograph: Jose Cabezas/AFP/Getty Image
Raúl Ernesto Morales-Ramos, detained in California and ravaged by cancer, begged for treatment. He was given ibuprofen.
Tiombe Kimana Carlos, detained in New York with chronic schizophrenia, was held in solitary confinement. She made a noose from a sheet.
Manuel Cota-Domingo, detained in Arizona with untreated diabetes and pneumonia, began to have trouble breathing. Staff dithered over who should call 911.
All three died, victims – according to a report published on Monday – of dangerously inadequate medical care in immigrant detention facilities across the US.
"The data reveals that people in immigration detention died needlessly under the Obama administration, even with its attempts at reform," said Grace Meng, a senior HRW researcher. "The Trump administration has already announced its intent to roll back key reforms while detaining even more immigrants, which would likely mean more people will die needless and preventable deaths."
The Trump administration is seeking $1.2bn additional funding to expand detention capacity, raising alarm that inadequate medical care will worsen. More than two-thirds of detainees are held in facilities operated by private prison companies.
The report is based on independent medical experts' analyses of records from US Immigration and Customs Enforcement's (Ice) own investigations into 18 deaths in detention from 2012 to 2015 and the medical records of 12 additional detainees, plus interviews with more than 90 other people, including relatives, attorneys and correctional health experts.
"The medical experts found numerous incidents of substandard and dangerous medical care, including failure to follow up on symptoms that required attention; medical personnel apparently practicing beyond the scope of their licenses and expertise; severely inadequate mental health care; the misuse of solitary confinement for people with mental health conditions; and sluggish emergency responses," said the report.
The experts concluded that subpar care contributed to seven of the 18 deaths.
Among them was Morales Ramos, a Salvadorean held in Adelanto, California. He showed symptoms of cancer in 2013 but his appeals for treatment were largely ignored, according to the report.
In a grievance submitted in February 2015, he wrote: "To who receives this. I am letting you know that I am very sick and they don't want to care for me. The nurse only gave me ibuprofen and that only alleviates me for a few hours. Let me know if you can help me." He died two months later.
Kimana Carlos, originally from Antigua and Barbuda, was diagnosed with schizophrenia as a teenager. Staff at the detention facility in York, New York, knew her condition but gave "woefully inadequate" mental health treatment, according to doctor cited in the report. She hanged herself in October 2013.
A restriction on which staff members can call 911 at the Eloy detention centre in Arizona contributed to an eight-hour delay in treatment for Cota-Domingo, a 34-year-old Guatemalan, who suffered breathing problems related to diabetes and pneumonia.
Based in Caracas, Venezuela, Meridith Kohut is this year's winner of the $20,000 Getty Images and Chris Hondros Fund award. Since she began working on assignments for the foreign press in 2007, Kohut has covered events including the rise and fall of Hugo Chávez, the drug trade in Bolivia, and Cuba's democratic transition. Here are some of her images from Venezuela and Haiti
Meridith Kohut for the New York Times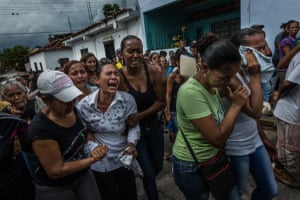 A funeral procession and memorial for Eliecer Ramírez, Anthony Vargas, Luis Alirio Sanz and Dennys Acevedo – young men who were tortured and extrajudicially killed by the Venezuelan army. The four men's families and the small agricultural community claim they were innocent and not involved in any crimes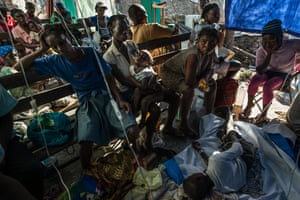 Cholera patients lie on the floor of a small clinic in Rendel, Haiti. Officials warned of an outbreak that could affect as many as 500,000 people. Patients vomit and defecate on the floor or into small yellow buckets, too sick to move
Opinion
Jess Phillips is the Labour MP for Birmingham Yardley
During the London terror attack, trapped pupils from Birmingham represented all the good in the world. Now a 10-year-old from the same school has been forced to move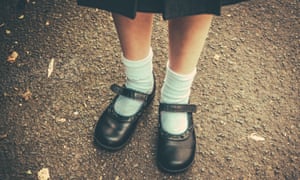 'Maroosh is not a line in a contract to me. She is a little girl who is the same age as my children.' Photograph: Alamy Stock Photo
"Kids Trapped In Terror" read one tabloid headline trailing the story of the children from Holy Family primary school kept inside parliament during the terrorist attack in March.
Nine children from this little primary school in my Birmingham constituency, who had been visiting the palace of Westminster that day, caught the nation's attention. They added colour and humanity to a bleak news story. These nine children were written about in almost every newspaper, their resilience and bravery celebrated around the world. We all need a touchstone when things are tough, and those children gave us that.
Yesterday Peter Foley, the head of Holy Family, called me. The school, like so many others, faces financial difficulties thanks to government cuts and had been previously been damned by the building of a free school that didn't work out next door. The school is in one of the poorest areas of the city, and the parents have complex needs, so Foley and I regularly work together to battle systems and fight for those families. He called because a little girl, only 10 years old, came in to school that morning and told her friends that that day would be her last. She was to be picked up the following morning by a minibus that would take her and her family to Bradford.
This little girl is called Maroosh. She has been at Holy Family school for two years and she has lived in Birmingham for six years. Her family came here to seek asylum and she now lives in accommodation provided by G4S for the Home Office. She lives in a hostel for asylum seekers. If you are the sort to think that asylum seekers are living it up in this accommodation, I would invite you to visit it. I cried the first time I went to one of the sites in Birmingham. I went there to help a pregnant woman who had been trafficked for sex. I can tell you now that you wouldn't live there and you certainly wouldn't want it for your child.
Maroosh has not had an easy time but she has settled in at Holy Family. She has friends she loves and teachers she trusts. I'm not a Christian but you cannot help but be moved when working with this little Catholic school by the deep sense of charity, hope and kindness that runs through everything they do.
Maroosh and her family will today be moved from Birmingham with one day's notice, against their will. They will be picked up like a package, put on a bus and taken to an unfamiliar place. Maroosh will have to find a completely new school to attend. That may take weeks or it may take months. When both Foley and I spoke to G4S and the Home Office to object, the response we received was: National Asylum Support Services (NASS) accommodation is provided on a no-choice basis, which means that unless the Home Office advises us of any special requirements that means an applicant must remain in a certain area, or be provided with a certain type of accommodation, we can house them in any part of our operational areas, so long as the accommodation is suitable to meet the needs and make-up of the group.
The family would like the daughter to remain at the school in Birmingham, but they have agreed to accept the terms and conditions of NASS support, which includes accommodation on a no-choice basis.
That's it. The end. Foley and I slump in our chairs. A day spent fighting for this little girl finished with: computer says no; after all, beggars can't be choosers. There is no humanity in this decision. It is a decision made by a contract, a key performance indicator is met, G4S takes its prize and the Home Office washes its hands. But Maroosh is not a line in a contract to me. She is a little girl who is the same age as my children. I imagine going home to them and testing their reaction to the idea of leaving all of their friends, their school, their stability and moving to Bradford within 24 hours. I don't need to test it: I know they would be horrified. I wonder if the home secretary would have wanted this for her children.
This entry was posted on Tuesday, May 9th, 2017 at 10:46 am and is filed under General. You can follow any responses to this entry through the RSS 2.0 feed. Both comments and pings are currently closed.