18 May
Nearly all of these are English-edition daily newspapers. These sites have interesting editorials and essays, and many have links to other good news sources. We try to limit this list to those sites which are regularly updated, reliable, with a high percentage of "up" time.
© Saul Loeb, AFP | US President Donald Trump shakes hands with Turkish President Recep Tayyip Erdogan after speaking to the press in the Roosevelt Room of the White House in Washington, DC, May 16, 2017
The presidents of the US and Turkey vowed Tuesday to repair a relationship battered by years of disputes over Syria's civil war and its various fighting groups, even as they broached a new disagreement over U.S. plans to arm Kurdish fighters.
Delivering a statement alongside Turkish President Recep Tayyip Erdogan, President Donald Trump said the U.S. would re-establish its military and economic partnership with Turkey. He committed to backing Turkey's fight against the Islamic State group and a Kurdish insurgency known as the PKK, which the U.S., the European Union and Turkey all consider a terrorist organization.
Such groups will "have no safe quarter," Trump said in the White House's historic Roosevelt Room, where he also commended Turkey's "leadership in seeking an end to the horrific killing in Syria."
Erdogan issued a statement afterward, congratulating Trump for his presidential election victory. While Erdogan called for the extradition of a Pennsylvania-based cleric he blames for a failed coup in Turkey last summer, there was little tension.
The biggest dispute between the two NATO allies in recent days has been the U.S. plans to arm Kurdish Syrian militants to help them fight IS. Turkey has been pressuring the U.S. to drop support for the militants and doesn't want them spearheading an operation to retake IS' self-declared capital of Raqqa.
Turkey believes the Kurds in Syria are linked to the PKK. The U.S. sees the Syrian Kurds as their best battlefield partner on the ground in northern Syria.
Last month, the Turkish military bombed Kurdish forces in Syria and Iraq, in one case with American forces only about six miles (10 kilometers) away. Erdogan's government also has insisted it may attack Syrian Kurdish fighters again. The U.S., whose forces are sometimes embedded with the Kurds, has much to fear.
In his statement to reporters, Trump did not directly address his decision to arm the Kurds. But he asserted the U.S. and Turkey's mutual commitment to ending Syria's conflict.
The meeting took place with a White House still responding to what a senior U.S. official said was Trump's disclosure of classified information about an Islamic State terror threat involving laptop computers on aircraft.
Trump shared the threat in a meeting with Russia's foreign minister and ambassador in the Oval Office last week, according to the official, who wasn't authorized to speak publicly on the matter and demanded anonymity.
The U.S. is relying on regional allies including Turkey for intelligence-sharing and military assistance as it crafts a Syria policy, particularly as Iran and Russia work to bolster Syrian President Bashar Assad's government.


World Politics
France
United States
DoJ appoints Mueller, 72, as special counsel to head federal investigation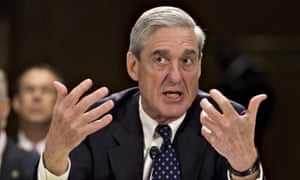 As special counsel, Mueller has the power to subpoena documents and prosecute any crimes, independent of Congress. Photograph: J. Scott Applewhite/AP
The Department of Justice has appointed former FBI director Robert Mueller as special counsel to investigate alleged ties between the 2016 presidential campaign of Donald Trump and Russian operatives. Mueller will also investigate Russian intervention in the election generally.
Mueller, 72, was appointed FBI director by George W Bush and served 12 years, including for the majority of Barack Obama's presidency. He said in a statement on Wednesday: "I accept this responsibility and will discharge it to the best of my ability."
Special counsel is a position that exists under a statute that allows the attorney general or a deputy, if the attorney general is recused, to mount an independent investigation. This particular provision has been invoked only once before, in the Bill Clinton administration, when former Senator John Danforth was to investigate the Branch Davidian siege outside Waco, Texas.
The position is different from an independent counsel, the role in which Ken Starr investigated Bill Clinton throughout the 1990s. The law authorizing that position expired in 1999.
Deputy attorney general Rod Rosenstein made the decision to appoint Mueller. It was a letter from Rosenstein that the Trump administration initially presented last week as a central factor in the firing of James Comey as FBI director.
In an order announcing Mueller's appointment, Rosenstein explained he had taken the decision "to ensure a full and thorough investigation of the Russian government's efforts to interfere in the 2016 presidential election," including "any links and/or coordination between the Russian government and individuals associated with the campaign of President Donald Trump."
"My decision is not a finding that crimes have been committed or that any prosecution is warranted," Rosenstein wrote in a separate letter. "I have made no such determination. What I have determined is that based upon the unique circumstances, the public interest requires me to place this investigation under the authority of a person who exercises a degree of independence from the normal chain of command."
In a statement released after Mueller's appointment was announced, Trump said: "As I have stated many times, a thorough investigation will confirm what we already know – there was no collusion between my campaign and any foreign entity. I look forward to this matter concluding quickly. In the meantime, I will never stop fighting for the people and the issues that matter most to the future of our country."
Also on Wednesday night, a 2016 exchange among Republican House leadership surfaced in which majority leader Kevin McCarthy suggested that Donald Trump was on Vladimir Putin's payroll.
According to a transcript of the conversation, which was first reported by the Washington Post, McCarthy said: "There's … there's two people, I think, Putin pays: [California Representative Dana] Rohrabacher and Trump … [laughter] … swear to God." Then speaker Paul Ryan responded: "This is an off the record … [laughter] … NO LEAKS … [laughter] … alright?!"
After the Post's report was published online, McCarthy tweeted: "This was an attempt at humor gone wrong."
Ryan's office also defended the remarks as a bad joke, saying in a statement that, "No one believed the majority leader was seriously asserting that Donald Trump or any of our members were being paid by the Russians."
Later on Wednesday, a third bombshell report surfaced, alleging that Michael Flynn, Trump's now disgraced former national security adviser, had told the president's transition team weeks before being appointed that he was under federal investigation for working, in secret, as a paid lobbyist for Turkey. The report from the New York Times shows that the Trump team was aware Flynn was being investigated much earlier than has been reported.
The White House was not aware of Rosenstein's decision to appoint Mueller until after the order was signed, according to a justice department official. The news had not appeared to have been shared on Capitol Hill either, with the House intelligence committee saying it had not been informed.
As special counsel, Mueller will command broad powers, including the power to subpoena documents and prosecute any crimes, independent of Congress. Calls on Capitol Hill for a special prosecutor in the investigation have percolated for months, but spiked after the firing of Comey, who was leading an FBI investigation into the matter. The independence of the investigation fell into question after the firing.
"A special counsel is very much needed in this situation," Republican senator Susan Collins said in a statement, calling Mueller "exactly the right kind of individual for this job."
"Good move," senator Tim Kaine, the former vice-presidential candidate, wrote on Twitter. "Now let's get some answers." Fellow Democrats Chuck Schumer, the Senate minority leader, and Nancy Pelosi, the House minority leader, echoed the sentiment, with Pelosi calling Mueller "a respected public servant of the highest integrity".
Trump has vehemently opposed the appointment of a special counsel, calling the investigation a waste of taxpayer money. White House press representatives were criticized for dismissing the need for a special prosecutor – a move seen as potentially encroaching on the justice department's terrain.
The top officials from both parties on the House oversight and government reform committee, which had scheduled a hearing for next week at which Comey was invited to testify, praised the move.
"Mueller is a great selection," committee chairman Jason Chaffetz, a Republican, tweeted. "Impeccable credentials. Should be widely accepted."
State department 'communicating concern' to Turkish government after brawl between Turkish security personnel and protesters injured 11
Reuters
The Armenian National Committee of America has captured scenes of violent protests on the streets of Washington, DC after Turkish President Recep Tayyip Erdo?an met with US President Trump at the White House. According to witnesses, the brawl erupted when the Turkish president's security detail attacked protesters carrying the flag of the Kurdish PYD party outside the residence.
The United States has said it was voicing its "strongest possible" concern to Turkey over a street brawl that erupted between protesters and Turkish security personnel during Turkish president Recep Tayyip Erdo?an's visit to Washington.
Police said the fighting outside the Turkish ambassador's residence on Tuesday injured 11 people, including a Washington police officer, and led to two arrests for assault. At least one of those arrested was a protester.
"We are communicating our concern to the Turkish government in the strongest possible terms," state department spokeswoman Heather Nauert said in a statement.
Video of the incident showed men in dark suits chasing anti-government protesters and punching and kicking them as police intervened. Two men were bloodied from head wounds as bystanders assisted dazed protesters.
Metropolitan police chief Peter Newsham said at a news conference on Wednesday that police had a good idea of most of the assailants' identities and were investigating with the secret service and state department.
Turkey's official Anadolu state news agency reported that protesters were chanting anti-Erdo?an slogans as the president entered the residence after meeting Donald Trump to discuss the fight against Islamic State militants.
"Police did not heed Turkish demands to intervene," the news agency said, and Erdo?an's security team and Turkish citizens moved in and "dispersed them".
The Turkish embassy did not respond to a request for comment.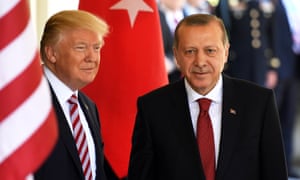 Trump welcomes Turkish president Erdo?an at the White House. Photograph: Xinhua / Barcroft Images
Tens of thousands of Turks have been detained as Erdo?an cracked down on the press and academia following an attempted coup in 2016. Trump made no mention on Tuesday of Erdo?an's record on dissent and free speech.
House of Representatives foreign affairs committee chairman Ed Royce, a California Republican, called on attorney general Jeff Sessions and secretary of state Rex Tillerson "to hold individuals accountable" for the attack.
In a statement, Washington mayor Muriel Bowser called the violence "an affront to D.C. (District of Columbia) values and our rights as Americans".
Mehmet Tankan, 31, said he was one of a dozen protesters outside the ambassador's residence chanting slogans condemning Erdo?an for supporting Islamic extremists and opposing political rights for Turkey's Kurds when the brawl broke out.
Seven security personnel, some of them carrying firearms, rushed up and began punching him, bruising him all over his body, Tankan said by phone.
There was tremendous outcry when the New York Times hired opinion columnist Bret Stephens, who has a long history of making misinformed comments about climate change. Stephens didn't assuage those fears when he devoted his first column to punching hippies, absurdly suggesting that our lack of progress on climate policy is a result of greens being too mean to climate deniers.
Stephens lamentably stayed on the subject of climate change in his second and third Times columns as well. In those pieces, he used corn-based ethanol subsidies as an example of where climate policy has gone wrong:
So let's talk about ethanol and other biofuels, a subject some climate-change activists might prefer to forget. In 2007, George W. Bush used his State of the Union speech to call for huge increases in the production of renewable and alternative fuels such as ethanol. Democrats were firmly on board, and President Barack Obama pursued a largely similar course in his first years in office.
This is a clear case of cherry picking. There are hundreds of examples of climate policies with varying degrees of effectiveness; why focus on just one? Many environmental groups and "climate-change activists" have long opposed corn-based ethanol subsidies, as Stephens himself noted. Politicians of both political parties supported those subsidies because they were popular in corn-growing Midwestern states. It had little if anything to do with climate efficacy. So why blame "climate-change activists" for these politically-motivated subsidies?
For his next misleading argument, Stephens shifted to German electricity costs:
The country is producing record levels of energy from wind and solar power, but emissions are almost exactly what they were in 2009. Meanwhile, German households pay nearly the highest electricity bills in Europe, all for what amounts to an illusion of ecological virtue.
Stephens' comparison to 2009 is another example of blatant cherry picking. German carbon emissions that year were particularly low, due in part to the global recession. The long-term trend is unmistakable:
It's also odd that Stephens criticized Germany for its electricity bills, given that the report he referenced shows they're a bit lower than what Americans pay. The difference is that while German electricity rates are 3.3 times higher than Americans', their electricity consumption is 3.4 times lower. In other words, German policies have been successful in cutting the nation's carbon pollution while still keeping their electricity bills a bit lower than Americans'.
The country is far from perfect – they still rely on coal for a significant amount of that electricity generation – but from a climate policy perspective, Germany is mostly a success story. America's per-person carbon pollution is nearly twice as high as Germany's.
Although his columns are riddled with these sorts of misleading cherry picks, worse yet is that Stephens' arguments are red herrings, distracting from the elephant in the room.
On American climate policy, the GOP is the problem
Stephens' columns worry that America will jump on the bandwagon of any feel-good climate policy. If only we lived in a world where that were a legitimate concern. In reality, the Trump administration is taking every possible step to undo all American climate policies. They're considering withdrawing from the Paris climate agreement because they believe it won't allow America to increase its carbon pollution.