20 May
Nearly all of these are English-edition daily newspapers. These sites have interesting editorials and essays, and many have links to other good news sources. We try to limit this list to those sites which are regularly updated, reliable, with a high percentage of "up" time.


World Politics
Iran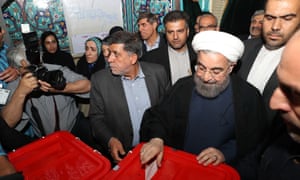 Hassan Rouhani has won a second term in Iran's presidential election. Photograph: Xinhua / Barcroft Images
Iranian President Hassan Rouhani has won re-election with a landslide victory, in a ringing endorsement of his efforts to re-engage with the West and offer greater freedoms at home.
With a huge turnout, polling stations stayed open until midnight in parts of the country, defying worries that moderates disillusioned by the weak economy or slow pace of change would not vote.
Iran's interior minister, Abdolreza Rahmani Fazli, announced live on state television that Rouhani received 23,549,616 votes (57%), compared to Raisi 15,786,449 votes, or 38.5 percent.
A total of 41,220,131 people (out of 56m eligible to vote) participated. The two other lesser known candidates, Mostafa Aqa-Mirsalim and Mostafa Hashemi-Taba, got 478,215 and 215,450 votes respectively.
"Hope prevailed over isolation," former president and key Rouhani ally Mohammad Khatami posted on Instagram, along with a photo of Rouhani making a victory sign, Reuters reported. Iran's state television congratulated Rouhani on re-election.
The foreign minister, Mohammad Javad Zarif, said: "We derive stability not from 'coalitions', but from our people, who – unlike many – do vote. Iranians must be respected and are ready to engage."
The incumbent saw off a strong challenge from Raisi, a fellow cleric with radically different politics, who stirred up populist concerns about the sluggish economy, lambasted Rouhani for seeking foreign investment and appealed to religious conservatives.
He had gathered momentum as conservatives keen to win back control of the government coalesced behind Raisi's initially lacklustre campaign.
Trita Parsi of the National Iranian American council (NIAC) said the election results showed Iranians have chosen "a path of gradual transformation through peaceful participation".
"President Rouhani's convincing win is a sharp rebuke to Iran's unelected institutions that were a significant brake on progress during his first term," he said.
"It is also a rebuke of Washington hawks who openly called for either a boycott of the vote or for the hardline candidate Ebrahim Raisi to win in order to hasten a confrontation.
"For Rouhani, now is the time to deliver on the promises that inspired tens of millions of Iranians to elect him twice as president. He must take decisive action to protect the human rights and civil liberties of the Iranian people, pursue improved relations with the world, and promote economic growth for the Iranian people. The hardline forces behind Iran's arbitrary arrests and spiking executions may not answer to Rouhani directly, but the Iranian people who elected him expect him to do more in his second term to bring about change."
In Iran's unique and uneasy hybrid of democracy and theocracy, the president has significant power to shape government, although he is is ultimately constrained by the supreme leader.
Ayatollah Ali Khamenei, a hardliner thought to favour Raisi in the election and as a possible successor for his own job, generally steers clear of day to day politics but exerts ultimate control over Iran through control of powerful bodies from the judiciary to the revolutionary guards corp.
Despite losing the overall race, Raisi appeared to have won enough votes to preserve his political future, allowing him to campaign for office again or justify his promotion in unelected bodies.
United States
The Times Square car crash, riots in Venezuela, the Cannes film festival and fighting in Mosul – the news of the week captured by the world's best photojournalists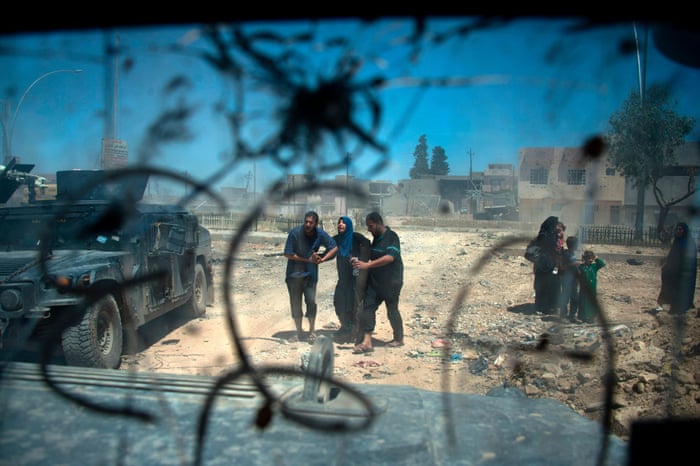 Mosul, IraqDisplaced residents leave their homes in western Mosul during an offensive by the Iraqi forces to retake the area from Isis fighters.
Photograph: Fadel Senna/AFP/Getty Images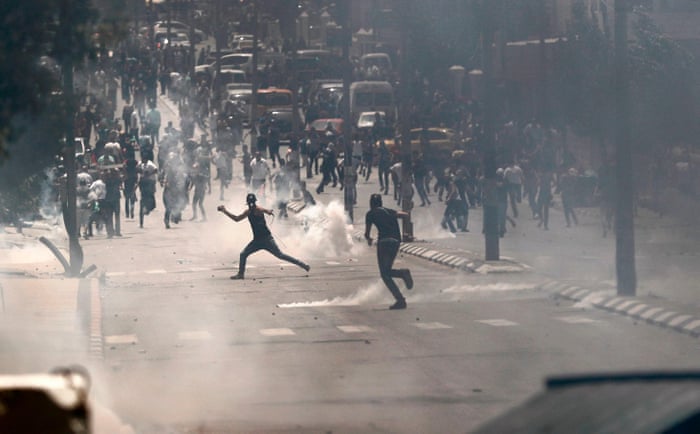 Bethlehem, West Bank
Palestinian protesters throw stones at Israeli security forces during clashes at a rally on the 69th anniversary of what Palestinians call their catastrophe, the 'Nakba', on 15 May. It refers to the birth of the state of Israel in British-ruled Palestine, which led to the displacement of hundreds of thousands of Palestinians who either fled or were driven out of their homes during the 1948 war over Israel's creation.
Photograph: Thomas Coex/AFP/Getty Images